The 38th Annual Harlem Skyscraper Cycling Classic Is Fast Approaching, Sunday June 19th - Check Out Updated Schedule of Events & Webcast Info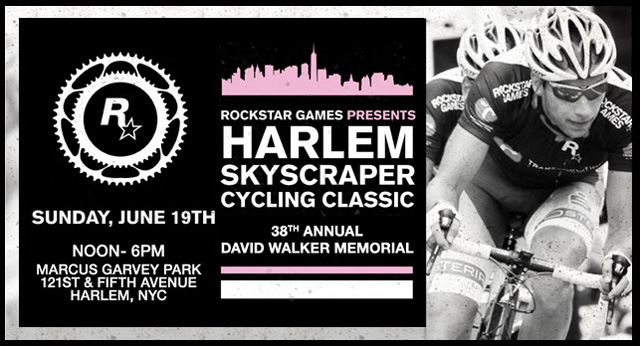 Just around the bend, a week from this Sunday, will be the 38th annual Harlem Skyscraper Cycling Classic held at Marcus Garvey Park up in Harlem USA (121st Street and Fifth Ave) on Father's Day, June 19th, 2011. We cycling enthusiasts here at Rockstar are getting pumped and preparing for what we hope will be another great Sunday in the park for one and all on this, our third consecutive time proudly sponsoring the event.

Today, we've just launched our 2011 event page detailing all of the information about this year's Classic - which has been reformatted to preview the new Olympic track racing format, the Omnium - a difficult and fast paced racing style that was invented and popularized right here in our hometown of New York City. Incorporated to attract the casual spectator, the new format showcases the speed and skill of the riders, with a series of races that are all held on the same day.
As always, the event offers a great time for both serious cycling fans - with a rare chance to watch world-class professional cyclists like Franco Marvulli, Christian Grasmann and Leif Lampater in action - and for families looking to spend a great day in the park with activities like the "Bike Bonanza", where kids can improve their riding skills, get a free bike helmet, swap their bike for a better one, or register their bike through the New York Police Department. Bike New York is teaming with the Department of Transportation's Education and Outreach division, DOT Bike Program, and Recycle-A-Bicycle to offer the program free to children of all ages.
The day's events will kick off at 12:00 p.m. with the children's races - a chance for kids to ride and race in front of a cheering crowd on the streets of NYC. A full card of adult amateurs (men and women) will then take to the streets beginning at 1:30 p.m., followed by the main event featuring the elite men's professionals at 4:00 p.m. – the only event in the greater New York City area to pit world-renowned cyclists against one another. The day's events are a true celebration of all things cycling, bringing together the best of BMX, road racing, and fixed-gear racing in a festival that is unrestricted by age, experience or gender.
Race coverage begins on Sunday, June 19th at 4:00 pm [ET], and will broadcast streaming live online at http://www.rockstargames.com/skyscraperclassic, and on NYC Live TV, Channel 25 in New York City.

Schedule of Events
12:00pm Shimano Youth Cup (12 and Under), & Harlem Cup Kids Races (13-17), Olympic Day Celebration
12:30pm BMX street and vertical stunts begin with performances throughout the day.
1:30pm Cat 4 Men Points race
2:15pm Cat 2/3 Men Points race
3:00pm Women Pro 1/2/3 Points race
4:00pm Pro/1 Men's Invitational Omnium Round 1: Points Race
4:45pm Fixed Gear Race 9 laps
5:00pm Harlem Cup Kid's Final Race
5:10pm Pro/1 Men Invitational Omnium Round 2: Elimination
6:00pm Keirin Exhibition Race

Previously:
Rockstar Games Presents the 38th Annual Harlem Skyscraper Cycling Classic