Recap & Screens from Red Dead Redemption & Undead Nightmare Social Club Multiplayer Event on Xbox LIVE (May 6)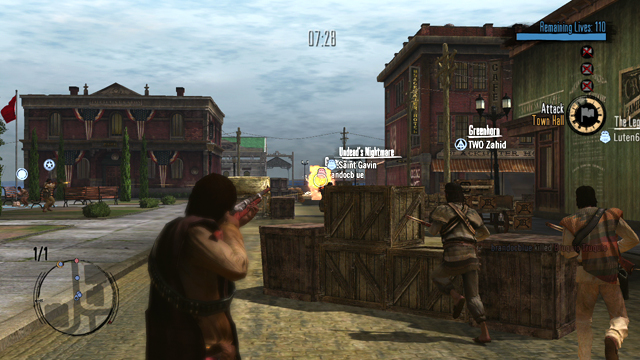 RedDeadDev3 unloads a round from the Explosive Rifle into bandsy1690 during Stronghold in last week's Red Dead Redemption & Undead Nightmare multiplayer event on Xbox LIVE.

Good times abounded getting into some Red Dead Redemption & Undead Nightmare multiplayer on Xbox LIVE in our most recent Social Club events series session held Friday May 6th - along with all who attended to watch the stream, chat and enter to win prizes.
Next on the events series calendar this week on May 25th and 26th are two back-to-back days of PSN multiplayer in Red Dead & Grand Theft Auto IV: Complete Edition (that's both GTAIV and the Episodes, so if you have any or all of those, you can play with us in respective multiplayer modes when we're on even if you don't have the Complete Edition proper) as a proper welcome back celebration for all our PSN players that have been fiending to return to action. Look for us to post player IDs and other info tomorrow.
And now, a few screens and highlights taken from RedDeadDev3's view...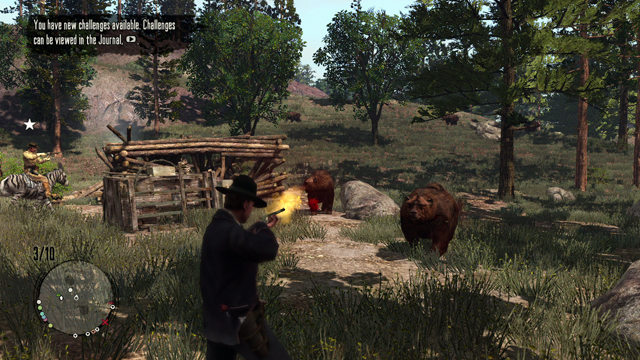 Bear huntin' in Bearclaw Camp up in Tall Trees with StevklautdeinBH on a Zebra Donkey while the rest of the posse rides in from MacFarlane's Ranch. Six bears in this shot in Free Roam. Can you spot them all?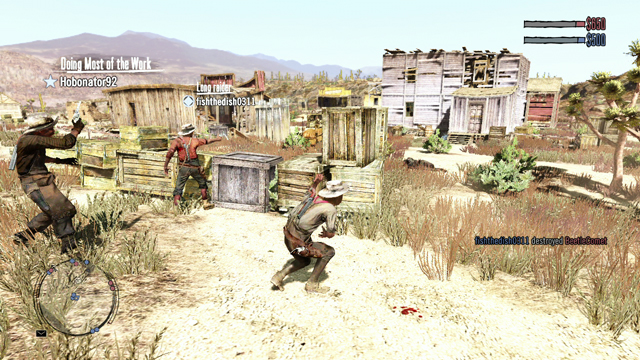 A great moment in Gang Shootout under the blinding sun in Tumbleweed with Hobonater92, fishthedish0311 and RedDeadDev3 using crates as cover between them and hidden enemies scareface1970 and brandocblue. Twas an awesome firefight.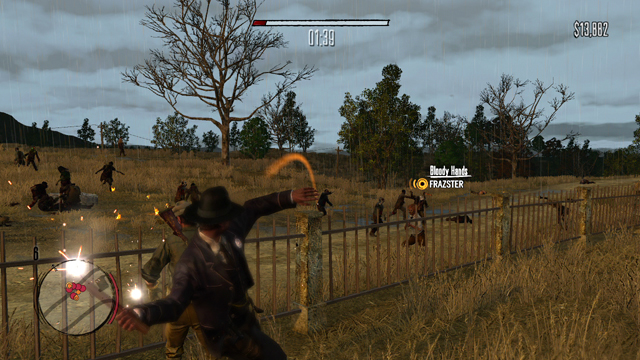 BeardedLegion and RedDeadDev3 ready Dynamite to bring down the zombies chasing FRAZSTER in Blackwater's Dead Man Walking in Undead Overrun. Use the fence to your advantage!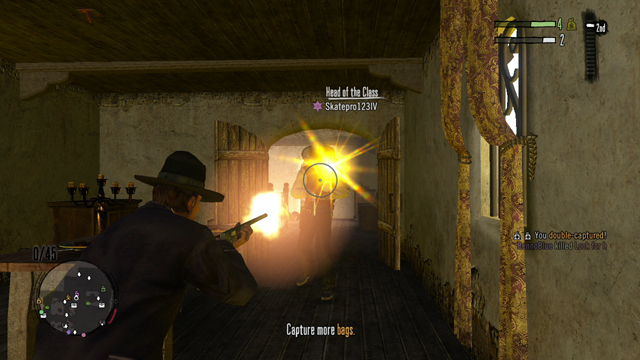 Skatepro123IV takes a straight shot to the chest from RedDeadDev3's Semi-auto Shotgun in Gold Rush in Las Hermanas. This happened right after we deposited two bags in the dropoff...right behind him. Convenience. Thank you sir, I'll make sure this bag gets where it needs to go.
Thanks to all below that made it into the event. See the full roll call below of attendees & do let us know if you've been accidentally left out:
Alan456
alanandkelly
AlChrism
AlexTheAvenger
AOR Nitr0
ArtfulxxDodger
AtomicGrunt09
bandsy1690
bbr1116
BeardedHoplite
BeardedLegion
BeetleComet
BennoBlue
bensonrecon
BIG_STRONG_NIKO
bikinisntchmnstr
BirthBS
BleedingShock
bmdubya
BMF Gunther08
BobGoody
bobraccoon707
brandocblue
Bruquio Truquio
Burgess28
Burningphoenix64
Butler524
C-Smitten
Captain-Rasta
CaptivatingSky
car maniac2011
catflapninja
cdomingu
Celtic Gun King
Chariclea
chicagofarker
Chocoflo
Choice1Baby
cigarnut81
CircusRock
coolman66
CorgiJulien
corporalgrif
CP9003
CursedDoughnut
dancegrenade
Dangle Bojangle
Danichan19
Deathwing666
Dentune
DestronOverlord
diegito17
dobbs23
dregorthule
dr loo
drsxbox
DSanta
Egc-Gamerwiz
EL-GRAN-PORKULIO
EmericaSk8r714
emerson_bie
Ezio1985
Fatal Funnel
FierceJesus
fishthedish0311
FlushedJerox
foragidomexicano
Frazster
FRAZSTER
FugetSudo_Jr
GABRIEL2C
gazziboy
GM-Shenmue
gman33
Grandblaire
GTAPerson2009
GVRafioso1
Halfyre1
Hampusthetampus
harleysft
Hobonator92
Huhupik
Iceman209420
ihateuguys420
IHrVces
ILikeVideo-Games
ImThatGood24Liz
InsectOverlords
iTwIsTeDmInDx
IWIHooligan
IzedKillz
ja-vi2000
jacenel
JamessMcLoud1
jamiec130
jaredim
jarofdirt
Jeff_McRae
JetPilot5381
jfkSHOT42
Joeenu
Joker-64
joschuakiller
JuJitsuJonny
JungleCoussin
JurreHD
JustoDaDon
KazzaRu
Killochris
kpapke
Kratier
kvadrate
L.ANoirefan
lambert com
LCPD__COMMANDER
LedTriv
LilTinkerbell43
Liz2424

Loco-Giganoto
Look_for_h
Luten6666
manzaH
MARIOBOX1986
Marney-1
masteratt
MATEZ from SVK
MathClassH3ro
Maxx Paiin
McDevlin182
MEGAxNOODLES
Messerjokkeee
MetalBoxFan
METALLICACorn
Mikey_Ramone
Mini Madara
Mister Vella
Mortal91ify
moXmurdaX
mrgiggles_1980
MrPurd0n
Munkyx30
myju
N9ne0sBaby
Neorecon19
Nicholas2516
nikobelic2500000
nin288
NM_Jeff
Noru112
OUTTA T1ME
OverTheUnder93
ozzyvip666
pablo123123
Paulo.H
PettyScan
Phaedrus94
PhatBooG
Ponin Mcfly
PursuedMovie
qlpqlpqlp
R3YN096
Rafioso
Rajinikanth
ramycool
RedHothector
Riggo68
Rockslar Games
Rollaw
RottenRay-Man
SaintGavin
Samurai_Zen
sascharoman
SAV-UK
scareface1970
Schultzkid92
Sewerzombie2
ShaddyDaShadow

Skatepro123IV
sklney guy
Skyline34
Snake Eyes Zero
Snowwy89
sonofableach
speedy96_563553
sssolace
St33ls3ri3
staples29
StaunchRastaMan
StevklautdeinBH
Suilean_Gorm
SweatyDominican
Swinka Fox
Tesshin
ThatGuy1967
TheCloven
The Outlaws Gun
TheRealGokWan
therealtreefitty
TheUglyCasanova
The West Outlaw
Torpedo36
trilakers
trple X blu dot
true_outlaw
TWoods_826
TWO Zahid
TYJ1972
UL-ND1
univerzoom
venomshark63
VenousEarth
viskaz
vsilvasouza
WDjango
WolfRogers
x1313x joschua
Xathlak
x LucasByGears
x NetoByGears
Xx-1x1-xX
xxAcideeBurNxx
XxERICKOxX
XXxBlOoDyFrOxXX
xXxCOTT0NxXx
XxXTopxGearXxX
YMe369
Young Gun Celt
zerosixthree
Zikomos
ZombieDeej
Zombie Jesus007
Head to our Facebook and Twitter pages and follow us to get the latest info, including notice when we spontaneously decide to get on to play our games with you guys - including Triple XP in Red Dead Redemption. These playsessions aren't reflected in the events calendar.
Previously:
Recap & Screens from Red Dead Redemption & Undead Nightmare Social Club Multiplayer Event on Xbox LIVE (April 15)
Recap & Screens from March Red Dead Redemption: Undead Nightmare & Grand Theft Auto IV: Complete Edition Social Club Multiplayer Events
Recap, Screens & Custom Console Winner: Red Dead Redemption & Undead Nightmare Social Club Multiplayer Event on Xbox LIVE (March 4)