L.A. Noire's Los Angeles Landmarks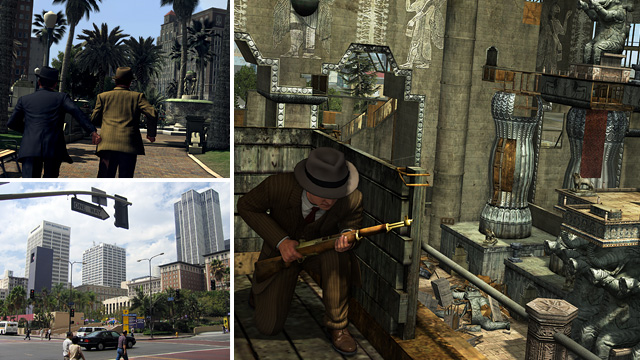 Top Left: Detectives Phelps and Galloway rush into downtown's Pershing Square in L.A. Noire. Bottom Left: The real Pershing Square in L.A. today. Right: In a fun and intentionally anachronistic nod to a piece of Hollywood history, Phelps becomes engaged in a shootout on the crumbling set of D.W. Griffith's "Intolerance".
In one of the many Achievements/Trophies in L.A. Noire to collect, "Star Map", you'll need to traverse L.A. to discover all the designated landmark buildings around the city. In the development of the game's lovingly recreated 1947 Los Angeles, Team Bondi spent time exhaustively researching Los Angeles right at the source – traveling their own gumshoes around real world L.A. to assemble a photologue for research and also mining the city's historical archives for reference information and invaluable visual assets. Today in honor of the game's release week, we present some info on just a few of the landmarks in the game (and part of the "Star Map" challenge) with some views of how they appear in the game as well as a couple of the actual photos taken by Team Bondi on their original research expedition.


Pershing Square (532 South Olive Street)

Known for its signature fountain and welcoming palms, Downtown Los Angeles' Pershing Square was named after General John Joseph Pershing, and flourished throughout the WWII years as a pleasant oasis and gathering point for wartime community rallies.
In the decades that followed, the park fell into a bit of disrepair and blight along with the Downtown area of Los Angeles itself, but in 1992 Pershing Square was completely overhauled and renovated – now a striking center of modern architecture with a reinvented fountain design. The present day version of Pershing Square made a digital appearance previously in our own Midnight Club: Los Angeles and was paid homage in Grand Theft Auto: San Andreas – but in L.A. Noire you'll be able to amble through it as it appeared in 1947 (* slightly taller palm trees notwithstanding).


Los Angeles Public Library (630 West 5th Street)

The L.A. Public Library is a location that is not just a landmark in the game, but one that served Team Bondi very well as an invaluable source of archival research during the research phases of L.A. Noire's development. One of the largest public libraries in the country, the LAPL was erected in 1926 and is most recognizable in its architecture for its distinctive Egyptian-inspired mosaic tile pyramid-shaped roof. Presiding as a sacred hub of learning and knowledge in Los Angeles, its mystic rooftop also nicely represents all of the mystery and truth in the city waiting to be unraveled…

Musso & Frank Grill (6667 Hollywood Boulevard)

As you cruise down Hollywood Boulevard in the game, another of the L.A. landmarks you'll pass is the storied Musso & Frank Grill – an old haunt of famous Hollywood legends since 1919, steeped in tinsel town folklore. One of the most enduring legends of the spot is that Charlie Chaplin, Douglas Fairbanks and Rudolph Valentino would race each other on horseback from the movie lots to Musso & Frank, the loser being obliged to pick up the lunch tab. A stop in to the restaurant is to take a trip back through time, with plenty of old timer waiters and waitresses happy to share a few stories or two handed down through the years.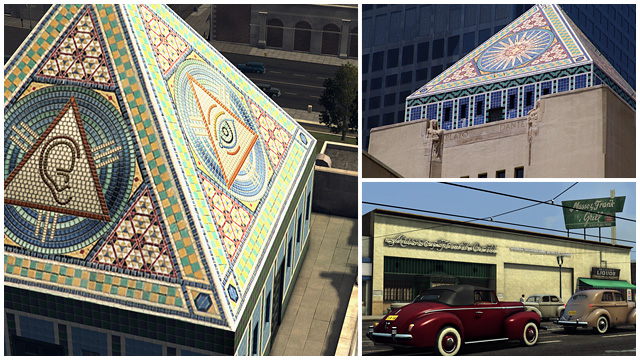 Left: The Egyptian-inspired tile mosaic rooftop of the Los Angeles Public Library as it appears in the game. Top Right: That rooftop as photographed by Team Bondi on their original research trip to Los Angeles during the game's development. Bottom Right: L.A. Noire's recreation of legendary Hollywood haunt, Musso & Frank Grill.

Roosevelt Hotel (7000 Hollywood Boulevard)

Site of our recent Los Angeles Noire Weekend sweepstakes event, the Roosevelt Hotel is at the heart of Hollywood and the epicenter of its lore. Named after President Teddy Roosevelt, and founded in 1927 by motion picture big wigs Louis B. Mayer, Douglas Fairbanks and Mary Pickford, it remains to this day not only one of the most storied landmarks of old Hollywood, but also still a great time.


The set of "Intolerance" (4473 Sunset Boulevard)

Controversial silent film director D.W. Griffith's 1916 epic "Intolerance" infamously was shot on a massive set that reconstructed ancient Babylon. The set was built in a huge lot off of Sunset Boulevard and really was something awesome to behold - taking up what is today four square city blocks with tremendous pillars, stone elephants, and sprawling glyphs. In the years following the film's release, Griffith failed to scratch up the money to finance the set's demolition and for years there it stood - abandoned and slowly falling into disrepair, but becoming a sort of de facto tourist attraction that drew curious crowds and onlookers regularly. While the real set was eventually destroyed prior to the 1940s, the site was included in L.A. Noire as an intentionally anachronistic bit of fun to stage a scene in the game - and as a nod to this great piece of Hollywood history.


La Brea Tar Pits (5801 Wilshire Boulevard)

Talk about uncovering old time mysteries. The La Brea Tar Pits off Wilshire near the Westlake area of Los Angeles have been a fascinating source of archeological finds with fossils having been discovered there dating back tens of thousands of years, including mammoths, sloths and a pre-historic native woman whose remains have been dated to circa 10,000 BC. Proper excavations began there in the early 20th century and by the 1940s, the discovery of large mammal bones led to much popular excitement. Who knows what secrets still lie buried underneath all that tar…