L.A. Noire Soundtrack Update with New Info & Audio Including Stream of the Verve Remixed EP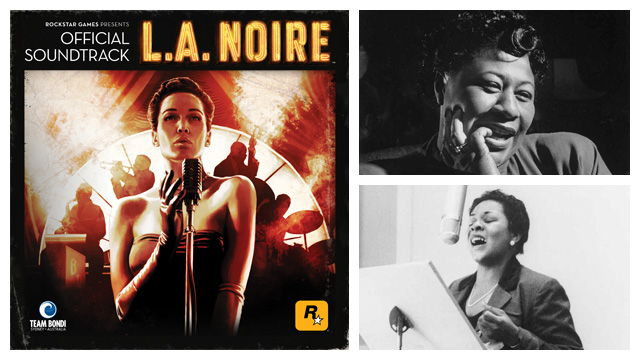 Presenting new details and audio released from the L.A Noire Official Soundtrack (pictured left). Right: Two of the legendary jazz artists whose songs you'll hear in the game, and hear remixed on the L.A. Noire Remixed EP, Ella Fitzgerald (top) and Dinah Washington (bottom).
We have just launched L.A. Noire's official Soundtrack page featuring all-new information on the making of the in-game score as well as original vocal recordings and licensed classics that you'll hear in the game.

The page also includes audio of special Soundtrack selections including "Hard Bop Chase" and the "Theme to L.A. Noire" as composed by Sade bandmember Andrew Hale, and "(I Always Kill) The Things I Love" sung by Claudia Brucken of Propaganda, produced and written by Stephen Coates and The Real Tuesday Weld.

And last but not least, you can listen to the entire L.A. Noire Verve Remixed Project EP, featuring six jazz classics from the game's soundtrack re-interpreted by some of today's most acclaimed DJs, producers and remixers. The future meets the past in this EP spin-off of the Official Soundtrack release as gems from jazz legends like Billie Holiday, Ella Fitzgerald, and Lionel Hampton get remixed by modern greats like Dave Sitek (of TV on the Radio), DJ Premier (of Gang Starr, and as heard on the Grand Theft Auto IV soundtrack) and Truth and Soul (El Michels Affair, and as heard on the Grand Theft Auto: Chinatown Wars soundtrack).

Both the Official Soundtrack, and Verve Remix Project, will be available at all major digital outlets next Tuesday, May 17th to commemorate the official release of L.A. Noire.
Visit www.rockstargames.com/lanoire/soundtrack for all the info, audio and more - including the Verve Remixed stream which you can also check out below.

Preview the entire Verve Records: L.A. Noire Remixed EP.
Previously:
Announcing L.A. Noire Soundtrack Releases: Offical OST & L.A. Noire: Remixed