Red Dead Redemption & Undead Nightmare Xbox LIVE Official Social Club Multiplayer Event w/ Triple XP (May 6, 4-7 PM Eastern)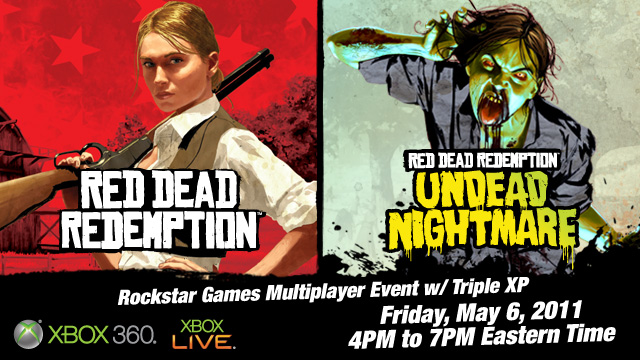 Update: The event has ended. Thanks to everyone that joined in – whether playing, watching the live stream, participating in the chat or entering the sweepstakes. We look forward to seeing all of you in future events.
It's time for an afternoon of Red Dead Redemption and Undead Nightmare multiplayer with Triple XP on Friday May 6th from 4-7PM Eastern on Xbox LIVE.
A video stream, chat and sweepstakes will be happening during the event on the multiplayer events page, and 20 winners will receive a Rockstar prize pack consisting of a L.A. Noire t-shirt, a Red Dead t-shirt and assorted stickers.
Notice: Two events on PlayStation Network were recently re-scheduled to take place this week had the service come back online worldwide and been tested and stable. We decided to swap out events on the events calendar due to the extended PSN downtime. Those two on PSN are now down to happen on May 25th and 26th. Stay tuned for more info in the future.
OFFICIAL ROCKSTAR GAMERTAGS
RedDeadDev3
RedDeadDev4
RedDeadDev5
RedDeadDev6
HOW TO FIND US IN THE EVENT
Start up multiplayer from the main menu. This will place you into a Free Roam lobby. Invite at least one other person and form a posse. Then enter the game modes as we announce them in the chat.

HOW DOES FREE ROAM WORK?
Free Roam is the hub of your online experience. Supporting up to 16 players, Free Roam allows you to explore with your friends and enemies, take out the gangs of outlaws or launch into more structured gameplay using the markers placed around the world. We'll be forming posses and then heading into several game modes across all of the original multiplayer and the downloadable content during the evening.
To form a posse, press the 'Back' button and use the menu. This menu gives you several gameplay options and access to the list of players in your session.
FORMING A POSSE
To start the game, invite your friends, form a posse and find Rockstar, follow these steps:
1. From the main menu, press 'Start' and then enter 'Xbox LIVE Multiplayer' by pressing the 'X' (blue) button.
2. Once in a Free Roam lobby, press the 'Back' button to open the in-game multiplayer menu.
3. Press the 'RB' button and then the 'Y' (yellow) button to 'Invite Friends'. Invite at least one friend into your posse using the 'A' (green) button.
4. Once your friends are in the game, press the 'Y' (yellow) button again to return to the 'Players' menu and select them with the 'A' (green) button to 'Propose New Posse' or 'Send Posse Invite'.
5. Once you and your friends are ready to go, start up the game mode we're currently playing. This can be found in the chat as the event rolls along.
Remember it's best to be in a posse with at least one other person to play with Rockstar. And as stated, pay close attention to the chat to know what game mode we're currently playing.
Want more times to play with us? Follow Rockstar on Facebook and Twitter as we unleash surprise sessions of Triple XP on both PSN and XBL. We're online playing during these sessions.
Previously:
Recap & Screens from Red Dead Redemption & Undead Nightmare Social Club Multiplayer Event on Xbox LIVE (April 15)
Recap & Screens from March Red Dead Redemption: Undead Nightmare & Grand Theft Auto IV: Complete Edition Social Club Multiplayer Events
Recap, Screens & Custom Console Winner: Red Dead Redemption & Undead Nightmare Social Club Multiplayer Event on Xbox LIVE (March 4)