Recap & Screens from Red Dead Redemption & Undead Nightmare Social Club Multiplayer Event on Xbox LIVE (April 15)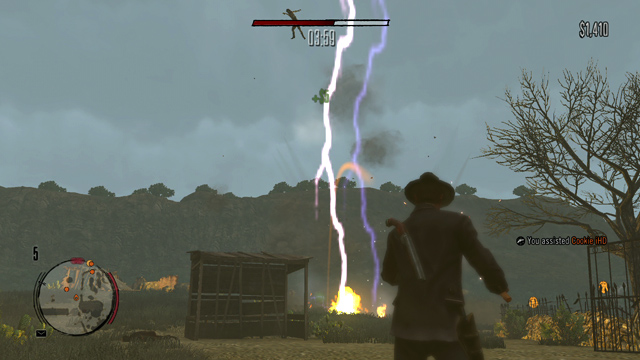 Holy Water comes down. Zombie goes up. One of life's few certainties.
Notice: Due to the extended PlayStation Network downtime, the Grand Theft Auto IV multiplayer event originally scheduled for April 28th has been re-scheduled to Thursday, May 5th (5-8PM Eastern).
In our most recent Social Club Multiplayer Events series session held Friday April 15th, we got busy with some Red Dead Redemption & Undead Nightmare multiplayer on Xbox LIVE. If you weren't able to jump on to XBL to play, as always we ran a video stream for spectators, chat for trash talkers and even gave away some soundtracks signed by José González. Grats to the winners: Social Club members TreFacTor, mrwibbly and richard_hung-lo.
Next event on the calendar is this coming Thursday April 28th (5-8PM Eastern) rocking with Grand Theft Auto IV: Complete Edition (that's both GTAIV and the Episodes, so if you have any or all of those, you can play with us in respective multiplayer modes when we're on even if you don't have the Complete Edition release proper) on PSN. We'll post player IDs and other info on Wednesday.
Here are some screens we snapped from RedDeadDev3's view...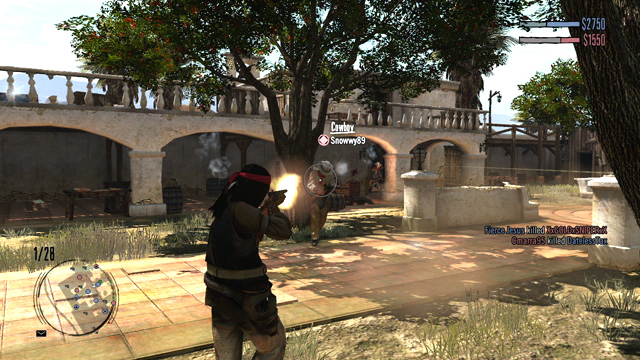 Gang Shootout in Las Hermanas. 'What had happened was...:' Snowwy89 was hiding behind the tree, and he figured he had enough cover from his friend behind him Cmarra95. Not so. RedDeadDev3 made quick work of Snowwy89. Sorry, guy.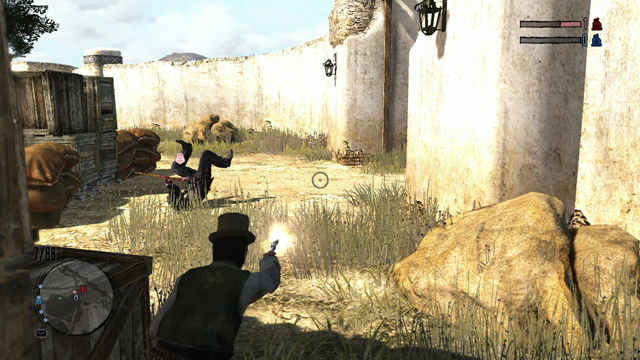 CYPRESS 44 rolls out of the way to avoid a shot from RedDeadDev3 during Hold Your Own in Chuparosa. Don't know how to roll? Hold LT on 360 or L2 on PS3 and, while holding left or right with the left stick, press X on 360 or Square on PS3. Rawhide!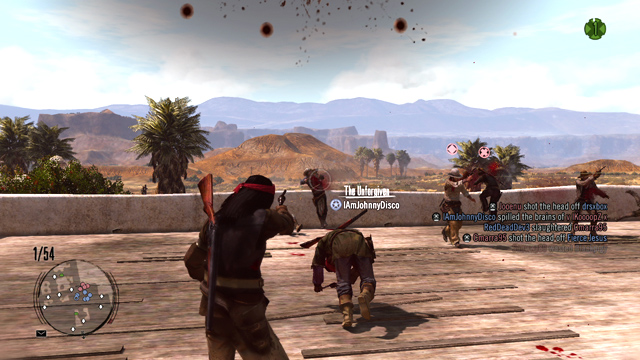 IAmJohnnyDisco rolls ahead as RedDeadDev3 bucks Cmarra95's lights out. We gotta point out the guy that's trying to run away over the wall. That's XxGOLDxSNIPERxX - who received a shot in the rear courtesy of DatelessTax that sent him right over the edge. Ouch. Not bad strategy for survival, though it wasn't successful...
Thanks to all below that made it into the event. Check out the list below & let us know if we accidentally left someone out:
1800-Tequila
A1ch3m1st
AAG Patriot
adamkovacs46
AFTERMATH508
AgentMcQueen
ahetFIN
aitor_vk
alb2000
ALEX_AMSTERDAM
Alex_Inferno
Aliens6244
ALTEL WIZARD
amok2011
andreasja0w
angryvegetarian
AoA iiShocK
Arachnicide
army_officer
ASBOpaul
ashleyTreat
Astex09
AuditoresGang
AutomatedTube27
backdrifters
bar_haydoss11
BassThe dead
beastscarface12
BesquitWhistler
BigDaddyBlack74
billsdddd
BirthBS
Black666Roses
Blackpigy
bladfist67
Blais1
BlatantFire8520
BleedingShock
brabear141
Bryanj2000
BULLDOG420
Burningphoenix64
BWAFFLEZ
C0RRupted
cal958
CaLL On CUTH X
calum11
Captain-Rasta
cepy11
Chad Kelevra
chicagofarker
chris 5 xd
ChristopherBoom
clem108
Cmarra95
co1dki11er100
Comtechy
control-SEVEN
Cookie iHD
coolskater2011
CreepierTuba05
CrimsonFootball
Croock
CSIXTY
cuzzythewolf
Cyberdami
cyborgSP
CYPRESS44
D3MON OVER LORD
D3V3LON
Daddy Byrum
DaFrenk_NL
DamagedRaven
DaReaLesT62BOi
Darkk_Desperado
DatelessTax
Datsu Murakumo
deckman60
DGBalf27
DiabolikKRACKER

DJ BL3ND 0852


Dnes208
DOU6LE D
DravinClaw
drsxbox
DSanta
ElDesperado1977
Elite5509
ELiTe MeMoriieZ
elmisticocmll
Emjeadea
EoC SNIPEZ
fab1qaz
FailingDutchman
FakeDeath95
FamilyGuy4545
FavoriteDarky
FBI Cabral
FierceJesus
fill.94
Folgore8
Frazster
furious71
GanjaBabe89
GanjaSoup89
garphield
GearVeteranHunk
GermanScientist
GM-Shenmue
gman33
GrandiosoSpace7
Grey Toothpick
Gundawindy
Halfyre1
HaloFan2314
harleysft
headofcake
HEAD OF CAKE
Hi Def F v2
hmne88
Hotze1
HRQ360
IAmJohnnyDisco
IAmRyan25
IcedPaintbrush
III P4RADOX III
iiLeGEnDCM
irule50
ivan.n
IWIHooligan
J0k3r6
ja-vi2000
Jabler-
Jack-Trey
james_3cash
jamiec130
Jeff_McRae
JMooney13
Joeenu
jojo-le-pgm
Jooenu
joshallen83
JugularOyster58
JuJitsuJonny
JxOxHxNson
KelticKennedy
Ken FALCO
kennyp702
Keops blaksoapk
kiar1171
kieranharris
kiikeemundial
kinver02
kol1999
KroNiiK L3GACY
ladyelayne19
lamkey
laz3ru2
LeftFielder916
Legiblecorey

LennyRulez
LiL.A.King
lilgetm12
Litalo67
Livenator
Loco-Giganoto
lord_essex
Lost8675
Lucky23
luiz4556
luizof
LunarHippo853
MaCaProductions
Macho105
madguy63
Magnorobc
Malice GX
Markos gf
Marney-1
Memofl
mestreTiago
MiniHELLRAZOR
MisguidedJewel3
Miss Meli Baby
mizao CNC
MouthyAnsem
MrButcher
MsF CrazyNick
mvrebos
n8daddy420
Nanobanano6
NeyranTheLaguna
NGuigui360
Niko_Bellic
NineWater
NiTRo NiNJA x
nonos15
Oathwood
oDeCeMbEr o
odorizzi_Sc
OHS0SLICK
Okman_HV
OmegaFive55
ONE SHOT 760
OverTheUnder93
pablo123123
peytonPanda
phps1998
pimpsc00by
pj2468
Pothatuu
pursuedwarrior
qlpqlpqlp
Rafioso
RAPTOR627
Raptor Tempus
razaobrera99
ReadDeadfan12349
Red-Fox74
RedHotCenturion
reececo
respect8711
Riggo68
Riku1256
rock67
RockJuniorNecan
Rollaw
rookie371
rossymck
ruben5casas
RUSSIAN NINJA96
SaintGavin
Saint Gavin
saiprathap
Samurai_Zen
Saotik
Savnhga
scareface1970
scarlettnscott
scenewatcher

scotlands_finest
SFX6669
Sgt Maj Hazard
SiCK x BlkOps x
sideshow26
Silencer2011
slash445
slasher350
Smartboy97
SNB R33CE MZ0
Snowwy89
sonofableach
sora141
Spandella
Spinke
St0nedPizzaS
St33ls3ri3
stasieks
statiCCero
Stefan-no
steveistheone
steveo99801
StrategyGuide64
SUNNYRIVERS
SwankiestSmile9
SweetTooth1
teyngo DOWN
That Go Rilla
The.420.Ripper
TheDefektiveOne
thedop686
thejaggededge
The Lord of War
therealtreefitty
thetrain08
TheWEBSTTER
time2lead
TMAN-OF-WAR
Topcat_SC
TreFacTor
trehjulsykkel
TristJ
TYL3Rr7
tyson7000
Unequaledwand
utopianacht
v IKoooopZ x
vince_42069
viskaz
Vj8521
v_IKooopZ_x
wagner32
WindingCarton0
WolfDiesAlot
WolfRogers
woopwoop627
xFaTaLx ZeRo
x LucasByGears
xOoZeTzUoOx
xRDRx H3LLBOY
Xx7Dark7Wolf7xX
xXBiRdMaNXx17
XxGOLDxSNIPERxX
XxMr.HidexX
xxrainmoney52xx
Xx UNION JACK
YnoT47
YSM K3nSh1 BTL
Yuppienalle
ZachDYEE
zellraiden
zpktrpr
zSFKzPunk805
zXSnB PreDatorX
Also as always, be sure to follow us on our Facebook and Twitter pages. We get online every now and then to play with you guys on dates that aren't reflected in the events calendar, whether it be some Land Grab in Red Dead with Triple XP, or a few laps in GTA Race around Middle Park in Grand Theft Auto IV...really whatever modes come to mind.

Otherwise see you this Thursday for the GTA event.
Previously:
Recap & Screens from March Red Dead Redemption: Undead Nightmare & Grand Theft Auto IV: Complete Edition Social Club Multiplayer Events
Recap, Screens & Custom Console Winner: Red Dead Redemption & Undead Nightmare Social Club Multiplayer Event on Xbox LIVE (March 4)
Recap, Screens & Race Winners from Midnight Club: Los Angeles Social Club Multiplayer Event on Xbox LIVE (February 17)