A Los Angeles Noire Weekend Recap
A big shout to Marty Weishaupt (aka 'shmart' on Rockstar Social Club), the winner of the Los Angeles Noire Sweepstakes, along with some of our longstanding friends from the Rockstar fansite world and community at large for joining us in Los Angeles to properly experience L.A. Noire in the City of Angels herself.
At the landmark Roosevelt Hotel on Hollywood Boulevard, everyone was first treated to a special private presentation of The Red Lipstick Murder case from the Homicide desk - thanks especially to some of our LA-area friends Woody Jackson, DJ Pooh, Young Maylay, DJ Quik, Casey McKinnon, Cricket Lee, and bands The Lost Prophets and Grace and Manners for coming through.
Throughout the weekend, Marty and our Rockstar fansite guests from across North America and the UK got to tour Los Angeles, seeing some of the historically relevant sights including locations from the Black Dahlia murder case and some parts of the city that make an appearance in the game -
and of course, most importantly, got the rare opportunity to go hands-on spending some real quality time playing L.A. Noire (read on for some impression from them and others below).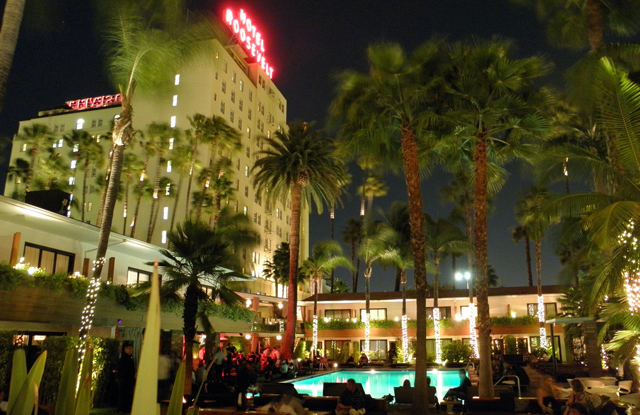 The historic Roosevelt Hotel, our homebase on the trip and a site you'll see in L.A. Noire itself.
Here are impressions from some of those that joined us, along with links to some brand new exclusive screenshots that can be found at the fan sites.
"L.A. Noire is a stunning experience. There is nothing like it on the market now, nor has there really ever been something that attempts so much and seems to excel at it across the board." - TeamXbox
"Team Bondi set out to capture the essence of 1947 Los Angeles and they did exactly that. I didn't let my invitation by Rockstar Games and being able to play the game early cloud my judgment of the game. I am a fan just like you guys, and I personally can't wait to pick up my pre-ordered copy on May 17th!" - Rockstar Network
"Noire had exceeded my expectations ten fold. I knew I would be witnessing a work of art but I had no idea that it would be that fine tuned or that mentally involving." - Marty Weishaupt, Los Angeles Noire Sweepstakes winner
"It's the kind of game a group of people could sit around and shout out at the one who's playing telling them to check different areas for clues, or giving their own opinions on whether a suspect is lying. It's definitely something different, but it's something that's extremely enjoyable to play and each case can go down a number of different routes depending on the evidence you find, the questions you ask and the responses you give and receive. GTA fans won't be disappointed and I'm pretty confident a lot of new Rockstar gamers will be brought in with this game." - iGrandTheftAuto
"You will always eventually solve the case, but they can take varying lengths of time depending on how you decide to investigate. This makes the replay value of L.A. Noire skyrocket and opens up the potential for previously unheard dialogue and unseen cutscenes with each new game." - GTA Warehouse
"The look and feel of the city is so true to its time period. The cutscenes and interrogations are so lifelike because the actor's performances are realistically captured... It's a groundbreaking game that challenges your wits and lets you decide the course of the story." - LANoireGaming

"So, how amazing is this game? My colleague and I said 'Wow' about 15 times during the 30 minute demo while shaking our heads in disbelief at how beautiful and smooth the game looked." - Cricket Lee (Girl Gamer / Pop Galaxy)

Thanks as well to LANoireDB and LA-Noire.net who attended - and everyone who came out to check out L.A. Noire. Cheers to all in the community worldwide - stay tuned as we hope to get more of you involved in Rockstar events in the future.