Recap & Screens from March Red Dead Redemption: Undead Nightmare & Grand Theft Auto IV: Complete Edition Social Club Multiplayer Events
Presenting recaps from our most recent Social Club Multiplayer Events held last month on Thursday March 31st and Friday March 18th with action-packed evenings of Red Dead Redemption: Undead Nightmare on PSN and Grand Theft Auto IV: Complete Edition on Xbox LIVE respectively. We rocked out in traditional fashion with three hours each of multiplayer mayhem along with the video stream broadcast, live chat and giveaways.

Our next event is tomorrow Friday April 15th from 4-7PM playing Red Dead Redemption & Undead Nightmare on Xbox LIVE. Be sure to check out the calendar of events for all upcoming chances to play with Rockstar now through June.
In our March 31st Red Dead PSN event...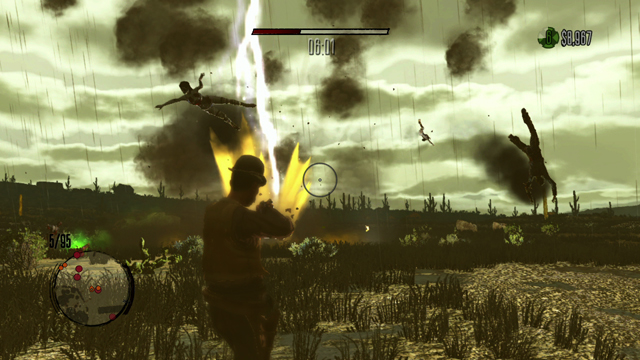 Zombie time. The mode: Undead Overrun. The location: High Brains Drifter at Coot's Chapel. The posse: Berra_86, JoeInternet75, PyroTheDon1 and RedDeadDev3. JoeInternet75 took advantage of Holy Water, raining down hell on the marauding hordes in waves 8 and 13. After making it through 21 minutes and 17 waves, the posse scored Gold with $163,974. Joeinternet75 scored $20,877, Berra_86 got $28,677, RedDeadDev3 brought in $31,839 and PyroTheDon1 dominated with $62,581. Nice.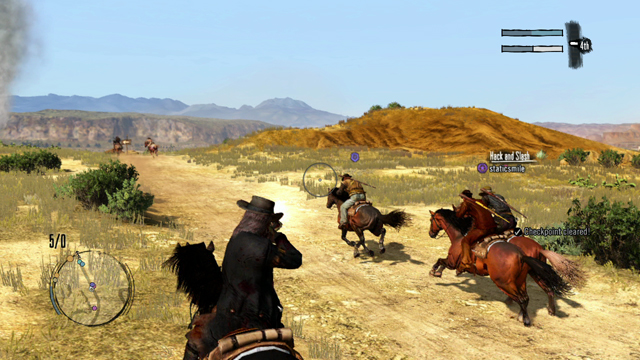 Carrera Del Diablo in Horse Racing Grand Prix, here RedDeadDev3 is firing at Joeinternet75, and less than a second later he was on the ground. Proving that sometimes the best way to win a race is not having the fastest horse but instead having the fastest gun. Despite RedDeadDev3's shooting prowess, PyroTheDon1 successfully crossed the finish line first with a time of 01:51.80.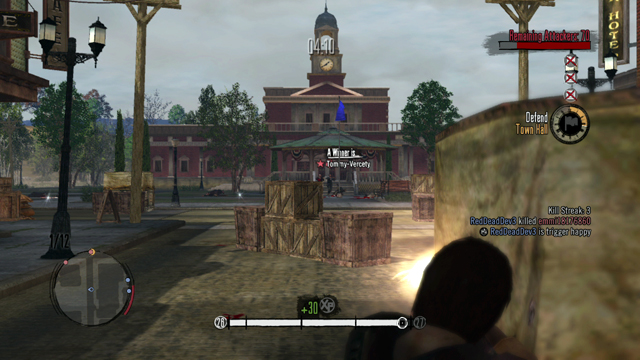 In Stronghold Competitive Multiplayer Mode, Marshal MoneyManDavid rolled and shot RedDeadDev3 as he was doing his best to defend Main Street. Because of kills like these the Rebeldes were eventually overrun by the Marshals, capturing all four checkpoints in 6:08. It was next up to the Rebeldes to beat that time. Switching sides, razaobrera99 and RedDeadDev3 worked together to secure multiple points, making their way through RockstarSpy, Quimera_PT and using a stick of Dynamite on CMarra95. But they were unable to best the Marshals original time, only managing 8:18. Congrats to LiL-A-King1, Tommy-Vercety, CMarra95, emmi18176860, RockstarSpy and Quimera_PT.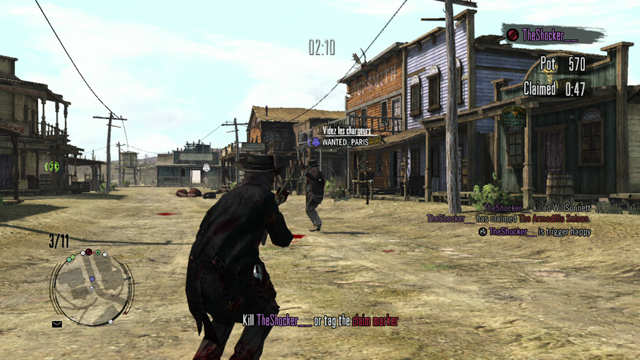 Following weskerlives1's Top Player honors in Gang Shootout in Tumbleweed, grez2010's Top Player honors in Hold Your Own in Chuparosa and flipmowd's victory in Shootout in Thieves' Landing, we ended things with raids on Gang Hideouts and some Land Grab in Free Roam. Above WANTED_PARIS guns down RedDeadDev3 in the middle of Armadillo. Grats to Arucious_ for claiming The Armadillo Saloon.
In our March 18th Grand Theft Auto IV: Complete Edition event on Xbox LIVE..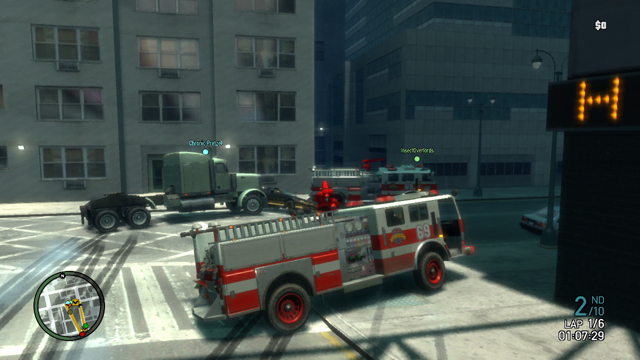 Star Junction with GTA Race in Grand Theft Auto IV is where we began things, lining up a convoy of Trucks for six laps of craziness. InsectOverlords took the early lead in a Fire Truck, with GwRockstar3 and Chronic Pretzel not far behind. Here, the three of them in the lead take the second turn of the first lap. BeetleComet, BennoBlue, YOSHI1994, D Gresham, Fash92 and GwRockstar4 were also contending for the lead. Chronic Pretzel eventually came out on top, going 6 laps in 07:13:85 with 2 kills, 0 deaths and $1,400.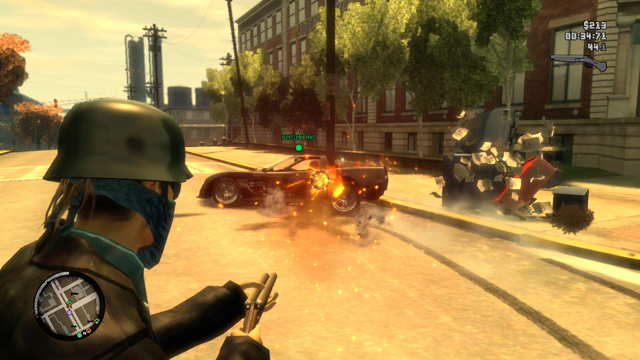 After a few other modes, we switched over to The Lost and Damned for some Deathmatch. First kill honors go to BeetleComet for clipping GwRockstar3 and then scareface1970. GwRockstar3 spawned back in and double barreled gmoney38 on one side of town while onlinertz 2nd amendmented adamkovacs46. The screenshot shows GwRockstar3 pumping rounds into BeetleComet, igniting the vehicle. 1st place went to onlinertz with 10 kills, 3 deaths and $1,040.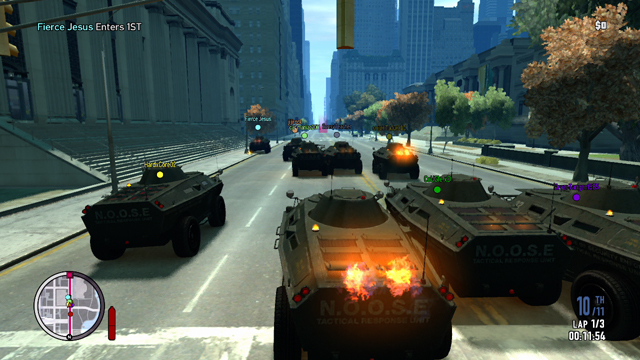 After playing through Witness Protection and a few other modes, we switched up to The Ballad of Gay Tony for parachutes, Buzzards and Police Stingers. Starting with GTA Races around Middle Park, 11 players steered APCs around corners, firing off NOS at the right (and wrong) moments. In the end of this one, GwRockstar3 couldn't quite make it from 2nd to 1st to catch up to the winner jijirock who claimed victory with a total time of 07:13:77 on three laps. Strong work.
Again, thanks to everyone that joined us for our version of March Madness. See below for a list of attendees from both days, and shout if we've accidentally left someone out:
7screws
aayush2251
A BrainParasite
adamkovacs46
Adam Lambert26
AddamHusayin
ADDICT_Grimm
Admiral Senick
AdvancedSkate67
Agent101102
ahetFIN
aka CRAZY XD
aKingsley
AlbieJAssassin
Al Dantrino
alesk1978
alexfri
AlexKingXx
aLeX_1731
AlienLandscape
alreidme
Al_Dantrino
amartinez116
anarbol90
Andii94
angeltheking123
annare
anti-cnss
ApacheMike
Arteminus
Arucious_
AR_MAG3DON
ASIANBASSPLAYER
A_Biker
b2t86
Batisda
BauxiticMule9
Bayvee213
BeastlyOutlaw777
BeetleComet
Beilo57
BengelSnatschy
BennoBlue
Berra_86
Bhold_oracle
BigBoxOChili
BigGreenDragon
BigRuss76
BIG_STRONG_NIKO
bill775
BirthBS
BiscuitKrazy
BitEater
Bizzubba
BKazunori
BlackCore1
Blackperl16
BlackTalon_
black_punisher89
blaherman
Bleuberry
Blindreaper97
Blueburt97
bmanemokid
bobafrench
Bocho-6
BrainParasite
BrassyRainbow72
brose_one
BruceRojo
BUBBLEBEE577
Burbuckle
bushisprez
C-F_Overlord
Captain-Rasta
CaptPierce
CarbineNeutral
car maniac2011
CarShowKing305
casio153
Ca___Fe
Ceaserdog
Celtic_Barbarian
CensoredEst
cepy11
CHAOSARMY
Chaoz Mana
chicagofarker
chinatownwarskid
chr1s-b4dr3
chris956sangDT
chris2200
ChristianB2008
chrizPY_bayken
ChronicPretzel
chuchu747
ClutchNeoX
CMarra95
cool_alex10
coot08
Cortez47
CoUGle xD
coyoteduster
crimeinthecity
CrustlessKey337
CSIXTY
CSR Dropshot
curtis206
cuzzythewolf
CYPRESS44
D3any_Alshog
d555987uiob
Daas15
DachWuff
dah5meuk
DaLgakiran15
dancegrenade
Darknitepulse
darrinveggiedust
DeadlyTarget
deathfun
DedmenBlack
DerryWolves
DG II R3AP3R
D Gresham
DiCry774
Dimitrisk8
DiruMiyavi
djijacass44
DJSPlitt
Djurempa
dkrazyi
Dnes208
dnonymus
DOMINATION08
donalld
doradorey
DossiDossDos
DraftiestCorgi7
drezclark
DryerTangent585
Dr_Vampe
d_dub_
EastsideMichi
eddieandy
Eggestone
EliteRs
emaesinate
emelki1968
emmi18176860
Energy4NU5
Epicrider10
ERIC_244
ersi
espfan78
eu sou gta
Evilkraut
EX_DeMon
F-2341803
Fash92
fastguy771
fettbacke3000
FFBS-InTrVeNtIoN
FieldersChoice
FierceJesus
Fill130794
finfin-69
FizzPopGRLFriend
FizzPopNFriction
flipmowd
Fnpwnage
FRANKIE BARZINI
FrayxRulez
FugetSudo_Jr
FuriousChad
fuzion17c
GabrielSyme
Gadallin
gamefreak23228
GamerzDelight117
GAMIR-GTA
GanjaSoup89
GeekoSuave
Gemini_Girl
Gen1usCat
genesis loveles
GermanScientist
gerrard713
ghostx1984
GM-Shenmue
gman33
gmoney38
gmonty
Godever2
gojeff99
Golden_Ace
Golloschen
GRANDLFz
Gravity Rage
Greenboy9210
GreenVegaMan
grez2010
grimdomboy
Grrrtt
GRUNDY90969
gtaboss2
GTAIV77
gtaiv1977
GTAIVFAN96
GTAMASTER_08
GTAPerson2009
GuidoTKP
GUNTER Ghost
GUNTER xSCaRSaR
guzman805
GVRafioso1
haloreach55621
Hamilton_Swede
HapperTriggy
hardhatgamer
harkirth
harleysft
HBFSTR00
helloimatree
Hell_Can-d25
HockeyFreak70
hondaseba
HoPeS_KiNgS
hot_hot_
HOWDOWN44
HRQ360
HTFCxSaMuEL
Huhupik
Human-Hunter55
Husaria
IAMFATBOY10
IamJohnGaltXx
IAmJohnnyDisco
IamLadySpartan
iCesar00
iDADDD
iim Noobey x
IITONYSOPRANOII
imSoMello
infectiousmonkey
Inferno8800
iNSan3 G4mEr
InsectOverlords
ipecrank
iraqisaham911
iTz MaRcUs v1
ivan.n
IWIHooligan
IzedKillz
j-man_yeknom
J1nk3z
j2mm_EST
Jaakare
Jabler-
jaket91
jaky2008
jambijambijambi
james1011
Jammeeh
jarkevithwlad
jason9487
JaviS89
JBlades47
Jchandler
JDude_99
Jeff_McRae
jemee2009
Jerichshow
JERRY_AIR
JetPilot5381
jijirock
jk12324
jmanx4182
jnco4383
Joa_NYC
Joeenu
Joeinternet75
joel85
joeletlevy
John BP Connor
JohnManko
johny1Herb
Joker-64
Jon-Payne-
jonah99marshal
JoOL777
jordan1998
Joschi-01
joselol1000
Joy_Bellic
Jrprelow
JSHELL37
juan29.zapataa
juggala
JustinKamka
JustoDaDon
JusT_ChAoS
kaanmijo
kabamaru1
Kacmlc3
kade226
kaelto28
KaRPiLLaRieS
Kazuya68
KCalpha
KDUBB305
kenn63
kereke12
KetchupSucker
Killamike023
Killazz45
killerder1
killermike7788
killlinyou78
Kon_E3
krankkExeriEncE
krashery
Krebstar3000
krissu10
kriz_alid
KSA-Machiner-505
Kuma91
LabelFM
labtastic
lacc1977
LacThunder1
Lambchjzel
Larsito.de
LatinoHeat74
laurence xx
lboybaby
LegenderyKing
LegiitSkillZx
LENAMENDOZA
Libertyjam

LiL.A.King
LIMP BIZKIT16
littlegta9
littleRJdude
Logan637
Lordzero99
Lord_of_Terror15
LosSantos87
LostMC14
loudbob72
louis1993
Ludo xb360
luiscastroify123
luisraul
lump420
L_harry
Maarccc
MacManz
MADEINU_S_A_
MadSweeney
MAFIABOY007
Magicman1625
magiorav
Magnorobc
MalcolM_west
Mambinni
MandeIa
mapleforce
Marney-1
Marston_Bellic
MASSIVEdrug man
MastaDamage
MastaMafia
math42-NBA
Matiikkanero
mattryan89
MattyGun999
MaurizioBoss
maurojessi
MauroPadin
maxpayneViking
MCKing
MCnDaHouse
Meepy-
Megamike6677
Memofl
menacejr
MexicanSardine
mgamer88
MiGgkEL
mightyart
Mikey_Ramone
Milikito_cp
MJtrewDK
mkernan
MLBGTG123
mm Aldaris
mm Vodka
modo_komodo
MoneyManDavid
Monoxide-ChiLd
MOUNTAINM4N
moussa-1080
mp2899
mp31002
Mr-Swaggahollic
Mr.formiga666
MrCManusk
MrVasto
MrxPacklex
MSD101
muddy-ducky
Munkyx30
murdokk22
N0OFUN
Nastus
Natesmb64
Neku_941
NesDawg
nikobelic2500000
niko_evil
NineToez
NINJAMATOR
Nismomuch
nkjellman
No1se515
No1seStyle
nogutsnoglory13
northencail209
NotoriousKang
NuclearMauler
numpguttah
Nupa-FIN-
obraznayr
Odd718
odin_ase
OhioBlattlaus73
OlegTitov
Omegashenron27
OMG-itz-PETER
oneeyejohn
OnkelUhr7621961
onlinertz
OrIGInalPyRO
OverTheUnder93
Pakos-94
patasus
Paulie129
paulliewallnuts
paulohmarques
Pawlik13
Pewner
Pistol_Paul
PL4Y80yS3x777
plasmafish
plebslayer
polodinio1234
PrinceSaldana
ProfessorMooMoo
proudestmikey
ps3killa
psymonjet
pumaazul80
PyroTheDon1
qlpqlpqlp
Quimera_PT
R4BIDC4M3L
Raccoon_Mark
Rafioso
Ray2795
razaobrera99
RDMelancholic
ReadDeadfan12349
rebazp
Recongamer11
Redball45
redboyftw
RedCupEconomoy
rEdFeAtHeR29
Red_Crunchie
Rene1049
renhockey
respect8711
RestoredPack800
Retana
RetroGlow
Rexton41
rezpatriot
RGC_HeKuT
richard_hung-lo
Riggo68
rlabrador911
robb543
Rockslar Games
RockstarSpy
RoHa4800
Rollaw
ROXIE_x
RustyRex
RyRy72
R_Kaim
S-5107
Samurai_Zen
santino13208
SAV-UK
scareface1970
Scarred_Scary
SchizoTobias
Scoonie
ScotsDude

ScottishFuk
scumbagPUNK69
SDWIFEY
Sectiondsince80
Sentasi
SFX6669
ShaddyDaShadow
ShadowRene
shags666
shagydog24
shark201
sHisH TaOuK QC
shmoogle
Sieg-Lr
Signus16
silentbob09
Sir_Lucious
Skipito
skone01
skuzzi123
slinky462
Smalley1992
SmeagolSRT4
smintja
sniper112
sniper207
snkcube
snooxorz
Snowwy89
SnowyDoughnut
Sobek6061
SolidPsycho
SonsyTeacher
souljaboy97
SoupMan2312
SpartanSnake
SpeedTestLT
spider jo zone
spyderGhost
sssolace
Stammer
stasieks
statiCCero
staticsmile
Stefan-no
stenbaby03
Sterla
stillaka47
Strike951
suicida99
sultangazi
SunDevilMike
super48rus
superfeuer
SuppressorKing
Svarpells
Svartpells
SweetSaintMan
SweetSweetTrash
SwiftPro90
Synthtastic
Syoudous
tadaskaka
TalkingMustache
testnindes1
teujip
tha_420_champs
THC_BOY_WONDER
The4ourTy67
thebolanos5
TheCartoonist
thecheb
TheCloven
TheDrGForce
TheGunSlinger123
TheHyperBoy
The Joker 656
The M C m4ster
therealtreefitty
TheRockJJ
TheShocker__
Theslasherof89
The_Dork_Knight
The_ReD_MiSfiT
-TheTruth-
Thiseas
Thunderball007
Timschutte
tinfoilboy
TISBAGTS02
TolanPrivalov
Tommy-Vercety
TommyVIceCream
TonySAV17
toolshed79
Torpedic
torpedo36
TriangleOffense
TRICKY TICKY89
trimbemsi
TrippyChick89
turbofive
Tw1zm
Ultima_Cloud
underdogSC
Underground641
UnfailingJoe
unknowassassin5
unSlow
utopianacht
V-3losh
VaultBoy216
verggil
videogamer50
vince_42069
vssgbr
Wallese_Uno
WallyBuddz
-Wambo-
WANTED_PARIS
WashiestCargo
waxkiller05
weedman-2011-
weskerlives1
whitewolf1975
WILDGTAKILLER
williammelton
WillSonnett
WindsweptDragon
wmorgan
Wobwie
WolfRogers
WoLfwaRRioR3232
WolfZomb
WRU x SPaRkzZ
wwehht
xAMBITIOUSxNESSx
xAnthony02x
xATLxFi3rc3r
xl KoNvlc7 lx
xojtek2
xSHadoW SoLDi3r
XxbloodyheadxX
xxD78xx
xxDA LENCH MOBx
XxEMxX_HeadShot
xxNoScOpExx10
XxSm0KeZxX
xYuEzSonx
x_Iain_x
yadekul
Yankeefan217
yingerman
YOSHI1994
Yoshividanza
Yosonimbord
YungStar145
zac900
Zarhan
Zeeshan810_NikoB
ziphon
Zoeee_2011
ZombBomb
zombieslayers23
zUnDeaD-_LeGenD
Hope to see you all at our next event for Red Dead Redemption & Undead Nightmare on Xbox LIVE tomorrow Friday April 15th from 4-7PM Eastern. Gamertag details will be posted in the morning.
You'd be wise to like and follow us on Facebook and Twitter. Normally at least once a week, we spontaneously decide to get online and play one of our titles. The only place you'll see our spur of the moment announcement is to keep track of us on those two pages. You can also check our Twitter feed on the right side of the Newswire and Social Club.
Previously:
Recap, Screens & Custom Console Winner: Red Dead Redemption & Undead Nightmare Social Club Multiplayer Event on Xbox LIVE (March 4)
Recap, Screens & Race Winners from Midnight Club: Los Angeles Social Club Multiplayer Event on Xbox LIVE (February 17)
Recap & Screens: Red Dead Redemption & Undead Nightmare Social Club Multiplayer Event on PSN (February 4)