Rockstar Games Presents the 38th Annual Harlem Skyscraper Cycling Classic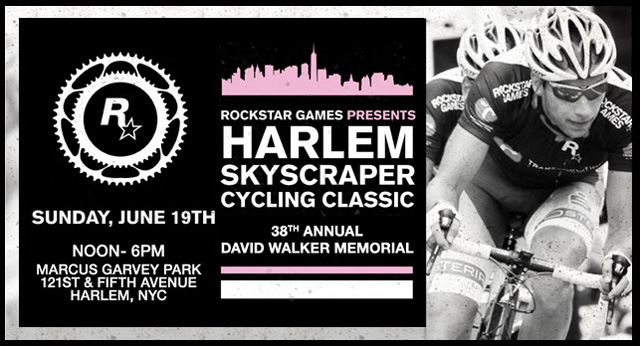 We are very proud to once again sponsor the only professional cycling race in New York City - the 38th annual Harlem Skyscraper Cycling Classic - which returns to Marcus Garvey Park (121st St and Fifth Ave) this Father's Day, June 19th. This landmark event marks a unique opportunity for professional, amateur, and children cyclists to converge on the streets of Harlem in a day-long celebration filled with competitive, high-speed racing, music, food, and family entertainment. The race will be televised live on NYC Life TV, Channel 25 in New York City and for those in attendance, members of Rockstar Games will again be on-hand with Rockstar-branded gear near the start and finish lines.

In addition to a rare look at world-class professional cyclists, the day-long cycling festival will also feature a "Bike Bonanza", where kids can improve their riding skills, get a free bike helmet, swap their bike for a better one, or register their bike through the New York Police Department. Bike New York is teaming with the Department of Transportation's Education and Outreach division, DOT Bike Program, and Recycle-A-Bicycle to offer the program free to children of all ages.

The day's events will kick off at 12:00 p.m. with the children's races - chance for the youth of New York City to showcase their cycling talents in front of a roaring and supportive crowd on the streets of Harlem. A full card of amateurs will then take to the streets beginning at 1:30 p.m., followed by the main event featuring the elite men's professionals at 4:00 p.m. – the only event in the greater New York City area to pit the best cycling has to offer against one another. The day's events are a true celebration of all things cycling, bringing together the best of BMX, road racing, and fixed-gear racing in a festival that surpasses age, experience or gender.

12:00 p.m. -1:30 p.m. - Harlem Cup Children's races: discover NYC's future racing talent and Olympic prospects.
12:30 p.m. - BMX street and vertical stunts begin with performances throughout the day.
1:30 p.m. - 4:00 p.m. - Amateur races featuring various men's and women's categories and events.
4:00 p.m. - 6:00 p.m. - David Walker Memorial Pro Men's race, introducing the all-new, multi-race Omnium format and a high-speed Keirin race finale.
4:45 p.m. - Fixed-Gear race.

For more details on the event, be sure to visit their official site at http://www.skyscraperclassic.com.