Recap, Screens & Custom Console Winner: Red Dead Redemption & Undead Nightmare Social Club Multiplayer Event on Xbox LIVE (March 4)
A glorious afternoon of Red Dead Redemption & Undead Nightmare was underway on Friday March 4th as online gunslingers from the world over gathered on Xbox LIVE to make their way through just about every multiplayer mode on offer.
The latest action in the Social Club Multiplayer Event Series featured online play, a live chat, a video stream and two different contests with 21 prizes, including 20 t-shirts and one super-rare limited edition Red Dead Xbox 360 console as seen below. Congrats to Social Club member SAV-UK who was lucky enough to be randomly selected as the grand prize winner for the console - enjoy!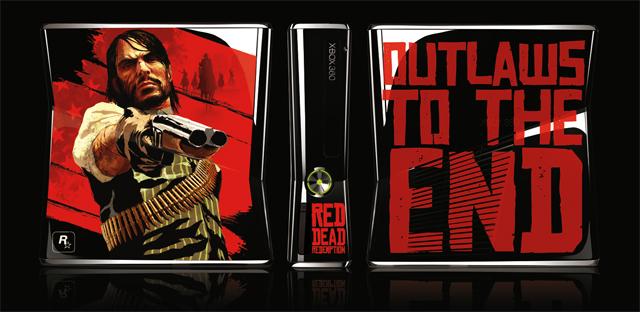 Congratulations to Social Club member SAV-UK for winning this limited Red Dead Redemption Xbox 360.
Join us for our next live streaming session on Friday, March 18th from 4-7 PM Eastern when we'll be playing Grand Theft Auto IV: Complete Edition on Xbox LIVE. See below for a recap with screens of several rounds of play from last Friday. We begin with a classic out under the hot sun - Gold Rush in Río Bravo...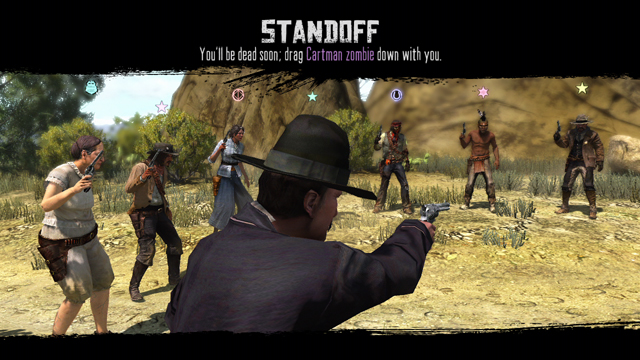 Gold Rush started with a Standoff where RedDeadDev3 managed to nab the first kill, taking down BackHandB0b with a shot to the face. That was followed by ii x FLaMez defeating xFieryAssassinx, Miss Iza downing iR a g 7V a r and CYPRESS44, ii x FLaMez shooting sparky71a, nonos15 puncturing shaggy176, Activ3 Roost3r headshotting nonos15, Miss Iza executing RedDeadDev3, Cartman zombie taking Activ3 Roost3r, Miss Iza and Katie0391 to the dirt, Rad McAwesome snagging a headshot off ii x FLaMez and finally Cartman zombie. Got all that? If you did, you can figure by deduction that Rad McAwesome survived. Bravo.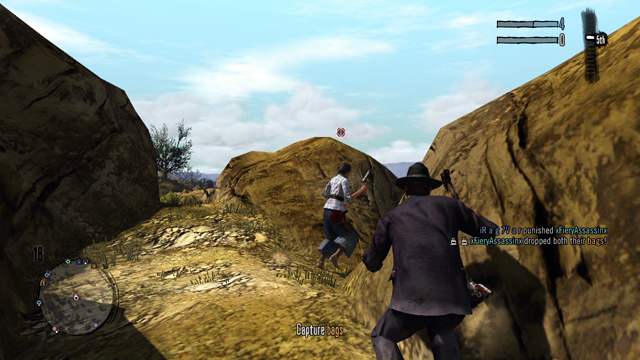 Later on in the same round, RedDeadDev3 is seen here sneaking up on Katie0391, taking her down with the Tomahawk, part of the Undead Nightmare disc version and the Legends and Killers Pack. The eventual round winner was ii x FLaMez who ended with 10 captures, 17 kills, 14 deaths and 6 headshots. And longtime Social Club multiplayer event participant CYPRESS44 came in an impressive second place with 7 captures, 28 kills, 11 deaths and 10 headshots. Bon travail!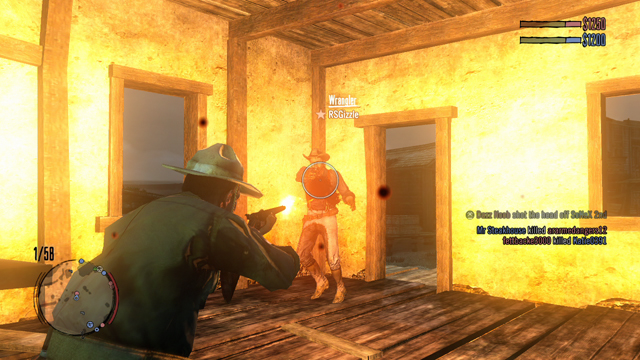 Moving things to Gang Shootout in Tumbleweed, 16 players began with a Showdown and American Army's Mr Steakhouse was able to bring down the last remaining Cattle Rustler fettbacke3000. But as most of you know, a Showdown/Standoff is only the beginning of these rounds of play. RedDeadDev3 illuminated the room above with...Dead Eye? Nope. A single frame of video as captured above shows the light given off by the blast from his Double-barreled Shotgun as the ammunition tore into RSGizzle's chestpiece. Blaow.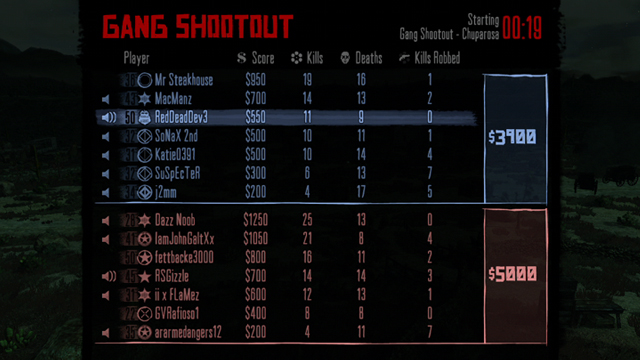 And for you stats-heads, here's the complete results from that pretty epic Gang Shootout match. Congrats to the Cattle Rustlers and Dazz Noob for the win in Tumbleweed.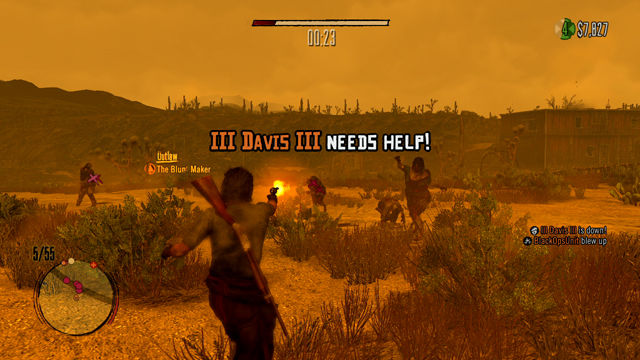 Undead Overrun in Undead Nightmare was next up in Undeadwood. Things seemed to be starting off well for the posse, but soon the zombies became too great of a force to handle. In the screenshot above, RedDeadDev3 defends himself against Bruisers with his Double-action Revolver before heading over to revive III Davis III. Dead Eye is absolutely crucial in Undead Overrun, as stated in one of our recent Rockstar Game Tips posts. Highly recommend checking those out for those trying to wave up.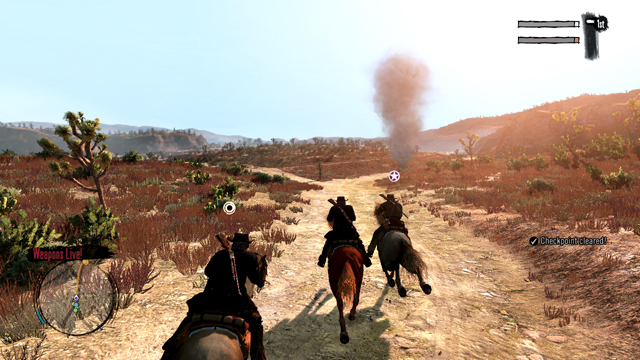 Have weapons will travel in the screen above as eight distinguished gentlemen lined up for a race through Rathskeller Run in the Horse Racing mode Grand Prix, part of the Undead Nightmare disc version and the Liars and Cheats Pack. QUIRIN222, CYPRESS44, Mr Steakhouse, CSIXTY, OverTheUnder, RedDeadDev3, cigarnut81 and RedDeadDev6 took off from the starting line, the first kill going to Mr Steakhouse who planted QUIRIN22 into the ground. And maybe it was a sign, because Mr Steakhouse crossed the finish line first with a time of 2:07.87.
We ended things with Free Roam, going through some of Armadillo's Land Grab, fighting enemies in the Gang Hideout in Twin Rocks and even staging some fistfights and Tomahawk battles. Thanks to all that were in on the event. Below is a roll call of participants, just shout if we've accidentally left anyone out:
Activ3 Roost3r
Addict_Boss
aEric22
aerochr1s
AlChrism
AlexisCipriani
AlfordTerrace
AlmightyAC
alotesnivek
AlpaChino814
AMAZINGKING
Anders_Friden
ararmedangers12
army_ofdarkness
Arturs_Z
atornros
Austinsgrandpa
AwsomeGamingGuy
Axel DvD
AxsusXD
aymericdu62
BackHandB0b
Badcaly
Barrywang
Bcabezon99
beast__
Beatlebradner
BEATZ102
bebsona
BeDhAtHaIrY
BigDawgGP45
BIG_STRONG_NIKO
bikinisntchmnstr
biliyang
BitEater
Black666Roses
BlackenedUK
Blais1
BleedingShock
BobbyTheNinja
BonesJones
Box647
BrainParasite
brokenwing0016
Bukylocc
BurningShadow11
CAMRAMAN333
Captain Lemonz
Cartman zombie
cassea222
cepy11
chowhound4
Chuckal
CitrousKhan9
clem108
concretesk8ter
Cookie1560
CorgiJulien
CreamGiant
crunkdg
CSIXTY
cuervomonkey
CutthroatJeff
cyborgSP
CYPRESS44
Danetrooper
danielmackie
danielyjose435
Dazz Noob
dem0nslayer117
dezzign
DonBinetti
dragonrich
DrofSound
Dr Prof Solid
eddie420forlife
Edstar2409
eino_t

emerson_bie
Emperor Shenton
E Nauti
False Cathedral
farfp7
Fash30
Felipesz
fester1066
fettbacke3000
FiFiville
firidoo
Flanagunn
floflo37
fmsantos39
FootTallRooster
foragidomexicano
FormableMarlin8
FourKingAwesome
Freakyhellmita
FugetSudo_Jr
G3Bz iTz Semtex
gamerboyjm
GeneralJason7467
GermanScientist
ghetto-d7
ghostlegend
ghostx1984
GM-Shenmue
gman33
Godever2
gojeff99
GREG27270
grez2010
Grrrtt
gtafreak97
GTAMASTER_08
GuidoTKP
GunslingerFIN
GVRafioso1
Halfyre1
HALODAN12
HavokAndChaos
Henrymann
hitlistman
hmr827
HomieClone
HugguH
Husaria
III Davis III
ii x FLaMez
ii x RiiOT KiiD
iR a g 7V a r
ItsAhip2bSQUARE
IWIHooligan
j0orge7
j2mm
JackKnifeZero
JACKS246
Japxbo
Jerry_La
JhonnyThizzlam
JIMBO R0CK
joewhitt45
Joker-64
Jonsku1
Jooky Chainsaw
JST-987
JusT_ChAoS
JxSidney
Kablasia
Katie0391
KecsoV
KidFromBroker
killer_clown242
killlinyou78
kingofdeath99
KING_TOKE_
knight-buster

kookenhaken
kpunk65
LabelFM
Lady Deth
Larsito360
lavaliere
LBxRAIDER
LegiitSkillZx
LipeBranco
lobes1
LOLAAPLOL
Lucas199
luckylady81
LunarHippo853
m00sej0ckey
MacManz
Mannylato
Marney-1
Massacre49
Mattkipftw
MattSkellington
MaxSeifer
mcmelster
Mecun
Mikeol2011
Milikito_cp
MissIza
Miss Iza
MonteB
Mr-Miner
Mr Steakhouse
Mr YeZzZzleR
mspowder
MUdWAter126
murdokk22
mutetus
mutonia
myju94
Netoe18
Newbiii
NiceGuyEddie79
nonos15
Noru112
notpatmadigan
no_blabla
Nupa-FIN-
nutalion
OneSubset
On_Edged
Opey36
OUTTA T1ME
OverTheUnder93
Panchinator
PanzerFj
pedrostl
Phymaster
Pistol_Paul
POWR8INDAKISSA
proudestmikey
R0ckstarNetwork
r3ll1k88
Racecarlock
Rad McAwesome
Rafioso
Ragnar360
RANGER95
Ratmann999
razaobrera99
Reekox
rezpatriot
rgizzleboss
rguzman
Riggo68
Robertko989
rokaleta36
Rollaw
RRT4444
RSGizzle


RutNutRut
SaixSwift28
SamStam
Samurai_Zen
scareface1970
Scooby Doo
SC_Zombie
SenorNinguno
serushide
shaggy176
Shayne O Mack
shepardTHEweak
Sir_Lucious
Skitzophrenikk
Skullredeye
SLAYER 66360
Smartfreak
SocialClub
SoNaX 2nd
SorcererLance
sparky71a
SpartanSnake
Spawny0908
st-padraig
statiCCero
Sterla
St NICK Bond
stoplesses
StormRaging
SuBzx360
Suilean_Gorm
supemax402
Superblazer1
SuSpEcTeR
Suspecter
TehDazNoob
ThatDarnGamer
Thatfloflo37
the-scare
The Blunt Maker
TheDaveler
TheNewDanger325
therealtreefitty
THE_MUFFIN_MAN16
ToS x Keearon x
TrevorTank
Triggern0metry1
trple X blu dot
trple X red dot
TurtleTurbo
Tyman1192
Ubiquitous
UltramanKnight
Unbound-_-ReKo
undeadCowkid
UnLiMiTeDeSiGNz
Vejur25
venom20000
vincent2704
VincentQc
vince_42069
viskaz
VnP123
-Wambo-
Wormwood_GC
Xeon1822
xFieryAssassinx
xRDSxStoney
XXXsicmoXXX
yourshames
Zakkybeans
ZaneWilkinson
Zeekeda360freek
Zeeshan810_NikoB
And once again, make sure to join us for our next live streaming session - Friday, March 18th from 4-7 PM Eastern - playing Grand Theft Auto IV: Complete Edition on Xbox LIVE. Have a look at what's on the remainder of the calendar of multiplayer events scheduled through the end of March, and be on the lookout for the announcement of our new April-June calendar to be posted right here on the Newswire in the next week or so.
Some of you may know by now that, other than these events with live video, we also play in matches that aren't scheduled or announced ahead of time. The only way to know when we're getting on PSN, Xbox LIVE or Games for Windows LIVE is by following us on Facebook and Twitter. Alternatively, you can view our Twitter feed on the right sidebar of this page as well as the Social Club website. You never know when we're going to be turning on Triple XP for Red Dead, so follow us to stay up to the minute...
Previously:
Recap, Screens & Race Winners from Midnight Club: Los Angeles Social Club Multiplayer Event on Xbox LIVE (February 17)
Recap & Screens: Red Dead Redemption & Undead Nightmare Social Club Multiplayer Event on PSN (February 4)
Recap & Screens: Grand Theft Auto IV & Episodes from Liberty City PC Social Club Multiplayer Event on Games for Windows Live (January 20)