L.A. Noire at PAX East: Recap & Previews Roundup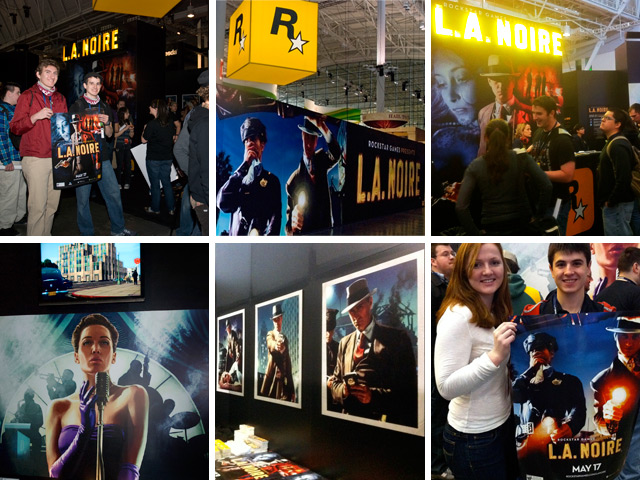 This past weekend, we packed up several large trucks and took L.A. Noire on the road, playing through 30 minutes worth of the "Red Lipstick Murder" case live for fans in a custom-built exhibition theater on the show floor at the Penny Arcade Expo in Boston.

Cheers to everyone who ventured out to the show and made it through the line to see the game - with the non-stop tunes from our resident DJ, and lots of giveaways of Rockstar and L.A. Noire stickers, tees and posters - the booth was indeed buzzing. A very special shout to all the fans who fed back to us via Twitter and Facebook too - the response to the game was phenomenal, and we really can't wait for you guys to all experience the full game for yourselves this May.
For those that were not able to make it, fortunately the gaming press turned out in force for PAX as well, and we've got a roundup of new L.A. Noire previews from the show below. Also look for the t-shirts and posters we handed out to be available at the Rockstar Warehouse very soon.
"Rockstar's pedigree for engrossing story and characters, combined with L.A. Noire's unprecedented ambition and tech from Team Bondi, will make it the first of its kind." - GamesRadar
"Grand Theft Auto was Rockstar's innovative open world game, Red Dead Redemption was an innovative western, and L.A. Noire is set to be an innovative experience as a police officer from the 1940s with a realistic bent. Cole will experience a wide variety of cases as he moves from the traffic desk, to homicide, and beyond. If the entire game plays out like this single case shown at PAX East 2011, L.A. Noire will be one impressive game." - Escapist

"The amazing part of the demo were the mannerisms of characters being interrogated. Someone is being honest? They look Phelps right in the eye. Liars? They're cagey and fidget. Some of it is completely obvious; some of it is subtle; all of it was fantastic." - Shacknews

"Two minutes into the demo, one thing was immediately clear, Rockstar isn't content to let their critically acclaimed winning streak fizzle out. Not only is LA Noire a technical achievement, it's poised to offer the most unique, and subtle, gameplay experiences in the studio's celebrated history." - Game Rant