Recap, Screens & Race Winners from Midnight Club: Los Angeles Social Club Multiplayer Event on Xbox LIVE (February 17)
If you weren't a part of our Midnight Club: Los Angeles multiplayer event last Thursday, not only did you miss out on a chance to compete against Rockstars and on a t-shirt giveaway, you also missed out on three hours of streetracing action around Los Angeles. Missing an opportunity like that is inherently a fail, so take this as fair warning that we have another date in our Social Club Multiplayer Events Series on March 4th from 4-7PM Eastern. We'll be playing Red Dead Redemption and Undead Nightmare on Xbox LIVE, so remember to join us for that (or one of our other events) and get with the winning team.
Speaking of winning, below is a list of the winners and times from each race in our Midnight Club: Los Angeles event. Note to the uninitiated: this is the area you'd want to screencap and post to your friend's wall on Facebook if you demolished them in a multiplayer event — remember the golden rule, pics or it didn't happen.
Ordered Race - 'Valley Freeways' -

UnloadedWall

- Ducati 1098R - 02:59.01

Ordered Race - 'Welcome to Hollywood' -

GwRockstar3

- Ducati 999R - 00:46.72

Ordered Race - 'Wilshire Sprint' -

GER b0dE 01

- Ducati 1098R - 01:22.03

Ordered Race - 'Welcome to Hollywood' -

GwRockstar3

- Ninja ZX14 - 00:41.98

Basewar Capture the Flag - 'Venture Streets and Alleys' -

Ninjaapocalipse

,

JustoDaDon

,

xXxPHANTOM27xXx

,

THU31

- Score was 11-2

Race Editor Race - Custom -

Confirmed Sky

- Murcielago - 00:20.53

Keep Away - Beaches -

Confirmed Sky

- Murcielago - 03:25.97

Landmark Race - 'Hollywood to the Pier' -

LukeIMurFATHER2

- Ducati 1098R - 00:45.98

Landmark Race - 'Hollywood to the Pier' -

xXxPHANTOM27xXx

- Gallardo - 00:49.35

Keep Away - 'South Central' -

vs Red Bull

- NINJA ZX14 - 03:10.40

Circuit Race - 'Promenade' -

vs Red Bull

- Corvette Z06 - 03:35.80

Ordered Race - 'South Central Tour' -

I Magic City I

- Gallardo - 01:45.25

Landmark Race - 'Ocean to Stadium' -

kdog65549

- NINJA ZX14 - 00:45.99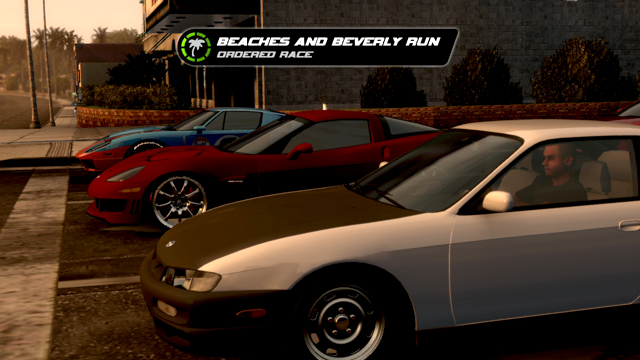 GER b0dE 01, vs Red Bull and GVRafioso1 line up and prepare for the start of the Ordered Race 'Beaches and Beverly Run'. Vs Red Bull took the early lead, being trailed closely most of the time by CoolDude146. Vs Red Bull held on and claimed victory with a time of 01:55.96, compared to CoolDude146's 01:59.63. Nice.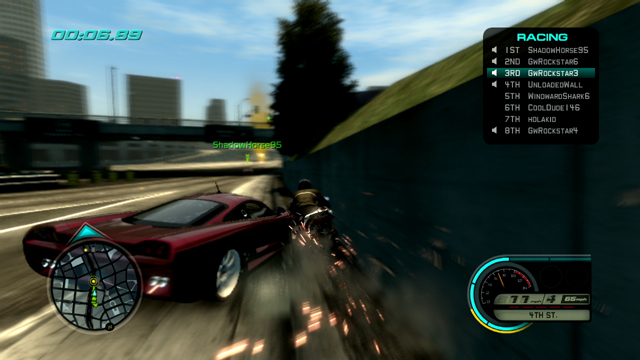 Our own GwRockstar6 uses his 06 S7 to slam another Rockstar GwRockstar3 and his 06999R into the wall at the beginning of one of the first races of the event in the Ordered Race 'Valley Freeways'. Grats to UnloadedWall on crossing the finish line first.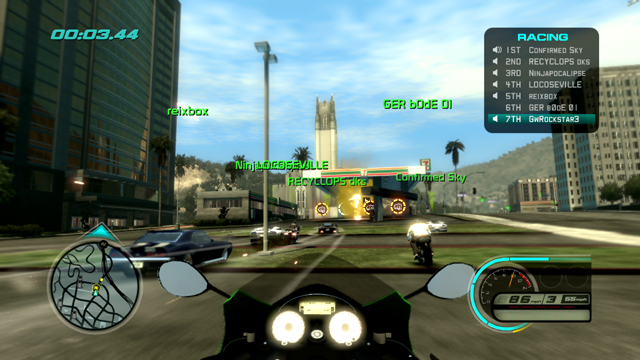 GER b0dE 01, Confirmed Sky, RECYCLOPS dks, LOCOSVILLE, Ninjapocalipse and reixbox get going ahead of GwRockstar3 during a Race Editor race with a fan-made custom map. Congratulations to reixbox on getting 1st place, and we also want to give a shout out to RECYCLOPS dks and his cold, robot heart for placing 3rd.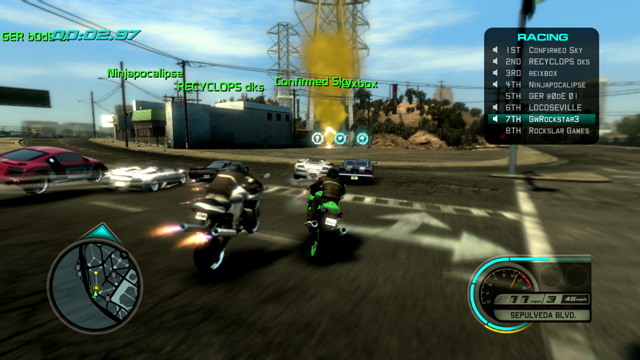 LOCOSVILLE turns on the jets a tad early as seven others work to navigate the extremely short 20-25 second fan-made Race Editor race. While our own GwRockstar3 had the lead for about 15 seconds, Confirmed Sky pulled ahead at the very last moment, edging out GwRockstar3 by only 11 hundredths of a second.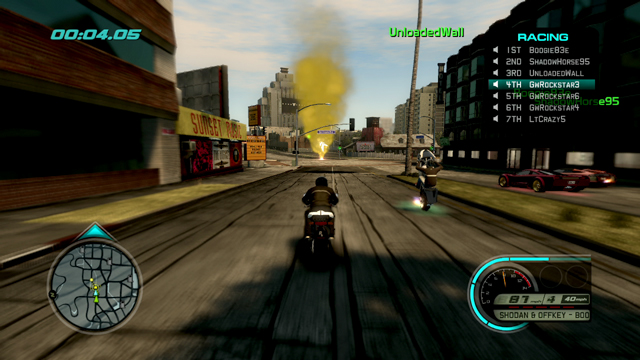 You've gotta look closely in this one. UnloadedWall appears to be showing off at the beginning of an Ordered Race in 'Welcome to Hollywood', not realizing that a second later GwRockstar3 will be watching ShadowHorse95 and Boogie83e (both above to the right) slam into and cause Unloaded Wall to topple off the motorcycle and faceplant into the Los Angeles pavement. Ouch. A few minutes later, GwRockstar3 finished first.
Good show all around to everyone that took part in the event. You were all as ruthless (and ostentatious with your customizations) in game as we've come to expect. You guys have demonstrated once again that you know how to compete hard to leave someone out cold and in the dust. See below for a list of the event participants.
1stGTAJman
ADDICT_Grimm
agonzalez
andyfunes96
BBC CiRCLEBOI
Bflame7
BitEater
BlazinR3DRUM
BleedingShock
bondlaw
Boogie83e
BSA_Ace
BXUNDERGROUND
carbonated92
carl131
cesaruave
ChaseHowell
chicagofarker
chiningeur93
clem108
colossalgirl
Confirmed Sky
CoolDude146
CorgiJulien
cpac197
CrustlessKey337
curtis206
danielmackie
Darkslayer242
DarthFelpa
DeadlyTarget
DefensivePIague
Deniz777
dess666
DJ IM DA BOSS
Djjak9013
Djurempa
Dukeitout
eino_t
eunitdgk
FisharLG
Flitskikker
FugetSudo_Jr
gamefreak23228
Gamerzworld
Game_Warrior
GBJoey
GER b0dE 01
GermanScientist
gerov24
ghostx1984
GM-Shenmue
gman33
Gonzo345
GpRockstar1
gravediger68
gtakillla17xxx
GutanaSS-001
GVRafioso1
harrylloyd
HighbornAmoeba4

holakid
HRQ360
iBrazzer1997
IIDSII_HOODZ
infolady
IR0N_WOLF
itsyawman
ivan.n
Iv Black Dot vI
IWIHooligan
Jfactor
joeletlevy
johnybillson
Joker-64
Juglare
JULISTER
justinx2pascalx
JustoDaDon
k1k0rc
King Muller eXe
LiL.A.King
LIMP_BIZKIT
linux731
LKBurnout777
LtCrazy5
MadChill
ManiacMagpie
Marney-1
mayhem_girl
McSeries23017
michaelm21
MikeyInLA
missruby
modo_komodo
MrDahCookie
naatumach
neffers97
Netoe18
NightWanderer
nikobelic2500000
niksun
NINGA SNIPER
Ninjapocalipse
Nismomuch
Oathwood
odd molly
oklahomafan999
pilf yert
pitbullY2Killer
PlatinumXtreme
prettiboiiswagg
ps3killa
psymonjet
Python SDS
Rafioso
Rawdeal28
razaobrera99
RECYCLOPS dks
Red_Dead_Jayden
Retana
Riggo68

Rocker_Guille
Rockslar Games
rokaleta36
Rollaw
rookie371
Rotaz25
rube25
rutterdon
samkovacs
samsonsh
sawfish22
SFX6669
ShadowHorse95
shnapi
sightgasm
SkullSOLID
Skyline34
SocialClub
souljaboy97
SpareKirill
SpartanSnake
StarStruck192
SteppedMucker67
stfueuan
strikkebil
strictlandmister
SweetSaintMan
System Code P90
talltan
TAZIEE
TehDazNoob
therealtreefitty
THU31
Timoleague-Duck
Titek75
Toffefe
TrxyJxzy
trxytruetndt
turbinatesniper
turbo5
turbofive
viking402
VirgulateFlyer4
vs Red Bull
WindwardShark6
WolfRogers
wowwee69
WTFcrazyMANU
XauroZx
XB0XEDDY
X e n o n B l u
XoTic StaticZ
xUNEEKx
XxxFerrari09Xxx
xXxJoKeRsAcE88xX
xXxPHANTOM27xXx
xXxYluzionxXx
yadunnknow
yoramses
Zee420
Zeeshan810_NikoB
As we mentioned before, the next event is on Friday, March 4th, we'll be playing Red Dead Redemption & Undead Nightmare on Xbox LIVE from 4-7PM Eastern. Come through and join the party.
Also as you may have seen recently, we're doing surprise Triple XP sessions for Red Dead Redemption & Undead Nightmare, these surprise sessions are in addition to what we've been doing for months — randomly jumping online to spontaneously play with you guys. The only way to know when we're on is by following us on Twitter and liking us on Facebook.
Previously:
Recap & Screens: Red Dead Redemption & Undead Nightmare Social Club Multiplayer Event on PSN (February 4)
Recap & Screens: Grand Theft Auto IV & Episodes from Liberty City PC Social Club Multiplayer Event on Games for Windows Live (January 20)
Recap & Screens: Red Dead Redemption & Undead Nightmare Social Club Multiplayer Event on Xbox LIVE (January 7)