Midnight Club: Los Angeles Official Social Club Multiplayer Event on Xbox LIVE (February 17th, 5-8 PM Eastern)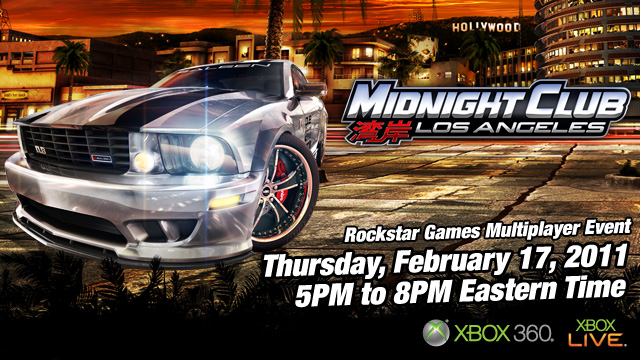 Update: The event has ended. Thanks to everyone that joined in – whether playing, watching the live stream or participating in the chat. We look forward to seeing all of you in future events.
Ladies and gentlemen, start your engines...and get ready for a full evening of Midnight Club: Los Angeles on Xbox 360, the latest in the Social Club Multiplayer Event Series.
By fan request, we'll be on Xbox LIVE for three hours February 17th from 5-8PM Eastern, tearing up the streets of LA in just about every multiplayer mode the game offers. During the event you can view our video stream, jump in our live chat and register to win a t-shirt at the event page for all Social Club members.
Here's all the details you should need. Any other questions about the event - just hit us up in the comments.
SPECTATE AND CHAT
Not able to race us? You can still follow all the action at the Social Club Multiplayer Event page with a live streaming broadcast of the entire event. We'll also have a chatbox up and running on game day for those that want to discuss the action as it unfolds.

HOW TO FIND US
We'll be announcing the modes we're in LIVE in the chat during the event. You can also follow these steps:
Press Start on your Xbox 360 controller. Scroll one tab to the right to Modes. Choose Xbox Live from the list.
Choose Player Match and then Custom Match. Choose Yes from the next dialog.
Choose Cruise from the list. In Race Options set Maximum Players to 16 and Vehicle Class to Any.
Look for a GwRockstar Gamertag and jump in on the action.
OFFICIAL ROCKSTAR GAMERTAGS
Participating Rockstar Gamertags for the event will be:
GwRockstar3

GwRockstar4
GwRockstar5
GwRockstar6
Previously:
Recap & Screens: Grand Theft Auto IV & Episodes from Liberty City PC Social Club Multiplayer Event on Games for Windows Live (January 20)
Recap & Screens: Red Dead Redemption & Undead Nightmare Social Club Multiplayer Event on Xbox LIVE (January 7)
Recap & Screens: Red Dead Redemption & Undead Nightmare Social Club Multiplayer Event on Xbox LIVE (December 16)