Recap & Screens: Red Dead Redemption & Undead Nightmare Social Club Multiplayer Event on PSN (February 4)
Big thanks to the many participants in our most recent session of Red Dead Redemption & Undead Nightmare in the Social Club Multiplayer Event Series. Whether you were watching the stream, chatting, playing or just stopping by to register for the console giveaway... much love for coming through.
Congrats to Social Club member Lucassster on winning the giveaway of this one-of-a-kind customized Red Dead Redemption PlayStation 3 you see below. Enjoy it sir, and everyone look for another custom console giveaway next month during the March 4th Red Dead & Undead Nightmare event on Xbox LIVE.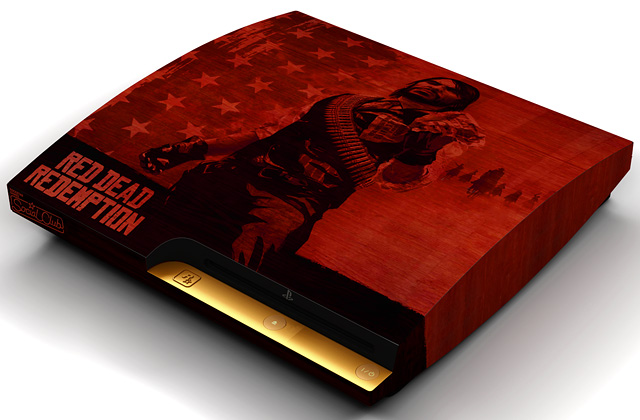 And now a recap below of some of the best moments from the afternoon of mayhem, so let's get things started...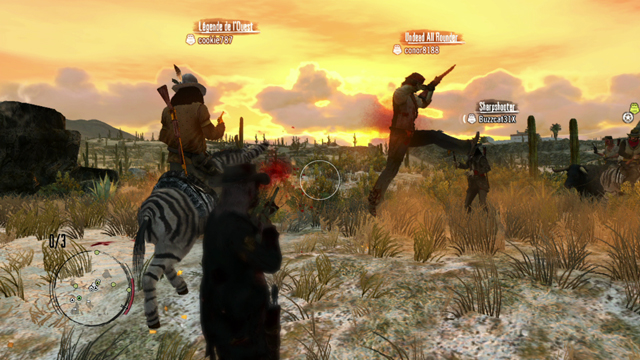 The event began with 16 players across several posses forming an alliance to kick some Gang Hideout azz. There were plenty of random antics following the completion of each event, including Buzzcat31X throwing a Tomahawk that ripped through conor8188's torso as he tried to jump out of the way of RedDeadDev3's shotgun blasts. We remember someone astutely shouting "that's gotta hurt".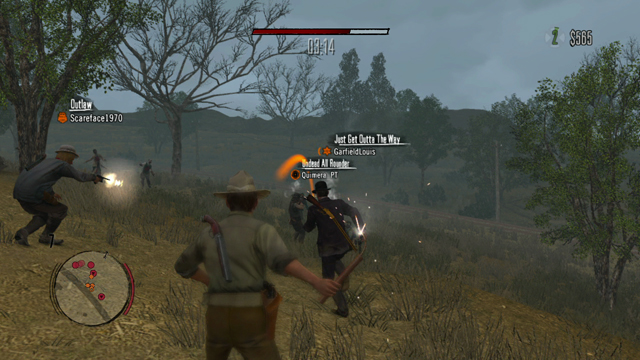 We got in several games of Undead Overrun throughout the afternoon, the first with RedDeadDev3, Scareface1970, Quimera_PT and GarfieldLouis showing their stuff in Blackwater's own Dead Man Walking. Here we see, RedDeadDev3 is ready to throw Dynamite at the incoming zombies while Scareface1970 tries to help get one off Quimera_PT. Teamwork at play.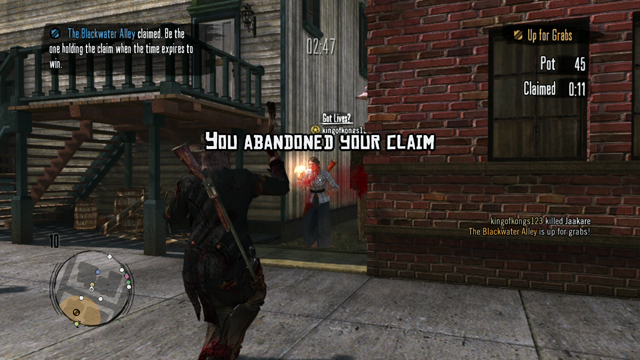 Land Grab in Blackwater. RedDeadDev3 pulled out Tomahawks for close quarters combat, exemplified by this moment when kingofkongs123 got one to the face. Ouch. Grats goes out to the victor xMichi90 for claiming 1:16 of the total time of 6:00. Credit goes out to FizzPopNFriction, for getting 2nd place with a time of 1:06. MCDrank came in third with a time of 0:39 total.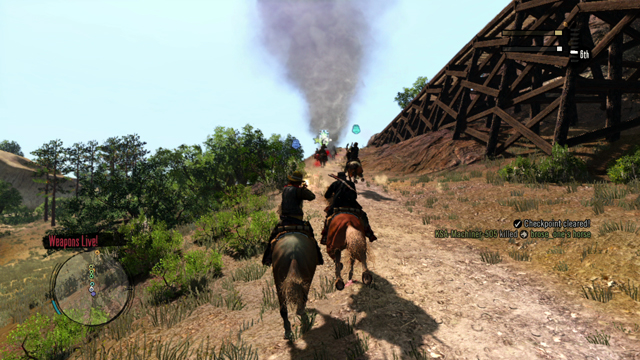 Ready for fast-paced action, we saddled up for some of the Liars and Cheats Pack's horse racing mode Grand Prix. RedDeadDev3's challengers were vince_123, brose_one, ati_kiraly, oFelipeNFo, WolfRogers, Jammee1 and KSA-Machiner-505. In the N. Johns Invitational's first race Tall Trees Trail, KSA-Machiner-505 landed the first kill on brose_one's horse, causing quite the tumble. In the above screen, vince_123 is firing at oFelipeNFo and others in the top four. And the first to cross the finish line: vince_123 with a time of 1:34.69, just a bit ahead of WolfRogers who placed second with 1:37.30.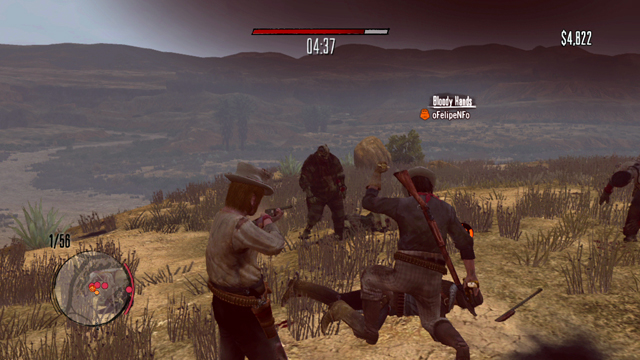 After a few minutes of Stronghold resulted in a tie between Redemption and Walton's Gang, it was about time for some more Undead Overrun, this time in Undead Django in Sepulcro. In this screen, oFelipeNFo is reviving Demon-Jow while RedDeadDev3 defends. RedDeadDev3, Scareface1970, oFelipeNFo and Demon-Jow ended up surviving 13 waves of zombies, totaling the final count up to $108,818 and Gold status. Always a good showing when you manage to break $100K.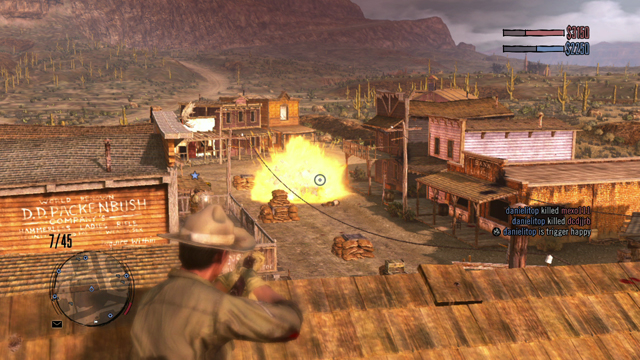 And in the final moments of the afternoon in Red Dead, we got together with a group of players that were also in the chat for some Hardcore Gang Shootout in Armadillo. It was sadiko221, t2000desmo, V-DIRTDIVER-V, GeeK-KiLLa, RedDeadDev3 and Lord_of_Terror15 versus bcSHaNe, mexo111, Si64M64oN, TrippyChick89, dcdjjrb, johnnybear8 and nerb_5. Here we see RedDeadDev3 watching TrippyChick89 blow up in the middle of town. Death by dynamite, trippy indeed. Grats to top player dcdjjrb and to mexo111's posse on the win.
Thanks again to all of you for taking part in the event. Whether we were blasting and knifing each other during a fast-paced race through Rio Run, or sitting down for a gentleman's game of Liar's Dice ("I say, indubitably")... your passion for elite competition was on display, and took things to the next level. Below is a list of everyone who got in on the action according to our records, & don't hesitate to let us know if you were accidentally left off the list:
a-rogue
Adigta4
adrianhv92
afrochinese
ahetFIN
Akan22
alicia_awesome
Among_Thieves
Andyweb2
AngusDude
Ares_R
asaaj6
ASeibV
Asterixe_63
ati_kiraly
Avivator108
AX7lover
Axelalberto
barrosvini
Battery-Acid-
befan13
Ben_Weber330
Berra_86
Bflame7
bigdon23
BigRob96GT
BIG_STRONG_NIKO
BitEater
BlackCore1
BleedingShock
BlitzRich
bmanemokid
bmood989
BNasty187x
BobObeyond
Bocho-6
BrendanLegel
brose_one
BuddhaR
buddy576
BUGEYE02
Burbuckle
burritoo1234
Buzzcat31X
C-ckadoodledo
C001D2037BAE6
CarbineNeutral
chaosriotzero
chicagofarker
chuchu747
CiNcY-_-g0BliN
CiTARO39
cjschris
clem108
Codename22
coffinmate66
commonposition
Connorzombs
conor8188
conorSuper
cookie787
cool_alex10
CorgiJulien
CrazyChris0583
Crimson_Bear
cubania
Cubs_79
curbguy
D-Money093
d555987uiob
dah5meuk
Darchellstrike
DarkLord6_6_6
DavedCoverdale
Davenb
dcdjjrb
Deadpool1187
Demon-Jow
desicrator2
dicekidd
DiCry774
djijacass44
Djurempa
Donowprod
doogen
doomsday131
doradorey
dramalessdiva
DSanta
dweekend_229
D_dub_
eanbrandon
earsman14
EbcdicZehetbauer
ECFNW-
eDuArDoX94
elephant_stone
emeraldus
Emilviper
ENagEnaDo97
espfan78
Ewinnn
Fabegut
fatmac918
FATNiX87
Ferrisplays
FIGHTMAN94
FIRESPIRITRIDER
firidoo
FizzPopNFriction
Frecoppe
FREDMAN71
frejim
FugetSudo_Jr
FuriousChad
GarfieldLouis
GeeK-KiLLa
georgyx13
GhostWalker303
GM-Shenmue
gman33
grendal12345
groovride
GTAIVmbb2
GTAMASTER_08
GTARogelio2
GuidoTKP
GunGrave47
GustavoAlmeidaBR
h111844678
hairymaclary123
haley804
Halfyre1
HappyNSplendid
harryboily
harvesterbikes
hayhay144
Hell_Can-d25
holamike
Hoplomachii
Huhupik
hungryjoe12
Husaria
hybridpassions
imac97
ImVaStO
IncrediDick
infectiousmonkey
iTippy
ivan.n
IWIHooligan
IWJOSH
Jaackr
Jaakare
jaemoney
james21007
Jammeeh
JamminMD
jaredim
jarethsolis
jeffmerch
Jepuliz
jesE_GR
Jinbreaker666
jjoyal88
Joeinternet75
johnnybear8
joltfreek
karol555sly
Katie0391
kattenfluga
Katzeh
kenb_6870
kevin425
Killa47Punk
kingofgames30
kingofkongs123
knyghtmirror
kpiegzik
KSA-Machiner-505
Laciel
lars1602
levent-33
Liberty_King
LiL-A-King1
LNRD89
longhornninja
Lord_of_Terror15
Lord_of_Terror74
Lord_of_Terror92
LorenzoG360
louis1993
Lucassster
LuisFernandoLope
MadSweeney
MAHIEDDINE
Majorasblaze
Makakalack
Mango_Is_Awsome
mardinho
Maxor9
MCDrank
MCKing
MelloCake
meltron69
METALLICACorn
mexo111
michaelvance
mikedh13
Milikito_cp
MLBGTG123
monpek
Mortal91ify
mrmaroonbanana
MrVasto
MSG990
musa_94
navajogerman
nerb_5
Newbiii
oFelipeNFo
onlinevato
oOcadetOo
OutlawOrange
OverdoseMan
o_oCLEARYo_o
papa275
pepe66
Perf3ct_m1Ni
PlatinumXtreme
Playerslayer214
PopeHomelessXIII
purplesparrow
qahtani_hilali
Quimera_PT
Racist_Guy101
Raider843
razaobrera99
ReadDeadfan12349
rebel555
redemptionhunter
Redx165
RGC_HeKuT
rodez86
Rollaw
Ryanasldjfhk
Rykin122
R_Kaim
sadiko221
safewaycart
samsonsh
SamToro
Samurai_Zen
Sanador62
sb12kid
Scareface1970
Scoonie
ScotsDude
shadow_rider59
shannon2617
sharzie3
Shawdyy
Shynkai
Si64M64oN
simon.ouistiti
Skewld13
slinky462
Slumpbusters12
SocialClub
SomeoneWicked
SouthernComfort
Spaghioli
speedy11432
Spidey47
stenbaby03
StivGTA
StompingSnakes
Stratspider230
strikkebil
Studios5107
SUBLIMEtimothy
SuperSoviet
sweetcarl
SwingingSimon
t2000desmo
TantricNferno
tdx069
TERROR-HORROR
testnindes1
ThaBlitz07
The-Herminator96
themainman007
therealtreefitty
The_Dude360
THE_MUFFIN_MAN15
Time_2_Die
tmoyniha
TrippyChick89
tristenboyle
Tro0per
United-Alboz
usateam84
V-DIRTDIVER-V
vanillavercetti
Vega_Knox
vince_123
vince_42069
Wan7ed911
welder820
whateverbloom
will_lopez12
WolfRogers
XMADTERMINATORX
xMichi90
XShady08X
xUbK-SisTaZx_B_
xUnBoRn-KiLLaZx7
XxSOLDIER_VKxX
yadekul
Yammygoochy
ZombBomb
ZombieSpanker666
Be sure to join us tomorrow, February 17th when we'll be playing Midnight Club: Los Angeles on Xbox LIVE from 5-8PM Eastern. Gamertags and details coming later today...
We're on both Facebook and Twitter, and one of the many advantages in following us is that we often like getting online and playing our games without any advance notice. If we're getting on to play, we're tweeting it out and posting it on Facebook... and that's it. So be sure to follow us (see the Follow button on the right sidebar of this very page) to get in on even more multiplayer action...
Previously:
Recap & Screens: Grand Theft Auto IV & Episodes from Liberty City PC Social Club Multiplayer Event on Games for Windows Live (January 20)
Recap & Screens: Red Dead Redemption & Undead Nightmare Social Club Multiplayer Event on Xbox LIVE (January 7)
Recap & Screens: Red Dead Redemption & Undead Nightmare Social Club Multiplayer Event on Xbox LIVE (December 16)