Recap & Screens: Red Dead Redemption & Undead Nightmare Social Club Multiplayer Event on Xbox LIVE (December 16)
In our final Social Club Multiplayer Event of 2010, we ended the year with a bang by gathering Rockstars and players from around the world into Red Dead Redemption & Undead Nightmare for a bloody holiday fiesta of Undead Overrun, Stronghold, Grand Prix Horse Racing and more.

Expect plenty more opportunities for online mayhem in 2011. Your first chance to match wits and bullets online with us in 2011 will be via a Red Dead Redemption & Undead Nightmare session this coming Friday, January 7th from 4-7PM Eastern. Cheers again, to all of you that participated, watched the stream, or entered to win prizes over the last year.
In the December 16th event, we powered up four Xbox 360s and took to Free Roam, playing games in a variety of modes across the world of Red Dead...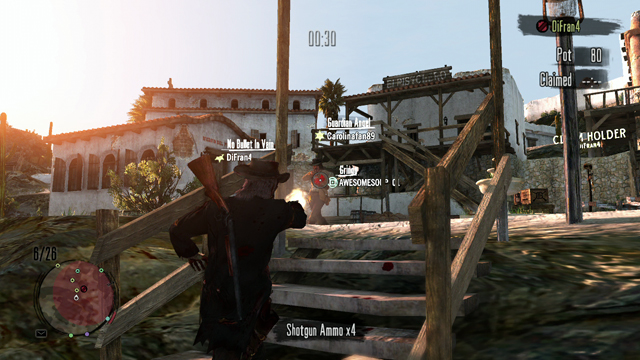 FIGHTtoBeFREE got the first win of the afternoon as we started things off with Land Grab in Escalera. A particularly brave (yet foolhardy) moment came when RedDeadDev3 rushed the capture area, trying to overtake a posse consisting of DiFran4, FIGHTtoBeFree, Carolinafan89 and vforvendetta13. RedDeadDev3 opened fire on Carolinafan89 and FIGHTtoBeFree, taking them both down, but the effort wasn't enough. Strong showing for the posse of four. We tip our hat to you.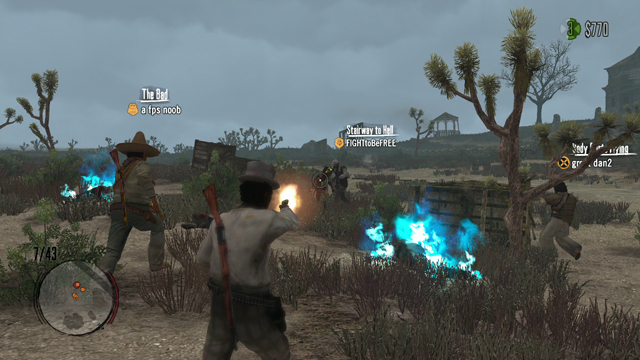 While we always enjoy the competitive challenge of Land Grab, it was time to head into some zombie killin' in Undead Overrun. Making it up to wave 18 in Undeadwood after hundreds of kills was a fine posse: RedDeadDev3, great dan2, a fps noob and FIGHTtoBeFree. During one of the earlier waves, all four players surrounded a Retcher and mercilessly shot the hell outta the thing, causing it to blow up in a green gaseous spew. That's above. Grats to great dan2 for making it the longest in Sudden Death, and to everyone for getting a grand total of more than $150,000...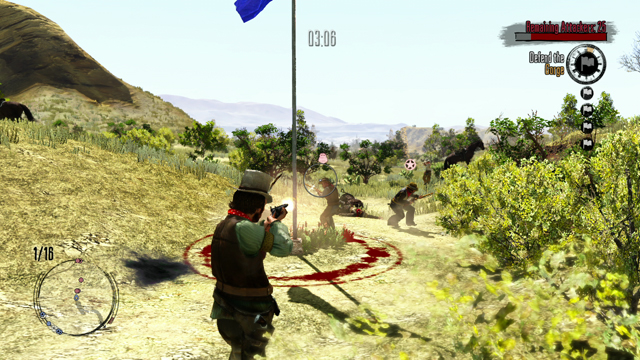 We hopped over into some Stronghold (available in the Undead Nightmare disc and in the Liars and Cheats Pack DLC), ready to tear things up in Fort Mercer. Dutch's Gang (D) vs the Cattle Rustlers (C), and things got ugly quick at the first capture point: the Gorge. First kill honors goes to Samiboy91 (C) for shooting the head off gangstamic9 (D). RedDeadDev3 (D) rode to the scene on horseback and quickly disposed of Samiboy91, but PKU Eskained (C) avenged his teammate, dropping RedDeadDev3 onto the ground. Congrats to the Cattle Rustlers for capturing all five points in 7:42 with 34 lives lost. Dutch's Gang wasn't so lucky, only capturing three points.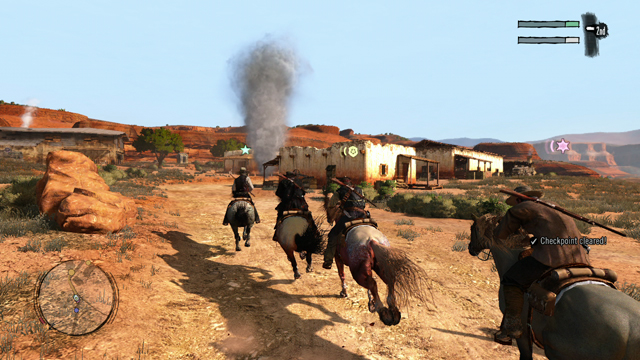 Continuing things in the Liars and Cheats Pack, we saddled up for some horse racing in Grand Prix. In the screen above, GWARMAGGOTSLAVE, RedDeadDev3, Scoonie and FIGHTtoBeFREE round a tight corner during Coronas Paradise. In Grand Prix, you can pull out your weapon to gain an advantage, but it might cost you a place or two in the standings. Dare you pull out the shotgun? GWARMAGGOTSLAVE was able to survive to take first place honors...strong work sir. Check out our new Grand Prix tips posted last week to polish the fine art of horse racing with weapons...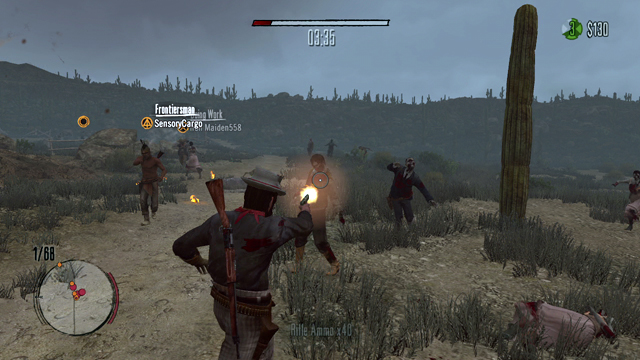 Back to Undead Overrun, as we had grown famished for more dead zombies. We were ready to tear up the walking maniacals that long to eat our flesh so we entered Bury 'Em Deep, the most wide open map available in the game. SensoryCargo watched RedDeadDev3's back as the Rockstar eviscerated the dead without prejudice. After multiple waves and relentless hordes, Iron Maiden558 was solidified as the top contributor with the most kills, proving that the screenname was aptly chosen.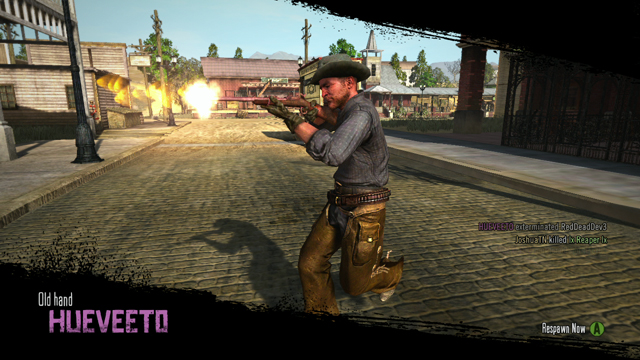 Heading back to Free Roam for the finale, 16 players all gathered in Blackwater for Land Grab...and JoshuaTN came out of it with the win in The Blackwater Alley. In the screen above, HUEVEETO fires away at an enemy after taking RedDeadDev3's life. Superb kill, and a fine outfit.
Thanks again to all of you for joining us for the afternoon. Always a great time as some of you are pretty damned skilled at headshots and the ol' Dead Eye. Check out the list of participants below, and if we left you out, just let us know:
Abortivus
Ace_Of_Heartz7
a fps noob
Aketsu85
Alejandro195
Amazonagent
Apocalypse1309
ArabianSTRONG
AWESOMESOUP101
Axe_Steel65
badantjoka4k
Berunov
BGrylls4616
Blaze59601
BleedingShock
BluePurse57315
blue root beer
BMF x Akita
bpunisher89
bRaIn cH1Ld
BSA_Ace
Buckierude
Butterflies9094
buzby8
Buzzer604
BXUNDERGROUND
Camikaze35
carlosHdez6
Carolinafan89
Chadrcheze
ChakkuSama
Cheeseburger162
christian1027
CHUBBY CHUBBLES
Chumps Ahoy
coc1d1us
CorgiJulien
Cory Muad Dib
Craids
CRAZZY SKITTLES
cuzzythewolf
CYCYLONE
DA DOPST
DandiestPlains8
DanielMoreiraCRQ
danmachine
desroyer117
DF DROPDEAD
DfectedZOMBIE
DiFran4
DJBeSSeR
dmarcel
donpatrick87
dooler91
drizzyboy
Dr Kewl Aid
Dr Pwnage1
D_Dog_43NL
EagerGorgon42
Edstar2409
EJT3912
El Loquillo C
err1231997
ExcitableBoss
FIGHTtoBeFREE
fill_94
fishmonkeyhat
FugetSudo_Jr
fuzion17c
FuzzyBigVito
G4L GameKiller
Gamer4Real88
gangstamic9
Gennousake
GermanScientist
ghostx1984
GM-Shenmue
GOLDENxREAPER
GoLd SaVaGe x
GOLDUST1500
Gormly
great dan2
guzman805
GWARMAGGOTSLAVE
hamburger98
Hans Crapton
Harmonix_001
HauntedZombie26
HELLS HATRED 7
HillbilyPancake
HNW031
HOBAN-93
hogsy16
HorrorFox
HUEVEETO
Husaria
ICECUBEWC
iceprince2009
IDTJanes
IMPEND1NG DOOM
IRISHGHOST1
Iron Maiden558
ivan.n
Ix Reaper Ix
JAVIER2424
JayRAD310
JeffRivera
JeremyWantsGTAV
Jerepic
JoshuaTN
jynx114
Katzeh
KBdat5boi
kemp2k8
Killer Coke
killeronehun
killorty
kingmj97
Ki Oats Kobra_Nemesis
KRILICSK8ER
KSI xEMPERORx
lauz boii
ldx23
legendaryBos

Leroy Big
LiamcReed
liammcg
LIL-WEEZY-UK
LipeBranco
LiveSaifer
Logan637
Loomis Crapton
MachineGunFuunk
MAHIEDDINE
manon8388
Marco-Bue-Sani
marcus855
Marney-1
martin.1978
Maxibillion1
maxsale
Mcgintyboy
melson1
MEXICAN HOBOS
MidxKnight
Mikey1028
MisterApathy
misterherms
MrSleepingWaffle
Mr Wibbly
mtjaws
Mtndew2
murdokk22
MXHITMAN3
NavalMario2012
NAX STRUX
nicolaxx
NIGHTMARE TR
niko_bellic316
NockstarRorth
odorous
OffPython
Ohiostatefan013
OmfgMetroCop1
Osterzone
panda asesino12
PKU Eskained
posila
PRO COPPERTAIL
Pro_CoppperTail
qR3FL3Xp
Rafioso
RankNumber1son
RATTLING REVER
razaobrera99
ReadDeadfan12349
reco10
RepugnantPrawn9
RICANKILLER40
Ricochet_Saw
Robofloyd360
Rocker_Guille
Rollaw
Ruben Crapton
Samiboy91
Sassamar

scareface1970
Scoonie
Sebax444
SensoryCargo
SFX 6669
Sgt Road
ShadeShiner
Shamuel69
Simpanovic
skerdiCow
SnatchBandegrip
SocialClub
Spirit Fox01
SSM3EVO
stasieks
staypaid
stickman6000
supemax402
SuperiorThunder
talltan
tdbbshawdy
TendererSal
TestingRpond
The Agent E
The Kazoozler
the prodige
therealtreefitty
THE_MUFFIN_MAN16
TidalPwnMaster
tmoyniha
TrippinBungalow
TWO Many Skillz
txhalomassacre
UndeadHeadshot
VendableWinter0
VendibleMass33
vforvendetta13
VictorHTorres
vince_42069
VulcanianOak
WearisomeP0L02
weirdlittleboy
WickedBeast27
wlc fighter
x9LivesSoldierx
XDarthxGirneeX
xLT Kilroyx
XxBionicGiantxX
XxInfectedOnexX
xXShadowEaterXx
xXTHExXxB0SSXx
xzaclock158
yadekul
YayMaal
Yungbullll
zombiekilla1667
zombielovertak
ZOROARK
If you want the chance to play with and against Rockstar online even more often than the dates listed in our brand new calendar of events, follow us on both our Facebook and Twitter pages. We're known to get on and play at a moment's notice. Otherwise, see you this Friday.
Previously:
Recap & Screens: Red Dead Redemption: Undead Nightmare Social Club Multiplayer Event on PSN (December 3)
Recap & Screens: Grand Theft Auto IV: Complete Edition Social Club Multiplayer Event on PSN (November 19th)
Recap & Screens: Red Dead Redemption & Undead Nighmare Social Club Multiplayer Event on Xbox LIVE (November 11th)