Recap & Screens: Red Dead Redemption: Undead Nightmare Social Club Multiplayer Event on PSN (December 3)
On Friday December 3rd, we faced the zombie apocalypse, land grabbed, and shot it out together on PSN via Red Dead Redemption & Undead Nightmare in the latest Social Club multiplayer event. Thanks to everyone that joined in on the mayhem in-game, via chat or watched the stream.
Be sure to join us this coming Thursday December 16th from 4-7PM Eastern for the Red Dead Redemption & Undead Nightmare Social Club multiplayer event on Xbox LIVE.
Here's how the carnage unfolded on PSN...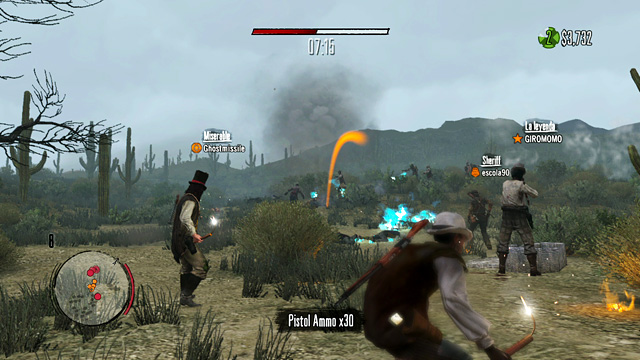 Beginning in Undead Overrun, Ghostmissile, GIROMOMO, escola90 and RedDeadDev3 tackled wave after wave of relentless zombies in Bury 'Em Deep. The dead know no exhaustion - after nineteen waves Sudden Death started up. They all fell, killed off one-by-one, until only escola90 was left. Down to his torch, he too went down but only after racking up a kill count of 170.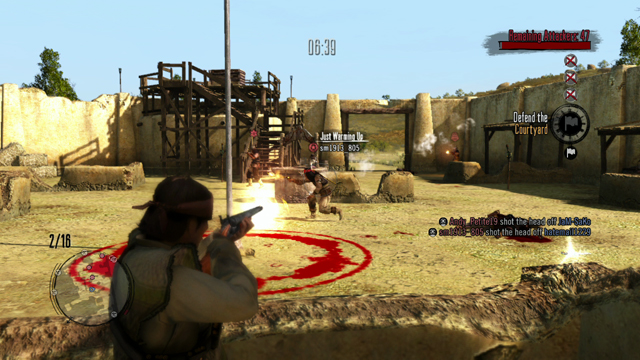 Liars and Cheats Pack time for Stronghold in Fort Mercer. Enough cannons and attacking/defending to keep 16 players well busy. In this screen, RedDeadDev3 shoots away to defend the courtyard from sm1913_805 and team. Congrats to RedDeadDev3 and the rest of the Rebeldes for getting the victory.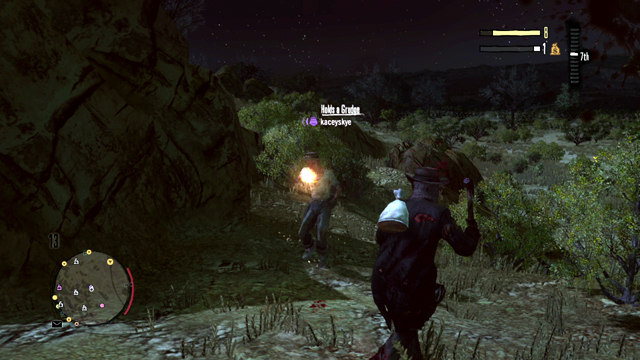 We switched over to the Legends and Killers Pack for a round of Gold Rush in Rio Bravo. In the screen above, Kaceyskye fires away while RedDeadDev3 throws a Tomahawk. Things ended up with justiceman1 leading with 27 kills, 12 deaths and 10 captures. Second place was killlinyou78 with 7 captures and third place was Lord_of_Terror74 with 7 captures.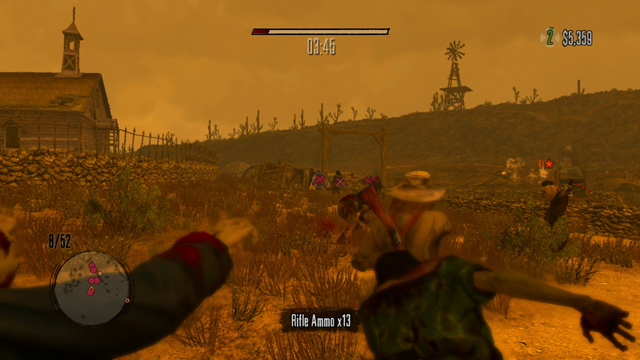 RedDeadDev3 returned for more Undead Overrun, this time with blazegoalie and Juggalo_Scrub603 at his side. Above, as RedDeadDev3's attention is focused elsewhere a Bruiser lumbers up from behind him. While RedDeadDev3 got ambushed from behind, blazegoalie made an incredible last stand on the roof during Sudden Death, outlasting everyone else and taking more zombies with him than anyone else in his posse.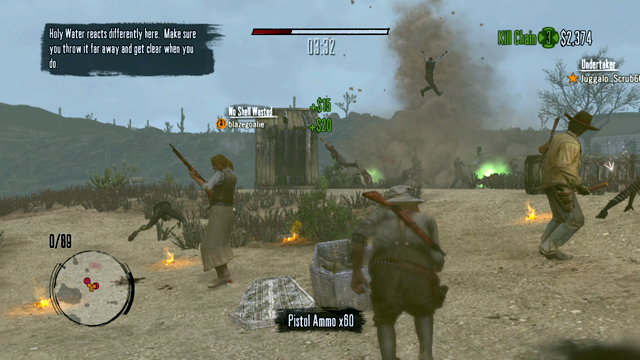 During the Undead Overrun battle with RedDeadDev3, blazegoalie and Juggalo_Scrub603, we reached new heights of destruction. Specifically, that zombie in the background that got up about 15 feet or so sky high. That's what happens when you bring rotting flesh and growls to a dynamite fight.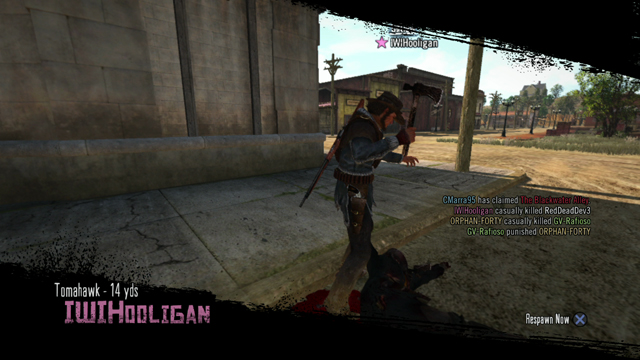 Next we got into a 16 player game of Land Grab in The Blackwater Alley. In this shot, IWIHooligan looks down at his victim RedDeadDev3, after cutting his game short with a tomahawk blow. Not pictured, IWIHooligan's insatiable blood lust. Vince_123 ended up the winner with an unbelievable 2:40 accumulated time and a pot of 1,070. Coming in second was CMarra95, who held his stake for 59 seconds.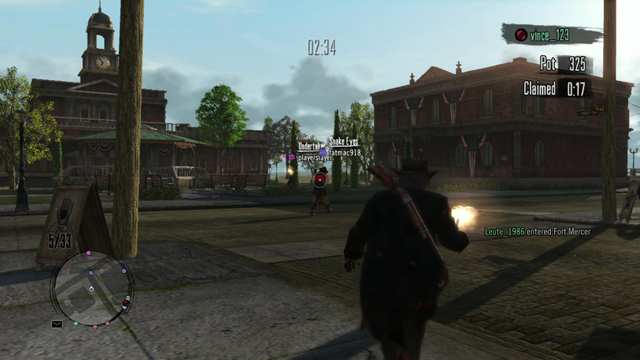 Here's another view of the action in Land Grab. Fatmac918 takes fire from RedDeadDev3 and playerslayer214. In Land Grab, there's no such thing as fairness, only greed and backstabbing. Appropriately in this shot, the greediest and most opportunistic player of the game vince_123 is holding control of The Blackwater Alley.
Thanks to everyone who joined in on the party. You guys make blowing up reanimated corpses and stealing gold a real fun time. Below is a list of everyone who got in on the action (if we missed you, we apologize. Shoot one of us in the back next event, that way we'll definitely remember you):
9084db
Abortivus
ahetFIN
Akn9sIV
AlaskaPollock
alexlegroslion
Andy_Petite19
ariadnacola
arturs2342
arturs1234567890
AvalonStar
AVTR417
babylove53
BadBadsmoku001
baddog_36
Battery-Acid-
beantownbrawler
beast__
BeefBurritoes
begitu
Berunov
Bflame7
BGursky59
bigmoneymac
BitEater
BlackCore1
Blaizer2
Blaze2541
blazegoalie
BleedingShock
BlitzRich
Bluecurls
BlueFireZ88
Boomhouer8606
boonedog74
bpunisher89
BuddhaR
budgie1
Caleb83817
cat-tank45
Causton97
cazroq1969
chicagofarker
clem108
CMarra95
cmk80
coyotezeyes
CrissRiot
CynicalDemon
DarkBernius
darkgemineye
darksoulalr
DdTt811
DerImperiator
DethsShadow
dex815
didi727
DMAN367
dooler91
drummer5
DSanta
DuRty_LiL_Liife
Dylmiester_43
Edenology
emvipee23
erfredf
escola90
Evildrunk
EvilVirgo82
fahrettin3
fatmac918
felipe_golden
FugetSudo_Jr
FuzzyBigVito
Gameninja418
GAS_MASK_KILLA
GearHawkAccel
GermanScientist
Ghostmissile
ghostx1984
Glarrett
GM-Shenmue
gman33
GouedardV2
graefocs
GREEDY-ghost
GreggFac584
GURBEDIU
GV-Rafioso
hamdi_halouani
HardYards
hatemail1229
Hazkeel14
HerseyBoyRockz
Hexperience
Hoplomachii
Husaria
ICECUBEWC
IIMRSOPRANOII
IWIHooligan
IZORACK
jaissoncw
JaM-SaKo
jbman13
Jebus_420
JetPilot5381
Joe_Nova1
Juan2440
Juggalo_Scrub603
justiceman1
justiceman2
kaceyskye
Katzeh
KecsoV
killlinyou78
KillzoneHero
kingnelson1
konzolfan
KPinoy
Kratos-le-Kebab
Kratos538
Leute_1986
Liff182
LiL-A-King1
LilBlack109
linux731
Logan637
logancat24
Lord_of_Terror15
Lord_of_Terror74
Lord_of_Terror92
luisamericaluis
LuisFernandoLope
MacManz
MAHIEDDINE
Maxibillion1
MCDrank
MCKing
misterherms
moXmurdaX
Munkyx30
-NACH-
n-i-c-h-o-l-a-s
Nails000
neovillan
neveroutguned
newoneon
niko_bellic316
Nismomuch
oddjob954
oldwestBounti
Opazo
ORPHAN-FORTY
ORPHAN-FOUR
pablo3103
painterkilla
PaprikTreat
Peru2600
PlayDude77
Playerslayer214
Poison-Preed
Polytoxer
PoshBishounen
postalsam
Prebwib
Presidentgamer
Pro454
proracing53
q8fawaz501
qb2_hood
Rafioso
ReadDeadfan12349
reddeadmafia
Redx165
Rick10k
RobbieT_4Quati
roffa55
Rollaw
rsaleen829
S-A-V-A-G-Eo_o
s33422i
sani3467
SessDMC
ShadowLight801
shadow_rider59
SICKS3
Simpanovic
SithOne56
skeem75
Skelofreak
SkillZx
Slim_Shady101
sm1913_805
Smokydoky034
SocialClub
Sofa_Viper
spassnipergod
SPITFIRENINJIA3K
SSM3EVO
Techno769
TexGirl410
The-MR-UFC-2010
TheElectricWorm
TheKingKalle
therealtreefitty
ThexXDMPXx
tmoyniha
TommyVIceCream
tonika87
tragicdwarf
Trudappa
Uber_Tank
un4goten1
Uneek-Psycho
usmcwife13
ustnov
vince_123
vince_42069
Wallese_Uno
WHY-WHY-ME
wifredo
WolfRogers
wolvermax386_cl
worldscat
Wuodoo
xghost50
XNightmasterX
XXBANNIXSNIPE
XxClaurinhoxX
XXLPolytoxer
yadekul
yoman700
Zero_Shigeru
Follow us on both our Facebook and Twitter pages as we've been known to get online for an hour in one of our titles a few times a month, and the only place we let you guys know when that's happening is through those two pages (or via the Twitter sidebar widget here on the right)...
Previously:
Recap & Screens: Grand Theft Auto IV: Complete Edition Social Club Multiplayer Event on PSN (November 19th)
Recap & Screens: Red Dead Redemption & Undead Nighmare Social Club Multiplayer Event on Xbox LIVE (November 11th)
Recap & Screens: Red Dead Redemption: Undead Nightmare Official Social Club Multiplayer Events (October 28-29)