Recap & Screens: Grand Theft Auto IV: Complete Edition Social Club Multiplayer Event on PSN (November 19th)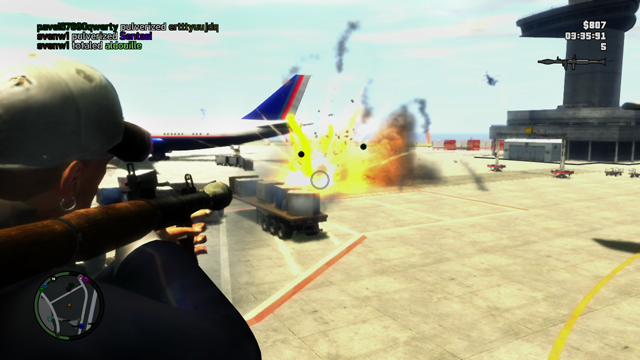 (PlayRockstar1 scores kill after kill after kill on the airplane wing at the airport in Deathmatch with Rocket Launchers during our most recent Grand Theft Auto IV: Complete Edition Social Club multiplayer event held Friday, November 19th on PSN....)
It was an all-out epic Grand Theft Auto IV: Complete Edition PlayStation 3 multiplayer session - our latest installment in the Social Club Multiplayer Events Series, where players clashed in multiplayer modes from Grand Theft Auto IV, and the two episodes The Lost and Damned and The Ballad of Gay Tony (all included in the recently released Complete Edition in stores now for both PS3 and 360) with our own Rockstars for over three hours. All the while, spectators watched the live video stream, chatted with us and other Social Club members and entered to win a very limited edition Episodes from Liberty City PlayStation 3 at the official event page.
During the event, Social Club members had the opportunity to enter the Episodes from Liberty City PlayStation 3 Console Sweepstakes. Congratulations to the winner who's taking home the customized kit: alby13 from California. And stay tuned for additional special sweepstakes in future events.
Read on for a recap of some of the memorable moments during the afternoon, along with screens captured live during the event.
We set things off in GTA Race in Grand Theft Auto IV with 16 brave souls ready for eight laps in Trucks around Star Junction on the track Stars in your Eyes. Kerj55 took advantage of PlayRockstar1 being on foot halfway through the first lap, running him over with a Flatbed. After PlayRockstar1 respawned, he stole PlayRockstar4's Fire Truck and got back into the race. This left PlayRockstar4 without transportation... so he decided to block the rest of the race with a bus, causing plenty of headaches for those in 1st, 2nd and 3rd place. In the end, justiceman1 outran the Rockstars and finished with $1,200 and 8 completed laps in 09:04:34.
Switching over to regular Race mode, 12 new players chose their vehicles alongside the four Rockstars, and we started the track Duck and Weave. The front two cars on the starting line were driven by Lord_of_Terror74 and vakazizs. Ffxt69 missed the first turn, and anyone else that happened to make the first turn ran into a road block of vehicles. Vakazizs, one of the players who began with great starting line placement, turned and then flipped next to two trees. PlayRockstar2 now led the pack, but in the end it was Lord_of_Terror74 who took the lead and won with $1,250 and a time of 03:27:33 in two laps.
After a few more rounds in Grand Theft Auto IV, we started up The Lost and Damned's Deathmatch mode on Happiness Island with Assault Rifles. First kill honors went to juanguitos123, who nailed Mou-Check right in the face. After plenty of action in and around the Statue of Happiness, RobbRR1 reached $10,000, bringing the lengthy battle to a close.

Getting into a more team-oriented spirit, the N.O.O.S.E. prepared to battle The LOST in Witness Protection with Assault Rifles. The N.O.O.S.E. of course had the objective of trying to safely deliver a prison bus full of witnesses to precincts across Liberty City and consisted of PlayRockstar1, LiL-A-King1, ertttyuujdq, Lockmat666, Polytoxer, KINGBUSHIDOFAN and gtamees. And Bocho-6, prince_of_devils, aldouille, PlayRockstar2, PlayRockstar3, PlayRockstar4 and GV-Rafioso made up The LOST, tasked with taking down that bus and its passengers by any means necessary. Due to excellent protection coming from all involved with the N.O.O.S.E., ertttyuujdq successfully got the prison transport bus to all locations and dropped off all the snitches. Justiceman1 proved to be the ultimate protector with a total of 13 kills during the round. Grats to you and your team, sir.
After a bit more bloody fun in The Lost and Damned, we hopped into APCs for some GTA Races in The Ballad of Gay Tony on the track Club Class. Up on the front of the starting line were PlayRockstar3, Bocho-6, GV-Rafioso and JAYGUNZ72. PlayRockstar1 started all the way back in 7th place, but in a case of the steady tortoise versus the hasty hares, he slowly made his way past several flipped over APCs, as well as those that weren't too apt at making quick turns. He got all the way up to third place, but in the end, couldn't get past Social Club stalwart GV-Rafioso and the eventual winner: ertttyuujdq.
After JAYGUNZ72 won a round of Deathmatch in Funland with an impressive 28 kills and 14 deaths, we finished things off with a proper finale, inviting a load of players and jumping into Free Mode. Buzzard helicopters, car chases, parachutes, explosions and bloodshed. Our tradition -and a fitting way to end an epic afternoon of the complete Grand Theft Auto IV multiplayer experience.
Below check out screens from some great moments during the event.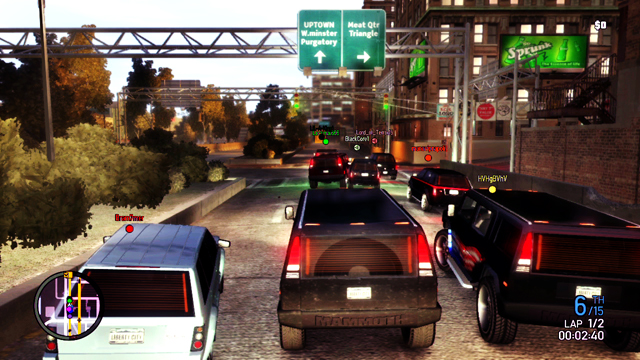 (Patriots, Huntley Sports and Cavalcades race on the track Drag Kings with All Weapons enabled in Grand Theft Auto IV.)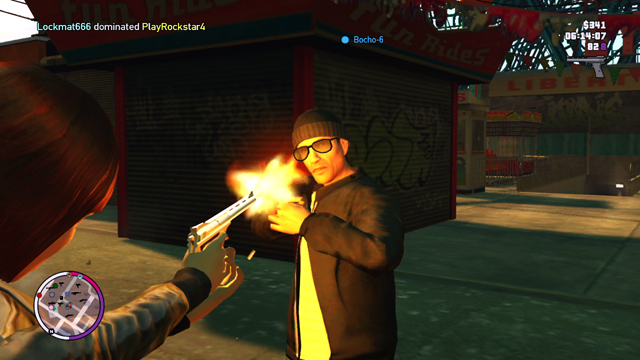 (Bocho-6 and PlayRockstar1 battle it out in Deathmatch in The Ballad of Gay Tony in the close quarters zone Funland on Firefly Island.)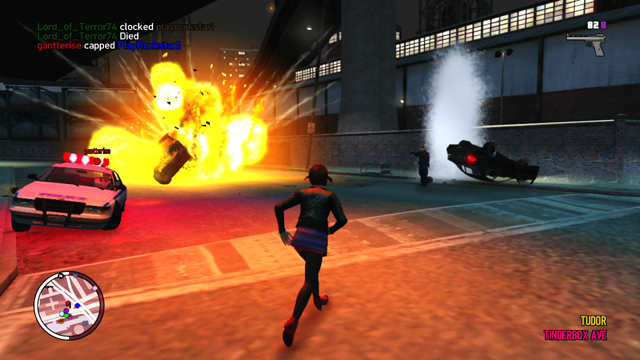 (PlayRockstar1 runs to avoid gantterise in an oncoming cop car as a vehicle explodes nearby in Free Mode in Grand Theft Auto IV.)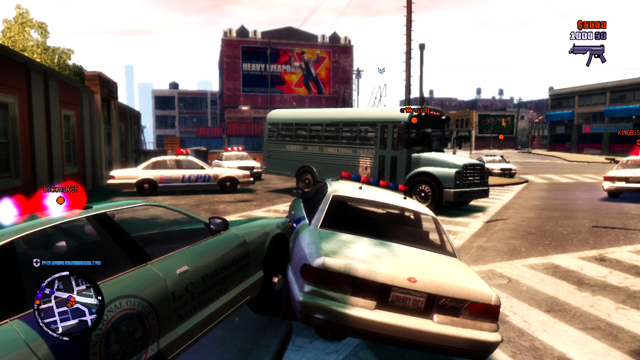 (The N.O.O.S.E. protect the prison transport bus from The LOST in The Lost and Damned's Witness Protection mode.)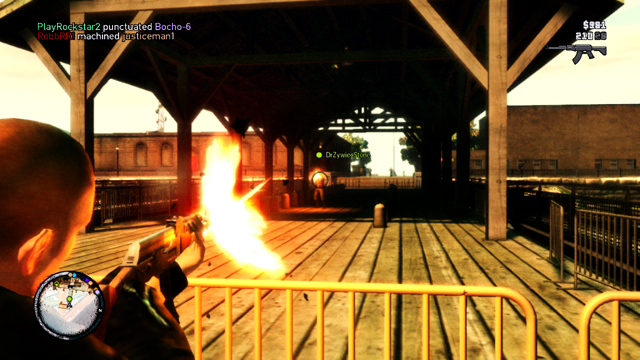 (DrZywiecStone and PlayRockstar1 gun it out on Happiness Island in Deathmatch in Grand Theft Auto IV.)
Thanks again to everyone that joined in - whether playing, watching the stream or chatting. Below is a partial roll call list of participants. Apologies as always to anyone omitted:
9084db
A-Dre9
alby13
AlChrism
aldouille
Alexandrowitch
Alexwarman
Alixey
AndyGanteks
AndyMan2010
Anigthman
-Antec-
aridframlos666
arturs2342
arturs1234567890
asaaj6
AWDrifter
axoo54
B-BEAU67
babylove53
barfon
batinVP
Bflame7
BigHippo67
BlackCore1
BleedingShock
bobinickname
Bocho-6
bpunisher89
c17ab4
CaspersVeil
cems07
Cherrymoon_
ChevyChasesBat
chicagofarker
ChompRock
chriscool007
CorgiJulien
crazyuk
DamnYouSam
dark_dragon98
deadman1996
Deathstroke010
Demerzel2000
devinusa
dex815
DiNaturalPower
dirrelito
Dirtyhot
dj2o5cuur
dj4life
DJSPlitt
DKRKingKong
DR.PHILY
Driverguy
driverjackboy
Druidor
DrZywiecStone
efekan
EliteDave93
emvipee23
ErockoftheUndead
ertttyuujdq
fanchikfanchik
FASTFeeL
felipe_golden
ffxt69
Fillippe
Fl3xxx
florent026
forrestfire1065
FraserMcGovern
FugetSudo

gam3fr3ak93
Gamegurl06
Gamer3456
gantterise
GeoRap
ghoststrive
gingemondo
GK-Assasin-LDER-
gLh123
GM-Shenmue
godsdream
gojeff99
graefocs
gtafreak112
gtajunky
gtamees
GTA_IV_King_10
GV-Rafioso
HabeasKorpus
hackerslasher
Half-Crazy
Hayze
Henning92
HerseyBoyRockz
Hescorrr
Hicks001
HRQ360
Husaria
HVHgBVhV
iBloody-x
icecuberoc
ICECUBEWC
imac97
iMiQuE
infamous1000
InimeneH
irelandcool
irinel1996
ishutyou
ivan.n
IWIHooligan
I_SHOOT
JagaloonOnASpoon
jaky2008
Jamesbond466
jamievxr
JamminMD
jarjar22random
JAYGUNZ72
JayGunzIsKing
jdean_nottz
JimmieScooter
Jip025
Joker-64
juanguitos123
juansegundo
justiceman1
justiceman2
KamikaziNinja
Kantsas
kaonashi27
kerj55
KH-Niko
Killers81
KINGBUSHIDOFAN
konzolfan
kozgal
Krewie
krisgukmlv
Lara_Croft_GodHD
legendarydoom
legokiba213
LeoMindfreak08

Leute_1986
LiL-A-King1
Lockmat666
lologhi
Lord_of_Terror15
Lord_of_Terror74
Lord_of_Terror92
LosDub
LouPetridish
LTwins
Lucas199
Lucassster
luctriat
LukaX23
maardini
Mackeriv
MAHIEDDINE
Mamail
Marney-1
mastersAssailant
MCKing
Megges1
mehmetlito
mel-97
MilikitoGOW
MLDCAproductions
Mortal91ify
Mou-check
mrbonatti
MrSpoils
mtjaws
Munkyx30
Mya765
NationalKato
necrovii
nesdawg
niko_evil
NockstarRorth
NOfluffyBUSINESS
NullPointerEx
OlluTeh
Omega0
ONYXXX1969
OverTheUnder93
pavel67890qwerty
pelsam9012
Polytoxer
PopeHomelessXIII
Presidentgamer
prince_of_devils
psychoman0011
Pukemaggots
q8fawaz501
R0ckstarNetwork
Rafioso
ReadDeadfan12349
Rebel_Raven
redhondamike
Reflexje
reganrdr
renegaum
Rentaline
RJBZ28
ro6jgptwmdajtpga
RobbRR1
Roberto_489
RockSG_Assassin
RockstarNorth2
RodrigoxGTA
Rollaw
RomanBOY123
rondatrunker
ronsmommom

rscl96-rp4
RuneBlaster
santavax72
scareface1970
Scoonie
SC__558866
sebli31
SectioN_8
Sentasi
serydembele
SeTh_GuEx59
sexycani
SHA_BADMAN_64
SHA_PLAYA_65
SHBATAT
Sheriff187
shineua123
SkittleShotz
SkullSOLID
Slamboni
slamthepanda21
Slim_Shady101
smileyfreak24
sniperpro95
soombi
SoulStunner
Stackcluster
stasieks
steryt888
StivGTA
studeacon
Studios5107
StuntmanSeth
SublimeLabs
svenw1
Swadorgk
SweetSaintMan
tak718
terminatorLizard
ThaDavy073
TheElectricWorm
theIntensePlayer
thelittles03
Theodore_Bagwel
THEREALMANIC
therealtreefitty
TheSmartBox
THEWILDTURKEY
The_Infection
tmoyniha
tomer9822
tonyde_mars
TRILL-ENT-LOC
Uchiha_Giovanni
Undead_Dave
vakazizs
vanquishedrival
Versityle
VictorHTorres
WARisHERE
Willradd
wilsonjunio123
WolfRogers
wolvermax386_cl
wonderouswes
XMasterXXGamerX
xPITBULL88x
XXLPolytoxer
XxWolfheartxX
Xzayal
yacine196
Young-C12
zanarkandruinsx2
Join us at the next event this Friday, December 3rd from 4-7PM as we bring you a Red Dead Redemption: Undead Nightmare PSN event, including all of the multiplayer DLC as well as the original Red Dead Redemption multiplayer modes. Join in to chat and watch the video stream. And check back for full details and PSN IDs to be posted here tomorrow.

Click here to check the full events calendar through the end of December. We'll be announcing our January through March calendar before the year is out.
And as always, a reminder to follow us on Twitter and Facebook to get the shout whenever we decide to jump on and play at a moment's notice.


Previously:
Recap & Screens: Red Dead Redemption & Undead Nighmare Social Club Multiplayer Event on Xbox LIVE (November 11th)
Recap & Screens: Red Dead Redemption: Undead Nightmare Official Social Club Multiplayer Events (October 28-29)
Recap & Screens: Episodes from Liberty City Social Club Multiplayer Event on Games for Windows Live (October 20th)
Recap & Screens: Red Dead Redemption Social Club Multiplayer Event on PSN (October 8th)