(Audio) "Dead Sled" by Kreeps - from the Red Dead Redemption: Undead Nightmare Original Soundtrack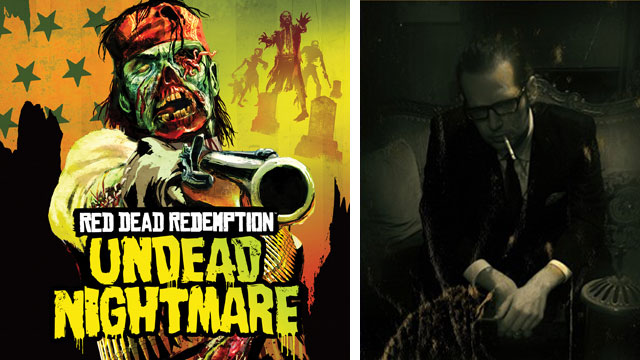 (Left: The original Red Dead Redemption: Undead Nightmare soundtrack is coming to iTunes and other digital music outlets next week; Right: Dom Kreep of Kreeps who contributed two original songs to Undead Nightmare's soundtrack including "Dead Sled")
To the delight of many fans who've been playing the weird western zombie adventure, Undead Nightmare, since its DLC release in October - the game features all new music to complement the spooky and over-the-top vibe of the story - including new scoring created by Red Dead Redemption soundtrack composers, Bill Elm and Woody Jackson, as well as other new and original songs to heighten the atmosphere and experience.
Bill and Woody returned to the studio to help bring this horror-themed re-imagination of the world of Red Dead Redemption to life, working along with session players to up the tension sonically. The end result is a new score accentuating the spooky and unnerving, heard all throughout as John Marston makes his way across the west, rescuing frontier towns, flanking unsuspecting zombies, and clearing cemeteries.
But perhaps the most standout music from the Undead Nightmare Original Soundtrack are two original offerings by indie band, Kreeps (who also contributed the original song, "The Hunger", from the Grand Theft Auto IV: The Lost and Damned soundtrack), "Dead Sled" and "Bad Voodoo". At critical moments during the game, and you'll know when, you'll hear each of these new very distinctive songs.
For your enjoyment, check out this shareable audio stream below of the wicked and wild original surf rock jam "Dead Sled" by Kreeps - and look for the release of the Undead Nightmare soundtrack to hit iTunes next week (as well as other digital music stores) at the same time the new Red Dead Redemption: Undead Nightmare collection on disc hits stores.
Previously
Red Dead Redemption Original Soundtrack CD Now Available at the Rockstar Warehouse
Live Performance of "Deadman's Gun" by Ashtar Command from the Red Dead Redemption Soundtrack
Behind the Scenes of the Red Dead Redemption Soundtrack
Live Performance of "Far Away" by Jose Gonzalez from the Red Dead Redemption Soundtrack
Red Dead Redemption Features: Behind the Scenes of the Game's Original Score and Soundtrack
Red Dead Redemption Original Soundtrack Now Available on iTunes