Grand Theft Auto IV & Episodes from Liberty City PlayStation 3 Official Social Club Multiplayer Event (November 19, 4-7 PM Eastern)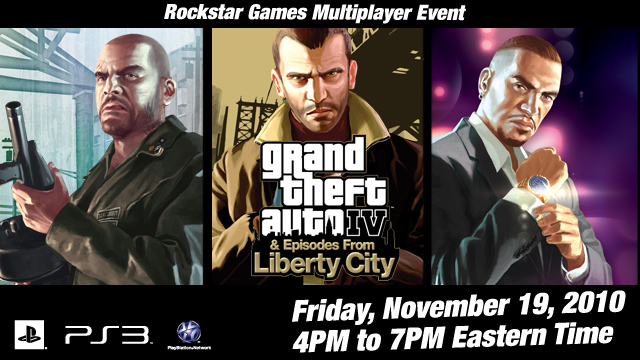 Update: The event has ended. Thanks to everyone that joined in – whether playing, watching the live stream or participating in the chat. We look forward to seeing all of you in future events.
In honor of the recently released Complete Edition of Grand Theft Auto IV, which provides both the original game release and Episodes from Liberty City all together for the first time in one package - tomorrow, November 19th from 4-7 PM Eastern we'll be hosting a special installment of the Social Club Multiplayer Events series. We'll be on PSN to play all the multiplayer modes from Grand Theft Auto IV: Complete Edition, including those of the original Grand Theft Auto IV, plus The Lost and Damned and The Ballad of Gay Tony. And we'll of course be live streaming it all and hosting a chat at the Social Club Multiplayer Events page for everyone who can't get online to play or prefers to spectate and talk trash.
Additionally, and as promised in our original calendar announcement of events, we've got an extra special prize giveaway this time - Social Club members will have the opportunity to enter the Episodes from Liberty City PlayStation 3 Console Sweepstakes at the event page. This exclusive and official Rockstar design utilizing a 120GB PlayStation 3 console is a beaut and one of only three in existence. Here's some of the customizations:
Fully backlit with an array of white LEDs
Two tone custom paint job using Jet Black and Pearl Snow White
Custom laser fabricated logo
Laser etched power and eject buttons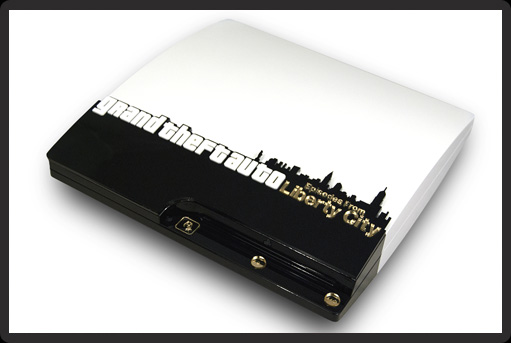 Eligible entrants can register to win it on the Social Club Multiplayer Events page between 3-9PM Eastern on the day of the event, and see here for complete rules and details. Look for more custom console giveaways at other Social Club multiplayer events in the future.
And here's all the details you'll need to participate in Friday's event.
SPECTATE AND CHAT
Cant jump in and play? Follow all the action at the Social Club Multiplayer Events page. As usual, we'll have a live streaming video broadcast of the in-game action plus a chat box so you can discuss all of the action with other gamers.
Look below for specific directions you can follow to get online, grab a partner, and jump into the fray!

HOW TO FIND US
We'll begin in Grand Theft Auto IV in GTA Race. Use the in-game cellphone to select the mode we're playing during the event. Keep your eyes on the chat to stay completely up to date on where the Rockstars are at so you can get in on the action.
As the event progresses, we'll be playing more multiplayer modes in both The Lost and Damned and The Ballad of Gay Tony.

NEED A PARTNER?
For team-based modes such as Team Deathmatch, gather your friends using Party Mode. You can also hit up the chat during the event or just post your PlayStation Network ID in the Comments section below.

OFFICIAL ROCKSTAR PSN IDs
Participating PlayStation Network Rockstar Games IDs for the event will be:
PlayRockstar1
PlayRockstar2
PlayRockstar3
PlayRockstar4
Only add one PSN ID to your friends list to play.
ABOUT PARTY MODE
Episodes from Liberty City's in-game Party Mode is an easy way to get your group together and find matches. Here are the three quick and easy steps to get you up and running:
Save your current game. To get started, fire up the in-game mobile phone by pressing "Up" on the keyboard. Select Multiplayer > Party Mode > Yes.
Next, open up your phone again and select the Friends option to invite at least one person into your Party Mode game.
Once your team is ready to roll, open up the in-game phone again and select Games > GTA Race.
We'll be giving instructions and updates in the chat box on the modes we'll be playing as the afternoon rolls on. See you there...

Previously:
Recap & Screens: Red Dead Redemption: Undead Nightmare Official Social Club Multiplayer Events (October 28-29)
Recap & Screens: Episodes from Liberty City Social Club Multiplayer Event on Games for Windows Live (October 20th)
Recap & Screens: Red Dead Redemption Social Club Multiplayer Event on PSN (October 8th)