Recap & Screens: Red Dead Redemption & Undead Nightmare Social Club Multiplayer Event on Xbox LIVE (November 11th)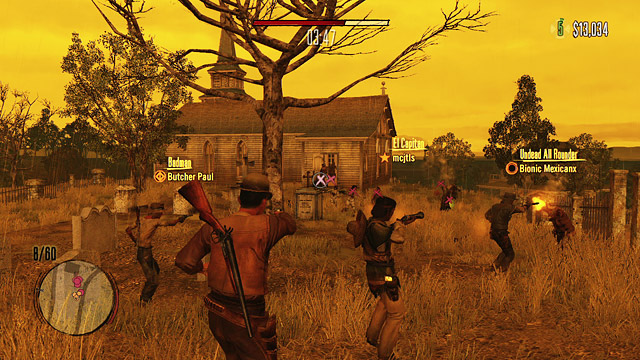 (Four deep and ready to retire wave after wave in Undead Overrun in last Thursday's event on Xbox LIVE...)
Thanks to all of the players, chatters and live stream spectators that attended the Red Dead Redemption and Undead Nightmare Xbox LIVE event last Thursday afternoon November 11th, the latest in the official Social Club Multiplayer Events Series - playing Undead Nightmare's "Undead Overrun" and "Land Grab" as well as plenty of other Red Dead multiplayer modes that will be re-released on disc as part of the Undead Nightmare collection in stores next week.
We began teaming up in the new Undead Nightmare co-op multiplayer mode Undead Overrun, fighting off waves of zombies four deep in Tumbleweed's 'Undeadwood'. When up to wave 12, the Rockstars and Ace Stroup knew that Sudden Death was imminent as insurmountable zombies closed in. It was time to gather on the front awning on the mansion on the hill. The crew continued to fend them off using every last bullet and stick of Dynamite. Once all Undead Bait and Holy Water were all used up, and nothing was left but their torches, they jumped down to face the end. A noble effort by Ace Stroup to be the last survivor.
We then switched over to a round of Stronghold Competitive Multiplayer in Escalera, part of the Liars and Cheats Pack. RedDeadDev3 and posse weren't able to hold off the Rebeldes, falling in the second half while on defense. A shining moment that sealed the victory for the Rebeldes came near the end of the game when frankieboombats shot down RedDeadDev3 and MINI BIN 01, clearing the way to capture the villa. Congrats to reyban44, SkinyChiaPet666, frankieboombats, Cancuino and XcinnaminitskyX.
We doubled back into another round of Undead Overrun, this time in Blackwater's 'Dead Man Walking'. Butcher Paul, Bionic Mexicanx and mcjtls fought alongside RedDeadDev3 for 14 waves, eventually ending up in Sudden Death. Using the house southeast of the church and the ladder on the brick building with the words 'Welcome To Blackwater' written prominently on the side, all four players did their best to survive as long as possible. Butcher Paul fell first, then mcjtls and finally Bionic Mexicanx and RedDeadDev3. The hordes just never stopped coming...
Next up was Shootout in Escalera, part of the Legends and Killers Pack's Free For All Matches playlist. RedDeadDev3 ran to the top of the hill to gain the high ground, shooting and killing ExcelSpreadsht and Patdabest09, right before XCol ArchangelX took him down for good. When the round ended, I bAnNi I sNipE won with $1,400, 28 kills and 12 deaths. In second place was XCol ArchangelX with $1,350, 27 kills and 3 deaths - a 9:1 kill/death ratio. And in third was Brodlo with $1,050, 21 kills and 17 deaths.
With a gambler's itch, it was decreed to be Liar's Dice time (part of the Liars and Cheats Pack) with six players in Escalera. After o KiDxCuDi o, RedDeadDev3, GVRafioso1 and Skatepro123IV were eliminated, it was down to just two players left with dice. L U F F Y, using the new multiplayer zombie character Paco Romero as seen in the screens below, was down to only one die left. He was able to single-handedly get TheAmbadassad0r down from four dice to one. One more round of bets remained. TheAmbadassad0r, holding one 4, bet one 5. Liar liar. L U F F Y, holding one 3, thought about it for a few seconds and called the bid spot on. Congrats to TheAmbadassad0r on the sly win.
After RedDeadDev3 headed back into another round of Undead Overrun and made it up to wave 18 with EgyptianPsych0, slimross87 and kollin2, we gathered with a full lobby of players for the traditional fan favorite grand finale in Free Roam, this time getting our Land Grab (from Undead Nightmare) on. Others headed into Gang Hideouts, collected Explosive Rifles, and just generally tore sh*t up. A grand event with a grand ending, as evidenced in the screen captures below...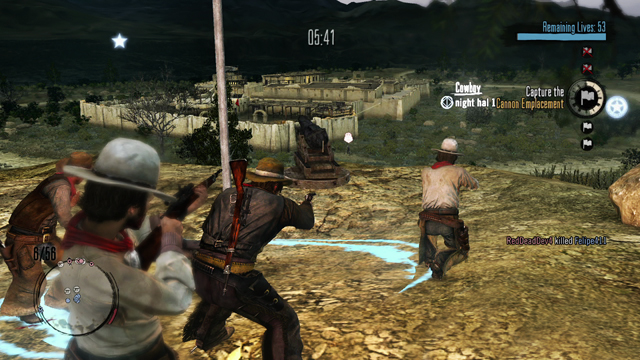 (A posse captures the Cannon Emplacement on the hill in Stronghold Competitive Multiplayer in Fort Mercer.)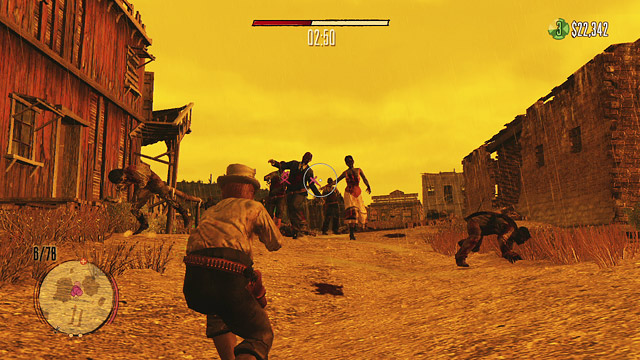 (Zombies to the left, right and center. Ready, steady... Dead Eye.)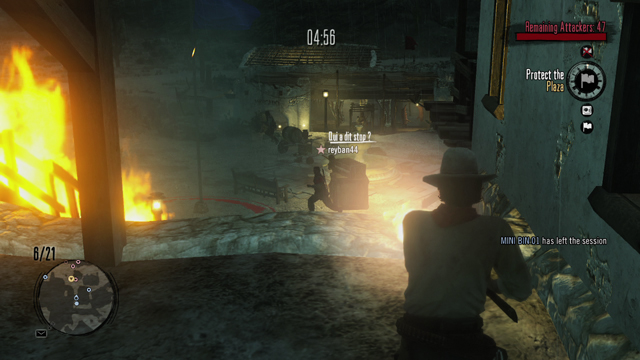 (RedDeadDev3 fires at reyban44 during Stronghold Competitive Multiplayer in Escalera.)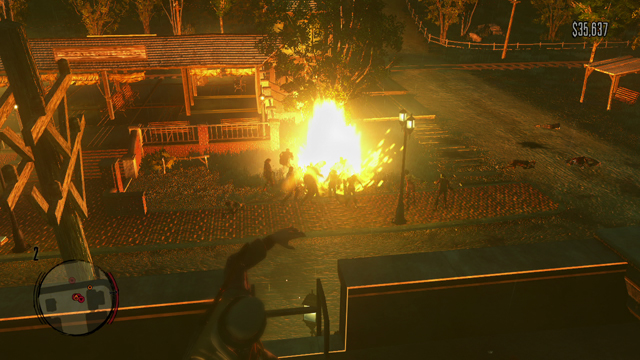 (Zombies go boom - with some perfectly thrown dynamite from above.)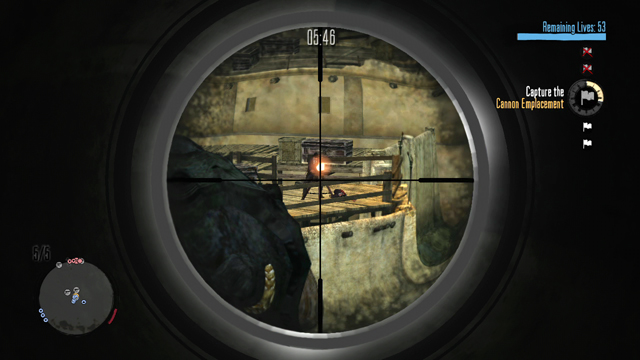 (RedDeadDev3 aims through his scope at sparta117xx. See ya.)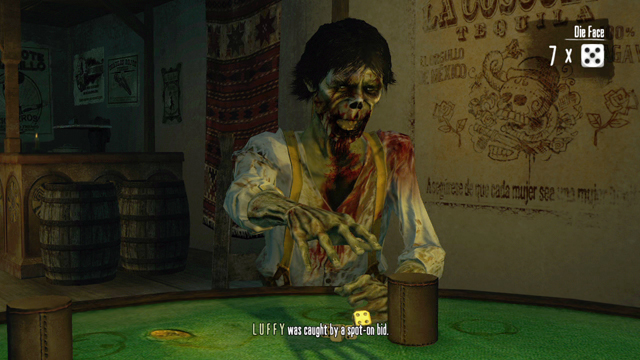 (Die Face, for realah. L U F F Y, outfitted as zombie Paco Romero, loses a die during multiplayer Liar's Dice.)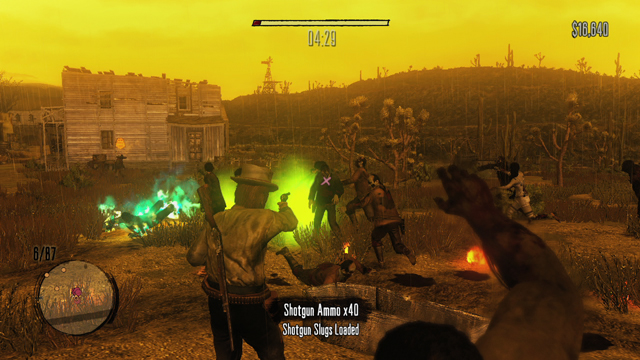 (RedDeadDev3 sets Dead Eye aim as Retchers combust, Bolters are incinerated by phosphorus bullets and a Bruiser approaches from behind...)
Here's a listing of all participants in the event according to our records, and apologies as always to anyone that may be omitted:
a-rogue
A 14K STUD
abvirus
Ace Stroup
achil_kamikazi
ACRONOS
A D1N05UR3
ahmed_ziddi
ahubby24
amazinq love
ANDREW owned u
AnEvilVet
ANGLER PRO
angryman11111
AsDa_Fm
Austinsgrandpa
AWDrifter
azerith40k
Balls2TheWall91
Bashful Dowd
beast__
Bejar7
BellaBellic
Biffjab
BIGALSEZ
Bionic Mexicanx
Blake4646
Bluj49
BonesJones
BosstWeedS
Box647
bpunisher89
brandon1180
Brodlo
Butcher Paul
BwAWarDog1953
calculatedstepz
CeReaL666Killer
Childprodigy015
Choza97
Chuck GreeneX
colbent
coldazz
Combine588
CONDQ
COOKE1313
cool beans 18
CptBrutal
CRANK4992
crazyuk
creamylemon
-cuZs-
DanchezBushers
Daniel402
darkv99
dark_ybot_pwnr
dasdoommonkey
DeafAtheist
DeepNightDevil
Destrutogod
detox.inc
Dexturden
dishwata
djbill_622028
DonDenjo
DoubleY0U
DragonPanda121
DrD54
DR HIGGLESTEIN
DrofSound
DSanta

DuMpTrUcK602
dwilson2k9
edythekiller
EF RoastPigeon
Eggman_Rupert
EgyptianPsych0
ElementalBliss
eL GuajiRO
El Jefe 42O
emage74
emvipee23
ExcelSpreadsht
ExcitableBoss
Felipe411
fester1066
FestivalNote8
ffalkon66
fill_94
Flagrantdeathsho
Flanagunn
Flesseck
flyinflea
FordMNX
frankieboombats
Freasier
FugetSudo
gam3fr3ak93
Gamegurl06
Gangsta Beech
Garrett2972
Gavonator
Geewhy
GenStink95
gggttrrc6
GM-Shenmue
Got_the_Shakes
gtasfg
Guajiro
GunSparko
GVRafioso1
HardYards
HaywireSafeFish
HoSKinsBoBish
Husaria
IA7X_ShadowsI
iamtruck
I bAnNi I sNipE
iDizZeeeHD
IIMRSOPRANOII
Illegalracer15
ILoveMyWarthog
InnermostRexy
InvisibleMan84
iR3KL3SS
iTS UrabuS
IWJOSH
JamesFamily5150
jesusiswoah
JEXTHEHEDGEHOG
JoeyMrBig
Johannes289
Jortan
josh7b7
jrl51592
JRPimpATX
jubg11
Katzeh
kevl647
kilermushroom
Kill3RB33
Killazion

knifeblade805
kollin2
kookenhaken
laser123
leonardo18281
LethalSmokey
levokid
linux731
lucasfu123
L U F F Y
M-A-D-M-I-C-I-K
Magestic Gnome
MagusBS
MajorityJigaw
MALLYJAY
markyu27
matt72696
mcjtls
mehmetlito
Metal DJ
microdan29
MINISCOUSE1983
misterherms
mmkiller95
MumSaw
netherlandman
NFD6791
NiCkSwAgG
night hal 1
niko_evil
NiTRoGeN EffekT
NoManItsMeDave
nytnx1
o KiDxCuDi o
ONE_EYED_EEL
OsoFlaco619
P4ULD3N
PaleVampire
Patdabest09
PatDaBest
peacebeliver
porncult
psymonjet
R3belxpantom
Rafioso
Rajinikanth
Randomguy646
ReadDeadfan12349
Red Heel
Reflexje
remus31397
ReverendPAINLES
reyban44
ReyHimself
richlathers666
ripndip
Robken7
RodrigoxGTA
Rollaw
ROORMAN42069
RosalyBueno
Salado
SauceDonkey
SAV-UK
scareface1970
Scoonie
ScottyBeamMeUp7
Scouse_Don
ScumMonkey227
SC x SwampFox
SELENACHRISTINA

SFX6669
ShadowLight801
shaggy176
shootmuchkillsom
Sienitommi
SIR RICHALOT
Skatepro123IV
SkinyChiaPet666
skunk ibl
skymaster585
slimross87
slipperypandora
sparta117xx
SpartanD301
SpartanJhonny
SpeckledEagle
StillSidekick21
StivGTA
Studios 5107
SuperSonic322
SweetestIRONMAN
tanglung
TFUNFB
TheAmbadassad0r
The Crankypants
THEGreenLine47
TheMightyMace
therealtreefitty
THEshiningknight
THE V8 NINJA
The_Rock_N_Rolla
thorn_9
TimmyDaBoss2014
TinyIceman
tmoyniha
TokyoDiscoKid
tonygound
ToxicTersk
tr1ku25
TrueS1nZ
tweedz877
Twiztical
ultimta
undeadmafia1234
Undead_Dave
Uneek-Psycho
urbanforest
UselessShyster
ustnov
VashioKun
VenomXT
VictorHTorres
VIKING MASSACR3
waffle735XD
WatersideBullet
WearisomeOwl
Whisko
WhitePride1996
wmai1000
WolfRogers
XCol ArchangelX
xHOTLEAD DELTAx
XIARIADEMON
xRick79
xXB3asTMod3Xx01
Xx I HATE ETF X
xxRYZONxx
XxWolfheartxX
yamimark
Zikomos
ZzGhettoSmuRFZz
The next official live streaming event is for Episodes from Liberty City on PlayStation Network this Friday November 19th from 4-7PM Eastern. And of course, make sure to follow us on Twitter and on Facebook as you never know when we'll feel like grabbing the controller and getting online for an impromptu game - and also to catch us online next week playing Undead and other Red Dead multiplayer modes with all the people experiencing them for the first time with the release of the Undead Nightmare collection.
Previously:
Recap and Screens: Red Dead Redemption: Undead Nightmare Official Social Club Multiplayer Events (October 28-29)
Recap & Screens: Episodes from Liberty City Social Club Multiplayer Event on Games for Windows Live (October 20th)
Recap & Screens: Red Dead Redemption Social Club Multiplayer Event on PSN (October 8th)