Recap & Screens: Episodes from Liberty City Social Club Multiplayer Event on Games for Windows Live (October 20th)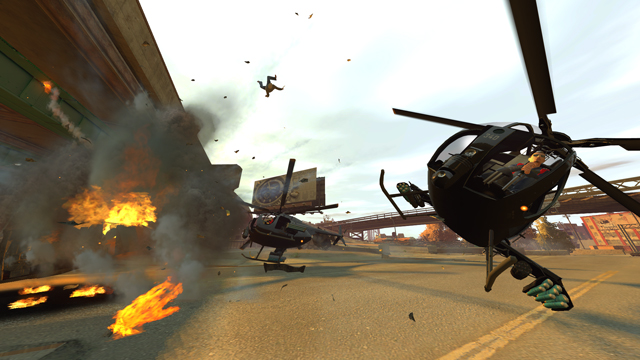 (Absolute multiplayer bedlam. A pair of Buzzards knock debris into a flaming car, with the ensuing explosion thrusting GwRockstar3 into
the sky - during our Episodes from Liberty City PC multiplayer throwdown held October 20th on Games for WIndows Live...)
Thanks to everyone that participated in the Episodes from Liberty City event held on Wednesday October 20th on Games for Windows Live, whether you were playing with or against us online, discussing the play-by-plays in the chat or watching the live video stream. Look for a full recap of our back-to-back Red Dead Redemption: Undead Nightmare Launch Events later this week.

Our next event will be November 11th for Red Dead Redemption on Xbox 360, featuring the new multiplayer modes from the new Undead Nightmare DLC - "Undead Overrun" co-op zombie killin' and "Land Grab" in Free Roam. Make sure to also check out the full Oct-Dec calendar in the Social Club Multiplayer Events Series for all live stream events planned through the rest of the year.
Read on for a full recap our our Episodes PC mayhem from October 20th - followed by screens of just a few wild moments.
We began our Liberty City session in The Lost and Damned with Team Deathmatch in Prison. Things began with PihtoDed running along the upper walkway, using the high ground to take down our own GwRockstar3 and GwRockstar4. Later, Alekc Holland and TouchedExpert rounded the corner in the courtyard only to find a hail of gunfire flying their way, courtesy of GwRockstar1. In the end, PihtoDed, Alekc Holland, TouchedExpert and team claimed first blood victory with $4,783, 45 kills and 20 deaths.
Races were up next, and we chose to ride out on the track 'Ramped Up' with Cars in three laps. During an early part of lap two, jimmyt1988 was unwisely standing outside his car and about to get back in when GwRockstar1 sped up behind and sandwiched him between both vehicles. Ouch. After all was said and done, first prize was awarded to IvanGTAIV who raced all three laps in a best time of 4:17:62.
Before switching episodes, we started up a lobby for Lone Wolf Biker in Bohan with the Powerful weapons class. A bit into the match, taxidriver555 was being chased by just about everyone up a hill as he did whatever possible to flee and keep his time racking up. Some of his fancy maneuvering near the shore even caused our own GwRockstar2 to crash straight into the water. In the end, taxidriver555 prevailed and proved to be the best player with $876 in 1:45:12.
From there, we jumped into The Ballad of Gay Tony's multiplayer modes, getting straight into the tightly-packed area of buildings known as Funland in Deathmatch. GwRockstar1 and IvanGTAIV had a few close combat moments, one of which appears in the screens below. It was IvanGTAIV though who ended with the best score of the round at 28-9.
We then held a few different races, first with GUSSI111 nailing first with $1,350 in 3:34:95 after three laps on the track 'Club Class'. Then in GTA Races with APC's, ISI Thuga won one, and the ubiquitous taxidriver555 won the next. And in the final race of the afternoon, FestenGTA4 zoomed across the finish line before anyone else on the track 'Tar Macked', pulling it off in 4:39:74. Grats to you all.
In grand and customary Social Club Multiplayer Events tradition, we closed things out by gathering in Free Mode for an anarchic cavalcade of explosions, gunfire, Buzzards and boats. The screen at the top of this recap as well as the bottom one with the two cars are both from the wild time spent blasting each other high into the sky and forming gangs on the streets...
Check out screens of some memorable moments during the afternoon: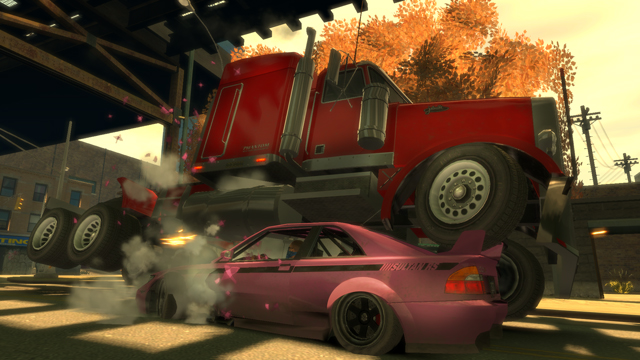 (In this destructive version of rock, paper, scissors - GwRockstar1 absolutely crushes PENDULUM RULIT during a race in The Lost and Damned.)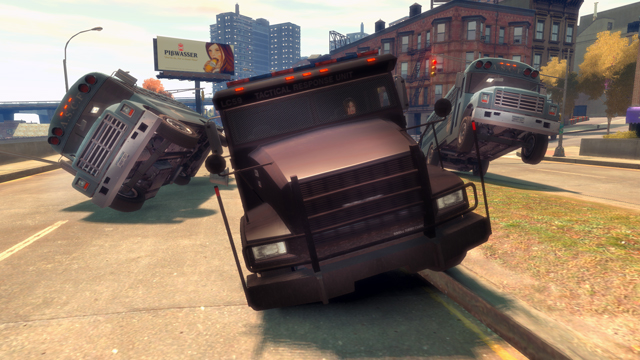 (GwRockstar1 turns the corner during a race, being chased by kettavan and FlashGTA10, who apparently got his bus to do a wheelie.)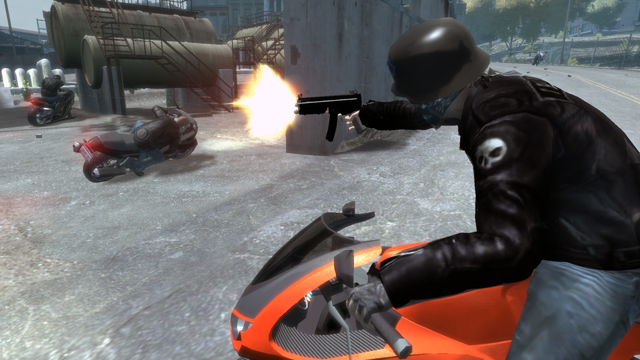 (GwRockstar1 fires on taxidriver555 during Lone Wolf Biker in The Lost and Damned.)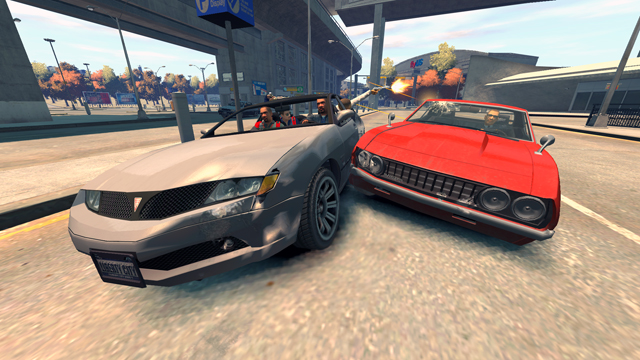 (GwRockstar1 and company [left] let off some shots at PizzaPasta2000 [right] during Free Mode near the airport.)
Big thanks to all those that took part in any aspects of the event, whether you were in-game, watching the video stream and/or chatting. Look below for a listing of all participants, and apologies to anyone that we may have accidentally omitted:
ADDICT Grimm
adriantgta4
Agent460
akonako
Alekc323bmw
Alekc Holland
ALHOOT
andrebeaver
Angevine
AngryRedPlanet
arcunico
ardil1
Azeroht
Badger_X
Banmrk
beast__
Bejar7
BigBossKane2009
BigCountry2
BigGreenDragon
BleedingShock
Bluedios
Bondik UKR
BoochArt
BOSS309
BotyQuattro
BRALPHOG
Brown750
_Busta_
Caleb141
Capt Noobiz
carguy5491
Catastrophicjugg
Chase Tacos
chicagofarker
COBRIUM
CouguarArgent
coyotezeyes
CSIXTY
DaLgakiran
DamisxD
Danetrooper
DarkPhase
darqunes
denisras007
devil instint
DiCry773
dioge_corinthas
disway-
dixkeus
djbill_622028
DjDeazGtaIV
driverjackboy
Druidor
dundee-730
dushdas
EA81Gle
EA_Gle
Edgaruss
eino_t
Emocji
EMRaBBiTEM
eReHc
FastDimka1
fdny641
felipe_golden
FestenGTA4
finoKamikaze
flapandjack
FlashGTA10
FrEEmAn77
frubdoo
FugetSudo
Funqy
G0546Almelo
G3RO-RS
Gamerzworld
gangstaoleg
GermanScientist
GER x Bismarck
ghostpotato
Glave08
GM-Shenmue
GrandComet
gtaboss2
gtaivkiller98
GTAMASTER_08
GTATBOGT_FTW123
GTA_minator
GuDen_GTAIV_
GuitarAel
GUSSI111
GVRafioso
HappyHumanLucky
hogsy16
HRQ360
Husaria
iBrazzer1997
ihavocks
imac97
IR0N_WOLF
IRunsobad
ISI iMpZz
ISI Thuga
ivan.n
IvanGTAIV
IWIHooligan
IWJOSH
jaky2008
jamelstilljerk
jimmyt1988
JockerJP
Joker-64
JonasCervi
Julian1995Messer
Kanja0078
KelticKennedy
kettavan
killatigerownz
krazykatlady
Legend286
Liberty_King
linux731
lipe2003
LivedboY
Lord_Loren94
Lorenz777
l Studios5107 l
maestrillo
Malek-tM
MaxMaron
McGroo1
megaw123
Mert4ever
miguelLute
MP3SHN 2010
muscelcar
Mwest_
nbsCASH
needmoreAcid
nels22
nickmiesta
nikitapc16
nortic
nowakassa
Oleg Rambo
OLICKHERY22
OnTheDust
oO HeKuT Oo
OskarBigPL
OurHead
paulibpn
peka95
PENDULUM RULIT
PihtoDed
PizzaPasta2010
pranoy407
Prods93
PROTO587
rawbrain
ReadDeadfan12349
redlucas
Rentaline
rfiggz
RGC HeKuT
RGC Tracer
RobertM
Robthesickestkid
Rockboy58
Rollaw
RSTPILOTGABRIEL
RunkeBall
Sadlybadlyy
san9812
SARDYNA16
scottsolomon
SFX6669
simon-vanloon123
SloppyIverson
spanstharu
St3vEn95
Stackcluster
stasieks
stevemassacre
StivGTA
Studios 5107
Suitslayer
SystemOPuppets
s_kettavan
TatoX09
taxidriver555
TFUNFB
TharuProX1
TheHeroOfWinds
theodom77
therealtreefitty
TheTaxidriver555
Thisis50
TomerA077x
Tony_dize
TouchedExpert
twisdalejake
ultrawatash
UNCheated
Underground nik
Ungashnard
Untold15
ValidKratos
Varz097
VB Project
W1ckeD
wasim_akram2009
Watash000
WatashProd
WolfRogers
worldwidepusher
worst_news
wrecker99
xgensoldier
XI_RocknRolla_IX
xmagicboyx
zabawa num1
zeb123
Zeeshan810_NikoB
ZF1R
Again, join us all throughout November and December for our Red Dead Redemption events featuring the brand new Undead Nightmare modes, plus another Episodes from Liberty City event for PlayStation 3 on November 19th. We'll have a live video stream to view and chat for trash talk galore. Lastly, be sure to follow us on Facebook and Twitter so you'll know when we're getting on for a random game at a moment's notice...
Previously:
Recap & Screens: Red Dead Redemption Social Club Multiplayer Event on PSN (October 8th)
Recap & Screens: Episodes from Liberty City Social Club Multiplayer Event on Xbox LIVE (September 30th)
Recap & Screens: Red Dead Redemption Social Club Multiplayer Event on Xbox LIVE (September 24th)