A Red Dead Redemption Halloween: Your How-To John Marston Costume Guide
With Undead Nightmare out this week, delighting and spooking players around the world - we're obviously deep, deep, deep into the Halloween spirit.

With Halloween coming in just two days, no doubt quite a few of you are still hopelessly costumeless. No worries, we've got you covered with our How-To Guide to follow in order to piece together your very own last minute D-I-Y John Marston or even Bonnie MacFarlane costume.

For each garment, we've provided a helpful hyperlink to an example online store - while it may be too late to order and receive in time for Halloween Sunday, you can use them as reference points for searching out similar stores locally in your hometown. You should easily be able to find many of these items (or close enough versions) at any local western wear shop, or even large chain stores and costume shops. Good luck and Godspeed.

Oh and should you want to transform either costume into an Undead Nightmare style zombified version - simply slather garments with some fake blood / red paint and throw on a decent zombie mask - voila.


Being John Marston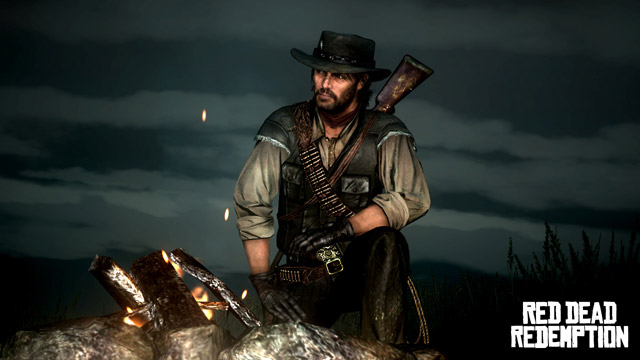 The Hat
You can't be John Marston, reformed outlaw of the American frontier, for Halloween without the right hat. This distinct crown is a Marston trademark, The Packer. You might want to rough it up a little, and add a feather to that bad boy.

The Vest
You have to have the black denim vest. Your best bet would be to grab a dark denim jacket and cut the sleeves off about 2 inches from the shoulder. You can find some affordably priced ones here.

The Shirt
Make sure your sleeves are rolled up so others know you're ready for super duty tough work on the plains. Chances are you'll run into a zombie or two while you're out that night anyway - best be prepared for action.

The Gloves
It's rough out there - protect those mitts with a nicely worn pair of goatskin gloves. You should be able to find a comparably affordable pair at any western wear or even big chain store near you.

The Satchel
Carry your treasure maps, holy water, and looted peanut chews in an all leather sling bag. Only for the premium Marston costumer.

The Pants
Pleats and pinstripes. You might have thought that John Marston was wearing denim throughout his adventures on the frontier, but upon closer inspection you'll notice they're actually pinstriped bootcut pants. Denim wasn't quite so sophisticated back in the early 1900's.

The Belt, The Buckle, The Bandoleer and The Holster
A cowhide belt with a buckle big enough to be a Spartan shield and a holster will really tie the whole look together. And plenty of costume shops have acceptable looking rifle bandoleers in stock.

The Boots
Oh yeah, make sure not to forget your boots and spurs. Some non-descript boots will work in a pinch, just don't play yourself wearing some Air Force Ones with your John Marston get-up.

Undead Bonus
As mentioned earlier, you can give the whole ensemble a Nightmare-ish spin with a good zombie mask - that one is on the high end but comes complete with eye-socket worms.
Being Bonnie MacFarlane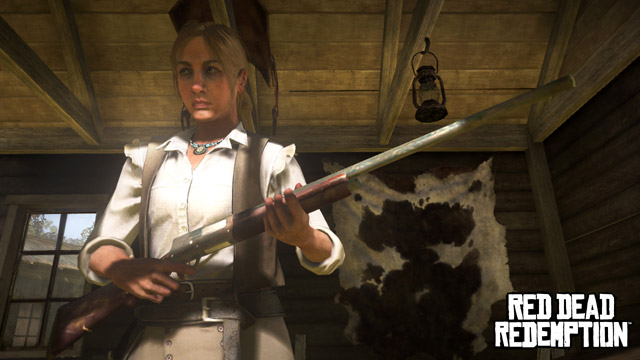 The Blouse
Bonnie's blouse adds a delicate touch to her otherwise rugged and ready look. Of course, you've gotta roll up the sleeves.

The "Skirt"
You thought that was a skirt, didn't you? It's a Pant-Skirt combo made for gals like Bonnie who have too much serious horseback riding to do to ride saddle. Here's a belt to keep 'em up with.

The Vest
A lot of western styled vests made for women you'll find out there are a too dainty compared to the durable one Bonnie wore throughout Red Dead Redemption, so we recommend rocking with a small/youth sized one of these men's leather vests.

The Locket
Bonnie's locket is a feminine accent to remind passersby that while she might shoot their hat off their head from over 60 yards with a Repeater, she's still a lady. That Urban Outfitters one is affordable, but looking around any costume jewelry shop you may be able to find a more Native American turquoise accented one like her own.

Finally, while it's tempting to complete the look with weaponry - you may want to leave the toy guns and knives at home - or at least check up on your local laws in this era of toy weapon bans. Don't wanna wind up in the clink on Halloween night.

Also - special acknowledgment to this gentleman found on YouTube recently who put together quite a respectable Marston costume - complete with some special assembly tips. Tip of the hat, sir.

Be safe out there and enjoy Halloween weekend, all.