Recap & Screens: Red Dead Redemption Social Club Multiplayer Event on PSN (October 8th)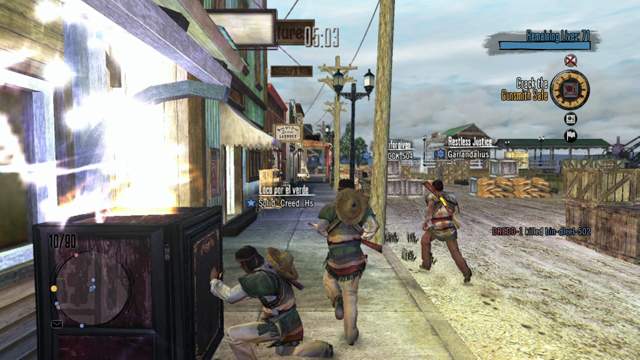 (The Rebeldes crack the safe in Blackwater during Stronghold during our multiplayer event on PlayStation Network...)
Starting off the brand new calendar of multiplayer events for October - December in the Rockstar Games Social Club Multiplayer Events Series was an afternoon of Red Dead Redemption on PlayStation Network on October 8th – where we played plenty of Liars and Cheats Pack Horse Racing, Poker, as well as other modes and features from Legends and Killers, Outlaws to the End Co-Op and the original game as well. Thanks to all who were up in the chat, watching RedDeadDev3 do his thing on the live video stream or playing with us in-game.
The Liars and Cheats Pack was at the forefront as we tackled all of the new modes of online play: Stronghold, Multiplayer Poker, Liar's Dice, horse racing and the new Gang Hideouts and Hunting Grounds. Read on for a full recap with screens of some of the most memorable moments.
We began the event with four adrenaline-fueled races with eight players in the Carreras Perdido Cup in the Horse Race mode Grand Prix. Boris2010ful started the first race, "Carrera Del Diablo", by gunning down our own RedDeadDev3 with a Pump-action Shotgun. Vergonio22 finished first with a time of 1:54.34. In L. Johnsons Run, vergonio22 finished first again, clocking in at 1:34.29. In Ridge Racin', boris2010ful took first with 2:03.96. And lastly in Coronas Paradise, boris2010ful crossed the finish line at the 1:41.79 mark. After calculating times, boris2010ful claimed top honors. Grats to you sir.
We next joined a different crop of players in the attack and defend mode Stronghold in Blackwater. The first kill came when KSA-SuL6aN-KSA executed Cattle Rustler frewstorm with his Cattleman Revolver. RedDeadDev3 and the Rebeldes successfully defended Main Street and kept the opposition from capturing even the first area. Switching sides, the Rebeldes attacked with absolute ferocity, claiming Main Street in 35 seconds, The Gunsmith Safe in 21, The Train Station Safe in 49 and Town Hall in 1:50. The Rebeldes certainly deserve a shout: HAYLOCK-504_, KSA-SuL6aN-KSA, Solid_Creed_Hs, RedDeadDev3, leefer316, Garlandalius, skietto and bin-dleel-502.
There's nothing like a good, strategic sit-down game of cards and dice after some heavy battles and races, so we settled into Escalera's cozy gambling hall for a game of Liar's Dice. Participating players included ZeGaMarrA, KyodaShiro, vince_123, swhyte21, JoseKelsey and RedDeadDev3. ZeGaMarrA went first, bidding that there were five 2's. That's a pretty safe bet when there's 30 dice on the table. However, KyodaShiro believed it to be perfectly spot-on, finding out seconds later that there were seven 2's. One die down for KyodaShiro, and one step closer to losing the game.
After RedDeadDev3 and a few of the other players lost all their dice, we switched over to a $100 game of Multiplayer Poker in Beecher's Hope. In the first hand, razaobrera99, zoDiaK77 and IWI Hooligan all showed two pair of 10s and 9s. IWI Hooligan collected 140 chips since he was holding an Ace. At the end of the second hand and with 2400 chips in the pot, wikime123 showed a pair of Kings, razaobrera99 showed two pair of 7s and 6s and RedDeadDev3 showed a pair of 7s. Nice job to razaobrera99 for winning that hand and eventually collecting all winnings for the entire round.
Getting back into another round of Horse Races in the Rathskeller Series, Boy0664 put the first bullet into the back of babatiki. Man down. Boy0664 also claimed the first race with a 1st place time of 2:10.54 in Rathskeller Run. In Boulder Dash, RedDeadDev3 came in first with a time of 1:47.38. The winner in Saint's Sprint was Elemental Bliss in 1:57.77. And the overall winner was...none of the 1st place race winners? That's right. MrBuzzLightBeer came in 2nd place in all three races, claiming enough points to earn the top prize. The tortoise and the hare.
Finishing in Free Roam were RoyalLegend_King, RoyalLegend_Rico, Rebel Raven, zorni1991, stankb0t, alphapunjab, IWIHooligan, wikime123, FIGHTMAN94, barfon, CriticallyOctane, badkarma1969, RedDeadDev3 and kylebaptie. Everyone made their way up to Tall Trees for some bear hunting and Tomahawk fights. Certainly a grand way to end the event...
And now for screens of some great moments during the afternoon: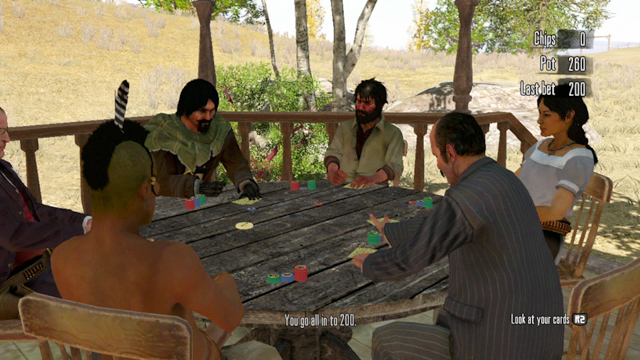 (Look at this motley crew. RedDeadDev3 goes all in during a game of Multiplayer Poker under the gazebo in Beecher's Hope.)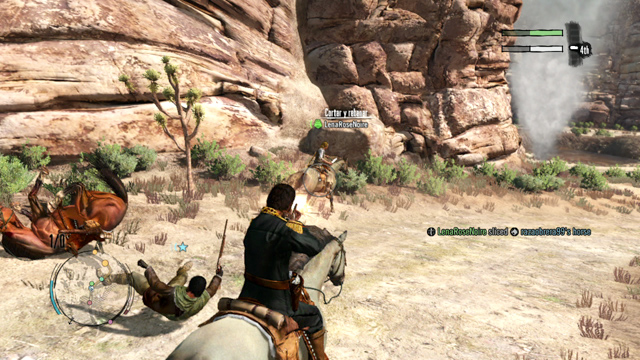 (Razeobrera99, the event's Poker game winner, tumbles off his horse after taking a few knife swipes from LenaRoseNoire.)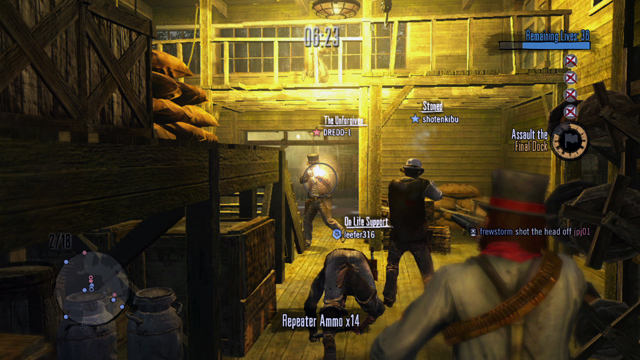 (Under the yellow lights in this building in Thieves' Landing, DREDD-1 does his best to protect the Final
Dock from the assault of the rolling leffer316 and the bullets coming from shotenkibu and RedDeadDev3.)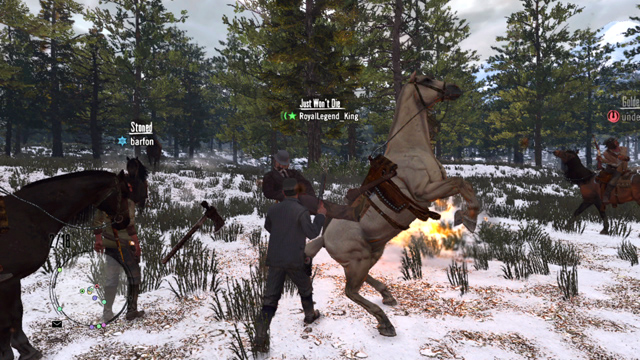 (Fire spooks RoyalLegend_King's horse, causing him to fall off, and RedDeadDev3 is an instant from taking a Tomahawk to the back.)
Thanks to those that took part in any aspects of the event, whether in-game, watching the stream and/or chatting. Find below a listing of all participants, and apologies to anyone that we accidentally did not include:
999toni666
ahetFIN
aj8494
aleFlameheart
alphapunjab
AmkaJoker
aok222
ati_kiraly
automaticpillow
babatiki
badfetch
badkarma1969
bangax2
barfon
Barrells
BBS-L3B
beast__
berny51
Berunov
BigCountry2
BIGTONE661
BiG_IVXX
bin-dleel-502
blacksnake
BlaineBingham
Bless-1984
boris2010ful
BorisBlack
boston2004
Boy0664
c-rod93
caciqq
Cairine
CALIKIDROCKS
Cannibalization
Carlieto91
chalches
ChazAttack
chmike14
ChokingChild
chris21smith
CimoB13
Citizen-Eraser
colbent
competir111
CrazyCooling07
crazyloconico
crazyuk
CriticallyOctane
CRMNYS
-cuZs-
cuzzythewolf
CyberJamz
cyrus1962
D-Sniper10
DamionJeremiah
Daniel
danielrdr
danmachine
dannyboydanny
Da_soldierBE
dbpender
DeadliestShade
deathdude223
Deathless600
DeathlessHunter
DementedSnail
DEMMES576
demon7779
denyyourmaker
DerImperiator
devildante11
Diablorama
didi727
DirtyRolfje
docbullfrog
DoCTa_K
dooko77
DravinClaw
DREDD-1
DukeFleed73
Duskbed
Eastwood777
EL-DIABOLO1125
elCayser-Vk
ElementalBliiss
emvipee23
EnthusiasiaN
eReS1972
EvilMMMMMM
EZknoccout
Fantastic_Mr_Cat
Faustin19
Fenris_Kjeften
FettOfTheWest
FIGHTMAN94
Flanagunn
frewstorm
FrylockKilla
FugetSudo
fullbabs
Fuschl-Dynamite
fuzion17c
GAFINEST6
gam3fr3ak93
gamerahmet
ganesha2010
Garlandalius
ggdude
gibration
Gongji
GoOfyPUNK612
GREENBERAY
greensnake11
Grimreaper_X
grumblybear
GTAISDABEST
GTAIVcarcrashguy
GTAJoanmafi
HAYLOCK-504_
haysooz
Helper_for_games
HigHJackerZ
hogsy16
HUNKUSFAU
ibilibi
IIMRSOPRANOII
ILLUMiNATY
inks98
irish-n-proud91
irishd
iStiv
IWIHooligan
J-Bar-C
jaky2008
jcgamerlegend
JetPilot5381
JoseKelsey
JotaGrimaldos
jpj01
Kaya1996
kerkermeister167
kezlord12
KibblesMcGee
kickswerve
KillerStefan15
Kilo720
Kleine_Jean
koerdow
konzolfan
KPinoy
KSA-SuL6aN-KSA
kylebaptie
KyodaShiro
K_I_N_O
leefer316
leejef
Legend286
LenaRoseNoire
LewisGroom
linux731
Lipeh_lol
LordFener
LordVorren
Lord_Loren94
ludolph77
m7mmedx988
magrao2728
mariocarrion
Mark-Niko
markyu27
marraco
MarshallMagpie
MartB64_BPC
maurocostantni97
maxim2boobles
menancer
MeXiCaN_EvIl-azu
Mortalized
morzsafateruk
MOVIELORD101
moXmurdaX
MrBuzzLightBeer
MrBuzzLightYear
MrDannyWiles
MrSpoils
mtjaws
Mwest_
NiallDavids
Nibelungo_PT
nickygw
NikoBond
nisan121
noah3901
Nova_Jeevas
NX50
oaktrees
oFelipeNFo
Omegashenron27
OneEyeWillie89
OptionalZero
orphan-four
P-3-MAN
pantomimas
paris124
PIECE-OF-LOVE
ploundy
posila
Pr1m3_5u5p3ct
pyrusplaya
R3belxpantom
Rajinikanth
rankim911
razaobrera99
ReadDeadfan12349
RebelRaven
Rebel_Raven
reddeadexception
regeman
resistance3283
Revlution4ever
river_city98
rob99eli
RobbieT4Quati
RobinVincent
RobSpa1978
rock101star
RockStrPetty23
rokaleta36
Rollaw
RoyalLegend_King
RoyalLegend_Rico
RyuMyojin09
saer_de
scare_face
SCN_10
scorpiokid77
Sebulba007
shadie2k
ShadowLight801
ShadowMix955
shadow_rider59
sharifesa
Sharpshooter000
ShockWaveNews
Shotenkibu
Shotudown2255
SIDJINN
SilverJoker
skietto
SL65AMG
Sloe-Whisky
slotjockey
smiffypro
Smitho86
Sml91
Smokey_MacPot619
SOLORAP
sonofhaig
Squalrus
stankb0t
StivGTA
Stranger0101001
Studios5107
SublimeLabs
Supaflyjunior05
Supercheyenne
supertuan87
Swailem95
swhyte21
S_Slaughters
TearsOfPosdieon
TERROR-HORROR
ThaiMeethu
The-Tudisco-Kid
TheOnlyEpicWolf
therealtreefitty
thundernewt
Tincer
tmoyniha
Tommy45110
Tony_dize
TubaGustavo
Twist0fFate97
undertaker2142
Untold15
Vegeta300
vegettosky
Vergonio22
vince_123
vince_42069
VooDoo_94
ward0o
wheezybignuts
whitedevil_1963
wikime123
WIZZARD354
wolf164
WolFMaNGr
WolfpackHero
X0_MOSTWANTED_0X
xGraCx
xNotoriousxCx
xStealthSEALx
XxMr.HidexX
zanarkandruinsx2
ZeGaMarrA
ZF1RRR
zoDiaK77
zorni1991
Again, check out our full announcement of event dates for the rest of the year so you can mark your calendars, and join us today for a PC event for Episodes from Liberty City from 4-7PM Eastern. Lastly, if you aren't already aware that we are known to jump online for a quick and random session of multiplayer, be sure to follow us on Facebook and Twitter to get the instant word in the future when we're jumping online...
Previously:
Recap & Screens: Episodes from Liberty City Social Club Multiplayer Event on Xbox LIVE (September 30th)
Recap & Screens: Red Dead Redemption Social Club Multiplayer Event on Xbox LIVE (September 24th)
Recap & Screens: Red Dead Redemption Social Club Multiplayer Event on PSN (September 9th)