Recap & Screens: Episodes from Liberty City Social Club Multiplayer Event on Xbox LIVE (September 30th)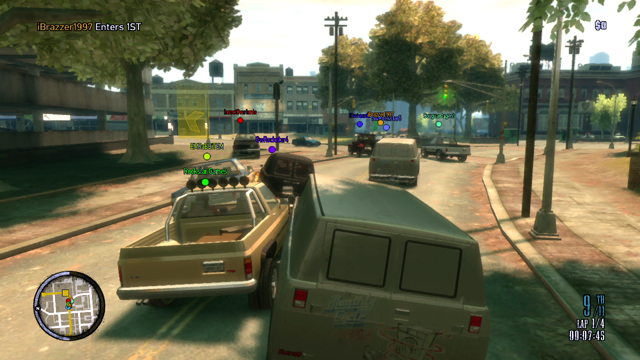 (A rollicking ram-up of GTA Races in our afternoon of Episodes from Liberty City from September 30th...)
Big thanks to everyone that joined us on Thursday September 30th for our Grand Theft Auto: Episodes from Liberty City event on Xbox LIVE as we continued down the Social Club Multiplayer Events Series.
Participants came together both in-game and on our multiplayer events page where they discussed the action on the live video stream in our chat.
Find below a proper recap with screens of some of the most memorable moments during the event - and keep an eye out for the announcement of the brand new Social Club multiplayer events calendar for October through December.
We began in The Lost and Damned in Deathmatch with Powerful weapons in Bohan. EMRaBBiTEM began by shooting down our own GwRockstar3 in a shootout using the cover of dumpsters and abandoned cars. GwRockstar3 later got revenge right in front of Niko Bellic's Bohan safehouse. Nice. But it wasn't one of those two that ended as top winner. The cheekily named Rockslar Games captured 1st place with 25 kills, 5 deaths and $2,724... way ahead of anyone else...
Later in the afternoon, we jumped into GTA Races in The Ballad of Gay Tony with APCs on the track Club Class. While Darthjp86 took the early lead, GwRockstar3 zoomed around the left side of everyone using nitro, taking 1st place. But at the first and always most hectic turn, eReHc, slamthepanda21 and InsectOverlords slammed into GwRockstar3, knocking him back to 8th. After plenty of concentration and a bit of strategy using nitro to slam opponents and flip them way into the air, GwRockstar3 crossed the finish line victorious as the winner with a time of 8:15:06 over three laps.
Staying in GTA Races, we began the track Triple L Rocks. No sports cars or fast bikes here as the Race Class of choice was none other than a family favorite: Vans. Plenty of craziness occurred right from the start (as seen above) as the one to make it through the mess of traffic and into first place was CouguarArgent, followed closely by Rockslar Games. After four laps, Rockslar Games finished first with a total time of 6:29:27. CouguarArgent came all the way back in 6th place with a time of 7:07:46 (pesky trees).
The wildly anarchistic Free Mode is where we ended the entire final hour of the event, with base jumping, Buzzard aerial battles and car chases... the perfect exclamation point on the end of our July-September calendar of events...
Below we've got some screens from just a few of the memorable moments during the event.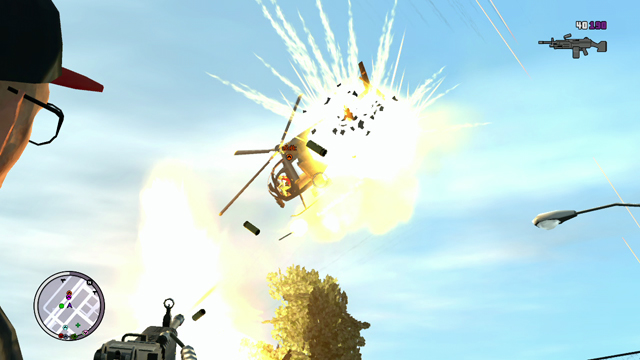 (HoSKinS BoBish destroys eReHc's Buzzard helicopter while GwRockstar3 fires away from below during Free Mode.)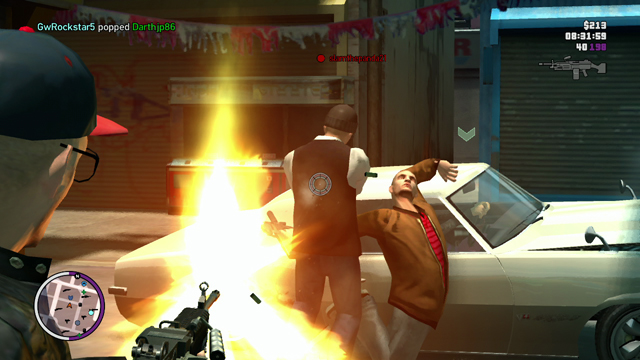 (While in Deathmatch in Funland, GwRockstar5 runs into Darthjp86 as GwRockstar3 pumps bullets into slamthepanda21.)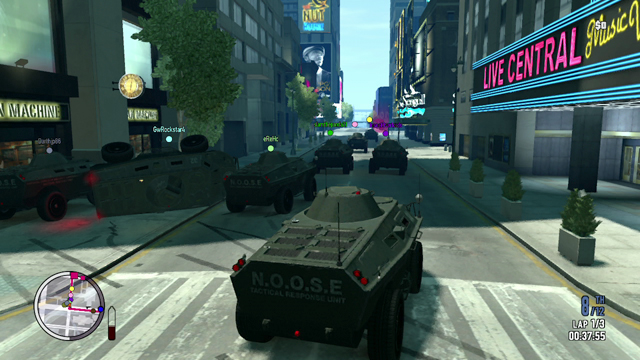 (GwRockstar4 flips and Darthjp86 [very left] attempts to get around him at the first turn during the GTA Races with APCs on the track Club Class.)
A round up of participants from this event are listed below, and apologies as always to anyone that may be omitted:
aborreJOKKA
Ace239133
AdriaanLive
adriantgta4
Adri Tarantino
aEric22
ahetFIN
ahmetcano
AirsickJunk
Al Capwn410
alien_training
AlightningBug
AllanM_93
AngelsCircle
Angevine
AntiGEO
antoniotarantin
Ants87
Argyle snake
ASSASSIN KING56
ati_kiraly
AUZTIN 2010
Averryy
baby sasquatch1
BAD ADSc
Bad Boy Bods
BADGIRLBIGGUN
Badunkadunker
banana997
bbr1116
beast__
bigbadpikachu
BIG_STRONG_NIKO
Black Vulcano
Blaster208
BleedingShock
BobMarney
boCa1337
Bocho-6
BohanBully
BoneySID 25
Bridgy 68
BuckySuperJew
BWidget
Cairine
CammoFalcon
Camouflage Lion
captain range
cAptiankAos09
CaptNink
Carefree Ste
CASH xXxFE4RxXx
Chaseb95
ChaseTacos
cheeko114
ChiefCard
chrislovespills
CIDER SHERIFF
CircusRock
CJM86
Cjrazy123
clementeCow
Coldtripper
CookieJack007
Cosminacyo
CouguarArgent
crazykurt123
crispin23
CriticallyOctane
crooked444
CSIXTY
CURIOSITY COLA
-cuZs-
cuzzythewolf
CYPRESS44
Daddy Byrum
DamionJeremiah
Danetrooper
Darth-Sean85
darthjp86
dcktplzm
DeadSkeletonman
DeafAtheist
DearestSum
DeathCorporate
DeckerDaddy
Define The Line
DICE821
didi727
Djd1313
DJSPlitt
Dkjans
DmC_PRO
DntMessWitRohan
Donowprod
DoPe x HOST1NG
drsxbox
Dru Khaliqo
DTHCND
Dvt_en_MJ
DZAMBOMon
D_Dog_43NL
Eastwood777
EconGeist
eddiethaheah199
EdGyZzz
eino_t
Eksy__
elregnezgz
El_Presidio
EmoFatGuy
EMRaBBiTEM
emvipee23
eReHc
Eugenio1996ESP
ExternalTdb12
FauconRoue
FetalPaladin
Fifty3rd n 3rd
flapjk_epik_fail
flipflop2484
FLO aka SvR
FloggingMcMurry
Floppay
florian70
flynelbows
FrEEmAn77
Fritz_Schnitzel
FugetSudo
fuzion17c
FziK v Aw13
Gears of Hate
Gennousake
GermanScientist
GersonO
ghostundrground
GM-Shenmue
GOLDEN_RiCE
gros44
GTAMASTER_08
Guinto R
guzman805
GVRafioso1
habib azizi
HabilisOrian
Haffnaff
HAVOCBOYZ81
HavocMassacre98
HawkeyeBFP
Helper_for_games
Heyquagmire
highguy1978
hoodbk
HRQ360
hudson1995
Husaria
IAIIXXI
iamwolf14
I bAnNi I sNipE
iBrazzer1997
imac97
ImBeast1990
iNoLiFezZ
InsectOverlords
Iongrunner09
Irishboy 428
iRwheezie
iTippy
itwish
iTzOside93
ivan.n
Jack-Trey
jajs09
Jake41
Janes Got A Gun
jason6Warrior
Jason The Red
JeffRivera
jenss1983
JetPilot5381
jg11684
Jimbo8472
Jimi H 1942
JOANNE 2K10
John-Marson-
johnboathotrod8
John_TheIrishman
JordanNeil23
JudasOmen666
JustThrowIt
k2reefa
K1307A
kappa mikey1
karirocksx
Kartesio
kato163
Kazzdee
keklar
KibblesMcGee
killerofgta
KittyCatMeowBird
Kleine_Jean
KLuTcH oX
KMK4LIFE2
KON KARNE
KoS x NarcotiK
Kruse Got Beats
kuipertje92
kylemaxey
L0ganTM
lbo95
lDrzPrince
lefauve descave
lil baby weasel
LilHannah
Lionheart3790
LizardKingLXXXI
loloprox
lookABLACKMAN
LOOPSIDED
LosDub
LOUIS SHINES
l Studios5107 l
Ludo xb360
LukeLSD
M-boyJock
M4RK THE MENACE
macknmomz
MadChill
MaeG x WICKS
MalCountrygal
maqui38
Marmi X
Marnit
marrccus
martin.1978
Mary Celeste200
maxinator0
MaxStuHor
mblake2995
MBradley34
MCKing
MedudT
megatron82195
merciless1980
mert7ever
metal cowdoy
metsrule2000
MEX ZIG ZAG 77
MicarsenalHOVA
MidnightRider14
Mike DUH BOMB
mikeHomeyG
Mikke Nugent
MisterPervy
moneymurphy
Mr Discoman 99
Mr Jake Wickett
MrKill2k9
mrmcdonald69
mrmystery1993
MrPopular
MrSpoils
MrSvale
mtiertom
muscelcar
MVP Prime Time
Mwest_
NarcotikTEAm4za
NcGoddi
Need More Pawns
neveroutguned
niceGOLDkiller
nickb1005
NighttimeBrian2
Niki LArsOn 91
NikoMarstonBR
NINERS2380
Ninjakiller24
Noru122
Nostradamus74
NS x MaNiKzZ
Num and Booz
NumpTFlump
odd molly
ODT x KiLLzZ v3
ODT x SaVaGe v6
OI MetaL
oL0MAXv
olddog9000
OLDEST OLDMAN
olinvilleboy
OliverFrag
-oL-JaKe-
oXx Tanne xXo
pablitooloko
pacoreggae
pepette44
PHILLYALLLDAY
pickle2hig
PKU Eskained
Poke13
posila
PrestigeGamerz
PS3_PT_BOY
Purity52
QooDaMonsta
QuadraticfeliXD
queops
Rabi420
Rafioso
RAINxMANxKENNET
Rajinikanth
RaVeRbAbY1991
ReadDeadfan12349
REAPER7991
reavingreaper
Rebel_Raven
redddddddddddd
RedTwentyFour
renhockey
revoxir
rewind10z
RGC_HeKuT
rgoff31
RIceARoni14
Riggo68
RizixPL
RobbieT4Quati
RobinHoodXIII
Rockslar Games
Rollaw
RoSebuDD420
RosZzo
Roxy111406
RSG BlaziN117
Sailo 08
scare_face
scorpybear
sddubbs
SeargentL.Osiris
SecondKarma
SERPENTOR OF NJ
SERVBOT1299
Sh0TT4
shadowspearit
SHAGGY_42Q
Shawn Shaolin
Shotudown2255
Signus16
Silent_Ninja_Man
SilverJoker
Silver__Snake
Simple_Man_tm
SirHill707
Sir Smokesalot9
Skatepro123IV
SkinyChiaPet666
Skitzophrenikk
Skoob666
slamthepanda21
SlobbishBoozer
Smallvillefan27
Snakehunter05
SNIPERQUEEN101
SnowiestAxe
soul reaper849
SpeedyChameleon
St-Valantyne
StayFly316
StickyWickett
StompingSnakes
STRANGE OUTLAW
Studios5107
Supaflyjunior05
SuperHimanshu
SweetestMattias
SystemOPuppets
tdominey
team420racing
terryadkinsjr
testnindes1
teuma86
The Assassin 70
The B1g Mack
The commando77
The Holy Searse
Thejosman
Themilkman262
therealtreefitty
Ting78
TiNyAsSaSsiN12
Tisen Shiro
tj1452
tKo SHAKIE
TO1997
TotalTNA Impact
toxic4brain
trvlman357
Turd_Ferguson1
TwIsTeD Sh4dOw
typical random
UKMadhatter
UnholyKnight60
Untold15
ValourBaby85
VenomXT
versys89
vicefan91
vicvance8792
VikitorBR
VintageFrog
vision2020
vitoRRo
WataugaThunder
werebearsGATG
wheels413
WILDGTAKILLER
Windborn Demon
wolf164
x0 Mutley 0x
Xenovarocker
xGraCx
xiiTz IKiLlErI
xLazarusRisingx
xmind114
X MiniWeed X
xOMutleyOx
xoUr MUMox
xStOnEhEaDx
xSUP3R FR3SHxx
XxessteedeesxX
xXFr3sHBoiXx
xxGator61xx
Xx JOSMAN 99 xX
XxMr.HidexX
xxSAMxx88
xXx eLmO xXx33
xXxROBB0xXx
Y0 NcGoDDi
Zombie2900
zSFKz Sniper 1
zX James Xz IRL
Watch for the brand new calendar announcement of dates for the upcoming months very soon, and if you haven't yet joined us for some impromptu online gaming, follow us on our Twitter and Facebook pages to know just when we're getting on...
Previously:
Recap & Screens: Red Dead Redemption Social Club Multiplayer Event on Xbox LIVE (September 24th)
Recap & Screens: Red Dead Redemption Social Club Multiplayer Event on PSN (September 9th)
Recap & Screens: Red Dead Redemption Social Club Multiplayer Event on Xbox LIVE (August 27th)