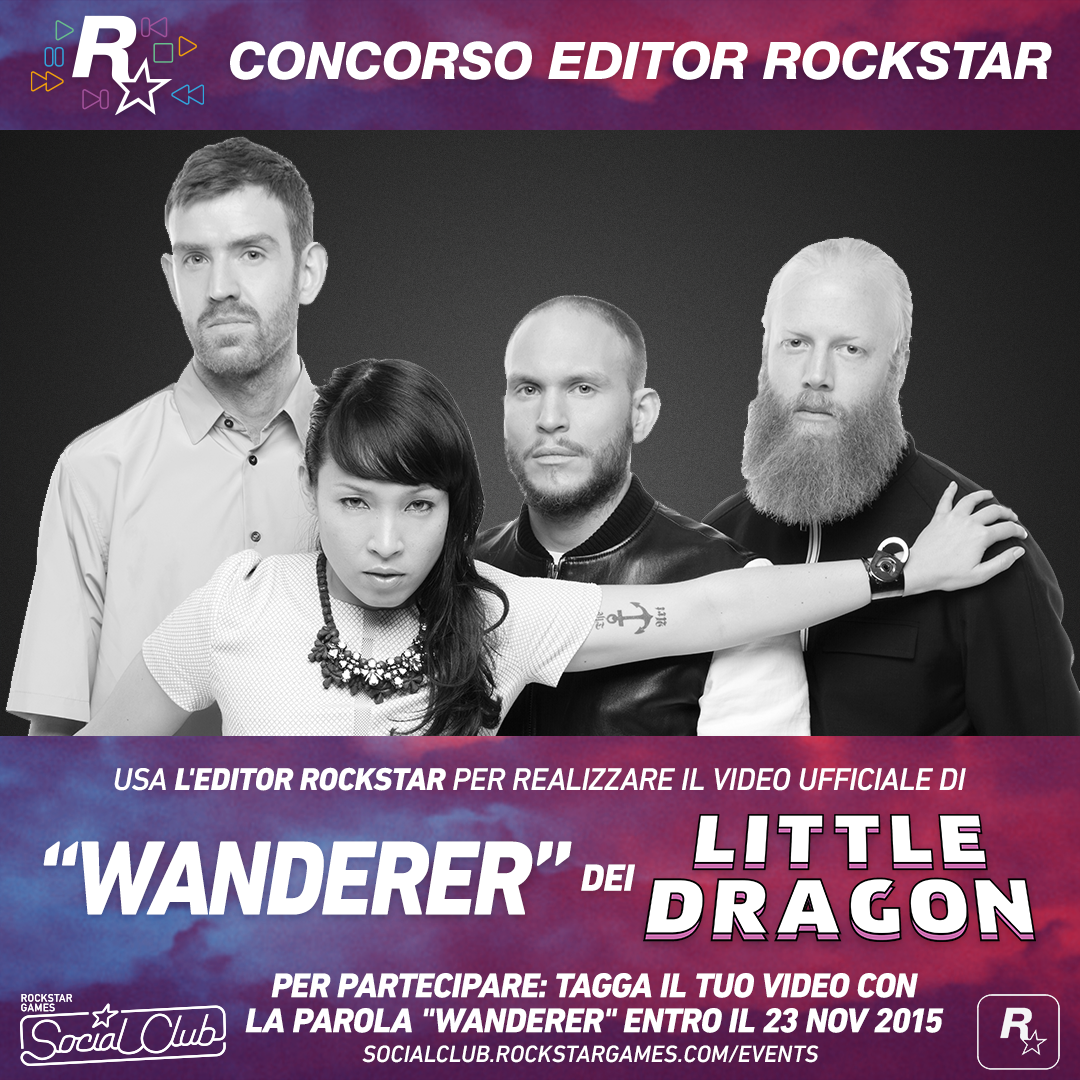 In questo primo concorso per video realizzati con l'Editor Rockstar aperto a tutte e tre le piattaforme, gli utenti PC dovranno misurarsi anche con un'orda di talentuosi registi su PS4 e Xbox One. Considerati gli incredibili premi messi a disposizione per il vincitore e la concorrenza più nutrita, se volete che il vostro video venga selezionato come video musicale ufficiale di "Wanderer" dei Little Dragon, presente nell'album della colonna sonora del gioco Welcome to Los Santos, dovrete dare il massimo e anche di più.
Oltre a essere aperto a tutte e tre le piattaforme, questo è anche il primo concorso dell'Editor Rockstar in cui si potranno sfruttare le sue nuove funzioni, aggiunte con il recente aggiornamento Eventi Freemode, come effetti sonori, tracce ambientali, una migliore gestione delle clip e altro ancora.

SPUNTI CREATIVI
I Little Dragon hanno commissionato alla comunità del Social Club la realizzazione del video musicale ufficiale del loro brano "Wanderer". Saranno gli stessi Little Dragon, insieme a Rockstar Games, a valutare i finalisti e a decidere il vincitore. Ecco alcune indicazioni su quello che stanno cercando:

ai partecipanti viene richiesto di realizzare un video musicale utilizzando l'Editor Rockstar per raccontare la storia di un/una malvivente, doppiogiochista o agente doppiogiochista che sfrutta entrambe le fazioni impegnate in un'attività criminale a proprio vantaggio.
Forse avete già avuto modo di ascoltare il brano nell'album Alchemist & Oh No Present: Welcome To Los Santos e nella nuova stazione radiofonica del gioco, The Lab, ma se volete che il risultato finale sia perfetto, dovrete conoscerlo come le vostre tasche. Intanto, per darvi modo di cominciare a pensare creativamente, ecco il brano:
I PREMI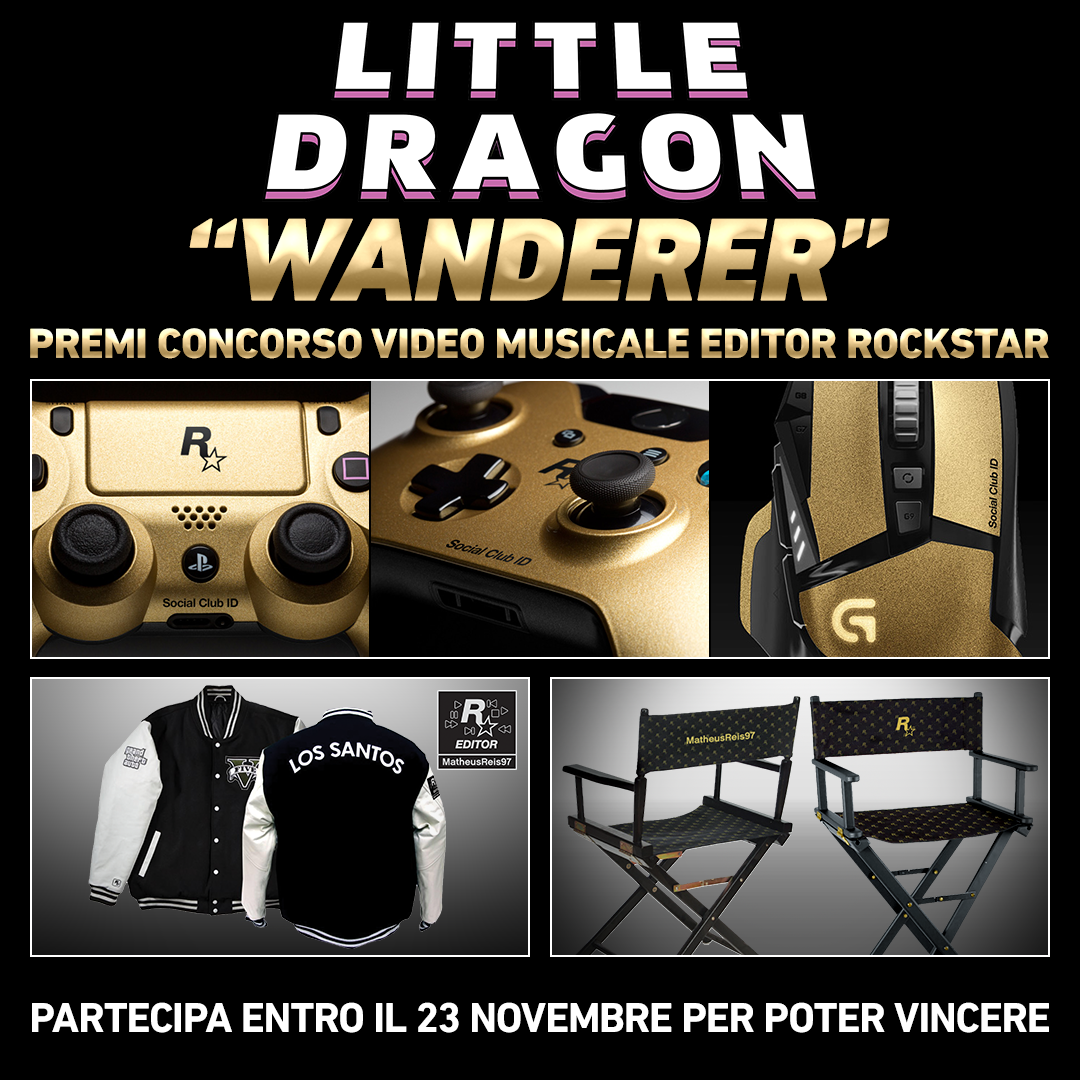 Oltre al prestigio derivante dall'essere l'autore del video musicale ufficiale del brano, il vincitore riceverà riceverà incredibili premi, come un controller dorato (con vera vernice in oro a 24 carati) personalizzato con il proprio ID del Social Club. Il vincitore potrà scegliere tra un controller per Xbox One o per PS4 o un mouse G510 Proteus Core con 11 pulsanti programmabili, peso personalizzabile e cinque impostazioni DPI selezionabili, dai precisissimi 200 DPI da cecchino a fulminee manovre a 12.000 DPI. Non solo, il regista vincitore potrà realizzare il suo prossimo capolavoro seduto su una sedia da regista col marchio dell'Editor Rockstar e il suo ID del Social Club: un trono che si addice a un vero campione. Inoltre, riceverà anche il raro e ambito giubbotto Varsity GTAV con toppa personalizzata, a segnalare al mondo intero lo status privilegiato all'interno della cerchia dei registi della comunità dell'Editor Rockstar.
Altri due finalisti riceveranno un buono da 100$ spendibile nel Rockstar Warehouse e un pacchetto premio con gadget ufficiali di GTAV. Inoltre i loro video saranno anche segnalati qui sul Newswire di Rockstar.

COME PARTECIPARE
Partecipare è facile. Crea un video utilizzando l'Editor Rockstar incluso in GTAV per PC, PS4 e Xbox One e pubblicalo sul Social Club di Rockstar Games tramite il menu di gioco. Tagga il filmato con la parola "wanderer" per partecipare al concorso. Puoi farlo dal gioco o tramite la pagina I miei video sul Social Club. Alcuni dettagli importanti:
Il video deve obbligatoriamente avere "Wanderer" dei Little Dragon come colonna sonora, senza altri brani di alcun genere.
Il video deve avere una durata tra i 4 e i 5 minuti.
Per partecipare al concorso, il video deve essere pubblicato sul Social Club di Rockstar Games ed essere taggato con la parola "wanderer" entro le 23:59 ET (fuso della Costa orientale) del 23 novembre .
Il video deve essere realizzato interamente utilizzando l'Editor Rockstar. Sappiamo che a molti esperti creatori dei video creati con l'Editor Rockstar piace usare anche software di terze parti ma, per dare a tutti le stesse possibilità di vittoria, non sarà ammesso l'utilizzo di software diversi dall'Editor Rockstar.
I Little Dragon e Rockstar Games sceglieranno il video vincitore tenendo in considerazione l'aderenza agli spunti creativi di cui sopra e la creatività mostrata nella loro interpretazione, il valore d'intrattenimento e artistico del video, la qualità del montaggio e, in generale, la creatività del regista. Alla pagina del Social Club dedicata ai concorsi sarà possibile vedere come vengono valutati i vostri video dagli altri membri del Social Club rispetto alla concorrenza. Restate sintonizzati per l'annuncio del vincitore, più avanti questo autunno.

Non valido in alcuni paesi e dove proibito. Vai alla pagina www.rockstargames.com/socialclub/events/contests per le regole ufficiali e i dettagli su come partecipare.
Nelle puntate precedenti:
Annunciato il vincitore del concorso Editor Rockstar #illgottengains
Vincitore del concorso Editor Rockstar: presentazione del video musicale ufficiale di "Leave" dei Wavves