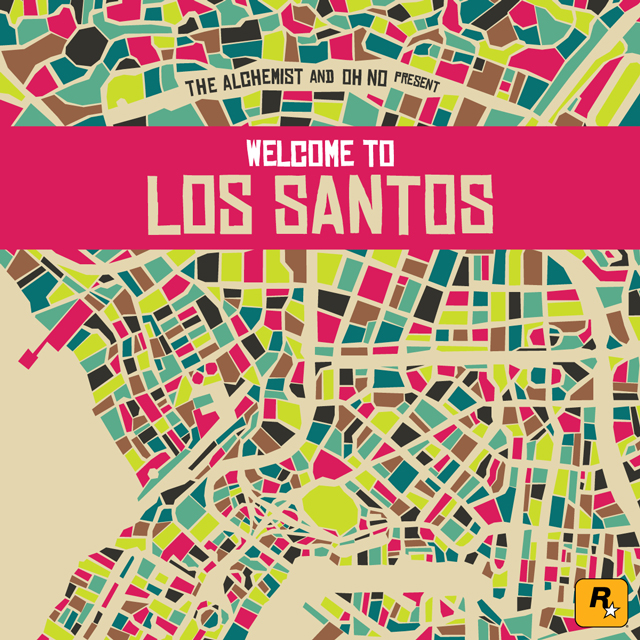 The Alchemist and Oh No Present: Welcome to Los Santos, la straordinaria collezione di nuovissimi brani con collaborazioni di altissimo livello realizzata per e ispirata al mondo di GTAV, è ora disponibile su iTunes e CD.
 
Guarda il video sotto per ascoltare le parole di Alchemist, Oh No e alcuni degli artisti ospiti sulla realizzazione dell'album.
 

 
Ecco cos'ha detto finora la stampa specializzata sui singoli tratti da "Welcome To Los Santos" pubblicati finora:
 
Freddie Gibbs e Curren$y, "Fetti"

"Yet another gem from the record's star-studded tracklist" – XXL

"Phenomenal" – Okayplayer
 
MNDR feat. Killer Mike, "Lock & Load"

"MNDR slowly delivers piercing gunplay over drums with clothes-shaking knock and slow-winding synth bass. Killer Mike comes through and empties the clip with a sixteen that murders everything — literally and figuratively." – Stereogum (Nominata tra le 5 migliori canzoni della settimana)

"Mixes MNDR's dreamy vocals with Mike's expertly composed and spat verses" – SPIN

"At once brazen and ethereal, the track capitalizes on both artists' strengths. Here, like a tag team bringing the heat, the Atlanta MC spits pulverizing rhymes while MNDR weaves a glowing, dreamlike backdrop." – Consequence of Sound
 
E-40 – "California" feat. Dam-Funk e Ariel Pink

"The legendary Bay Area rapper E-40 going head-to-head with lackadaisical LA pop weirdo Ariel Pink on "California" — somehow they balance each other perfectly." – Stereogum

 
Se giochi a GTAV su PC, sintonizza la radio sulla stazione "The Lab", autorevolmente condotta da Alchemist e Oh No (sotto le mentite spoglie di Dr No and the Chemical Bro), per ascoltare tutti i brani dell'album e alcuni interventi "in diretta" da parte degli artisti ospiti.


Nelle puntate precedenti:
Welcome To Los Santos Album prenotabile ora!