Creatore di GTA Online: nostalgiche attività ispirate alle missioni dei GTA classici
Di recente abbiamo condiviso un elenco di divertenti e nostalgiche attività di GTA Online realizzate dai fan col Creatore per rendere omaggio alle missioni dei loro titoli Rockstar preferiti degli anni passati. Questa settimana ti proponiamo una selezione di attività create ad hoc per omaggiare le missioni dei Grand Theft Auto classici, ovvero GTAIII, Vice City, San Andreas e GTAIV. Ci sono anche un paio di attività ispirate a Chinatown Wars, ambientate in un'area di Los Santos a est, vicino Textile City. Clicca sul nome dell'attività per visualizzarla sul Social Club e inserirla tra i preferiti nel gioco.


The Exchange di JIIThe_JokerIIK (Xbox 360)
Qui riviviamo l'esplosiva missione finale di GTAIII, ricreata sotto forma di deathmatch lungo la diga Land Act. L'autenticità dà alla gara un tocco in più, visto che JIIThe_JokerIIK ha accuratamente piazzato gli elementi scenografici come nello scontro finale originale tra Claude e il cartello colombiano. Se giochi insieme a un membro della tua crew, ti consigliamo di affrettarti a prendere il controllo del Buzzard per godere di un vantaggio iniziale.

Bomb da Base di DuPz0r (PS3)
Questo deathmatch, basato sulla seconda parte di Bomb da Base di GTAIII, in cui Claude e 8-Ball fanno saltare in aria la nave Les Cargo, è ricco di occasioni sparse tra i mercantili nei pressi del porto di South Los Santos. Assicurati di dare un'occhiata ai container vuoti rialzati rispetto al terreno per raccogliere qualche succosa munizione, ma fai in fretta! Qualcun altro potrebbe aver avuto la tua stessa idea...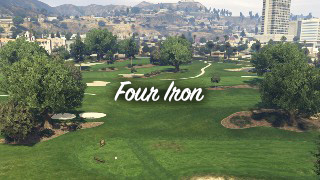 Four Iron di auclair-O_o (PS3)
Tommy Vercetti ha dovuto lasciare le armi fuori dalla porta a Leaf Links in Vice City. Per fortuna al Los Santos Golf Club sembrano essere molto meno restrittivi in fatto di possesso di armi. In questo rifacimento sotto forma di deathmatch della missione Four Iron di VC, troverai alcune pistole sparse tra i green e i fairway del club.. oltre, naturalmente, a svariate mazze da golf, se vuoi fare un po' di pratica sulle distanze ravvicinate.


Farewell, My Love... di iLewisGTA (Xbox 360)
Dopo il rifiuto da parte di Carl Johnson delle sue pericolose attenzioni in San Andreas, Catalina fece gareggiare il suo nuovo fidanzato (un tipo molto silenzioso e muscoloso) e CJ in una gara a Red County. Nel suo remake per GTA Online, iLewisGTA ha selezionato le coupé come veicoli predefiniti per questioni di autenticità e ha ricreato fedelmente le curve strette e scivolose del circuito originale intorno al Panopticon di Red County. Grande fan di Rockstar, Lewis aveva già realizzato altre attività nostalgiche, accessibili tramite il suo profilo del Social Club.

Valet Parking di DrHoctor (Xbox 360)
"Essere un parcheggiatore del Richman Hotel ha i suoi lati positivi, come per esempio tutte le belle auto che ci si trova a maneggiare. Prendine qualcuna "in prestito" e facci un giro di prova", suggerisce la descrizione di DrHocter di questa gara a giri basata sulla missione secondaria da parcheggiatore in San Andreas. Si parte e si arriva al Richman Hotel, passando per le strette strade di Morningwood... e c'è da fare ben altro che parcheggiare! Fai attenzione agli avversari, soprattutto nella sezione piena di curve, e cerca di riportare le auto ai clienti senza neanche un graffio.

High Stakes, Low Rider di thewolfking90 (PS3)
Questa gara di thewolfking90, che ha perfettamente catturato lo spirito della sua fonte d'ispirazione, la missione High Stakes, Low Rider di San Andreas, è promossa a pieni voti per la sua autenticità. La gara è impostata per le muscle car e ha il traguardo al molo di Del Perro e si ha sempre la sensazione che Cesar Vialpando stia puntando il tuo paraurti posteriore. Anche la decisione di usare West Coast Classics come stazione radio predefinita è un apprezzabile omaggio all'atmosfera un po' "West Side".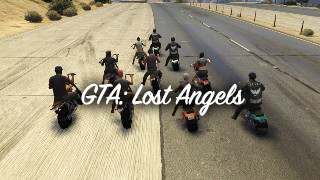 GTA: Lost Angels di RikkiVercetti (Xbox 360)
Ispirata al conflitto tra i Lost e gli Angels of Death di The Lost and Damned, questa attività Cattura del prolifico creatore di GTA Online RikkiVercetti vedrà lo scontro di due squadre in una guerra per conto delle due note bande di motociclisti, ognuna con l'incarico di rubare le moto preferite dell'altra. Il vasto tratto di colline tra West Vinewood e Stab City rende necessario sparpagliarsi in questa mappa di Cattura e lasciare abili difensori per proteggere i propri mezzi. I fucili a canne mozze e le molotov impostate come armi predefinite ti costringeranno a scegliere attentamente le occasioni di attacco e di copertura nei pressi della base nemica.


Chinatown Wars di Choc_late (Xbox 360)
Una Cattura dai toni intimi e dalle distanze ravvicinate, tra i neon e le colorate lanterne di Mission Row di West Vinewood. Aspettati pesanti scontri a fuoco tra due squadre in lotta per il dominio del vicolo centrale in cui si trovano gli oggetti Cattura. La situazione è ulteriormente surriscaldata dai membri della banda locale, che detestano in egual misura le due squadre e le armi più potenti. Rientrare a bordo di una Canis Mesa significa che la borsa è sempre a portata di mano, quindi la partita si gioca sulla protezione dei compagni che tentano il colpo.

Chinatown Wars di WinR4R (PS3)
Serie di scontri sui tetti o carneficina al Sinners Passage? Questo deathmatch ambientato a Textile City presenta una sapiente distribuzione delle armi, in grado di assicurare un esito diverso a ogni partita.
Ancora una volta, congratulazioni a tutti i creatori di queste attività per l'ottimo lavoro (e la memoria di ferro!). Se hai partecipato a queste o ad altre attività basate sui titoli classici di Rockstar o su loro missioni, condividi la tua esperienza con la comunità del Social Club con un commento qui sotto. Se ne hai creata una di cui sei particolarmente fiero e che vorresti sottoporre alla nostra attenzione, invece, ricordati di usare il tag #throwback.
Nelle puntate precedenti:
Creatore di GTA Online: attività ispirate a Rockstar create dai fan