Verificate da Rockstar: 10 nuove attività di GTA Online, compresa una selezione tratta da #IMNOTAHIPSTER
Durante l'evento del weekend "Non sono un Hipster", abbiamo invitato i giocatori a creare nuove attività di GTA Online usando i nuovi contenuti dell'aggiornamento "Non sono un Hipster" e a taggarli con #IMNOTAHIPSTER sul Social Club per poter ottenere la gloriosa attestazione "Verificata da Rockstar", nonché 1 milione di GTA$ e l'esclusiva targa HIPSTER. Di seguito troverete le nostre cinque attività preferite, insieme ad altre cinque attività selezionate tra le creazioni degli utenti negli ultimi mesi. Queste novità compongono il pacchetto di nuove attività verificate disponibili in GTA Online. Aggiungi le attività ai preferiti cliccando sui titoli sottostanti, o affrontale insieme alla tua crew creando un tuo elenco partite.
Selezione #IMNOTAHIPSTER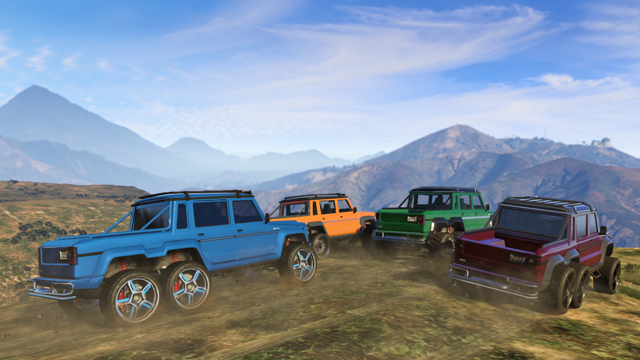 Domina la Dubsta a 6 ruote in Dubsta Warz.

Dubsta Warz - creata da Darteyld
Metti alla prova l'abilità di scalata della tua nuova Dubsta in questa gara da punto a punto in cui le strade sono un optional. Parti da Chumash Beach, raggiungi i confini del Grand Senora Desert facendo volare via i corvi, attraversa le montagne e scala pendii vertiginosi alla luce del tramonto.

The 80's Turf War - creata da GAMRZ_UK_SLiCkZ3
Questa sparatoria tra bande sfrutta le migliori armi dei film d'azione e un attento posizionamento delle auto incluse nell'aggiornamento "Non sono un Hipster" per dare a Grove Street un retrogusto vintage. I giocatori partono con una pistola mitragliatrice e un pugno di munizioni, ma potranno via via recuperare armi più potenti. La scarsità di munizioni incoraggia un approccio creativo: tendere imboscate dai tetti o dimostrare che il cofano di una Glendale non è il riparo migliore contro un lanciarazzi.

Panto-monium Microcircuit - creata da THEKerles
A dimostrazione che la Panto non è soltanto un'auto per anziane signore e figli dei fiori, questa gara a giri metterà alla prova il tuo controllo dell'auto e la tua capacità di trovare la traiettoria ideale. Aspettati un'intensa azione paraurti-contro-paraurti, con pochi rettilinei e curve molto strette. Dovrai sfruttare al meglio le poche occasioni di sorpasso disponibili.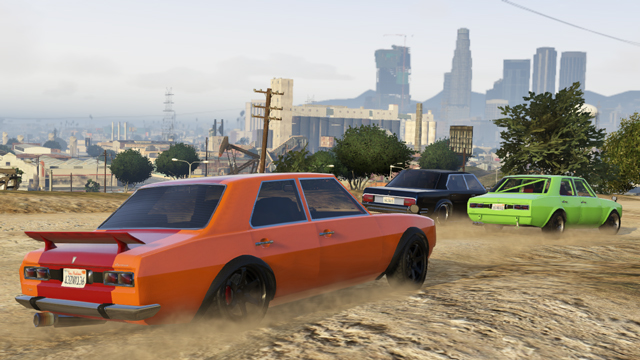 Una corsa fuoristrada con Swedish Folkrace.

Swedish Folkrace - creata da MaximilianR18
Swedish Folkrace è una gara mista su asfalto e fuoristrada per auto economiche, ideale per alcuni dei veicoli inseriti con l'aggiornamento "Non sono un Hipster". MaximilianR18, membro e capo in seconda della The GR Live Crew, ha introdotto questo passatempo locale in GTA Online, aggiungendo infide curve per creare una gara a giri ricca di azione. Come suggerito dalla descrizione, prova questa attività con una Warrener personalizzata.

HIPSTER DEATH RALLY - creata da diggzzzz
Le strade sterrate del Senora Airstrip sono teatro di questa gara fuoristrada ad alta velocità adatta alle auto dell'aggiornamento "Non sono un Hipster". Fai attenzione al contenitore sulla prima curva, o ti ritroverai a uscire di gara col botto. Inoltre, la rampa a circa metà percorso potrebbe rallentarti o, se sfruttata al momento giusto, fornirti l'occasione per uno spettacolare sorpasso aereo.
5 attività extra verificate da Rockstar

The Coil - creata da Wormbo
Un'emozionante gara per supercar che si dipana lungo le strade dell'anello ovale del Los Santos International Airport e poi compie un'improvvisa deviazione fino al ristorante Sightings e ritorno. Preparati a nocche bianche per la tensione nell'impugnare volante e controller di gioco durante le rapide curve strette, cavalcavia a corsia singola o curve a gomito e tornanti nei pressi del ristorante. Le lunghe sezioni ristrette si incrociano ripetutamente, aumentando le possibilità di spettacolari scontri ad alta velocità.

The Los Santos Triangle - creata da Ma1evo1ent Cheese
Dopo l'attività Verification of Farm Fresh, Ma1evo1ent Cheese torna alla ribalta con questa breve gara tecnica dotata di curve strette in stile Grand Prix che metterà a dura prova le tue abilità di guida. Lascia il traffico disattivato e seleziona Gara senza collisioni per eliminare possibili distrazioni durante la ricerca del tuo record personale a ogni giro. La classe predefinita Supercar completerà il circuito in poco tempo, perciò scegli tutti e 4 i giri per godertelo davvero.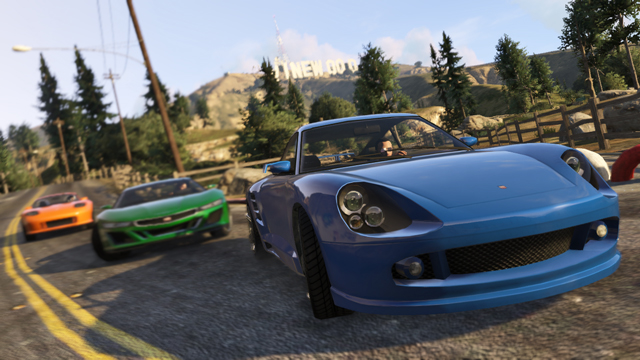 Non staccare gli occhi dalla strada in Loop The Lake.

Loop the Lake - creata da twisterrk
Si tratta di una splendida e semplice gara a giri intorno a Vinewood Lake che ti fornirà una visuale panoramica della scritta di Vinewood, del Galileo Observatory e dell'orizzonte del centro di Los Santos. Cerca di non farti distrarre troppo dal panorama mentre gareggi su strade strette e tortuose. Questa gara è adatta a buona parte delle classi di veicolo, ma prova con mezzi potenti o sportivi per una sfida più tecnica. Il suo creatore, twisterrk, è un membro della Reddit Dads Crew e ha appositamente creato questa attività per i giocatori i cui impegni familiari limitano il tempo a disposizione per giocare a GTA Online. Se ti riconosci in questa fetta di utenti, benvenuto!

Pit Stop - creata da IckyQualms
Con un tema simile al deathmatch verificato Lodge Battle, si tratta di una mappa deathmatch a squadre ricca di pericoli. Non fermarti troppo vicino ai serbatoi! Pit Stop si svolge in una zona sottovalutata della mappa, appena fuori dall'autostrada di Palomino. Abbandona la pista per cercare il fucile da cecchino solitario, o per acquisire varie armi da mischia e sorprendere gli avversari ignari dietro l'angolo.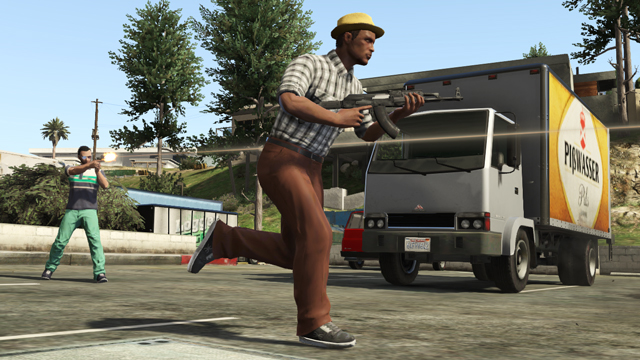 Corri dietro un riparo in Retaliate.

Retaliate - creata da gun_harmony
Una mappa deathmatch piuttosto compatta che può ospitare adrenalici scontri deathmatch a squadre o sfide tutti contro tutti. Un'area compatta che sfrutta al meglio lo spazio verticale, con parecchi ripari e opportunità di aggirare la squadra avversaria. Partecipa con la tua crew per uno scontro 8v8 e vendicati delle crew avversarie.
Dopo le spettacolari attività pubblicate in questo aggiornamento, siamo ansiosi di vederle sul campo nelle prossime battaglie tra crew e con i nostri ospiti speciali. Tieni d'occhio il canale Twitch di Rockstar (twitch.tv/rockstargames) questo venerdì alle 16:00 circa per una panoramica delle nuove attività in un livestream speciale verificato da Rockstar, ospitato dal nostro amico Swiftor e con diversi ospiti speciali, tra cui TypicalGamer, che in passato ha già apprezzato altre attività verificate da Rockstar. Se non l'hai già fatto, visita subito la nostra pagina Twitch e clicca su "Follow" per ricevere un'email di notifica ogni volta che organizziamo un livestream, oppure seguici su Twitter per tutte le ultime novità. Inoltre, puoi anche guardare lo streaming qui su Rockstar Newswire, dove resterà attivo per l'intera durata della trasmissione.
A volte abbiamo dovuto cambiare il nome delle attività per ragioni di gusto, copyright o altro. Inoltre, di tanto in tanto, ci può capitare di apportare qualche piccola modifica alle attività create dai giocatori prima di dichiararle verificate da Rockstar. Queste modifiche includono (ma non sono limitate a): lo spostamento dei punti di rientro, un miglior piazzamento dei checkpoint e l'aumento/riduzione delle armi disponibili per una particolare attività. Dopo l'approvazione di Rockstar le attività diventano disponibili su tutte e due le piattaforme, quindi non importa se giochi con Xbox 360 o PS3: potrete godervi tutte queste nuove creazioni nella vostra prossima sessione in Freemode (puoi anche aggiungerle tra i preferiti del Social Club per trovarle facilmente al vostro ritorno).

Posta pure la tua attività qui sotto, nei commenti (ma solo una volta: niente spam) con una spiegazione convincente del perché vale la pena darle un'occhiata. Siamo sempre in cerca di nuove attività create dai giocatori da aggiungere alla lista di quelle verificate da Rockstar; il modo migliore di farsi notare è presentare una gara o un deathmatch che la comunità ha già testato in modo approfondito per ottenere l'esperienza più equa e divertente possibile.