Notizie dalle crew: le battaglie in streaming più recenti, il ritorno dell'omaggio e altro...
In questa puntata di Notizie dalle crew faremo un resoconto delle ultime battaglie di Crew contro crew, altre ricostruzioni ispirate a Hollywood e i più recenti video a tema crew.
CREW CONTRO CREW: THUG CONTRO ORDO
Le crew si sono presentate in massa per appianare le divergenze e dimostrare la loro superiorità sul canale Twitch di Rockstar negli scontri in diretta streaming Crew contro crew. Dopo una divertentema piuttosto a senso unico schermaglia tra i Traffickers (TRFK) e i Le Kops (KOPS) abbiamo assistito a uno scontro tra crew veterane provenienti dagli opposti angoli del mondo: i francesi Shine Thugz (THUG) e gli australiani Illuminati (ORDO).
Il capo degli ORDO PaxSierraMike era già pronto alle 6:30 (ora locale) non solo per giocare con gli altri membri della sua crew, ma anche per fare una chiacchierata su Skype con noi, condividere foto e video e parlarci della crew. Al momento di passare all'azionei THUG hanno avuto la meglio in tutte le attività che prevedevano l'uso delle armi, mentre gli ORDO hanno prevalso nelle gare. La prima attività è stata vinta dai THUG per 41 a 32 (la gara terrestre Stars in Your Eyes) e da lì in poi i THUG hanno continuato a vincere e a mantenere la prima posizione. Nonostante alcune eccellenti prestazioni di guida degli ORDO verso la fine, i THUG hanno vinto la sfida 953 a 625. Massimo rispetto per gli ORDO che hanno accettato di buon grado e con onore la sconfitta.
CREW CONTRO CREW: KOAR CONTRO PBNK
Dopo un match non ufficiale e non approvato in cui ha dominato gli ALL BOUT PAPER (ABPG) in una serie di deathmatch a squadre, la crew Los Vagos Banditos (PBNK) ha deciso di mostrare le proprie abilità in un palcoscenico più vasto contro i Killers On A Rampage (KOAR). I PBNK sono al 50° posto nei deathmatch a squadre e i KOAR al 55° (entrambi con mira libera): c'erano tutte le premesse per un intenso scontro tra crew. I KOAR però hanno difeso la loro reputazione, dominando fin dall'inizio e vincendo tutte le 10 attività di questo elenco partite a maggioranza Cattura con un convincente 973 a 713.
CREW CONTRO CREW: GTAF CONTRO XKSA
Lo scorso venerdì abbiamo visto in streaming i popolari GTAForums (GTAF) sfidare i Killer Smoking Aces (XKSA) in una serie di 10 attività scelte appositamente. Nonostante l'aspetto da duri e l'aiuto di PlayRockstar2, che è diventato membro per un giorno, gli XKSA sono rimasti dietro ai GTAF fin dall'inizio e non sono mai riusciti a superarli. La vittoria dei GTAF (per 938 a 794) è divenuta ufficiale quando Desu_Nei ha ucciso il leader degli XKSA, trill81, nell'LTS a Kortz . Pensate che la vostra crew meriti di comparire nella prossima trasmissione in streaming? Inviateci un link alla vostra pagina, indicando la piattaforma di gioco preferita e il motivo per cui la vostra crew è migliore delle altre a CrewChallenges@rockstargames.com.
SOGNARE VINEWOOD 2: VIDEO DELLE CREW
Come già mostrato nella puntata precedente di Notizie dalle crew e in una recente raccolta di immagini dei fan, Los Santos e Blaine County hanno offerto un terreno fertile per le ricostruzioni di alcune scene memorabili dei film e copertine di album.
La crew Warriors Gang (1IWI) ci mostra questo bell'omaggio al film-culto del 1998 Paura e delirio a Las Vegas, un adattamento del libro del 1972 di Hunter S. Thompson. Sembra quasi che IWIKongZilla e i suoi compagni siano davvero sotto effetto di etere. Date anche un'occhiata al loro omaggio a Top Gun con i Lazer P-996, accompagnato dai famosi suoni di "Danger Zone" di Captain Loggins.
Come possiamo vedere qui sotto, la crew LXG (LXGC) ha recentemente pubblicato delle foto Snapmatic in cui ricrea la famosa scena della camminata de Le Iene. È molto bella anche presa da sola, ma se guardate il dietro le quinte della sessione fotografica apprezzerete ancora di più tutti gli sforzi che sono stati fatti.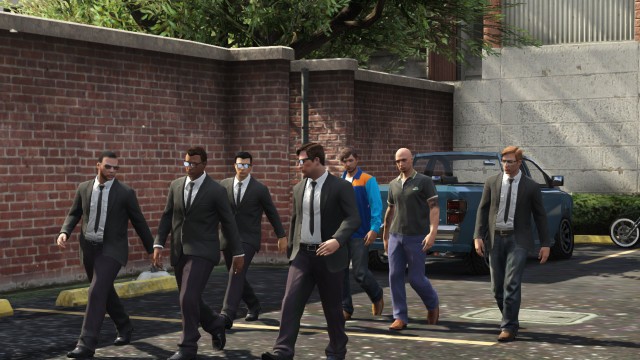 La crew SOYAPANGO (SOYA) ha deciso invece di ispirarsi a qualcosa di molto meno conosciuto. Prendendo spunto da uno spot della Honda Odyssey con uno stile vecchia scuola, i SOYA hanno creato il loro video personale "Respect the Van", con tanto di scene d'azione e la musica dell'A-Team. Anche se il video non corrisponde esattamente all'originale scena per scena, la crew ha sicuramente avuto una buona idea... tra una barricata e un'acrobazia folle.
CREW SU PELLICOLA
Ultimamente abbiamo anche notato un incremento nel numero dei video musicali a tema crew. In questo caso i Hood Donz (DONZ) interpretano "Straight to the Bank" di 50 Cent utilizzando al meglio i colori della crew e i cliché dei video musicali. Date anche un'occhiata al video intimidatorio ma dai colori perfettamente coordinati della crew Mob Up DTA (MOB1) "F*** All Dis S***" di Quake.
Con l'accompagnamento "Go with the Flow" dei Queens of the Stone Age di MC3, questo video dei Sons of Andreas (SONS) contiene molte foto Snapmatic.
Per finire, i Diamond Lane KingZ (DMND) ci mostrano un video davvero unico, realizzato usando spezzoni del gioco e un notevole talento nel montaggio per dare vita a una serie originale su GTA Online.
Nelle puntate precedenti:
Notizie dalle crew: remake di scene da film famosi e inoltre: riassunti delle battaglie con TRFK, KOPS, Freddie Gibbs e Hip Hop Gamer
Notizie dalle crew: Business e assassini - grandi e piccoli