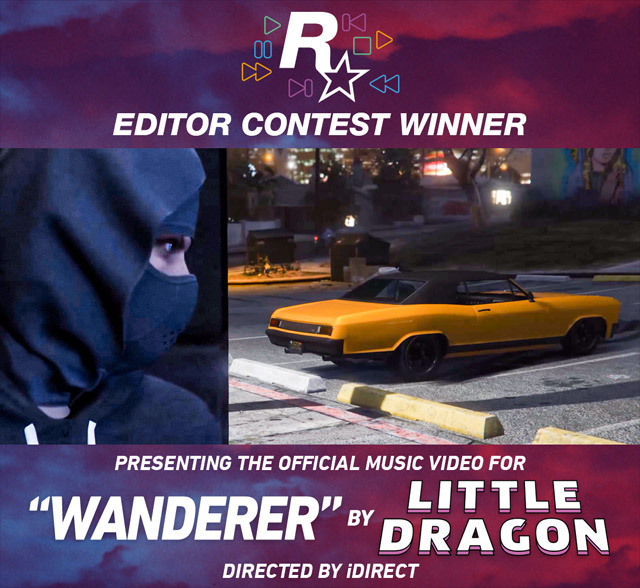 Rockstar Games et Little Dragon sont fiers de vous présenter le clip vainqueur pour la chanson "Wanderer" de Little Dragon (extraite de la bande originale Welcome To Los Santos), créé entièrement avec l'Éditeur Rockstar de Grand Theft Auto V. Félicitations à iDirect, qui a non seulement l'honneur d'avoir été sélectionné comme créateur du clip officiel de la chanson des Little Dragon, mais qui va également recevoir un lot exclusif incluant une veste GTAV personnalisée, la chaise de réalisateur marquée du logo Rockstar ainsi que, au choix, une manette dorée personnalisée PS4 ou Xbox One, ou une souris G510 Proteus Core.

Le but de ce concours était de créer un clip original pour "Wanderer" en se servant uniquement de l'Éditeur Rockstar pour raconter l'histoire d'un arnaqueur sans scrupule, comme un agent double ou quelqu'un prêt à trahir ses partenaires de crime.
Les membres du groupe Little Dragon voulaient partager ces quelques mots avec les participants :
"Déjà, il a été très difficile de choisir une seule vidéo parmi toutes celles réalisées. Tout ce que vous nous avez proposé était vraiment exceptionnel ! Félicitations au talentueux iDirect, qui a raconté l'histoire d'une jeune femme qui se joue de tout le monde... même de nous !"

LE VAINQUEUR
WANDERER - LITTLE DRAGON MUSIC VIDEO de iDirect
iDirect montre les dangers que peut encourir un informateur pris sur le fait. Ce clip cinématique nous raconte l'histoire d'une ancienne voleuse de voitures qui se fait arrêter et qui, pour s'en sortir, va dresser la police contre son ancien patron.
LES LAURÉATS

Félicitations aussi aux créateurs de ces vidéos lauréates. Chacun d'entre eux recevra un lot de produits dérivés GTAV officiels ainsi qu'une carte cadeau d'une valeur de 100 $ à utiliser sur le Rockstar Warehouse.
WANDERER [V2] de laurent.do
Ce clip, extrêmement bien réalisé, est la preuve que son auteur maîtrise l'édition à la perfection. On y découvre deux criminels, tels Bonnie and Clyde, qui dévalisent un syndicat du crime et finissent par se trahir l'un l'autre. Comme le montre laurent.do dans son clip bourré d'action, tromper une femme fatale peut avoir de terribles conséquences.
LITTLE DRAGON – WANDERER (MUSIC VIDEO) de shorty2001
Depuis ces derniers mois, shorty2001 a fait son petit bonhomme de chemin dans les classements : il avait déjà reçu des mentions honorables pour ses participations aux concours Wavves et Ill Gotten Gains. Dans cette dernière création, shorty2001 met en scène un gangster qui trompe non seulement les Vagos, mais aussi les Ballas.

MENTIONS HONORABLES

Merci également à tous les réalisateurs du monde entier qui ont participé à ce concours. Nous avons aimé toutes vos vidéos et la passion avec laquelle vous les avez réalisées. Nous sommes impatients de voir ce que la communauté nous réserve pour l'avenir ! D'ailleurs, voici quelques mentions honorables qui valent aussi le coup d'œil. Consultez régulièrement le Rockstar Newswire pour vous tenir au courant des prochains concours organisés.
LITTLE DRAGON - WANDERER (FINAL CUT) de Modojo
Les talents de Modojo ne sont pas à prendre à la légère, de même que ceux de son personnage, un agent de l'IAA. Chargée d'infiltrer les Vagos et les Ballas dans le but d'abattre un chef de gang, elle va se rendre compte qu'elle est elle-même la cible d'une terrible machination.
WANDERER BY LITTLE DRAGON de BigBabyBam
Des explosions, une trahison, puis une autre, et encore un autre... Vous aurez du mal à deviner de quel côté se situe vraiment la protagoniste de BigBabyBam, et ce jusqu'à la toute fin de la vidéo.

Précédemment :
Concours avec l'Éditeur Rockstar : Créez le clip vidéo officiel pour "Wanderer" des Little Dragon
Vainqueur du concours #illgottengains avec l'Éditeur Rockstar