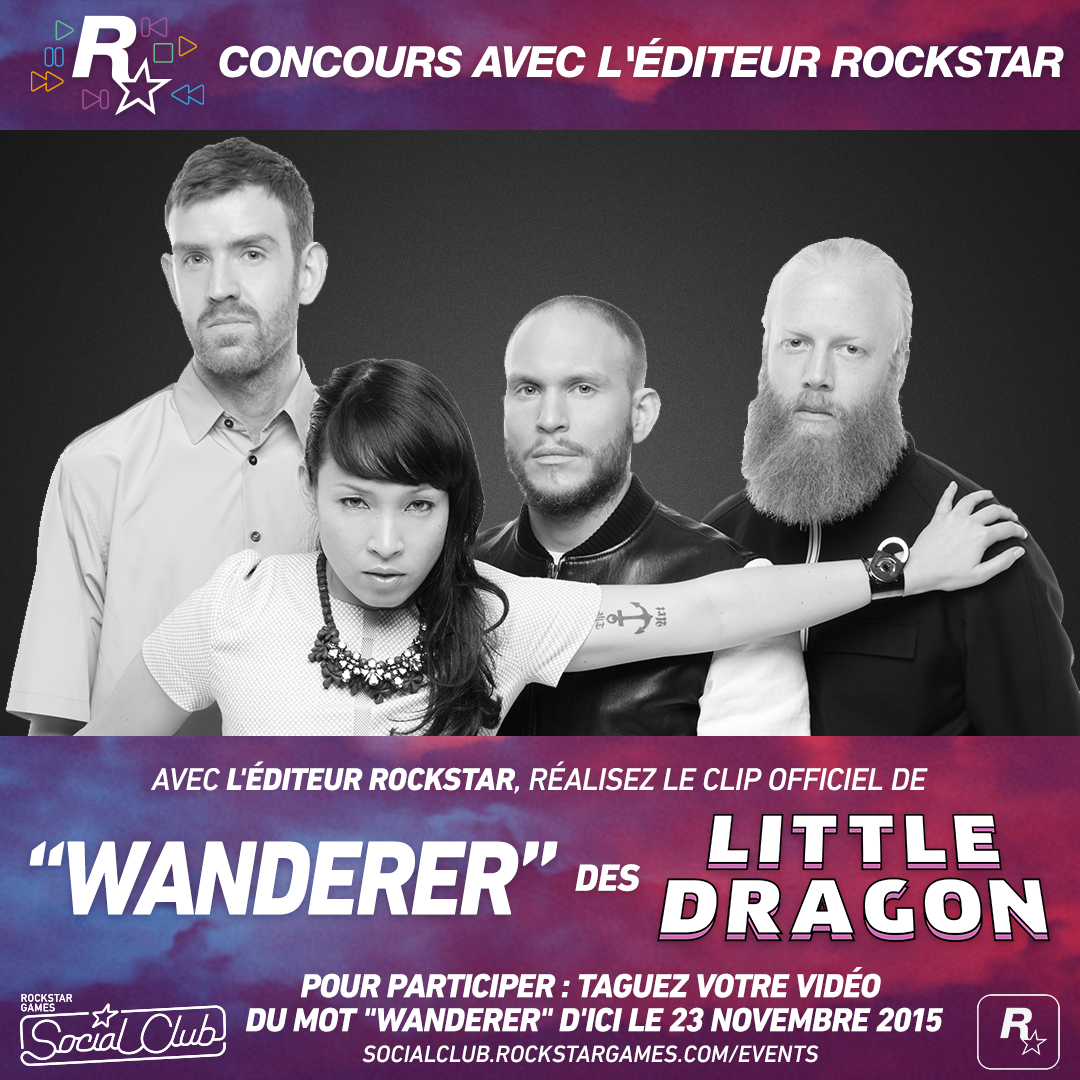 Préparez-vous pour le tout premier concours avec l'Éditeur Rockstar réunissant les trois plateformes. Les joueurs PC ont du souci à se faire car, cette fois, c'est avec toute une horde de créateurs talentueux sur PS4 et Xbox One qu'ils vont entrer en compétition ! Et vu les récompenses qui attendent le vainqueur, il vous faudra sortir le grand jeu pour tenter de réaliser le clip officiel de la chanson "Wanderer" des Little Dragon, tirée de la bande originale "Welcome to Los Santos".
Ce concours sera non seulement ouvert aux joueurs des trois plateformes, mais il leur permettra également de tirer parti des nouvelles fonctionnalités de l'Éditeur Rockstar, disponibles depuis la récente mise à jour Évènements en mode libre et incluant effets sonores, sons d'ambiance, gestion des séquences plus poussée et bien plus encore.

LES INSTRUCTIONS
Les membres des Little Dragon se tournent vers la communauté du Social Club pour la création du clip officiel de "Wanderer". Ils feront eux-mêmes partie du jury et décideront aux côtés de Rockstar Games du vainqueur parmi les finalistes. Voici une idée de ce qu'ils attendent :

Les participants doivent réaliser un clip vidéo avec l'Éditeur Rockstar pour raconter l'histoire d'une personne sans scrupule qui jouerait double-jeu lors d'une opération criminelle.
Vous avez sans doute déjà entendu cette chanson sur l'album "Alchemist & Oh No Present: Welcome To Los Santos" ainsi que sur la station de radio en jeu The Lab, mais il vous faudra la connaître par coeur pour pouvoir l'accompagner d'une vidéo parfaitement adaptée. Voici la chanson en question, au cas où vous voudriez commencer à y réfléchir :
LES PRIX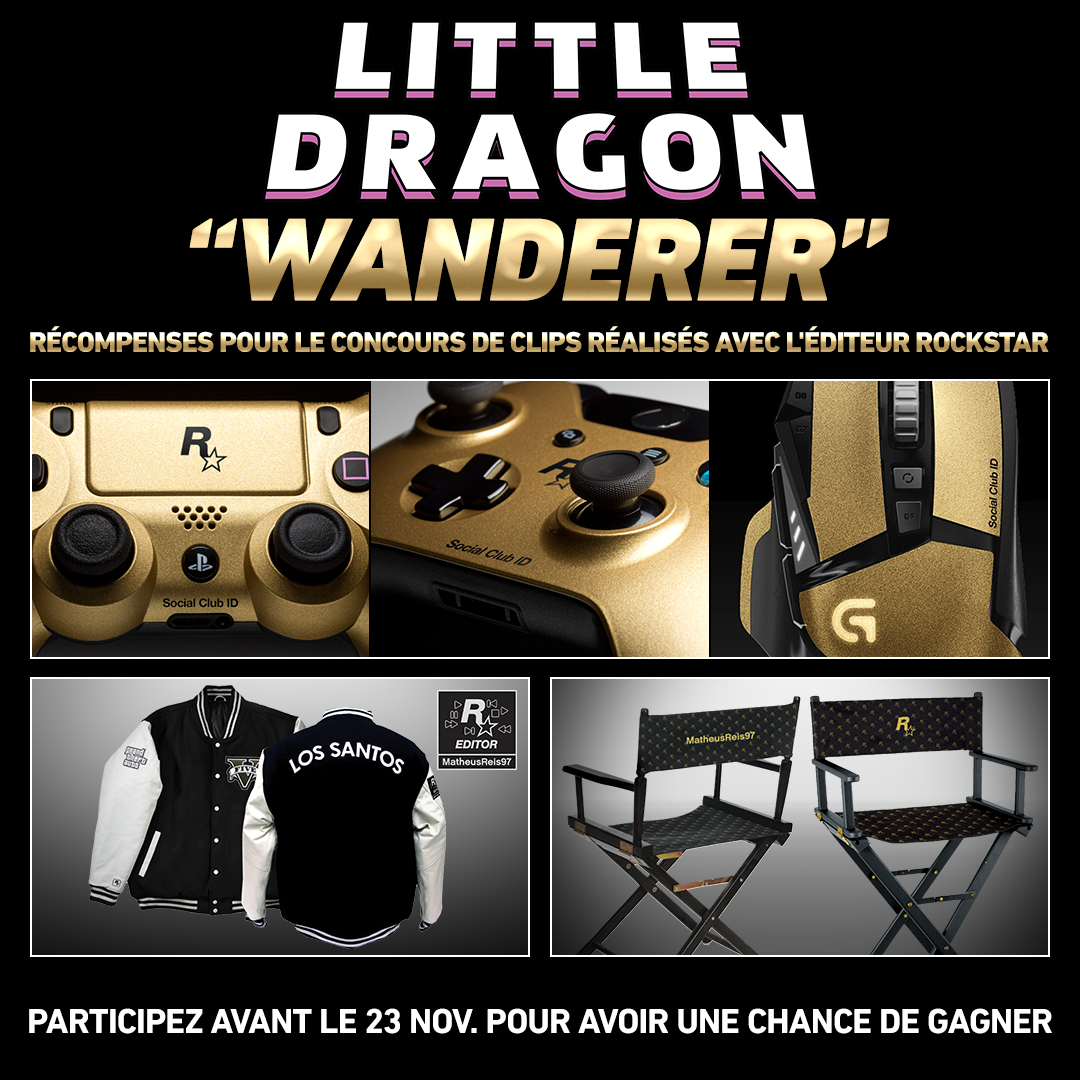 En plus d'avoir le prestige d'être le réalisateur du clip officiel de la chanson, le vainqueur du concours recevra tout un tas de récompenses, dont une manette dorée (avec de la vraie peinture dorée à 24 carats) sur laquelle sera inscrit son ID Social Club. Le vainqueur aura le choix entre une manette Xbox One ou PS4, ou une souris G510 Proteus Core Gaming Mouse (11 boutons programmables, poids à personnaliser, 5 paramètres de résolution allant de 200 ppp pour des tirs de précision à 12 000 ppp pour des actions ultra-rapides), et pourra réaliser sa prochaine vidéo depuis le confort de son fauteuil portant le logo de l'Éditeur Rockstar et son ID Social Club, un véritable trône digne des plus grands champions. Enfin, le grand gagnant recevra une veste Varsity GTAV, extrêmement rare, décorée d'un patch personnalisé prouvant au monde entier sa maîtrise de l'Éditeur Rockstar.
Les deux lauréats recevront chacun une carte cadeau d'une valeur de 100 $ à utiliser sur le Rockstar Warehouse et un lot de goodies GTAV officiels, en plus d'avoir leurs noms mentionnés sur le fil d'actualités Rockstar.

COMMENT PARTICIPER
Rien de plus simple : créez une vidéo avec l'Éditeur Rockstar sur PC, PS4 ou Xbox One et publiez-la sur le Rockstar Games Social Club via le menu en jeu. Ensuite, rendez-vous sur la page Mes vidéos du Social Club et taguez votre vidéo du nom "wanderer", et le tour est joué ! Quelques points à retenir :
La vidéo doit avoir pour unique bande-son la chanson "Wanderer" des Little Dragon, et aucune autre.
La vidéo doit durer entre 4 et 5 minutes.
Pour être éligible, la vidéo doit être publiée sur le Rockstar Games Social Club et doit être taguée du mot 'wanderer' à partir de maintenant et jusqu'au 23 novembre à 23h59 ET (5h59 heure française).
La vidéo doit être entièrement réalisée avec l'Éditeur Rockstar. Nous savons que beaucoup d'entre vous se servent de logiciels d'édition tiers, mais pour que ce concours reste équitable pour tous, nous vous demandons de n'utiliser que l'Éditeur Rockstar.
Little Dragon et Rockstar Games choisiront le vainqueur en tenant compte du respect des instructions indiquées ci-dessus, de la valeur divertissante et artistique de la vidéo, de la qualité de l'édition et de la créativité de l'ensemble. Gardez un oeil sur la page Social Club du concours pour voir ce que les autres membres du Social Club pensent de votre vidéo. Le vainqueur et les lauréats seront annoncés plus tard cet automne.

Concours non valide dans certains pays et partout où il est interdit par la loi. Consultez la page www.rockstargames.com/socialclub/events/contests pour plus d'informations sur le règlement officiel et les détails sur l'éligibilité.
Précédemment :
Vainqueur du concours #illgottengains avec l'Éditeur Rockstar
Vainqueur du concours avec l'Éditeur Rockstar : Présentation du clip officiel pour "Leave" de Wavves