GTA Online Streaming Live on Twitch : Affrontement de crew Motorcycle club & GTA Soundtrack Alumni Edition Feat. Statik Selektah, Sean Price & Termanology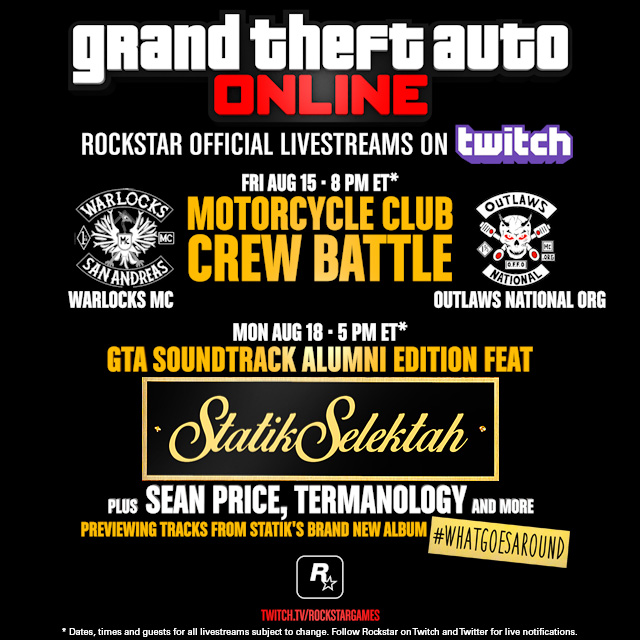 Connectez-vous pour connaitre les prochains Streaming Live Officiels de GTA Online sur La chaîne Twitch de Rockstar :


Vendredi 15 Août 20h Eastern*
Affrontement de Crew motorcycle Club avec
Warlocks MC VS Outlaws National Org
Deux purs et durs Motorcyle Clubs vont s'affronter à travers Los Santos et Blaine County pour montrer qui est le plus agressif à moto. Tenez vous prêt pour une course GTA hardcore et pleine d'action et quelques vrais combats de gangs de bikers.
Lundi 18 Août 17h Eastern*
GTA Soundtrack Alumni Edition featuring
STATIK SELEKTAH plus SEAN PRICE, TERMANOLOGY, EA$Y MONEY et d'autres invités spéciaux
Les fans de Rockstar et de GTA connaitre surement Statik Selektha par ses contributions originales aux bandes sons de Grand Theft Auto: The Lost and Damned ainsi que Midnight Club LA et Max Payne 3.
Considéré comme l'un des meilleur producteur de hip-hop à ce jour, le tout nouvel album de Statik What Goes Around sera disponible mardi 19 Août – et il viendra dans les locaux de Rockstar NYC la veille de la sortie pour nous présenter en avant première mondiale des titres exclusifs de son album qui seront diffusés en direct sur Twitch pendant que nous jouerons une Playlist de jobs Spéciale inspiré par les musiques de #WHATGOESAROUND. Se joindront également des collaborateurs des bandes-sons GTA ayant également participé à What Goes Around incluant Sean Price (GTAIII), Termanology (GTAIV et Midnight Club LA) ainsi que Ea$y Money et d'autres qui seront annoncés prochainement.
*Notez qu'avec tous les nombreux Streaming Live, les dates et les horaires sont susceptibles de changer.
Suivez nous sur twitch.tv/rockstargames et twitter.com/rockstargames pour avoir les notifications en direct lorsque les streaming commenceront ? Et restez connectés pour savoir quand les autres Streaming Live seront diffusés.