Streamings GTA Online de la semaine : édition spéciale avec Bass Drum of Death et bataille de crews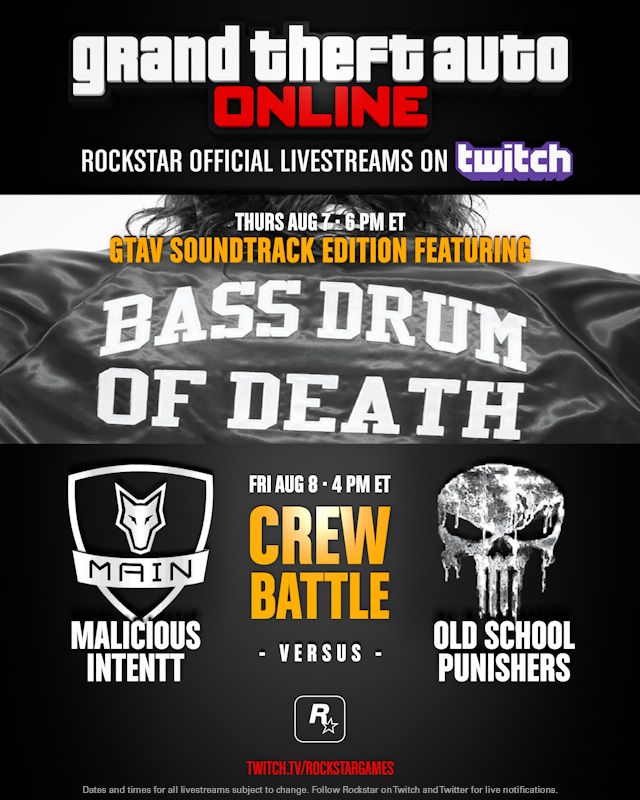 Connectez-vous à la chaîne Twitch officielle de Rockstar Games cette semaine pour deux événements à ne pas manquer :

Jeudi 7 août 18h (Heure de l'Est)*
Édition spéciale bande originale de GTA V avec
BASS DRUM OF DEATH ("Crawling After You" sur Vinewood Boulevard Radio)
Sur le point de commencer leur tournée automnale 2014, les BDOD fêtent la sortie de leur tout nouveau single "Left for Dead", extrait de leur disque Rip This (disponible à partir d'octobre). Ils vont faire un saut dans les bureaux de Rockstar NYC pour nous offrir un peu d'action dans GTA Online, retransmise en direct sur notre chaîne Twitch !

Vendredi 8 août 16h (Heure de l'Est)*
Bataille de Crews avec
Malicious Intentt VS Old School Punishers
Ces deux crews hardcore vont en découdre sur le thème de la course. Les deux camps intégreront chacun un joueur Rockstar et s'affronteront sur une liste spéciale d'activités de course aux commandes de différents types de véhicules.

* Notez que comme pour tous nos streamings, ces dates et ces horaires peuvent faire l'objet de modifications.
Suivez-nous sur twitch.tv/rockstargames et twitter.com/rockstargames pour ne pas rater le début de nos diffusions. Et restez avec nous, de nombreux streamings Rockstar sont prévus pour les semaines à venir.