Éditeur GTA Online : Nouvelle sélection d'activités inspirées de grands classiques GTA
Nous avons récemment partagé une liste d'activités GTA Online pleine de nostalgie imaginée par des fans qui tenaient à rendre hommage à leurs anciens titres Rockstar préférés. Cette semaine, nous avons sélectionné des activités inspirées directement des missions de plusieurs de nos grands classiques : GTA III, Vice City, San Andreas et GTA IV. Vous en verrez également deux sur le thème de Chinatown Wars, dans une partie de Los Santos centrée sur Textile City. Cliquez sur le nom d'une activité pour la voir sur le Social Club et pouvoir l'ajouter à votre jeu.


The Exchange (L'échange) de JIIThe_JokerIIK (Xbox 360)
Nous voyons ici la dernière mission explosive de GTA III transformée en affrontement le long du Land Act Dam. Un grand bravo à JIIThe_JokerIIK, qui a méticuleusement placé les bons éléments pour reconstituer fidèlement le décor du combat final entre Claude et le cartel colombien. Un conseil, emparez-vous vite du Buzzard pour prendre l'avantage si vous jouez avec votre crew.

Bomb da Base (La bombe) de DuPz0r (PS3)
Cet affrontement inspiré de l'acte II de la mission "La bombe" de GTA III, dans laquelle Claude et 8-Ball font sauter le navire LES CARGO, est un pur concentré d'action sur un cargo amarré tout près du terminal du port de South Los Santos. N'oubliez pas de fouiller les conteneurs vides suspendus pour récupérer des armes puissantes, mais attention... on vous a peut-être devancé !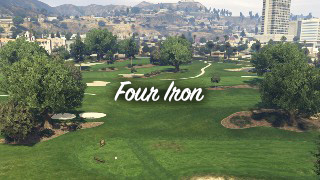 Four Iron (Quatre fers) de auclair-O_o (PS3)
Tommy Vercetti avait dû laisser ses armes à l'entrée du Leaf Links de Vice City. Heureusement, la sécurité est beaucoup moins stricte au club de golf de Los Santos. Dans ce remake version affrontement de la mission "Quatre fers" de VC, vous trouverez quelques pistolets dispersés sur le green et les fairways. Et bien sûr, les clubs de golf ne manquent pas si vous voulez travailler un peu votre swing.


Farewell, My Love... (Adieu, mon amour...) de iLewisGTA (Xbox 360)
Après avoir été rejetée par Carl Johnson dans San Andreas, Catalina avait chargé son nouveau petit ami (le genre fort et taciturne) de le battre dans une course à travers Red County. Dans ce remake à la sauce GTA Online, iLewisGTA a choisi les coupés comme véhicule par défaut pour plus d'authenticité, et a parfaitement reproduit les virages serrés et glissants du circuit original autour du Panopticon de Red County. Grand fan de Rockstar, Lewis a créé plusieurs activités nostalgiques que vous pouvez découvrir sur son profil Social Club.

Valet Parking (Voiturier) de DrHoctor (Xbox 360)
"Travailler comme voiturier au Richman Hotel a ses avantages, surtout quand on aime les véhicules de luxe. 'Empruntez' l'un d'entre eux et testez un peu ses limites" déclare DrHocter dans la description de cette course de circuit inspirée d'une mission de San Andreas. Cette épreuve à travers les rues étroites de Morningwood ne vous laissera pas le temps de vous garer, c'est certain. Méfiez-vous des adversaires un peu trop collants dans la boucle et essayez de rendre votre véhicule à son propriétaire sans la moindre éraflure.

High Stakes, Low Rider (High Stakes, Low Rider) de thewolfking90 (PS3)
Félicitations à thewolfking90 pour l'authenticité de cette course réservée aux Muscle Cars, qui capture parfaitement l'esprit de son modèle, la mission "High Stakes, Low Rider" de San Andreas. Pendant tout le trajet vers la ligne d'arrivée à Del Perro Pier, vous pourrez presque sentir Cesar Vialpando se rapprocher de votre pare-chocs arrière. L'idée de définir West Coast Classics comme radio par défaut est aussi un clin d'Sil charmant à l'esprit "wessyde" original.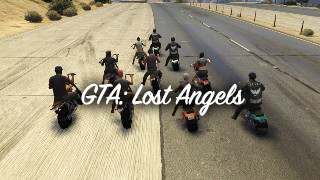 GTA: Lost Angels (GTA : Lost Angels) de RikkiVercetti (Xbox 360)
Inspirée par le conflit entre les Lost et les Angels of Death dans The Lost and Damned, cette activité de capture, créée par le très prolifique RikkiVercetti, implique deux équipes en pleine guerre de gangs entre ces deux célèbres clubs de motards, chacun chargé de voler les motos spécifiques à l'autre groupe. Les nombreuses collines entre West Vinewood et Stab City de cette vaste activité de capture vous obligeront à vous séparer et à laisser de solides défenseurs pour garder vos précieuses bécanes. Fusils à canon scié et cocktails Molotov étant les armes par défaut, il vous faudra bien viser et faire les bons choix lorsque vous approcherez de la base ennemie.


Chinatown Wars de Choc_late (Xbox 360)
Une activité de capture intense en combat rapproché au milieu des néons et des lanternes colorées de Mission Row, à West Vinewood. Les deux équipes s'affrontent pour contrôler la rue centrale dans laquelle les objets de capture sont situés, alors vous pouvez vous attendre à de nombreuses fusillades. Équipés d'armes haut de gamme et dotés d'une bonne précision, les gangs locaux méprisent les deux camps et sont également de la fête. Avec des réapparitions à bord de la Canis Mesa, les sacs ne sont jamais bien loin, alors mettez-vous à couvert et protégez vos coéquipiers quand ils tentent de s'en emparer.

Chinatown Wars de WinR4R (PS3)
Attrition sur les toits ou carnage dans Sinners Passage... Les armes sont subtilement placées dans cet affrontement à Textile City, de sorte que chaque match peut potentiellement se jouer différemment.
Encore une fois, bravo à tous ces créateurs talentueux pour leur travail (et leur mémoire parfaite). Si vous avez essayé ces activités, ou d'autres activités inspirées de classiques Rockstar, exprimez-vous dans la section Commentaires ! Et si vous avez vous-même créé une activité dont vous êtes particulièrement fier, n'oubliez pas de la taguer d'un #throwback pour nous la signaler.
Précédemment :
Éditeur GTA Online : Vent de nostalgie et hommages aux classiques de Rockstar