The GTA Online Independence Day Event Weekend Recap: Snapmatic Contest Winners, The USA vs UK 'Rematch' Battle and More
This past weekend, the citizens of San Andreas painted the town red, white and blue in the name of Old Glory over the 4-day GTA Online Independence Day Weekend Event celebrating America's birthday and last week's brand new seasonal Independence Day Special content update. RP and GTA$ bonuses were up for grabs in the official Event Playlist, our eyes welled at the patriotic beauty of the #IndependenceDay Snapmatic contest submissions and 'Team USA', represented by Lui Calibre and some of our Rockstar Devs (plus surprise guest player Vanoss from north of the border), took on the Old World - 'Team UK' in the form of the GTA V O'Clock Crew - in an epic cross-pond confrontation. Read on for a rundown of what went down, the winning Snapmatic pics, some additional weekend fan videos displaying true 'merican spirit and more.
THE OFFICIAL ROCKSTAR BROADCAST: "AMERICA VS GREAT BRITAIN - THE REMATCH" FEAT. SPECIAL GUESTS LUI CALIBRE AND THE GTA V O'CLOCK CREW
Whoever coined the phrase "let sleeping dogs lie" turned in their grave last Thursday as we opened up a 240-year-old grudge between America and Great Britain - The Rematch. This time, the score would be settled on the western battlegrounds of San Andreas in GTA Online. Team USA was designed to represent from sea to shining sea with esteemed YouTuber Lui Calibre live from his hometown San Diego bringing his heavyweight GTA Online skills to team up with our own crack squad of Rockstar NYC Devs - and just before we went live, we learned that Lui was bringing an a secret weapon to the table in VanossGaming fresh off his own Canada Day celebrations last week and playing live from the Great White North to help turn the American team into a true pan-North-American all-star threat. 'Team UK' was represented by the lads of GTA V O'Clock - Dan Dawkins, James Jarvis and Iain Wilson, aka the illustrious 'Mr Trophy'. Upper lips stiffened, their quartet was completed by Nick Reeves, event manager and boss of the GTA Fans Crew, whom they recruited via YouTube comments on the video announcing their involvement the day prior. Nick joined up with them from the good colony of Australia as Dan put it, ready to assist Team UK in claiming redemption for Queen and country. Watch the archived battle royale below and read on for some particular highlights you can jump to.
The great Rematch began with this new Land Race featuring off-road beast, the Liberator monster truck. Oversized and way over the top, it came as no surprise when Team USA's Lui and Vanoss took an early lead. They never looked back and when GTA V O'Clock's Mr. Trophy threatened to take third place for the UK, our own GTADev2 pushed him out of the way to take the bronze. USA! USA!...
Inspired by the great Battle of Bunker Hill, next up was one of the new Capture Jobs, Raid: Bunker Thrill. Though they put up a good fight (including an impressive flag delivery from James), things didn't work out so well this time around for the Brits, with the Yanks taking this game 3-1.
For this new Parachuting Job, Lui once again came out on top with 245 points displaying some ace technique. Repping the UK, Nick racked up a solid 195 points. Teammate Dan might have had some issues nailing those blue circle checkpoints, but on the other hand he did get a complimentary scenic tour of Vinewood.
Sporting the new high-powered, long-range Muskets, next up was Road Tripping, one of the two latest Rockstar-created Deathmatches added to the game last week. On this one, the Red Coats came with an aggressive approach and went back and forth on the leaderboards. Unfortunately for them, they couldn't quite keep up with Lui's 21 kills and the US took the round.
The warriors took to their Liberators once more for another new Land Race. With Lui taking an early lead, James focused on keeping GTADev1 away from second place. After a couple of close calls, he was able to hold on to the silver with a time of 3:32 and Dan was just behind him to take third.
01:13:13 Del Perro Pier Free Roam
In between Jobs and after stopping off to try on some of the new animal masks, our own GTADev4 drove over to get some thrills on the Leviathan Roller Coaster for a bit of holiday diversion.
Thanks particularly to the gameplay dominance of Lui, Team USA protected its national interests and while Team UK's claim of a draw may be highly-contested – we can agree an awesome time was had by all.
A hearty cheers to the always classy gents from GTA V O'Clock who were good enough to send us this salute live from the pub where wounds and pints were lapped up after the battle.
Cheers @RockstarGames @mynameislui @VanossGaming from @GTAVoclock, you played well! It was a draw though, right? ;) pic.twitter.com/49mydo7dGX

— GTAVoclock (@GTAVoclock) July 3, 2014
You can also check out some bonus footage courtesy of both Lui Calibre who posted a special edit of the broadcast incorporating some footage from his own perspective and an archive of the stream as it appeared live on GTA V O'Clock's channel too.


THE #INDEPENDENCEDAY SNAPMATIC COMPETITION WINNERS

Here's the 5 victors of the #IndependenceDay Weekend Snapmatic Contest who won us over with their originality, humor and/or beauty in showcasing brand new Independence Day Special content. These guys are all first-time winners, so good on them for taking home the kitty of GTA$1M and the AMERICA in-game license plate. Read on as well for lots of honorable mentions worth checking out as well.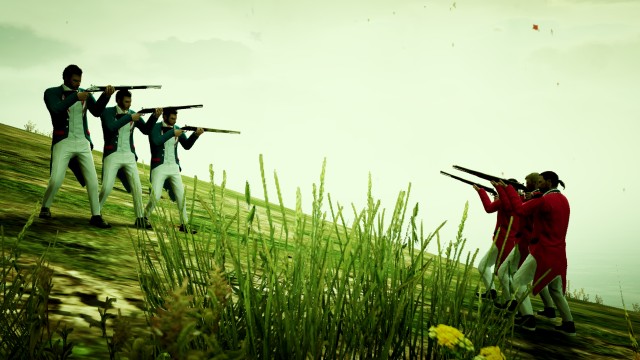 "Palomino Highlands" by King_Leonidas_I of the Sons of Anarchy PS3x Crew
We've seen quite a few other attempts to re-enact the Revolutionary War this Independence Day Weekend, such as this shot of the Regulars by Kosevil that we featured during last Thursday's live stream and this one by Horokazu of the Yankees poised for battle. King_Leonidas_I's winning shot seen above, however, really takes the cake with a proper Redcoats versus Rebels Musket battle on the proverbial bunker hill of the Palomino Highlands. Don't miss the after shot as well - looks like the Redcoats may have taken this particular battle.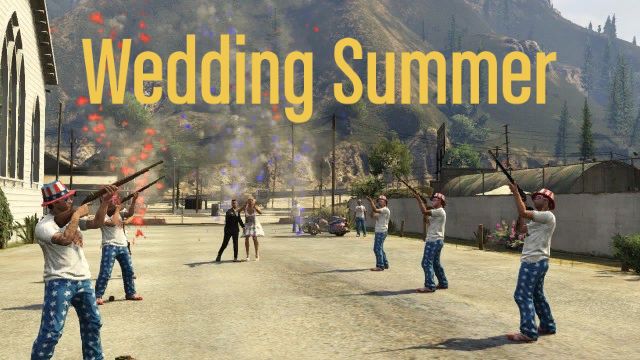 "Postrzelony Slub" (Wedding Shot) by VVeteran of the Rewolucja Crew
It's wedding season in San Andreas and the Rewolucja Crew are the Musket-wielding patriotic wedding party to the happy bride and groom, complete with firework confetti to boot. An honorary mention-er back from the #ThanksCargobob Snapmatic Contest, VVeteran is finally the bride rather than the bridesmaid.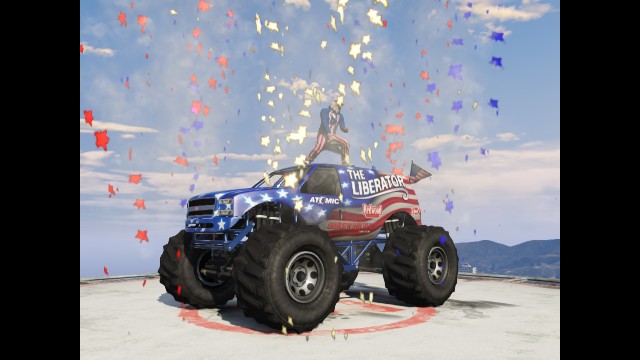 "LIBERATOR MAN!!!!!" by Dr_Nyan_ of the Killers Creed Crew
This one is pretty rockin'. Perfect composition with The Liberator perched atop the Maze Bank helipad on a beautiful sunny day in Los Santos with red, white and blue fireworks aplomb and a screaming American eagle letting the July 4th celebrations fly.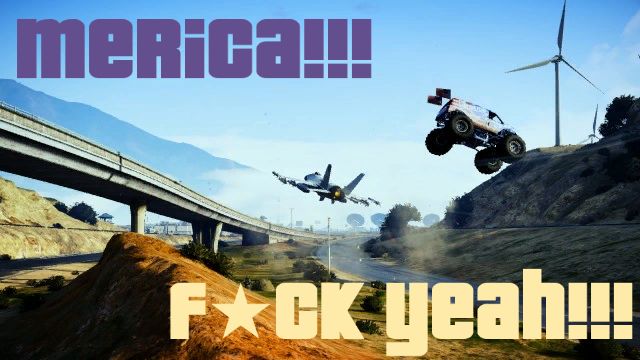 "MERICA! F*CK YEAH!" by BsW93. of the Queens of the Damned Crew
Leaping Liberators... There are a few awesome shots of these all-American power houses catching some major air including these by Streetsoul1001, caskillo, PartyZen and a star-studded bus jump by Fleisz. But BsW93. here went BIG for 'merica, pulling off an epic stunt leapfrogging a Lazer, snapping it at the perfect moment and then tying it all together with some appropriately bold Team America meme creator caption text. Says Crewmate and collaborator SublimeKen in photo comments: "The timing was really hard to get right lol. Turned out great though :) Actually don't think it would look so cool if the jet were directly below the monster truck. This way though, it looks kinda brilliant xD." Slow clap.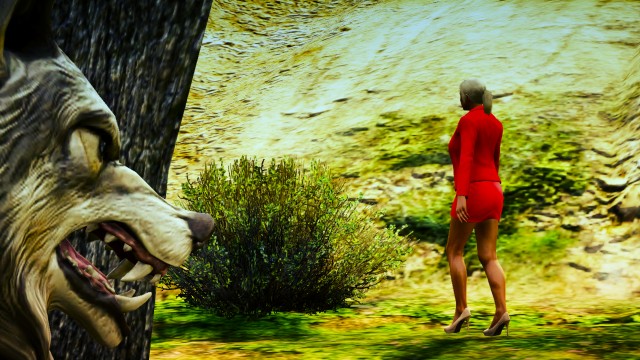 "Little Red Riding Hood" by MOTTZ_ of the VIOLATE YOU GET IT Crew
A very clever use of the new Independence Day Special wolf masks, perfectly composed here with the lupine predator peeking out from behind a tree at an unsuspecting lass presumably on her way to grandma's house in the countryside... MOTTZ_ also did similarly clever fairy tale photo shoots using the new animal masks: the Three Little Pigs (in MOTTZ_ version, wearing lingerie?) and Goldilocks and the Three Bears.
SNAPMATIC HONORABLE MENTIONS
There were so many other great ones that nearly made the cut - check 'em out:

INDEPENDENCE DAY WEEKEND GEAR GIVEAWAY SWEEPSTAKES WINNERS
Thanks to everyone who entered the Independence Day Gear Giveaway Sweepstakes featuring 5 special Prize Packs of rare and all-American themed GTA collectibles including a GTAIV Aluminum Bat, Patriot Beer cups, GTAIV foam finger, a Statue of Happiness figurine, a GTAV Los Santos Lifeguard tee and a Vice City beach ball. We're still confirming some of the Grand Prize Winners (congrats to zBusa187 and quackmind so far) and runner-ups who will win GTAV tees and stickers so be sure to check your inbox of the email attached to your Social Club account (and make sure to update your Social Club account so that your most actively used email address is the one you have linked so that you don't miss out on important confirmation mails such as this).


INDEPENDENCE DAY WEEKEND GTA YOUTUBE COMMUNITY FUN

As one would expect, the GTA YouTube community was alight with red, white and blue mayhem over the past week - here's just a couple of our favorites.
An eagle wearing a helmet and a pair of cocksure accomplices celebrate America's Independence in high fashion in this Fourth of July video by WhosChaos presented by the Videogames Channel: getting 'lit', riding dirty on rollercoasters and showing a complete disregard for proper fireworks safety guidelines.
Posted on July 4th and culled from one of his always-epic HikePlays live-streams, our old friend HikeTheGamer puts on a grand finale of patriotic funny moments pandemonium, 'landing' the Liberator, setting off rockets and trying on all the new outrageous customization options in the Independence Day Special.

Stay tuned for the next GTA Online content updates as well as more Social Club Event Weekends to be announced very soon.