Recrutement : Money Task Force, Evil Crime Syndicate, Kung Fu Krakens et d'autres Crew cherchent des membres
Cette rubrique est consacrée aux messages de recrutement des Crews qui cherchent activement de nouveaux membres grâce à des annonces personnalisées.
Cherchant à suivre l'exemple de Crews déjà présentés, comme Annunaki Lords qui a recruté quelques centaines de joueurs depuis notre article le mentionnant, cette fournée-ci contient une bonne dose de super-vilains, de plans machiavéliques pour la domination du monde, d'équipes héroïques adeptes des arts martiaux pour les contrer, d'une bande de Costa Nostra qui souhaite revenir à une époque plus traditionnelle, et d'autres.
Le leader de Money Task Force, Yavvii, présente énergiquement son Crew, les décrivant comme cherchant autant à s'amuser qu'à amasser de l'argent.

"Money Task Force is now recruiting! I think the name would be enough to suggest what we are about. However, if not, it's all about money, money and money!
We currently stand at roughly 160 members and are looking to recruit more active members. Promotions will be given on a regular basis based on your overall activity.
RECRUITMENT PROCESS: Send a request to join the Crew and then message me (Yavvii) or alvinlowery21 that you've asked to join and we'll accept it.
RULES: Best thing about this Crew is we don't have hard and fast rules. There are only two rules:
1. Don't kill a Crew mate.
2. HAVE AS MUCH FUN AS YOU CAN!
Hoping to have fun, earn money and to be playing with all of you guys soon! Cheers."

http://socialclub.rockstargames.com/crew/money_task_force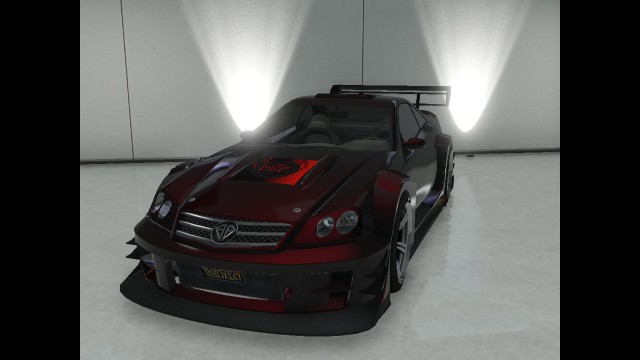 Brasil LIVE 360 est un Crew brésilien dirigé par RenatoBMX. Bénéficiant d'une page Facebook, d'un site tenu à jour et d'un nombre florissant de joueurs, BRLV semble aspirer à la grandeur, ou tout au moins à passer du bon temps.

"We're a CREW of very organized individuals with the ultimate goal of bringing together Brazilian players on Xbox LIVE.
With recordings of weekly videos and additional events, our CREW stands for knowing what you're doing and making a difference.
The members are selected one at a time and the friendships we make here are for life. Thanks to everyone!
- KILLING OR DYING TOGETHER - "
http://pt.socialclub.rockstargames.com/crew/brasil_live_360
http://brlive360.blogspot.com.br/
https://www.facebook.com/BrasilLive360
https://www.youtube.com/channel/UC6gBwyALDSt9hJvX5RZ8pCQ/videos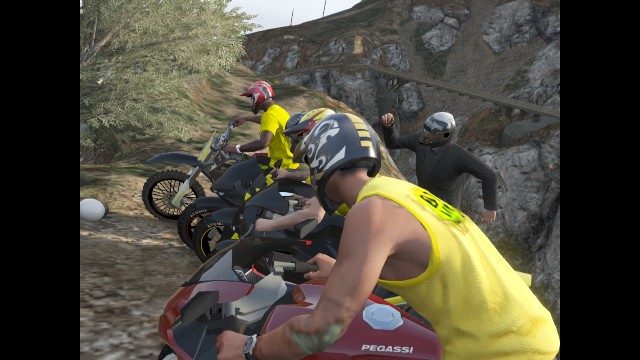 La bande de super-vilains de Evil Crime Syndicate cherche à répandre son influence un peu partout. Mené par le discret GermanRedSkull, elle cherche à instiguer la peur dans le coeur de leurs ennemis tout en développant la loyauté et la tolérance dans leurs propres rangs.

"We have declared war on the streets of Los Santos and Blaine County.
Lock away your valuables, hold tightly onto your purse and keep your eyes open as the Evil Crime Syndicate is watching. We can strike at any moment, so beware!
We demoralize the enemy from within by surprise, terror, sabotage and assassination. This is war!
Only few have met our fearless leader, GermanRedSkull. He plays his cards close. If you see him online you know something important is going down. He stays in hiding most of the time, planning and plotting away, developing our evil master plan, giving direction to his most trusted and loyal advisors such as Rerun Shoota, DanialStuart and SJStar89.
Part of our vision is to set ourselves apart from other Crews. However, our main vision is to have a Crew where all members have a say and we all agree to have fun and be friendly.
We don't care for political or religious views or opinions on how anyone wishes to lead their life - it's your life and you can live it how you want, no questions asked.
Our members and alliance Crews are here to have fun, have a laugh and not take things too serious or personal.
We are currently seeking active players to join the syndicate.
If you are respectful, funny, quirky, proud, courageous, sorted and like to live life to the fullest and have fun, join us.
What are you waiting for?
http://www.evilcrimesyndicate.com
https://www.youtube.com/evilcrimesyndicate
http://socialclub.rockstargames.com/crew/evil_crime_syndicate
https://twitter.com/evilcrimewars
https://www.facebook.com/EvilCrimeSyndicate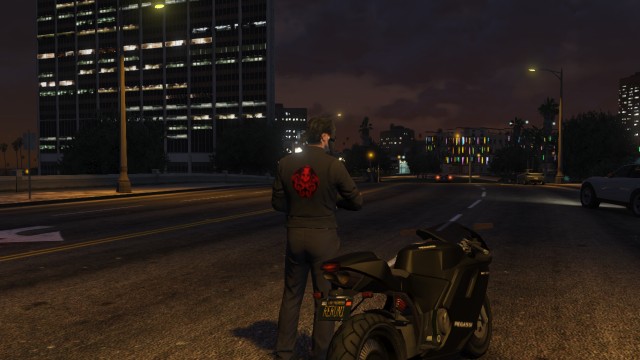 Des menaces en l'air, on en voit souvent dans les cercles MC. Mais Viper-29, lieutenant de Black Wasp, veut faire savoir que le dard mortel de son Crew et de toute ses divisions, ce n'est pas du vent.

"The Black Wasp is a small and strong Crew. The brotherhood we have forged is stronger than all of the world's steel combined. We may not have strength in numbers but we are the most fearsome MC in Los Santos. Anyone who questions this can take us on. We have faced betrayal in the past within our highest ranks but that was only a small setback. We are now stronger than ever. You will not catch us in a tank. You will never see us killing guys who don't deserve it. We have our own set of rules. We are the biggest bad asses ever on a chopper, whether it's a Daemon, Bagger or Hexer. We will never leave a brother in need. We are to be feared and will never back down from a fight.
We have four major charters, starting with our main Los Santos charter, a Blaine County charter, a Prospect charter and finally our Xbox charter. Thanks for your consideration."
http://socialclub.rockstargames.com/crew/black_wasp
http://socialclub.rockstargames.com/crew/black_wasp_mc_xb
http://socialclub.rockstargames.com/crew/black_wasp_blaine_co
http://socialclub.rockstargames.com/crew/black_wasp_prospects ( Join Here )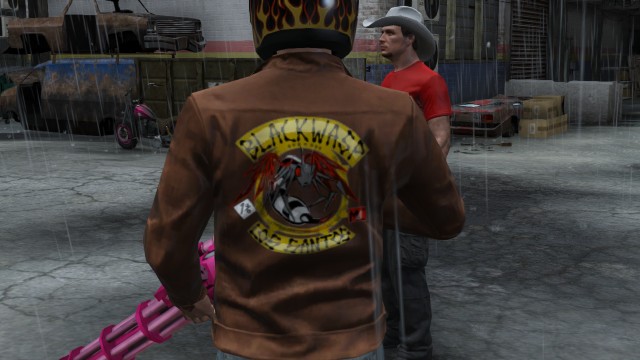 Avec leur emblème plein d'audace et un recrutement ouvert, les guerriers océaniques de l'ombre connus sous le nom de Kung Fu Krakens, sont actuellement à la recherche de nouveaux membres pour compléter leur troupe.

"Tired of having to jump through hoops to get recruited?
KFUK is looking for loyal members to bolster our ranks.
The first 3 new members to join will receive an automatic promotion to Lieutenant.
The next 3 following will receive a Representative rank up.
There is one Commissioner spot remaining for our best recruiter.
We are here to have all manners of fun until you interrupt our KUNG FU. Then we will be forced to release the KRAKENS!!!
About: Damn it feels good to be a Kraken / Platform: XBOX 360
Games: Grand Theft Auto V Online / Time zone: Central"
http://socialclub.rockstargames.com/crew/kung_fu_krakens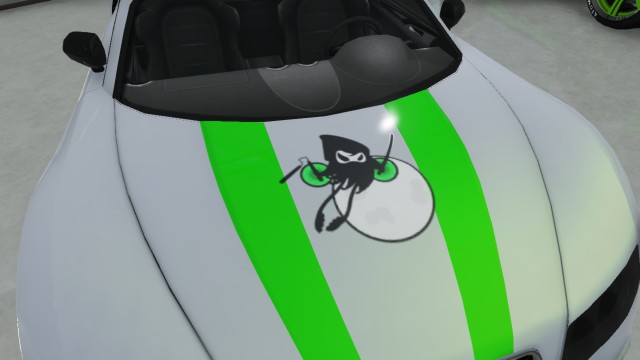 VIDÉOS DE RECRUTEMENT
Notre sélection de vidéos de recrutement mises sur pied par les Crew, ici To Live Another Day et Gigante Crime Family. "Vivre un jour de plus" est un but commun pour tout novice cherchant à se faire un nom à Los Santos. Leur leader, DrakeCarter1, est assez clair là-dessus.

"Looking for an MC inspired Crew? Looking for a group of people to play with who aren't (always) tank noobs? Just want to wreak havoc on Southern San Andreas? Well, WE WANT YOU!
Ages 18+ recommended, a gaming headset IS A MUST."
http://socialclub.rockstargames.com/crew/to_live_another_day
https://www.facebook.com/ToLiveAnotherDayCrew
IGotALongChin vend sa bande de mafiosos adeptes du roleplay, la Gigante Crime Family, comme une organisation suivant un code d'honneur secret et qui sait verser dans le dramatique quand il est question de règlement de comptes.

"How's everybody doing? This is Don Gio the don of the Gigante Crime Family. We are a mafia role-play-based Crew. We have over 100 members. Looking for loyalty, respect and honor, we started out about 2 years ago and still stand with the same don (Leader) till this day. We have started a movement that has been effective throughout the GTA community. This has also caused a great impact on role-play gaming. If you want to learn more about this movement or are interested in joining check out this link.."
http://socialclub.rockstargames.com/crew/gigante_crime_family
Si votre Crew recrute, postez un lien que tout le monde puisse voir dans les commentaires ci-dessous (mais une seule fois ; les messages de recrutement spammés plus d'une fois ne seront pas affichés), ou contactez-nous à cette adresse mouthoff@rockstargames.com en indiquant pourquoi votre Crew mérite d'être reconnu, que ce soit pour son originalité, ses compétences ou ses efforts...Nous publierons peut-être votre annonce dans un prochain article.
C'est aussi l'occasion rêvée de montrer la fierté de votre Crew grâce à des photos Snapmatics, des créations originales ou de superbes vidéo de gameplay pour prouver à tous qu'il est bon d'être dans votre équipe, ou d'essayer de la battre. Pensez à laisser un lien vers le Social Club de votre Crew afin de pouvoir être facilement retrouvé par ceux qui sont intéressés.
Précédemment :
Flight Pilots, The Highland Rebels, Unusual Fellas and Others Now Recruiting