En esta edición de En equipo, nos fijamos en una Crew especialmente unida que ha cultivado varias amistades genuinas gracias a su relación en GTA Online. También, varias Crews con mil miembros unidos por la pasión hacia su club de fútbol local. Además, los vídeos más destacados de Crews de película, etc.
PALETOS CON CORAZÓN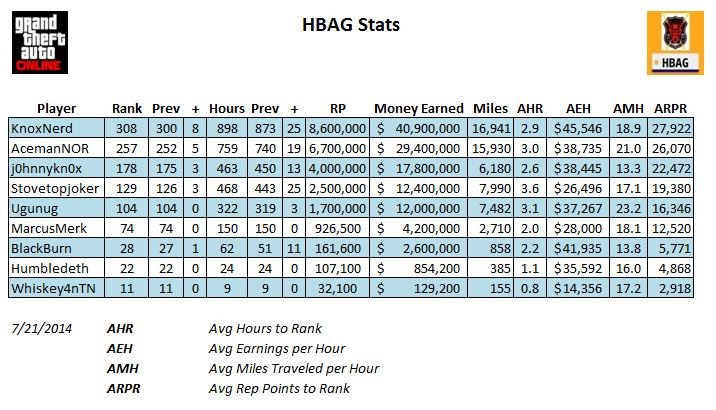 En una Crew, tener buena química es esencial. Cuanta más relación haya en un grupo, mejor reaccionará en las trincheras de las partidas a muerte por equipo y de las capturas, o incluso a la hora de protegerse mutuamente en las, a veces, inhóspitas calles del modo Libre. La Crew Hillbilly Agenda (HBAG), creada el 17 de septiembre del año pasado, no podría estar más unida. Cada semana, KnoxNerd, su líder, envía un correo electrónico para animar a los otros 16 miembros de HBAG. Cada mensaje incluye una hoja de estadísticas (como la de arriba) con clasificaciones actuales y previas, horas jugadas, RP totales, etc.; una estupenda fuente de motivación para impulsarse mutuamente hacia la excelencia.
Luego está el tema de las matrículas personalizadas que encargó KnoxNerd para que fueran iguales que las de Los Santos Customs (la suya, por cierto, acaba de aparecer en nuestra galería de fotos de fans más reciente). Knox nos escribió para contarnos lo sucedido recientemente, cuando j0hnnykn0x, residente en Tennessee, acudió a una boda a California (a unas horas de donde vive su colega, el teniente BRAWNSON). j0hnny cogió el coche y recorrió a toda pastilla las famosas autovías del condado de Blaine para llevarle su matrícula en persona. Y, a pesar de vivir en Noruega, hay planes para que el delegado de HBAG AcemanNOR reciba su matrícula de manos de KnoxNerd (también de Tennessee) este mismo año.
Un espíritu de equipo increíble resumido en este fotomontaje que nos ha enviado KnoxNerd:

LOS CLUBES DE FÚTBOL INVADEN EL SOCIAL CLUB
Tras todo el revuelo y la acción del reciente Mundial de fútbol, parece que bastantes residentes de Los Santos han decidido mostrar su preferencia por su equipo de fútbol local favorito a través de las Crews del Social Club. Aquí mostramos una selección de Crews dedicadas a sus equipos que han llevado su plantilla hasta el máximo de mil miembros, o están en ello. Si eres fan de alguno de estos equipos de fútbol, a lo mejor deberías solicitar una invitación antes de que sea demasiado tarde...
El club francés Paris Saint-Germain, que acaba de ganar su segunda liga consecutiva (cuarta en su historia), es la inspiración de la Crew Paris Saint-Germain (0PSG). A la 0PSG, fundada en agosto del año pasado tras el principio de la temporada, se le dan muy bien las carreras. Actualmente está clasificada en el puesto 172º en carreras GTA (1411 victorias), en el 246º en carreras de rally (64 victorias/77 partidas) y en el 372º en carreras (8220 victorias/14 868 partidas). 0PSG cuenta con la ayuda de jugadores como Brahimax93_Csl, que lidera el grupo en carreras (337 victorias) y es el segundo en carreras GTA (73 victorias/1,40 de proporción bajas/muertes).
Dos Crews de Argentina también muestran su pasión por el fútbol. La Crew CA River Plate (CARP) rinde tributo al Club Atlético River Plate, de la primera división. El punto fuerte de la CARP parecen ser las carreras: están en el puesto 122º en carreras GTA (1604 victorias/2929 partidas), 173º en carreras (10 767 victorias/18 689 partidas) y 361º en carreras de rally. Con talentos muy diversos, la CARP también está en el puesto 151º de tenis (1246 victorias/6364 puntos). El Club Atlético Boca Juniors, 30 veces campeón de la primera división, es la inspiración de la Crew Boca Juniors (CABJ). Con una sólida clasificación en el tenis, en el puesto 180º (1005 victorias/5441 puntos), los CABJ también son unos pilotos más que dignos. Además de estar clasificados en el puesto 265º de carreras GTA (1231 victorias/2180 partidas), están en el 313º de carreras (8759 victorias/15 415 partidas), en el 498º de carreras de rally (47 victorias/61 partidas) y en el 610º de carreras sin contacto (257 victorias/563 partidas).
Hay otras dos Crews expertas en tenis que muestran su pasión por clubes de Manchester. Los Manchester City Crew (MCFC) están en el puesto 22º de las clasificaciones de tenis con 799 victorias/4063 puntos. Las carreras sin contacto también se les dan bien, con 284 victorias/460 partidas que los han llevado al puesto 479º. A pesar de las proezas de sus miembros en el tenis, no parece haber ninguna Crew dedicada al fútbol que pueda hacer sombra a la Crew Manchester United FC (MUFC) en el campo. Está en el puesto 127º con 1223 victorias y 6462 puntos.
Con 18 títulos de liga, 5 copas de Europa y muchos más trofeos, el Liverpool F. C. ha ganado más trofeos europeos que cualquier otro club británico. La Crew Liverpool Warriors (WARS) le rinde tributo y está a la altura en varias categorías. Su punto fuerte es, sin duda, el paracaidismo. Actualmente están en el puesto 156º, con 703 victorias/2079 partidas. A los WARS también se les dan bien las carreras: 620º en carreras sin contacto (254 victorias/453 partidas) y 781º en carreras (6335 victorias/11 349 partidas).
BATALLAS CASERAS
Hace un par de meses, hablamos en un artículo sobre eventos organizados por Crews del torneo "Head Hollowers" de la Crew CAP PILLAS (BANG), que estaba a punto de celebrarse. Tras un mes de enfrentamientos, que comenzaron con 21 Crews en la primera ronda (dividida en parte 1 y parte 2), que dio paso a una fantástica semifinal, la final se resolvió entre los Temple Drive Ballas (TDBG) y los FVCK A NAME GANG (FANG). Después de enfrentarse no en una partida a muerte por equipos, sino en dos -con las actividades de Rockstar Biolaboratorio y Gubernamental-, y liderados por las 27 bajas en total de XxSaya-ChanxX, los FANG vencieron 2-0 y se proclamaron campeones.
Enhorabuena a los FANG y al resto de participantes, además de a HOT_KIMERA, HOT_LEDDY, HOT_PAiiN y HOT_TIGRE por montar un torneo tan fabuloso. El vídeo de arriba muestra momentos destacados de la final. Si los TDBG piden la revancha, poneos en contacto con nosotros en crewchallenges@rockstargames.com y a lo mejor podemos incluiros en una batalla de Crews en el canal oficial de Rockstar en Twitch.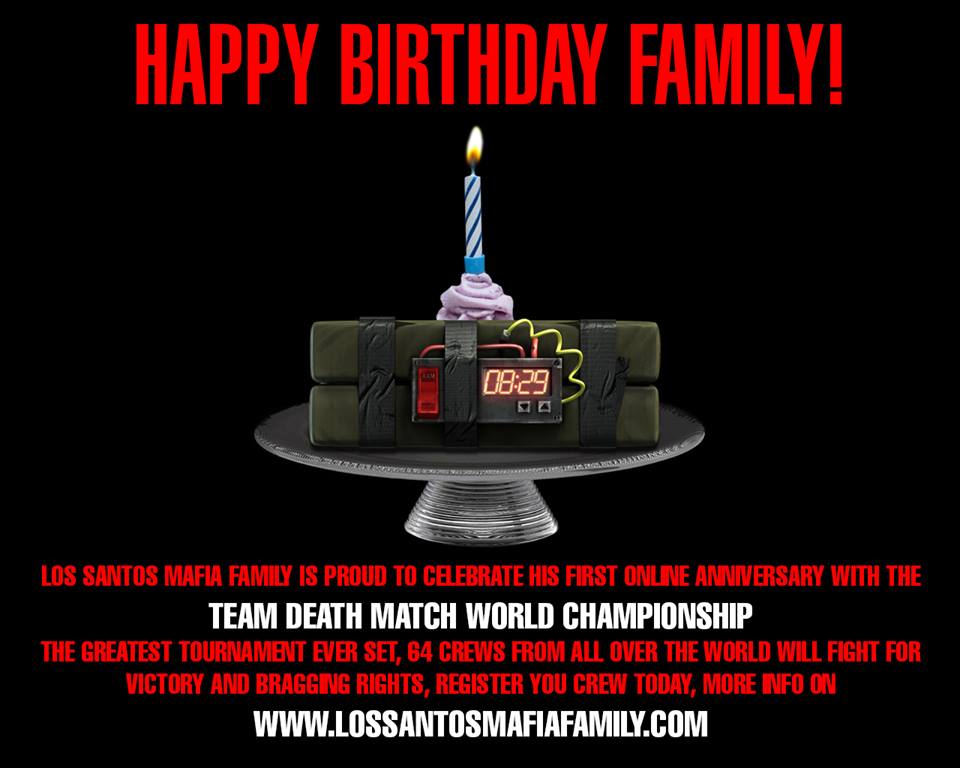 Mientras tanto, casi un año después de su formación, la Crew LS Mafia Family (LSMF) está celebrándolo con un gigantesco torneo de cumpleaños de partidas a muerte para 64 Crews. Actualmente en su tercera ronda, las Crews participantes están a mitad de una serie de batallas de 10 minutos al mejor de tres. Se puede seguir el torneo aquí.
CREWS DE PELÍCULA
Incluimos aquí algunos vídeos recientes dedicados a Crews que nos han llamado la atención.
Recién llegada al Social Club y ya con varios vídeos de destacados espectaculares está la Russian Girls Crew (G1RU), cuyo sencillo lema explica el nexo que las une: "Russian speakers. Girls". Liderada por Nikacoma, puedes ver su perfil de VK oficial, así como este elegante vídeo de acción de 4 minutos de la anterior delegada, Kokonitos (que ya no está con las G1RU y actualmente pertenece a los GTAPhotographers de MAKAVELI).
La Crew The Ageing Infidels (21UP) ha creado una trepidante versión en GTA Online del vídeo de Sabotage, de los Beastie Boys. Ponte los cascos, sube el volumen a tope y prepárate para disfrutar. Nuestra única pregunta es: ¿dónde está Cochese?
PaxSierraMike, veterano de las batallas de Crews, y sus Australia Illuminati acribillan a los Highway Daemons MC (HDMI) mientras rinden tributo al Hexer, el helicóptero favorito de muchos músicos. Ambientado al ritmo de Blue Eyed Hexe, de los Pixies, el vídeo tiene un tono macarra y desafiante de principio a fin.
Con "We Own It", la colaboración entre 2 Chainz y Wiz Khalifa, como banda sonora, la Crew SoITezRobo Racing (STRR) es responsable del homenaje a Fast and Furious que incluimos arriba. Los STRR, que se reúnen en coche a menudo y son muy activos en la sala de encuentro en línea de GTAForums, han creado este minucioso tributo que capta la esencia de la película a lo largo de varias partidas.
Anteriormente:
Galerías de fotógrafos, colaboradores creadores y los últimos combates entre Crews
Eventos de revuelo actuales, puntuaciones de batallas en directo oficiales y mucho más
Las batallas en streaming y en directo más recientes, vuelven los homenajes y más...