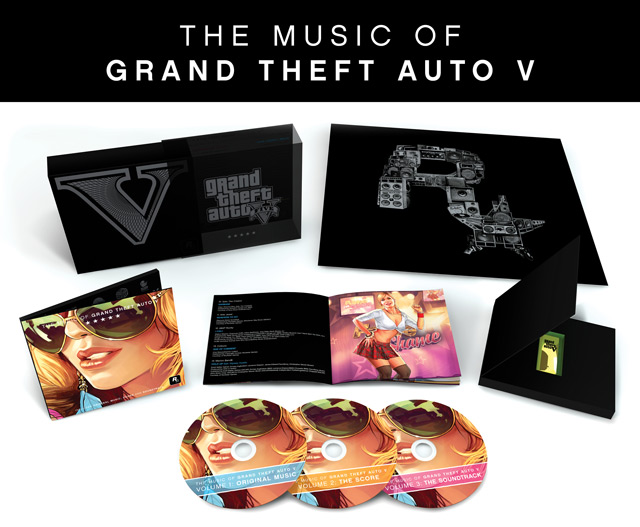 Para celebrar el lanzamiento de las versiones nuevas y mejoradas de Grand Theft Auto V para PlayStation®4, Xbox One y PC, pondremos a la venta colecciones de edición limitada de la banda sonora del juego, llena de temas famosos, tanto en CD como en vinilo, en colaboración con Mass Appeal Records.
Las colecciones de edición limitada de "The Music of Grand Theft Auto V" incluyen 59 canciones con música original de A$AP Rocky, Tyler, The Creator, Twin Shadow, Wavves, Flying Lotus, Yeasayer y más. Además, estas ediciones limitadas incluirán la banda sonora original compuesta por Tangerine Dream, Woody Jackson, The Alchemist + Oh No, mezclada por DJ Shadow, junto con el resto de la increíble música que incluye Grand Theft Auto V. Limitada a una producción de menos de 5.000 unidades en todo el mundo, estas ediciones limitadas estarán disponibles desde el 9 de diciembre en las mejores tiendas de discos físicas y online.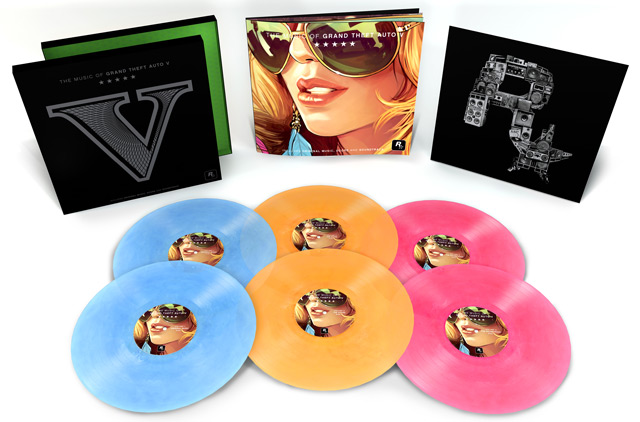 La colección de vinilo incluirá un total de seis discos de vinilo, un libreto a todo color y un póster litográfico exclusivo en una caja clásica. La colección de CD incluye tres discos además de una unidad USB con forma de lingote de oro con la marca de Grand Theft Auto V, diseños y un póster, todo incluido en un pack especial troquelado.
Además, como se mencionó en la noticia de Pitchfork, varios DJ de GTAV añadirán contenido nuevo para la radio en sus respectivas cadenas, incluidos Big Boy, Nathan y Stephen de WAVVES, Kenny Loggins, Lee "Scratch" Perry, Twin Shadow, Keith Morris y Cara Delevingne, además de algunos de los mayores charlatanes del dial: el Dr. Ray De Angelo Harris y Duane Earl.