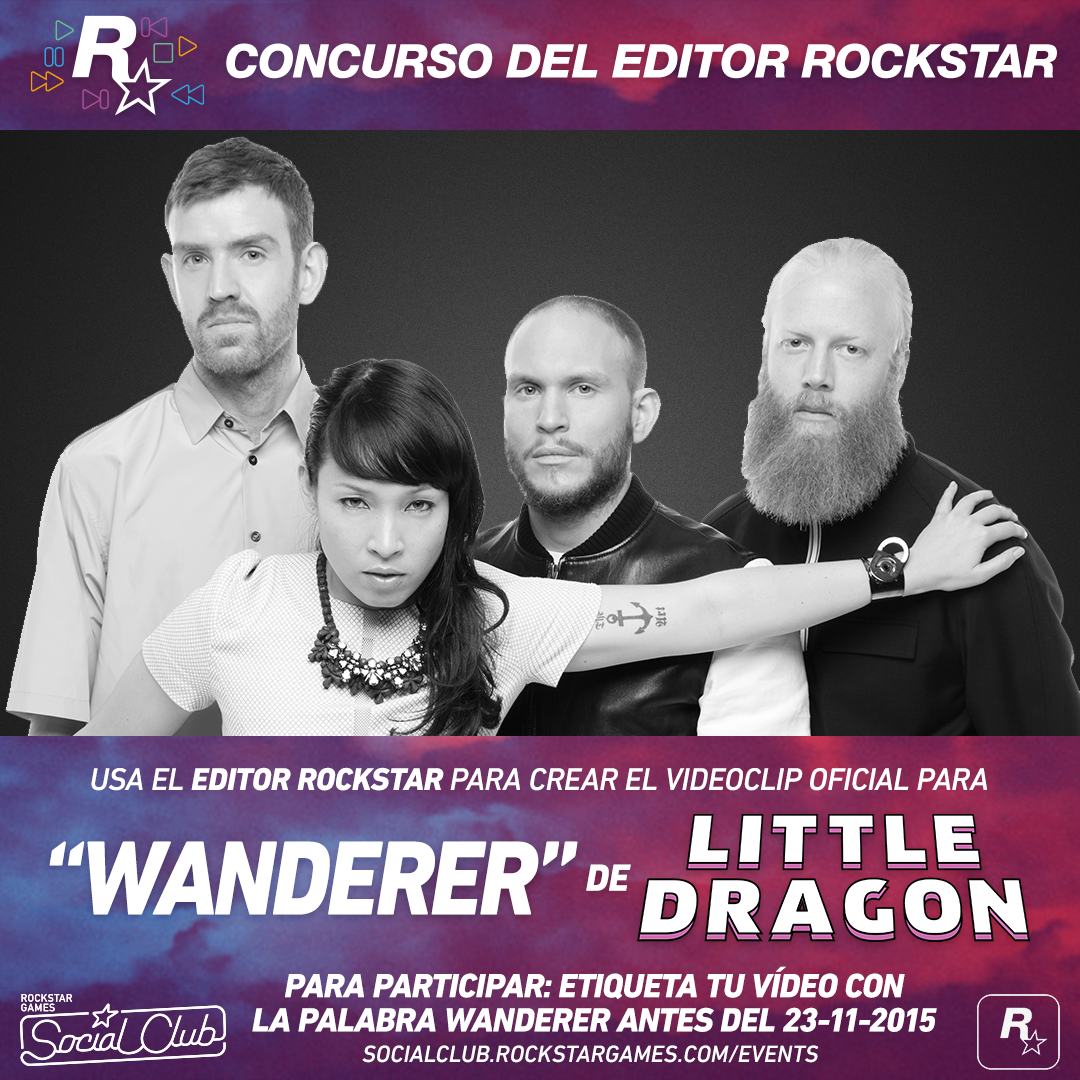 En el primer concurso del Editor Rockstar abierto a las tres plataformas, los jugadores de PC se enfrentarán a la multitud de creadores con talento de PS4 y Xbox One. Con una mayor competencia y un increíble pack de premios para el ganador, todos tendrán que esforzarse al máximo para que su vídeo sea elegido como el videoclip oficial de "Wanderer", de Little Dragon, para la banda sonora de Welcome to Los Santos.
Además de estar abierto a las tres plataformas, este es también el primer concurso del editor en el que los jugadores pueden aprovechar las nuevas funciones lanzadas con la reciente actualización de los eventos del modo Libre, que incluyen efectos de sonido, pistas de ambiente, administrador de clips y mucho más.

EL RESUMEN CREATIVO
Little Dragon ha encargado a la comunidad del Social Club que cree su videoclip oficial para "Wanderer". Los propios componentes de Little Dragon, junto con Rockstar Games, evaluarán a los finalistas y decidirán el ganador. Te orientamos un poco sobre lo que buscan:

Se reta a los participantes a que creen un videoclip con el Editor Rockstar que cuente la historia de un renegado, un agente doble o traidor muy listo, hombre o mujer, que juegue a dos bandas en una actividad criminal para su propio provecho.
Puede que hayas oído ya la canción en el álbum Alchemist & Oh No Present: Welcome To Los Santos y la nueva emisora de radio del juego The Lab. Tendrás que sabértela al dedillo para que tu acompañamiento visual encaje a la perfección. Para ir dándote ideas para tu interpretación, aquí tienes la canción:
LOS PREMIOS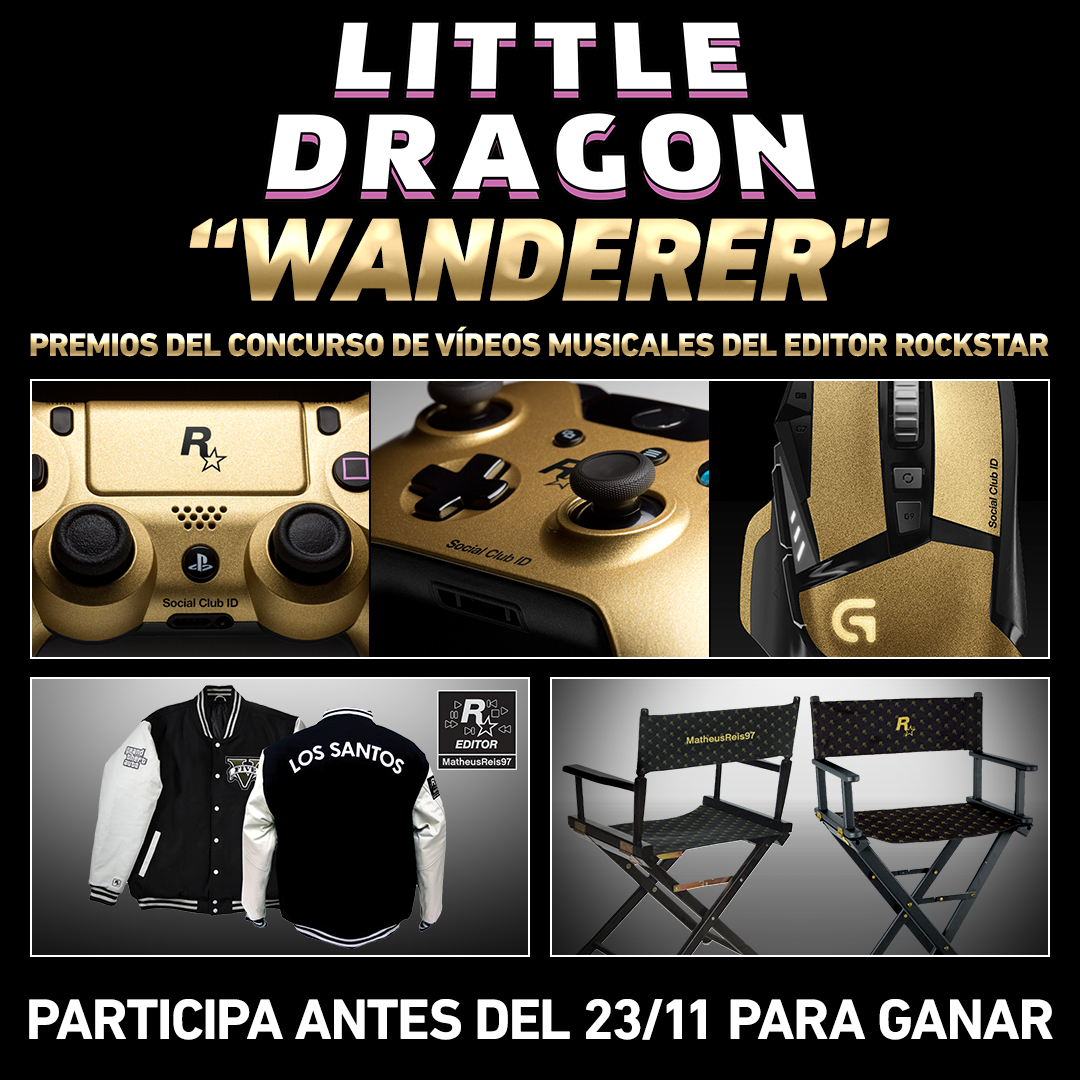 Además del prestigio de que tu obra sea seleccionada como videoclip oficial de la canción, el ganador del gran premio recibirá un increíble lote que incluye un mando dorado (con auténtica pintura de oro de 24 quilates) personalizado con tu ID personal del Social Club. El ganador puede elegir entre un mando de Xbox One o de PS4 y un ratón 510 Proteus Core con 11 botones programables, peso personalizable y cinco ajustes de DPI seleccionables, desde los 200 DPI para apuntar a la cabeza con máxima precisión hasta los 12 000 aptos para maniobras vertiginosas. Y no solo eso: el director ganador podrá diseñar su próxima obra maestra desde la comodidad de una silla de director con la marca del Editor Rockstar, que incorpora también tu ID personal del Social Club: un trono a la altura de un campeón. Por último, también recibirás la codiciada chaqueta universitaria de GTA V con un parche especial personalizado, que mostrará a todo el mundo tu nivel académico en el Editor Rockstar.
Cada uno de los dos finalistas recibirá una tarjeta regalo de 100 $ para el Rockstar Warehouse y un pack deluxe con merchandising oficial de GTA V, además de aparecer destacados en el Rockstar Newswire.

CÓMO PARTICIPAR
Participar en el concurso es fácil. Solo tienes que crear un vídeo en el Editor Rockstar para PC, PS4 o Xbox One y publicarlo en el Social Club de Rockstar Games a través del menú del juego. Asegúrate de etiquetar el vídeo con la palabra "wanderer" para participar en el concurso. Puedes hacer esto desde el juego o a través de la página Mis vídeos del Social Club. Varias cosas a tener en cuenta:
La banda sonora del vídeo debe ser la canción "Wanderer" de Little Dragon, y ninguna otra.
El vídeo debe durar entre 4 y 5 minutos.
El vídeo se debe publicar en el Social Club de Rockstar Games y etiquetar como "wanderer" desde ahora y hasta las 23:59 (horario de la Costa Este de los EE. UU.) del 23 de noviembre.
El vídeo debe estar hecho por completo con el Editor Rockstar. Sabemos que a muchos creadores de vídeos experimentados les gusta emplear software de edición de terceros aparte del editor, pero para que la competición sea justa para todos queremos que solo uses el Editor Rockstar para producir tu vídeo.
Little Dragon y Rockstar Games elegirán el videoclip ganador teniendo en cuenta la fidelidad o interpretación del resumen creativo antes mencionado, su valor artístico y de entretenimiento, calidad de la edición y creatividad en general. En la página del concurso del Social Club verás cómo valoran tu vídeo otros miembros del Social Club, y conocerás a los ganadores cuando se anuncien en otoño.

No tiene validez en ciertos países y allí donde el concurso esté prohibido. Visita www.rockstargames.com/socialclub/events/contests para conocer las reglas oficiales y las condiciones para participar.
Anteriormente:
Anuncio del ganador del concurso del Editor Rockstar #illgottengains
Ganador del concurso del Editor Rockstar: presentación del videoclip oficial de "Leave", de Wavves