Tablón de anuncios de Crews: Seigo Famiglia, CrimeCorp SA, Highway Daemons y otros buscan nuevos miembros
El tablón de anuncios de Crews es un apartado en el que publicamos los mensajes de reclutamiento de las Crews que buscan nuevos miembros para unirse a sus filas.
La edición de esta semana cuenta con una colección de mafiosos con trajes de tres piezas, clubs de moteros curtidos en autopistas, colectivos de jugadores de rol folloneros y varias Crews de temática abierta únicas, así que tenemos algo para cada gusto y para cada estilo de juego. Si buscas un nuevo grupo de jugadores al que unirte, quizá encuentres algo que te interese entre estos.
Fundada en julio de 2012, la Crew Seigo Famiglia, que sigue el estilo tradicional de la mafia, está liderada por el atento MajorS1, y acaba de celebrar su segundo aniversario hace poco. Con un pequeño y compacto círculo de amigos en su núcleo, parece haber bastante espacio para que los soldados leales dispuestos a destacarse como miembros valiosos en alguna de las tres divisiones de esta Crew puedan ascender en sus filas.

"The Seigo Famiglia has been prospering for nearly 8 years and since then we have evolved into a unique family with traditions, oaths and a code of ethics to match.
We believe in quality over quantity and our fraternal nature complements this. We currently have two Crews operating in the Family; Seigo Vinewood and Seigo Vespucci - these two Crews are constantly recruiting on behalf of the Family with dedication.
Join The Seigo Famiglia and know real honour, real loyalty and real family."
https://www.facebook.com/SeigoFamiglia
http://socialclub.rockstargames.com/crew/seigo_vinewood
http://socialclub.rockstargames.com/crew/seigo_vespucci
http://socialclub.rockstargames.com/crew/seigo_famiglia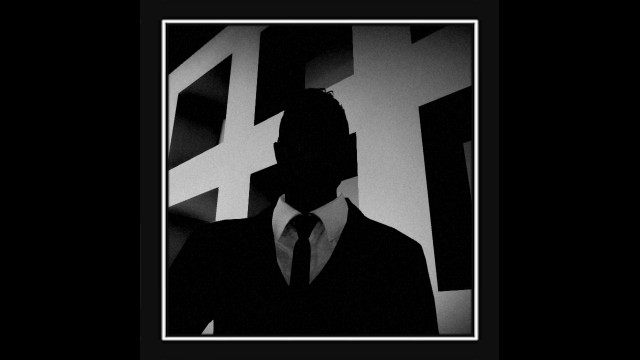 Wise_Red_Dragon dirige una de las dos Crews de este tablón de anuncios que participan en escenarios y tramas de rol. Conocida simplemente como la Crew International United, a pesar de que la mayoría de sus miembros están en Estados Unidos, su nombre sugiere que desean expandirse por todo el mundo para dar cabida a una mezcla ecléctica de nuevos jugadores que compartan sus ganas de representar intrigas dramáticas y acción basada en una historia.

"Hey there! Role Play International United (or RPIU) is a small role play driven community on Grand Theft Auto V for Xbox 360 players. Besides playing Jobs together and just having a general good time, we host almost daily story-based role plays in Freemode. We have only 6 members and we are all good friends that are looking to expand our role play a bit. We have most members based in the US in the Eastern and Central time zones but we also have a player from the UK who attends our role-plays as well. RPIU generally has games in the afternoon and evening of the Eastern Time zone.
If you are looking for a tight-knit community to have fun with and enjoy a heavily story-based role play with, RPIU is for you. Send an Xbox Live text message to Cute Red Dragon if you wish to join and some members and I will conduct a basic interview with you to see if we want you in the Crew. I hope to hear from you!
Requirements:
Be online fairly often.

Have a mic (not a Kinect mic, please).

Be a patient person

.

Be willing to work with authority.

Be open-minded, friendly, mature and creative!"
http://socialclub.rockstargames.com/crew/international_united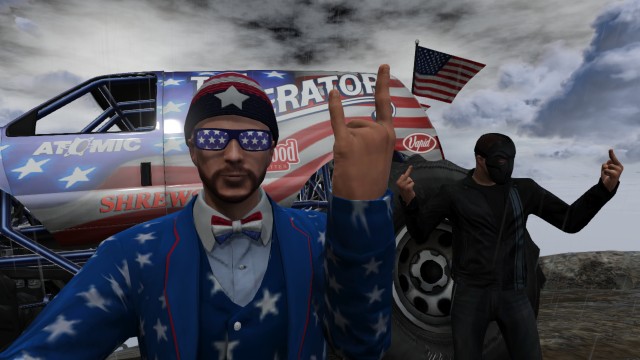 Con una llamativa flor de lis escarlata en el estandarte de su Crew, Dusted718 y los entregados soldados de Colonial Army parecen listos para la batalla con su atrevido lema: "Recuerda que no importa cómo los mates, ¡sino lo grande que sea la explosión!".

"Hello fellow Rockstar SC members, I am currently recruiting for my Crew "Colonial Army" and if you are so inclined, please message me on Social Club and I'll explain further.
Colonial Army is recruiting now and needs fellow players to rise to the top with them. Potential members such as yourself, will all be regarded as having equal power and strength.
Also, don't forget to message me your Xbox Gamer Tag so I may know who you are while playing the game.
My Gamer Tag is also Dusted718, so if you so happen to see me online on Xbox in GTAV just message me or invite me to a party. I don't mind joining you. Thanks and have a good one."
http://socialclub.rockstargames.com/crew/colonial_army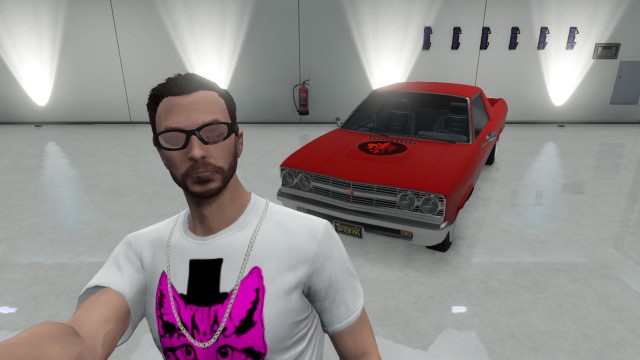 Con un sitio web conceptual muy bien diseñado, una historia atractiva, y una economía local y un sistema de territorios muy elaborados, Wallys87, líder de CrimeCorp SA, y sus mandamases empresariales dirigen un grupo muy compacto empeñado en dominar la costa oeste. Invierten "capital de riesgo" en atracos, disputas de territorio y golpes planificados, y las consecuencias de los actos de cada uno desempeñan un papel importantísimo en el desarrollo de las partidas.

"We are a GTA Online Crew who role-play as an organized crime organization that is taking over the state of San Andreas. This means that both on our official website and in-game, we play the character of someone who is rising through the ranks of our organization.
We conduct all our activities from our website, where we post all our Jobs, activities, and just keep in touch with other Crew members.
You will find all the background stories of our members, and the history of how our organization started on our website as well.
We control numerous rackets:
• Drug Ring
• Car Theft
• Weapons Export
• Assassin Division
• Fight Club
Many other modes are to come as we expand on this.
A great feature we have is that we role-play with other role-playing Crews. We trade guns and drugs with them and also export and import stolen vehicles,
We even work with a police RP Crew that investigates all our illegal activities and can put you in jail for some time (don't worry, we have good lawyers).
Corporation Business
How do we play?:
We have combined all the great features GTA Online has to offer in our role-play, like Deathmatches to take over new territories, Races, Missions, and Captures to RP different situations.
First off all, you have to keep in mind that any action has a reaction! A basic example would be that we avoid shooting at police, as this would incur a great police response and increased heat on the organization in the future. Although the game itself does not make that a fact, we role-play these things in order to increase the feeling of realism. We add mechanics such as evidence into our role-play. This means that if we are seen in a vehicle by police directly after a serious crime, we must destroy the vehicle and the evidence that it represents. We will often change into nondescript dark clothing and wear masks for serious crimes in order to not be identified by witnesses and security camera footage, if there is a witness that can later recognize you, you have to take care of him. We take our time when we play and don't need to feel rushed.
Territory:
As with all organized crime organizations, we have our territories that we control. We start with just one territory, but then we expand by taking over other territories. All our illegal activities can be done only on our turf, we can't collect protection money from vendors and prostitutes that are not on the territory we control. Of course we can make chaos, rob and hit our rivals, but do it smartly and avoid attracting attention. The map with all our territories will be regularly updated so keep an eye on it.
Economy:
Our organization has an in game economy, it is money made from criminal activities and legal businesses. As we are a crime organization and make a lot of our money illegally, we also have a legal front. These legal businesses will launder our dirty money. After you join our organization, you start showing your loyalty. Once you do show it, you will get promoted and given a 'no show' legal job in one of our legal businesses, this way you can make clean money, and spend it on your legal stuff like property, real estate, cars, boats, planes and so on. The higher your rank, the better legal jobs you get.
So if this is something you would be interested in, join us on our website or on Social Club.
Crime Corporation - The World Is Ours"
http://crimecorp.iclanwebsites.com/
http://socialclub.rockstargames.com/crew/crimecorp_sa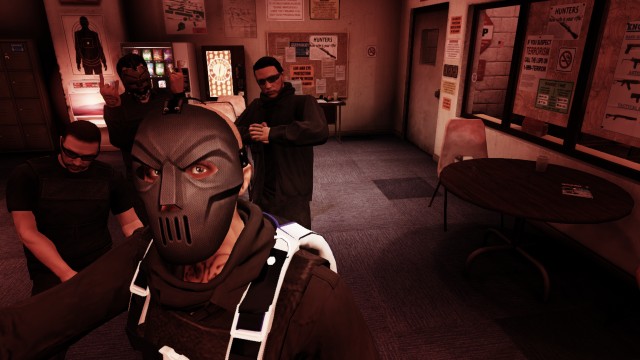 VÍDEOS DE RECLUTAMIENTO DE CREWS
Nuestra nueva muestra de vídeos de reclutamiento de Crews ofrece una selección de caras familiares para la comunidad del canal de noticias de Rockstar y una intrépida recién llegada. Para empezar, el grupo de moteros derivado de Australia Illuminati, los Highway Daemons MC, cuenta con todo el apoyo del delegado y líder principal de la Crew Illuminati, PaxSierraMike. Después, puede que los lectores más leales del tablón de anuncios de Crews recuerden los estilismos de GTA-Capone y los Hood Donz, con su oda a los atracos, "Straight to the Bank". Por último, el recién llegado EPMUSICMAN quiere colocar en el mapa de Los Santos a su Crew, Los Demonios MC SA, una versión moderna de los clubs de moteros tradicionales.

"I really want to tell you about the Australia Illuminati's Outlaw MC Crew: Highway Daemons MC Illuminati (HDMI)
With select membership drawn from trusted Australia Illuminati (ORDO) Crew members, HDMI is our free-aim, combat focused Crew that complements the main Crew and our racing Crew Illuminati Motorcycles & Muscle Car Club (IMCC).
HDMI is a close knit, community-based Crew where we hone our free-aim skills, and enjoy cruising and rampaging throughout Los Santos and Blaine County with people who we have gotten to know well in the main Crew. HDMI has a great Emblem (generated using only the official Emblem Creator) and we are great community of men and women who love the game.
We're especially proud of our new HDMI 'showcase' recruitment vid, which I wanted to share with you below."
http://illuminati-gta.enjin.com
http://australia-illuminati-gta.tumblr.com
https://www.facebook.com/Australia.Illuminati
https://www.youtube.com/user/australiailluminati
http://socialclub.rockstargames.com/crew/highway_daemons_mc

"Los Demonios is a truly original MC Crew that avoids all the stereotypes associated with the majority of MC Crews online who look to imitate real life MCs and what they represent.
We created an original Crew to have fun and not get caught up in endless MC wars, patch-hunting, and session terrorizing activities. Instead we have focused on the positive aspects behind the MC mentality… Brotherhood, Loyalty and most importantly, The Ride!
Our MC coordinates, records and also produces high quality video content that promotes these aspects while fully utilizing GTA's amazing cinematic Capture options to create ultra-realistic short film video content.
We have started off small, but are quickly starting to grow. We are very well organized and are lucky enough to have very active and creative members. Our president is truly amazing with your Emblem Creator, we have a film critic member who helps organize exciting Online created content, as well as video script ideas, and I produce all our video content since my profession deals directly with that medium."
http://socialclub.rockstargames.com/crew/demonios_prospects
http://socialclub.rockstargames.com/crew/los_demonios_mc_sa

"The Hood Donz are recruiting extreme fighter jet pilots for some serious air to air and air to ground battles. Successful candidates will receive automatic Crew promotions (single Crew members only).
The Hood Donz are also recruiting for our Hood Donz Elite Crew and our Hood Donz Drifters Crew. If you're a fighter or a Racer then why don't you check us out on our website?"
socialclub.rockstargames.com/crew/hood_donz_elite
http://socialclub.rockstargames.com/crew/hood_donz_drifters
http://socialclub.rockstargames.com/crew/hood_donz
Si formas parte de una Crew que busca nuevos reclutas, deja un enlace en los comentarios de abajo para que todos puedan verlo (pero solo una vez; los que copien y peguen spam con el mismo mensaje de reclutamiento más de una vez en el canal de noticias no aparecerán destacados). También puedes darnos un toque en mouthoff@rockstargames.com y decirnos por qué tu Crew merece ser mencionada: por su originalidad, su talento, sus esfuerzos... Puede que publiquemos tu anuncio en un futuro tablón.
Esta también es la ocasión ideal para mostrar lo orgulloso que estás de tu Crew con fotos de grupo divertidas de Snapmatic, creaciones de la Crew o cualquier vídeo alucinante que hayas hecho en el juego y que sirva para mostrar a los demás por qué tu grupo es donde hay que estar o al que hay que derrotar. Recuerda dejar un enlace a la página de tu Crew en el Social Club para que los que quieran responderte te puedan localizar con facilidad.

Anteriormente:
8492nd Squadron, 6 Star Street Racers y otros buscan miembros