Retransmisiones en directo de GTA Online en Twitch: batalla Crews de moteros & banda sonora Alumni Edition de GTA con Statik Selektah, Sean Price & Termanology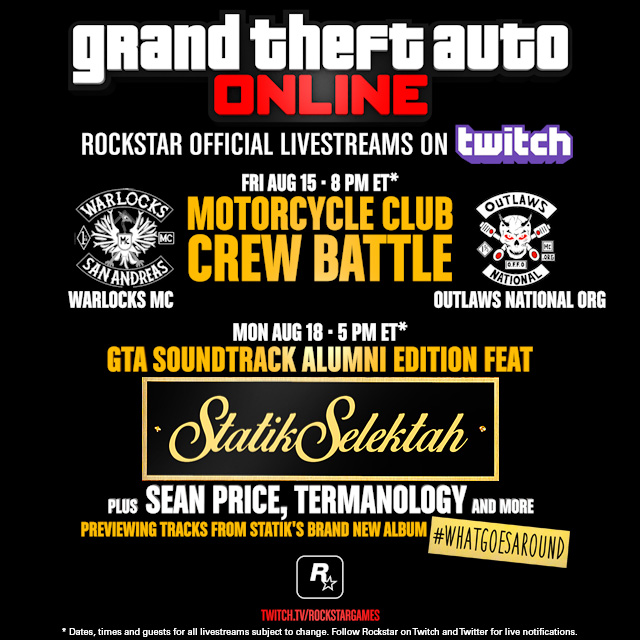 Sintoniza las próximas retransmisiones en directo oficiales de GTA Online en el canal de Twitch de Rockstar:
Viernes 15 de agosto 20:00 h (horario costa Este)*
Batalla Crews Moteros con
Warlocks MC VS Outlaws National Org
Dos duros clubs de moteros se harán frente los unos a los otros por todo los Santos y condado de Blaine para demostrar quienes son los más malotes sobre dos ruedas. Prepárate para algo de acción de carrera GTA hardcore y algunos derribos de bandas de motoristas directos al grano.

Lunes 18 de agosto 17:00 h (horario costa Este)*
Banda Sonora GTA Alumni Edition con
STATIK SELEKTAH, SEAN PRICE, TERMANOLOGY, EA$Y MONEY y otros invitados especiales
Los fans de Rockstar y GTA deberían estar muy familiarizados con Statik Selektah por sus originales contribuciones a las bandas sonoras de Grand Theft Auto: The Lost and Damned, Midnight Club LA y Max Payne 3. Considerado como uno de los mejores productores de hip hop en la actualidad, el nuevo álbum de Statik What Goes Around verá la luz este martes 19 de agosto – y viene a las oficinas de Rockstar en Nueva York la víspera de su lanzamiento para estrenar a nivel mundial algunos nuevos tracks exclusivos del álbum en directo en retransmisión de Twitch mientras jugamos un especial #WHATGOESAROUND inspirado en lista de partida de actividades del Creador de GTA Online. Se unirán a Stat los miembros de la banda sonora GTA soundtrack alumni que están también presentes en "What Goes Around", incluidos Sean Price (GTAIII), Termanology (GTAIV y Midnight Club LA), Ea$y Money y otros que serán anunciados.

* Nota importante: en todas las retransmisiones en directo las fechas y horas están sujetas a cambios.
Sigue twitch.tv/rockstargames y twitter.com/rockstargames para recibir en directo los avisos de cuándo comienzan las retransmisiones. Y permanence atento a más retransmisiones en directo de Rockstar que serán anunciadas en las próximas semanas.