En equipo: Las batallas en streaming y en directo más recientes, vuelven los homenajes y más...
Esta edición de En equipo incluye resúmenes de las batallas de Crew contra Crew en streaming y en directo, más homenajes a películas de Hollywood y los últimos vídeos de las Crews.
BATALLAS EN DIRECTO: THUG CONTRA ORDO
Las Crews han estado haciendo de las suyas para arreglar sus diferencias y demostrar su supremacía en el streaming en directo de batallas de Crew contra Crew del canal oficial de Rockstar en Twitch. Tras un divertido y desequilibrado enfrentamiento entre Traffickers (TRFK) y Le Kops (KOPS), hace poco pudimos disfrutar de un combate entre dos Crews veteranas de En equipo de distintos rincones del planeta: los franceses de Shine Thugz (THUG) y Australia Illuminati (ORDO).
BATALLAS EN DIRECTO: KOAR CONTRA PBNK
Tras un enfrentamiento fuera del circuito oficial en el que vencieron a la Crew ALL BOUT PAPER (ABPG) en una serie de partidas a muerte, Los Vagos Banditos (PBNK) querían brillar en un escenario más grande contra Killers On A Rampage (KOAR). PBNK ocupaba el puesto 50 en la clasificación de partidas a muerte y KOAR el 55 (ambos en Puntería libre), por lo que la batalla tenía todos los ingredientes para ser épica. Sin embargo, KOAR hizo honor a su nombre (que en inglés significa "asesinos desatados") y dominó desde el principio ganando las 10 actividades de una lista de partidas repleta de capturas. Al final, consiguió una convincente victoria por 973-713.
BATALLAS EN DIRECTO: GTAF CONTRA XKSA
En la transmisión del viernes pasado, los chicos del conocido foro de los fans GTAForums (GTAF) se enfrentaron a Killer Smoking Aces (XKSA) en 10 actividades seleccionadas manualmente. A pesar de su duro aspecto exterior, y de contar para la ocasión con PlayRockstar2, XKSA estuvieron siempre por detrás y no fueron capaces de superar a GTAF en ningún momento. Cuando Desu_Nei mató en Kortz UEEP a trill81, líder de XKSA, consumó la victoria de GTAF por 938-794. ¿Creéis que vuestra banda merece salir en la próxima transmisión en streaming y en directo? Enviadnos a CrewChallenges@rockstargames.com un enlace a la página de vuestra Crew, vuestra plataforma favorita y decidnos el motivo por el que debemos seleccionar a vuestra banda.
CAMINO A VINEWOOD 2: EN EQUIPO BOOGALOO
Como ya os mostramos en la pasada edición de En equipo y en una reciente galería de fotos de los fans, el mundo de Los Santos y del condado de Blaine ha servido para recrear varias escenas clásicas de películas y portadas de discos.
En primer lugar, Warriors Gang (1IWI) rinde un alucinógeno homenaje a la película de culto de 1998 Miedo y asco en Las Vegas, adaptación del libro de Hunter S. Thompson publicado en 1972. Parece que IWIKongZilla y compañía se hubiesen metido éter de verdad. También podéis ver su homenaje a Top Gun con P-996 Lazers, en el que no falta la música de "Danger Zone" del mismísimo capitán Loggins.
Como podéis ver más abajo, LXG Crew (LXGC) publicó hace poco unas fotos de Snapmatics con su propia versión de la famosa escena de Reservoir Dogs en la que salen todos los personajes andando. Aunque la foto de por sí es impresionante, si veis las imágenes de cómo la crearon valorareis aún más el esfuerzo que la gente pone para hacer estas cosas.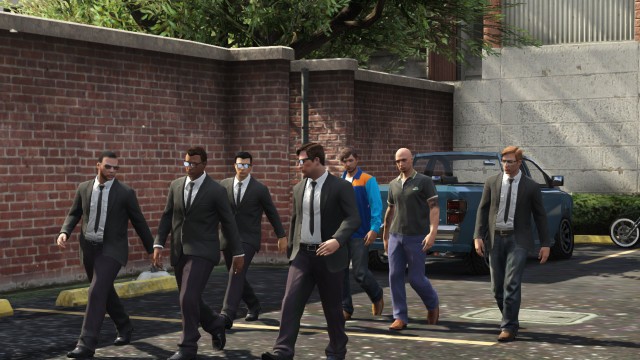 Mientras tanto, la Crew SOYAPANGO (SOYA) se ha propuesto crear algo un poco más raro. Inspirados en un anuncio del Honda Odyssey con un toque clásico, SOYA ha elaborado su propio vídeo de "Respect the Van" con tomas de acción y la banda sonora de El equipo A. Aunque, toma por toma, su versión no es igual que la original, esta Crew no está exenta de ideas... y por el camino se han llevado por delante todas las barricadas y han realizado unos cuantos saltos acrobáticos.
CREWS EN VÍDEO
Últimamente están proliferando los vídeos musicales de las Crews. En este, la Crew Hood Donz (DONZ) recrea "Straight to the Bank" de 50 Cent en el que emplea a la perfección los colores de las Crews y todos los clichés de los vídeos musicales. No os perdáis tampoco el que ha creado Mob Up DTA (MOB1), intimidante pero con una fantástica coordinación de colores, del tema "F*** All Dis S***" de Quake.
Al compás de "Go with the Flow" de Queens of the Stone Age, incluidos en la banda sonora de MC3, este vídeo de Sons of Andreas (SONS) está lleno de saltos de fotos de Snapmatic.
Y por último, la Crew Diamond Lane KingZ (DMND) ha hecho algo muy peculiar en este vídeo. Con imágenes del juego y su talento a la hora de editar, han creado una serie de GTA Online original.
Previamente:
En equipo: Crews que recrean secuencias de acción de películas y resúmenes de batallas en directo con TRFK, KOPS, Freddie Gibbs y Hip Hop Gamer
En equipo: Negocios de Crews y equipos asesinos, grandes y pequeños