Fotos de fans de GTAV: proyectos fotográficos innovadores, aventuras del subreddit r/GTAA y más
Esta semana, las fotos de los fans y las locuras de Snapmatic incluyen ingeniosos proyectos fotográficos de GTAV y las ya clásicas imágenes de las aventuras del prolífico subreddit r/GTAA.
Como siempre, si tenéis algo que merece la pena mencionar en el canal de noticias, hacédnoslo llegar a través de Mouthoff y seguidnos en instagram.com/rockstargames para ver las mejores fotos oficiales.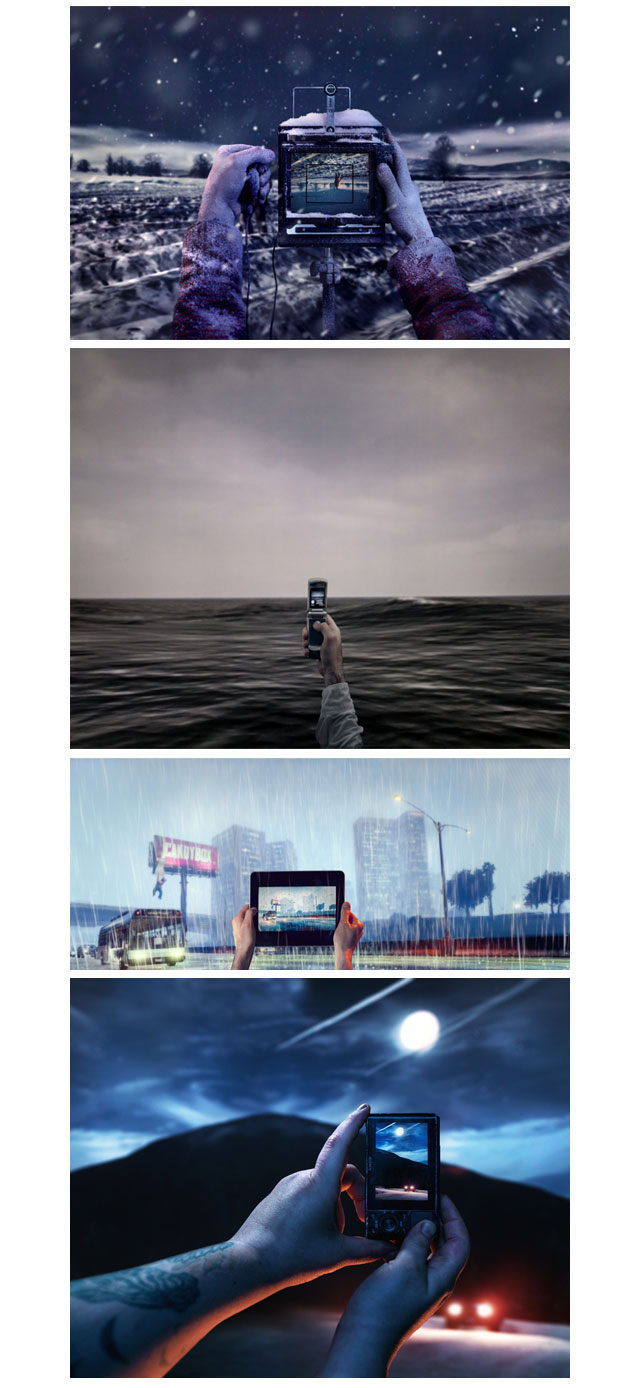 Cruce de realidades es un innovador proyecto fotográfico de GTAV del artista de Quebec Benoit Paillé (creador también del hipnótico vídeo "Hipertemporalidad" que salió hace poco en el canal de noticias), a mitad de camino entre la fotografía del mundo real y la atmósfera virtual de Los Santos. En palabras del propio Paillé: "El concepto fotográfico de este proyecto consiste en recubrir la materia real con la virtual para eliminar la frontera que divide ambos mundos. Surge como respuesta a la proliferación de los proyectos visuales que transcurren en espacios virtuales. Mi intención es cuestionar la noción de las fronteras y los territorios, mezclar en una sola imagen dos realidades distintas. Quiero mostrar que podemos usar un espacio virtual en la fotografía conceptual y tratar estas áreas con la misma sensibilidad que el espacio físico". Una gran idea y los resultados, como podéis ver arriba, son impresionantes. Si queréis saber más sobre su proceso, echad un vistazo a la instalación digital en Behance y ved el documental en Vimeo.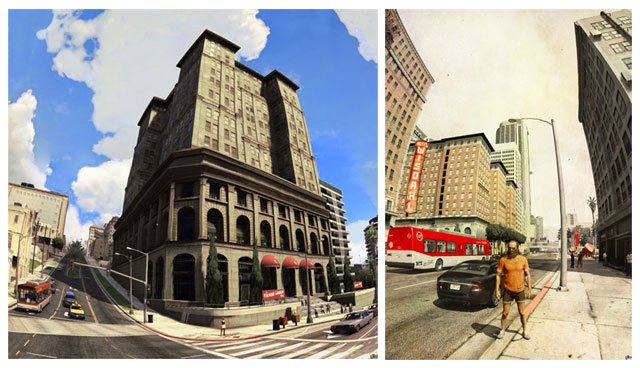 Otro artista que innova con las fotografías de GTAV es el bloguero Stoic Decay, que ha juntado capturas de Snapmatic para crear estas alucinantes fotos panorámicas con un efecto de lente de ojo de pez. Podéis hacer clic en las imágenes para verlas en alta resolución.

Tampoco os deberíais perder estas increíbles creaciones del subreddit r/GTAA (GTA Adventures) (también conocido como la Crew GTAAdventures en el Social Club), que se han retado para recrear algunas de sus escenas favoritas de películas, series, portadas de discos y más. Aquí, han plasmado la escena final de 60 segundos (2000) y han publicado en Reddit una impresionante comparativa fotograma a fotograma.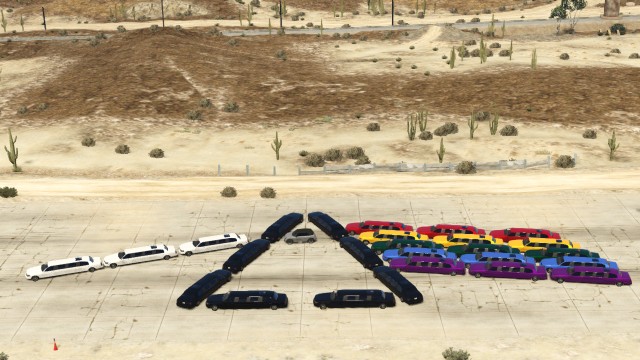 Incluida hace poco en Kotaku, y llamada en broma Park Side of the Moon por el comentarista LiteralPhilosopher, P1zzaBagels de r/gtaa lleva a un nuevo nivel el arte automovilístico en este homenaje a Pink Floyd.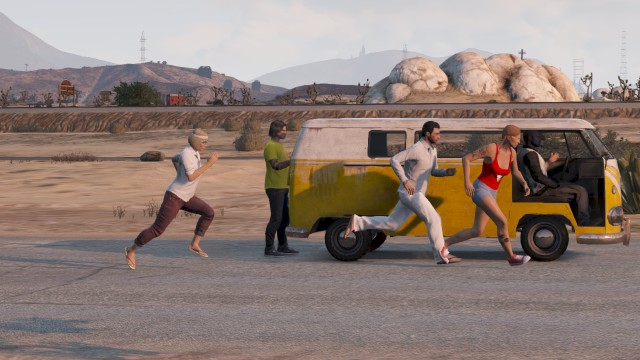 Hasta el póster de Pequeña Miss Sunshine hace acto de presencia en GTA Online. El redditor de GTAA Kyle_Skinner ha compartido con nosotros las imágenes entre bambalinas de esta recreación tan bien sincronizada.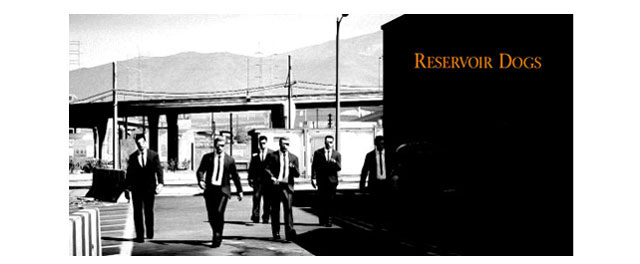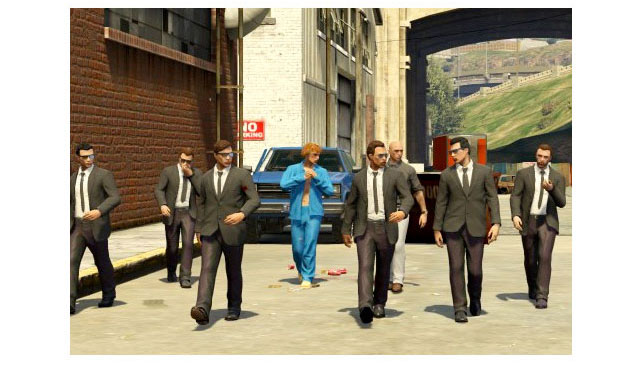 Y por si fuera poco con una versión, tanto lemurdecatta de Vice City Crime Mob como Kyle Skinner de r/GTAA han recreado un clásico de Tarantino. A modo de extra, los redditors han incluido la escena de la propina en los comentarios.

Ya hemos visto algunas magníficas recreaciones de la mítica portada del Abbey Road de los Beatles. Arriba tenéis una gran versión compartida en Instagram por mrrauf_98, también conocido como VelievRauf, de la Crew Lastalay. Tampoco os perdáis la versión moderna de Decimation_Jones y esta tan precisa de P1zzaBagels.
Previamente:
GTA Online rinde homenaje a escenas clásicas de películas, "Humanos de Los Santos" de Fratuzzi, épicas fotos panorámicas y más
Universo alternativo de GTAV-Bullworth de radiopappa, animales espirituales, tiras de cómic de GTA Online, mapas útiles y más
Los diseños de GTA V de Morgenty y Saskia, impresionantes paisajes en blanco y negro de Dead End Thrills, y mucho más