Grand Theft Auto Online Actualizaciones de Primavera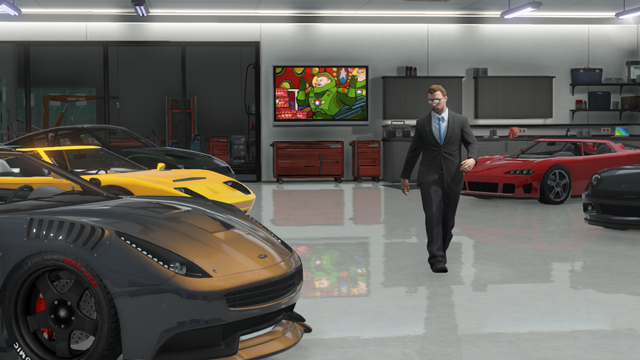 ¿Te estás quedando sin espacio para almacenar todos tus vehículos o simplemente buscas otro lugar para relajarte?
Pronto podrás tener múltiples propiedades en GTA Online como parte de la próxima actualización La Gran Vida
Nos complace compartir hoy algunos detalles de unas cuantas de las muchas actualizaciones de Grand Theft Auto Online que se irán añadiendo a lo largo de la primavera en adelante. A continuación tenéis un breve resumen de algo del nuevo contenido, características y mejoras que los jugadores pueden esperar en los próximos meses.
ACTUALIZACIONES DE PRIMAVERA DEL JUEGO
Creador de Captura:
previsto para la próxima semana, la comunidad del creador podrá crear sus propias Actividades de Captura originales y personalizadas y añadirlas a las
cerca de 3.5 millones (y calculando) Partidas a Muerte y Carreras creadas por los jugadores
actualmente disponibles en el Social Club. Los jugadores pueden colocar estratégicamente puntos de recogida, definir el armamento, establecer una localización y modificar un montón de variables para crear sus propias Actividades de Captura únicas para que otros las jueguen. También revisaremos vuestras creaciones de Captura "caseras" para clasificar las experiencias destacadas como Verificadas por Rockstar.
Actualización La Gran Vida: La Actualización "La Gran Vida" permitirá a los jugadores afianzarse más en Los Santos con nuevas opciones de apartamentos de lujo, el potente rifle Bullpup, nuevos objetos de vestuario, la moto Dinka Thrust y tres lujosos nuevos coches para elegir, incluyendo el Super class Pegassi Zentorno. La Actualización "La Gran Vida" presentará también como novedad la multipropiedad en GTA Online, lo que significa que los jugadores podrán tener dos propiedades diferentes (con garajes) simultáneamente. Todos estos extras más la nueva estadística de Estado Mental, que está diseñada que os permita ver cómo de pasivos o trastornados son los jugadores en vuestra sesión, y un montón de nuevas Actividades.
Golpes: previstos esta primavera para Grand Theft Auto Online, los jugadores pueden formar un equipo con los miembros más leales de su Crew o con otros mercenarios al azar en Grand Theft Auto Online para alcanzar la gloria y beneficios en misiones cooperativas de Golpes. Permaneced atentos para mucha más información que está al caer.
Y a finales de este año, podéis esperar nuevas incorporaciones tanto a Grand Theft Auto Online y Grand Theft Auto V, incluyendo más actualizaciones con temática navideña, algún DLC muy emocionante para el modo historia y mucho más.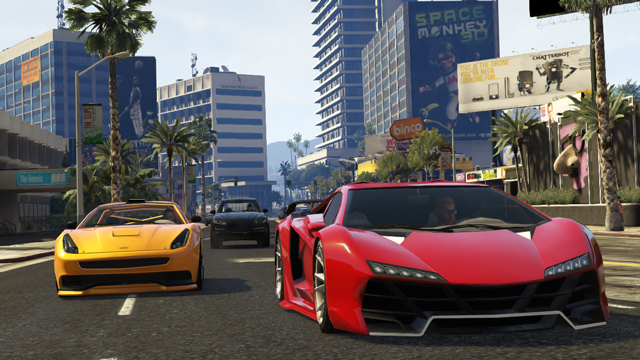 Los nuevos Dewbauchee Massacro y Pegassi Zentorno corriendo por West Eclipse Blvd.
MEJORAS CONTINUAS BASADAS EN VUESTRAS OPINIONES
Desde el lanzamiento de GTA Online hemos estado monitoreando continuamente cómo juega la comunidad, así como todas las opiniones que nos mandáis a nuestra dirección de GTAOnline@rockstargames.com, para ver qué os gusta, qué no y qué deberíamos solucionar en las siguientes actualizaciones de juego de GTA Online.
Una actualización reciente solucionó un problema que vimos en el manejo de las motos y las bicicletas cuando están en el aire. Al final resultó que muchos de los miembros de la comunidad de acrobacias de GTA se sintieron decepcionados al descubrir que este arreglo hacía que ciertos trucos y acrobacias populares fueran virtualmente imposibles, con lo que vamos a restaurar las físicas originales de las motos/bicis en el aire en nuestra próxima actualización del juego. En general, estamos abiertos a mantener ciertos 'glitches' que no eran intencionados en el juego si los jugadores disfrutan de ellos y si no causan ningún impacto negativo en la jugabilidad o si no provocan ninguna situación injusta.

Renowned GTA stuntman Kwebbelkop upon hearing about our plans to roll back the handling update.
Hay muchas otras mejoras en curso que podéis esperar mientras seguimos dedicando atención al refinamiento y aseguramos la experiencia más justa y divertida para todo el mundo. En la siguiente actualización del juego y mediante ajuste dinámico tendréis:
El añadido de la opción de 'Sin contacto' en las Carreras. Esto os permitirá jugar carreras con las colisiones desactivadas entre vehículos. Los otros jugadores aparecerán semitransparentes y todavía podréis chocar con el tráfico, las estructuras y otros elementos del escenario, pero este modo – para aquellos que quieran jugarlo – eliminará la mentalidad de "el chocarse es competir" que algunos quieren evitar.
Los jugadores podrán llamar a Lester para que les diga a sus colegas polis que miren para otro lado en cualquier crimen que cometas durante un corto periodo de tiempo.
Como recompensa para los jugadores que dejen opiniones sobre las Actividades, habrá algunos RP extra garantizados cada vez que un jugador indique que le gusta o no un contenido después de jugarlo.
Los pagos de GTA$ se incrementarán al completar actividades de Paracaidismo, Carreras, Partidas a muerte o Último equipo en pie con menos de 4 jugadores.
Como parte de nuestro compromiso continuo de localizar a tramposos y mantener el juego lo más justo posible, estamos cerrando exploits de RP y ajustaremos los RP totales de los jugadores que sabemos a ciencia cierta que han ganado RP ilegítimos hacienda trampa. Vuestros RP solo se ajustarán si habéis participado en modificaciones, hacks, redirecciones de DNS, manipulación de archivos en la nube o cualquier otro comportamiento similar nefasto. Si repetisteis misiones cortas legítimas o ganasteis una pequeña cantidad de RP sin modificar nada, vuestros RP no deberían verse afectados por esta corrección.
Arreglaremos el problema por el que los jugadores que habían mejorado sus vehículos personales antes de la actualización 1.10, solo eran capaz de venderlos por 10,000$.
Estos son solo unos pocos de los arreglos y mejoras en curso y como mencionamos arriba, estamos interesados en saber qué es lo que VOSOTROS queréis ver, así que por favor contadnos qué es lo que os gustaría ver añadido al mundo de Grand Theft Auto Online.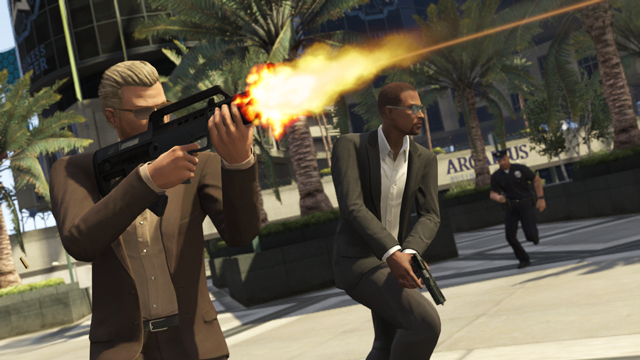 El rifle Bullpup, próximamente en Ammu-Nation.