Crew Cut: Negocios de Crews y equipos asesinos, grandes y pequeños
Mirad lo bien que se lo están montando las Crews con los vehículos y los atuendos de la nueva Actualización Negocios, los equipos –cada vez más– que superan la marca de los 1000 miembros, así como los que prefieren ser pequeños pero matones y, además, algunos de los vídeos destacados de las Crews, fotos de Instagram y mucho más.
LOS NEGOCIOS, LO PRIMERO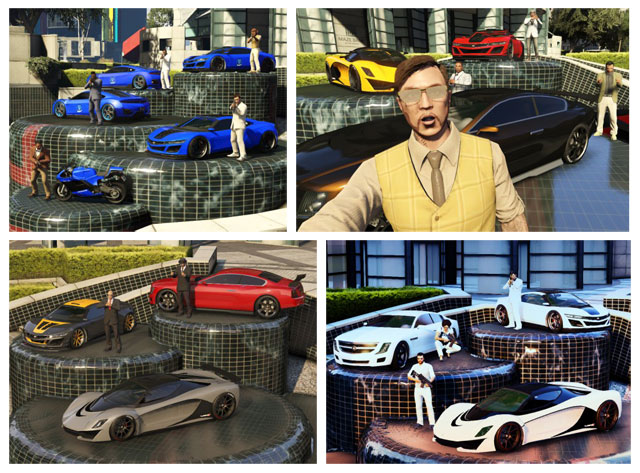 Composición de equipos en el edificio del Maze Bank. En sentido horario y empezando por arriba a la izquierda: xVxDarkjedixVx luce el temible blanco y azul de xVx-The Agency-xVx (AGNT); Destinsenvy y algunos de los RIOT Clique con su exhibición; es una fiesta blanca para ShaolinBeast y la M0NSTARS (STAR) Crew; y la Glock Shooting Sport (GSSF) Crew de SirShoup enseña que ahí nos esperan con su crujir de nudillos y los puños listos, así como sus trajes y sus bugas.
Los Santos ha visto un auge de Crews vestidas impecablemente que muestran los gustos más sofisticados y en las que sus miembros sacan el máximo partido de todas las opciones de atuendos elegantes de la actualización Negocios. Con su aspecto renovado, montones de Crews se tomaron una Snapmatic para lucirse. Como podéis ver arriba, unas cuantas tuvieron la misma idea de aprovechar las fuentes que hay delante del edificio del Maze Bank para enseñarnos sus nuevos carros personalizados junto con más botín, mientras que este posado de MARCUS_STROM de la Crew Th3ClownZ (TH3C) enseña a miembros de su banda dando un paso más con estas chisteras marca de la casa. Anonamix y la siempre divertida Traffickers (TRFK) Crew ponen en marcha y lucen el nuevo equipo de Negocios en la octava entrega de su alocada serie de vídeos Grand Theft Thursdays, titulada "Business As Usual".
La Australia Illuminati (ORDO) Crew, que apareció junto a su Crew hermana, los Illuminati MCC (IMCC), en nuestro último Crew Cut, nos ha enviado las imágenes del nuevo Grotti Turismo R corriendo contra algunos de los mejores supercoches que ofrece la clase. Estas Crews ya llevan tiempo rodando y también han publicado el épico Demolition Derby (entre los que destaca el Roosevelt del reciente Especial Masacre de San Valentín), así como sus eventos "Show and Shine", en los que aparecen los bugas más fardones de las Crews. Mientras tanto, si queréis saber lo que intimidan 30 máscaras en el fragor de la batalla, tendréis de sobra con esta partida a muerte de apuntado libre llena de acción entre la Crew JAMESTOWN RANCHOGANG (JTRG) y la United Blue Nation (XUBN).
LAS GRANDES CREWS, A TOPE
Recientemente hemos destacado Crews que pasaban casi al instante y sin esfuerzo a engrosar el club de los 1000 miembros gracias a la asociación de fans con sus canales de YouTube o a una fuerte presencia en la comunidad del Social Club. La tendencia a las Crews al tope de su capacidad continúa, ya que muchas más lo han logrado promocionándose mediante el tablón de anuncios y ahí fuera en Twitter, Facebook, Instagram y demás.
Pese a llamarse en honor a una canción de Chief Keef, el 3hunna Sosa Squad (SOSA) liderado por RushKush puede que necesite un cambio de nombre urgente, pues ya no cuenta solo con "3hunna" (300) miembros. El veterano sitio italiano de fans de GTA y canal de YouTube GTASeriesVideos (GSVS), conocido por su serie "Retrospectiva en Lifeinvader" y otros grandes vídeos, y los chicos de azul de la FIBS Most Wanted (MSTW) Crew, liderados por Nimble92, han ganado un tamaño considerable desde la última vez que hablamos de ellos. Con cuatro Crews de apoyo adicionales para Xbox 360 y PS3, además de un cuartel general central, la base de miembros de la FIBS ha crecido hasta alcanzar los tres mil, al igual que la byPureGaming (BPGC) Crew, que ahora no tiene una… sino casi seis divisiones de mil miembros llenas hasta los topes. También se ve que en Los Santos no escasean los superhéroes ni villanos con el Batman Squadron (BTMN) hasta los topes y los Decepticons LS que tienen a reventar sus tres divisiones.
PEQUEÑAS PERO MATONAS
Con toda la atención centrada en las megaCrews de 1000 miembros que se han hecho famosas estas últimas semanas, también es importante recordar que hay mogollón de equipos que están orgullosos de ser pequeños y que merecen respeto. Recordad que las Crews son lo que hagáis de ellas: un grupo estrecho de amigos de toda la vida que os guste ir de aventuras por GTA los fines de semana o un conglomerado masivo y comunidad de jugadores a los que unen intereses y asociaciones comunes. Estas son algunas de las Crews notables a las que hemos visto cerrar filas y mantener su exclusividad.

El miembro del equipo y ávido fotógrafo de Snapmatic MAKAVELI nos enseña de qué va el estilo de guerra Slaughterhouse, marca de la casa.
Los maestros de la Puntería libre Slaughterhouse(XSHX), una Crew de 26 miembros que han mantenido sus principios desde Max Payne 3, ocupan actualmente el cuarto lugar de la clasificación mundial de partidas a muerte por equipos entre todas las Crews de usuarios de GTA Online. Con una impresionante proporción de bajas y muertes de 2,32, es fácil comprender por qué profesionales como MAKAVELI están orgullosos de enarbolar la bandera de XSHX. Otra Crew muy competitiva pero legal que se mantiene en menos de 50 veteranos es la II_LEGION_ll, que actualmente ocupa el segundo puesto en las clasificaciones mundiales entre las Crews de usuarios con una proporción de bajas y muertes de 1,86 en las partidas a muerte por equipos. Un vistazo a las noticias de la Crew revela que su atento líder Metrolock presta gran atención al balance final sin perder de vista el promedio de disputas de Max Payne 3.
Un grupo todavía más pequeño es el de la recién llegada T-O-Killer Accademy (TOKA) que lidera Mini-Rambo e integra un círculo cultivado cuidadosamente que busca jugadores capaces y en activo. Actualmente integra 20 miembros, pero desea expandirse. Su lema dice que solo les interesan los jugadores "PRO" y no quieren tener más de 75 miembros en el mejor de los casos. Con una proporción constante de bajas y muertes de 2,32, parece que va muy en serio lo de mantener su límite. Llevando la competición de Crews pequeñas al ámbito de las carreras, los de la Crew 420 - The High (4THC), encabezada por Qeythos, no se andan con bromas. Con menos de la mitad de miembros que TOKA en sus filas, se anotan 621 victorias en 907 carreras y demuestran así la verdad del viejo adagio que dice que en el bote pequeño está la mejor confitura.
DE SANGRE REAL


Reales y leales. La Royal Warlords (ROYA) Crew corre o muere en este vídeo del día. Loyal Royals.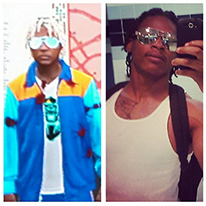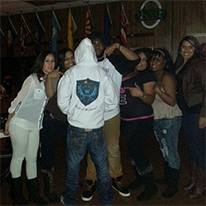 Crew Leader ghost360frost is live and direct, showing off his true to life Online character and the official ROYA hoodie on Instagram.
En YouTube nos hemos encontrado con la Royal Warlords (ROYA) Crew. Echando raíces en Los Santos desde octubre, a los ROYA les encantan los vídeos musicales hedonistas de la Crew y catalogar sus aventuras en su página oficial de Instagram. Con el lema "La lealtad lo es todo... La muerte antes que la deshonra" estos tipos son un grupo muy unido, ya esté enseñando los puños a las Crews provocadoras en el vídeo destacado más arriba o apareciendo con sus sudaderas ROYA oficiales del mundo real.
VÍDEOS CAÑEROS
Los incontenibles Ganja Outlaws (WEED vuelven a la carga. Mirad su coordinado vídeo a cámara rápida, más arriba, con "California Soul", junto con un brumoso clip destacado de fallos aprovechables en partidas a muerte por equipos y un avance de la actividad que han creado, Tiroteo en la plantación de yerba.
Siempre vamos en busca de nuevos equipos que nos expliquen las cosas increíbles que hacen sus Crews, nos envíen vídeos y fotos para ilustrarlas y nos hablen de sus disputas, así que pegadnos un toque si tenéis algo excepcional entre manos que creáis que el mundo deba conocer y compartidlo aquí también, en los comentarios de la comunidad del Social Club.
Además, no perdáis de vista nuestras noticias por Twitter para ver algunas batallas nuevas entre Crews –con streaming en vivo en nuestros canales oficiales de Twitch y YouTube en las semanas venideras– junto con algunas ediciones especiales en las que algunos artistas de la banda sonora de GTAV combatirán por Los Santos para ver a quién es más divertido sintonizar (más detalles al respecto próximamente).
Escribidnos a CrewChallenges@rockstargames.com si tenéis alguna cuenta que ajustar. No os olvidéis de ponernos el vínculo a la página de vuestra Crew, vuestra plataforma favorita y explicarnos un poco por qué creéis que se debe airear vuestra disputa ante el mundo.
Anteriormente:
Crew Cut: Mega Crews que alcanzan los 1.000 miembros, resumen de la batalla AGNT vs UFAV y mucho más
Crew Cut: bandas de presos de 2014