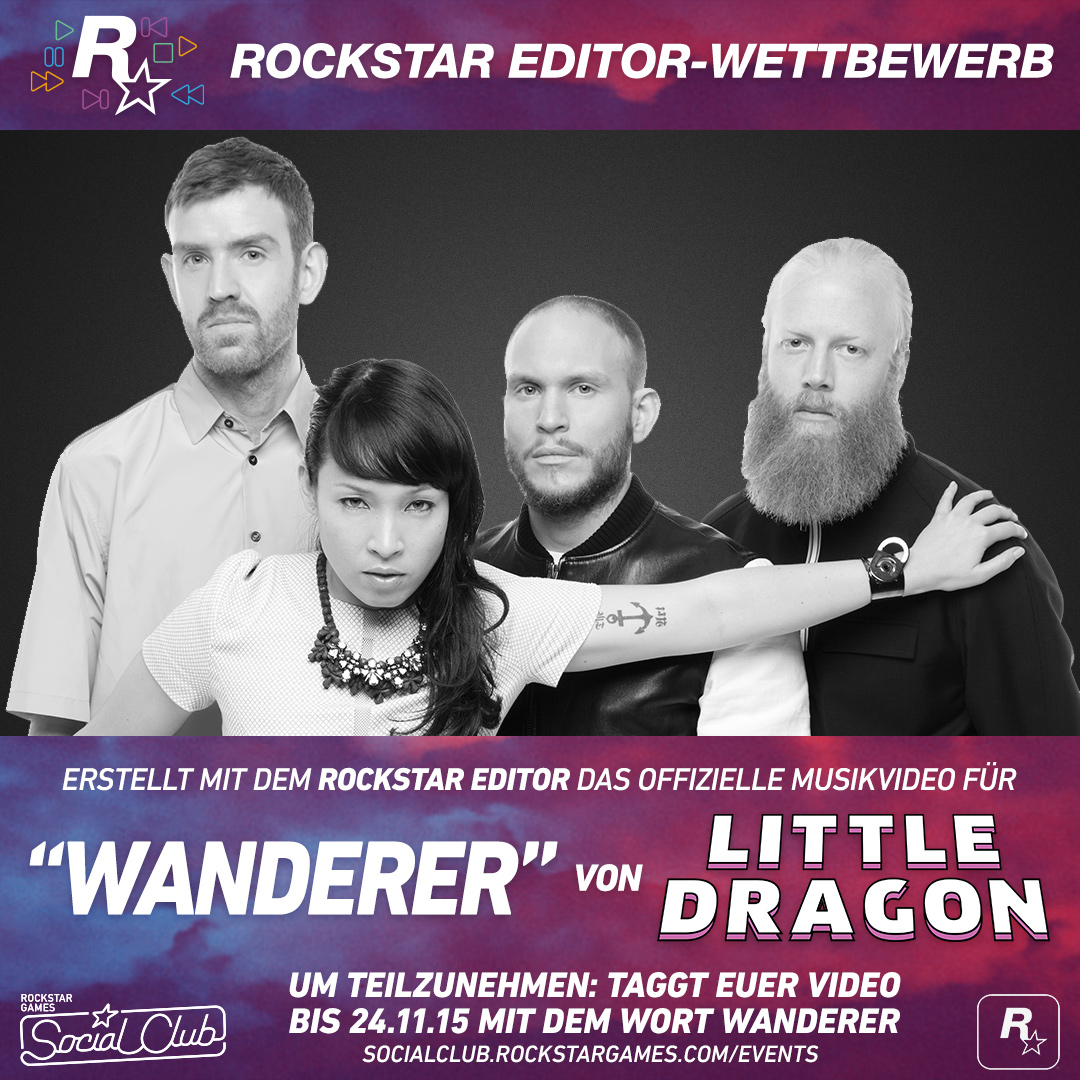 Im ersten Rockstar Editor-Wettbewerb für alle drei Plattformen müssen sich die PC-Spieler jetzt mit ganzen Horden von talentierten Editor-Regisseuren auf PS4 und Xbox One messen. Dank der stärkeren Konkurrenz und eines unglaublichen Preispakets für den Sieger müssen die Teilnehmer wirklich alles geben, damit ihr Video am Ende als offizielles Musikvideo für "Wanderer" von Little Dragon aus dem Welcome to Los Santos-Soundtrack ausgewählt wird.
Dieser Wettbewerb ist aber nicht nur für drei Plattformen geöffnet, sondern ist auch der erste Editor-Wettbewerb, in dem sich die Spieler die neuen Features des Rockstar Editors zunutze machen können, die im Rahmen des kürzlich erschienenen Freemode Events-Updates veröffentlicht wurden - dazu zählen Soundeffekte, Umgebungsgeräusche, ein überarbeitetes Clip-Management und mehr.

DAS KREATIVE BRIEFING
Little Dragon haben die Social Club-Community damit beauftragt, das offizielle Musikvideo für "Wanderer" zu erstellen. Little Dragon selbst werden zusammen mit Rockstar Games die Werke der Finalisten begutachten und entscheiden, welcher Beitrag gewinnt. Hier noch eine kurze Vorgabe, um zu verdeutlichen, was sich Little Dragon vorstellen:

Die Teilnehmer sollen mithilfe des Rockstar Editors ein Musikvideo erstellen, das die Geschichte eines Einzelgängers erzählt, eines sehr cleveren Doppelagenten oder einer anderen Person, die ein doppeltes Spiel treibt und zwei Seiten einer kriminellen Organisation zu ihrem Vorteil gegeneinander ausspielt.
Ihr habt den Track vermutlich bereits auf dem Alchemist & Oh No Present: Welcome To Los Santos-Album und dem neuen Ingame-Radiosender The Lab gehört. Ihr solltet ihn auf jeden Fall in- und auswendig kennen, um sicherzustellen, dass die visuelle Untermalung absolut perfekt dazu passt. Als Denkanstoß für eure eigene Interpretation ist hier noch mal der Track zum Anhören:
DIE PREISE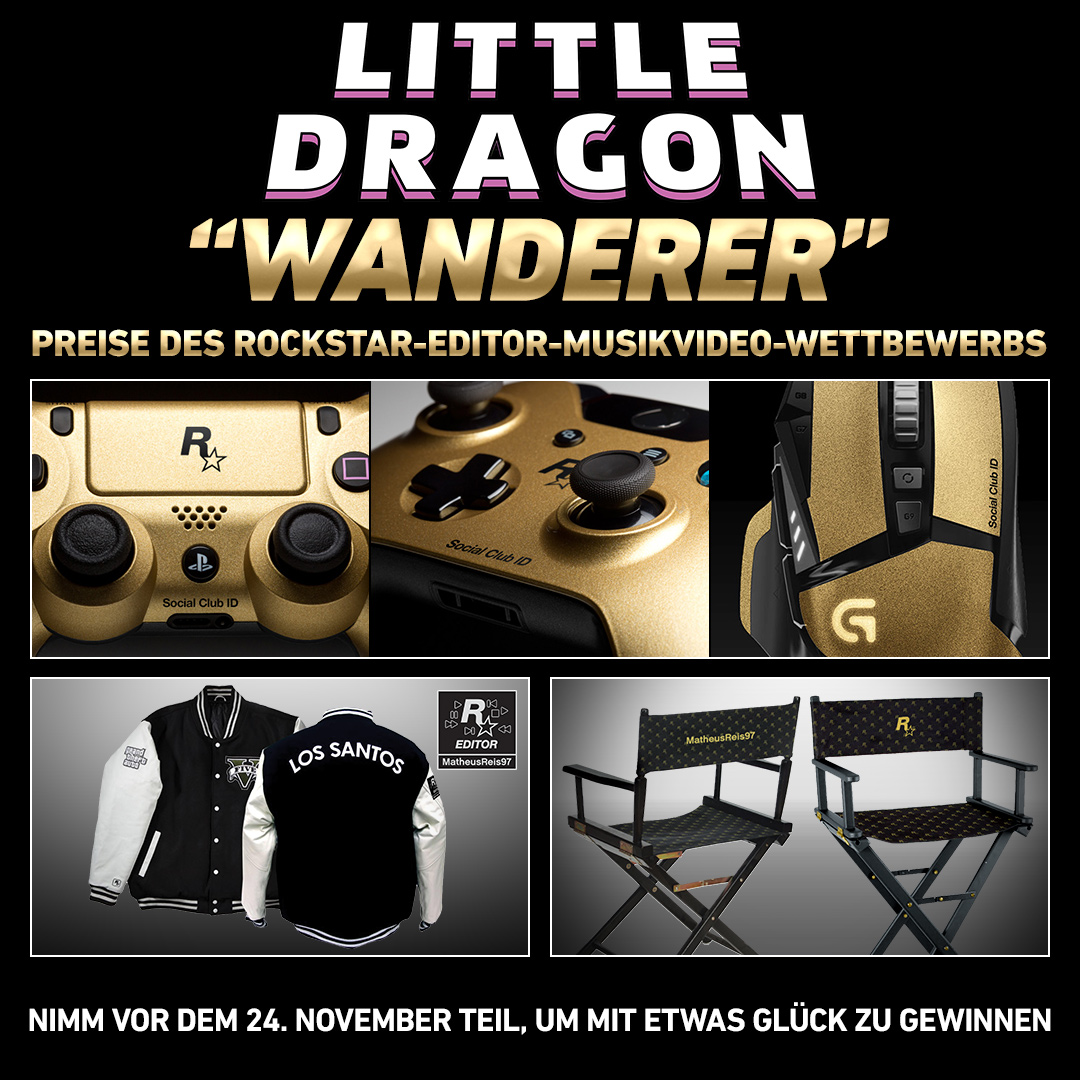 Zusätzlich zu dem Prestige, dass das eigene Werk als offizielles Musikvideo des Tracks auserkoren wurde, erhält der Hauptgewinner ein unglaubliches Preispaket, das unter anderem einen goldenen Controller (mit echtem 24-Karat-Goldüberzug) enthält, der mit eurer persönlichen Social Club ID versehen ist. Der Sieger kann sich zwischen einem Xbox One- oder PS4-Controller entscheiden oder einer G510 Proteus Core-Gaming-Maus mit 11 programmierbaren Tasten, individuell kalibrierbarem Gewicht und fünf auswählbaren DPI-Einstellungen – von präziser 200 DPI-Zielerfassung bis hin zu blitzschnellen 12.000 DPI-Manövern. Doch damit nicht genug: Der siegreiche Regisseur wird sein nächstes Meisterwerk bequem aus seinem eigenen Rockstar Editor-Regiestuhl erschaffen können. Der Stuhl wird ebenfalls mit der persönlichen Social Club ID versehen sein – ein Thron, der eines echten Champions würdig ist. Zu guter Letzt erhält der Sieger auch noch eine der seltenen und begehrten GTAV-Collegejacken. Die Jacke trägt einen individuellen Aufnäher, der der Welt euren Status als Rockstar Editor-Koryphäe demonstriert.
Zwei zweitplatzierte Teilnehmer erhalten einen $100-Rockstar Warehouse-Gutschein und ein Deluxe-Preispaket mit offiziellem GTAV-Merchandise und werden ebenfalls hier auf dem Rockstar Newswire präsentiert.

SO NEHMT IHR TEIL
Die Teilnahme am Wettbewerb ist einfach: Erstellt ein Video mit dem Rockstar Editor auf PC, PS4 oder Xbox One und veröffentlicht es über das Ingame-Menü auf dem Rockstar Games Social Club. Stellt sicher, dass ihr eurem Video das Schlagwort "wanderer" hinzufügt, um am Wettbewerb teilzunehmen. Das könnt ihr im Spiel tun, oder im Social Club über die Seite Meine Videos. Einige wichtige Punkte:
Das Video muss den Song "Wanderer" von Little Dragon – und nur diesen Song – als Soundtrack verwenden.
Euer Video muss zwischen 4 und 5 Minuten lang sein.
Das Video muss zwischen jetzt und 05:59 MEZ am 24. November im Rockstar Games Social Club veröffentlicht und mit dem Wort "wanderer" markiert werden, um zum Wettbewerb zugelassen zu werden.
Das Video darf ausschließlich mit dem Rockstar Editor erstellt werden. Wir wissen, dass viele fortgeschrittene Rockstar Editor-Nutzer gerne zusätzliche Bearbeitungssoftware von anderen Herstellern verwenden, aber um den Wettkampf für alle Teilnehmer fair zu gestalten, setzen wir voraus, dass für die Produktion des Videos nur der Rockstar Editor verwendet werden darf.
Little Dragon und Rockstar Games werden bei der Auswahl des Gewinner-Videos die Einhaltung oder Interpretation des oben genannten kreativen Briefings, den Unterhaltungswert und den künstlerischen Wert, Schnitt- bzw. Bearbeitungsqualität und Kreativität im Allgemeinen bewerten. Schaut auf der Social Club-Wettbewerbsseite nach, um zu sehen, wie andere Social Club-Mitglieder euren Clip im Vergleich zur Konkurrenz einstufen. Und haltet die Augen offen: Die Gewinner werden später im Herbst bekanntgegeben.

Ungültig in bestimmten Ländern und dort, wo der Wettbewerb unzulässig ist. Offizielle Regeln und Teilnahmebedingungen unter www.rockstargames.com/socialclub/events/contests .
Verwandte Artikel:
Wir verkünden den Gewinner des #illgottengains-Rockstar Editor-Wettbewerbs
Der Gewinner des Rockstar Editor-Wettbewerbs: Wir präsentieren das offizielle Musikvideo für"Leave" von Wavves