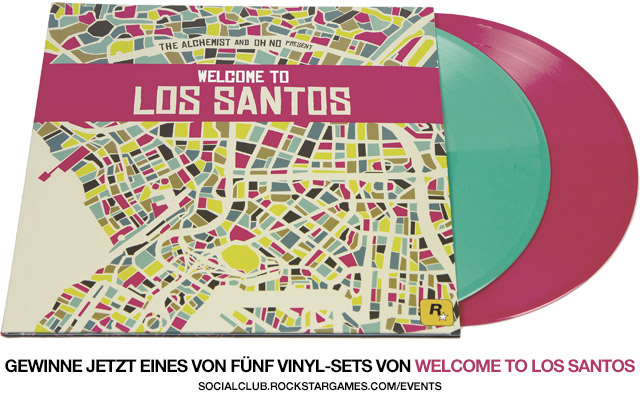 Welcome To Los Santos, die genreübergreifende Musiksammlung, die ihr Debüt mit GTAV für PC feierte, erscheint nächsten Monat als Teil des ILL-GOTTEN GAINS-Update: Teil 2 auch für die Konsolen und ist außerdem ab nächster Woche auf Vinyl erhältlich. Ihr habt aber jetzt schon die Gelegenheit, ein Exemplar noch vor der Veröffentlichung zu gewinnen. Nehmt bis Dienstag, dem 30. Juni, am Gewinnspiel im Rockstar Games Social Club teil und gewinnt unter http://socialclub.rockstargames.com/events mit etwas Glück eine von fünf Welcome to Los Santos-Platten.
Welcome to Los Santos bietet ein abwechslungsreiches Aufgebot an Künstlern aus verschiedenen Musikbereichen – unter anderem Earl Sweatshirt, Little Dragon, Phantogram, Freddie Gibbs, Popcaan, Killer Mike, Tunde Adebimpe und Samuel T. Herring (von Future Islands) – und war erstmals im Rahmen des Ingame-Radiosenders 'The Lab' in GTAV für PC zu hören, der von Doctor No and the Chemical Bro (aka Oh No and The Alchemist) moderiert wird. Nächsten Monat erscheint das Album als Teil des ILL-GOTTEN GAINS-Update: Teil 2 nun auch für alle vier Konsolen.
KEIN KAUF NOTWENDIG. Nicht gültig in bestimmten Ländern. Teilnahme ab 18 Jahren. Teilnahmebedingungen in den offiziellen Regeln und der Datenschutzerklärung. Endet am Dienstag, dem 30. Juni 2015.