GTA Online-Live-Streams in dieser Woche: Bass Drum of Death aus dem GTAV-Soundtrack und ein Crew-Zweikampf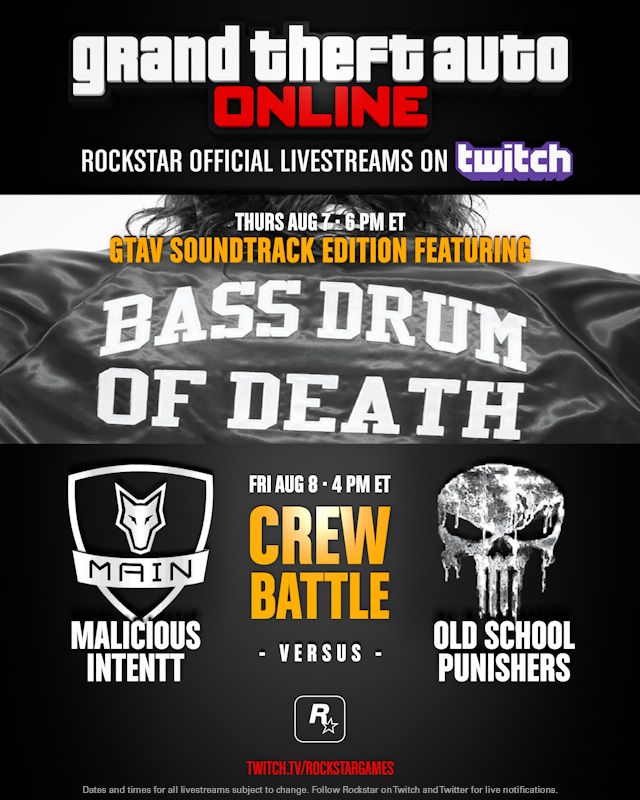 Schaltet in dieser Woche den offiziellen Twitch-Kanal von Rockstar Games ein:

Freitag, 8. August 0:00 Uhr *
GTAV-Soundtrack-Edition mit
BASS DRUM OF DEATH ("Crawling After You" auf Vinewood Boulevard Radio)
BDOD stehen kurz vor Beginn ihrer Herbst-Tour 2014 und feiern die Veröffentlichung ihrer brandneuen Single "Left for Dead" aus der im Oktober erscheinenden LP Rip This. Die Band schauen bei Rockstar NYC vorbei und stürzen sich in unserem Twitch-Live-Stream in die Action von GTA Online.

Freitag, 8. August 22:00 *
Crew-Zweikampf
Malicious Intentt gegen Old School Punishers
Diese zwei Hardcore-Crews treten gegeneinander an, um zu sehen, welche Truppe bei Rennen den Ton angibt. Auf beiden Seiten sind Rockstar-Spieler mit dabei. Wir streamen eine spezielle Spieleliste mit Renn-Jobs mit verschiedenen Fahrzeugklassen.

* Bitte beachtet, dass sich bei Live-Streams Datum und Uhrzeit immer ändern können.
Folgt uns auf twitch.tv/rockstargames and twitter.com/rockstargames, um umgehend benachrichtigt zu werden, wenn die Streams starten. Und haltet die Augen nach der Ankündigung weiterer Live-Streams in den kommenden Wochen offen.